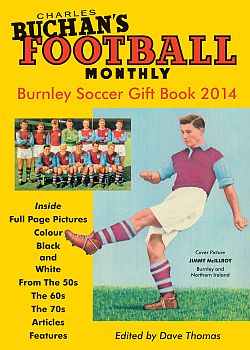 'It was my second home. The years rolled back to when I was a 9-year old and Willie Irvine, Willie Morgan, Andy Lochhead et al, all of them were my heroes. And the funny thing is I felt exactly as proud reading about them last week as I did 50 and more years ago. No question, the action shots in those days knock spots off today's pictures. You can feel the atmosphere looking at them.'
Nigel McWilliam wrote that:
'Waves of nostalgia keep pouring over me. I was on the Turf for the 8-0 defeat of Nottingham Forest. It is my earliest recollection of going to see Burnley and my father (who will be 90 in February) cautioned me not to expect games like that every week. I was perched on the shoulders of a copper towards the back of the Longside. We were so lucky to grow up watching some of the very best of their generation plying their trade at Turf Moor.
John Lingard is now in Newcastle upon Tyne. His early years were in Littleborough. His support goes back to 1959:
August 29, 1959 was my first visit to Turf Moor and little did I know what I was letting myself in for as I climbed aboard the pillion of my brother Steve's motor bike, a 250cc Panther, and left Littleborough heading for Burnley via Summit, Walsden, Todmorden, Lydgate, Cornholme and Cliviger. In those days Burnley had quite a following in Littleborough, many travelling to matches on Jay's coaches or Yelloway. To a bright-eyed 14-year old this was truly living and growing up. Turf Moor in those days was a sea of green with surprisingly little claret and blue on display. The pitch was a lush green for the only time in the season, soon to turn brown and muddy as autumn rains took hold. The stands were painted green as were the spectator barriers and fences of the Longside. Everyone in the crowd appeared to be smoking Woodbines or Park Drives. If I'm not mistaken, a brass band played before the kick-off.
Out there on the pitch was one of the finest X1s to don the claret and blue (McIlroy, Adamson, Pointer, Connelly etc) but was taken apart by a modest West Ham side inspired by the crew-cutted Welshman Phil Woosnam. We lost 1-3 that afternoon and West ham caused me some pain and anguish that sunny, first afternoon. Before me, that first day at Turf Moor I witnessed probably Burnley's best ever team and it was somehow fitting and prescient that my first home game finished in defeat, a portent of many years to come.
That day in 1959 truly changed my life. As a schoolboy at Heywood Grammar school, I was tempted by Manchester united and made the odd visit to Old Trafford but Burnley hooked me forever after that life-changing year. It was always nice to put one over Manchester united with their many followers amongst my schoolmates and friends in Heywood and Rochdale. A few even phoned me 50 years later in 2009 when Robbie Blake's wonder strike sent Alex Ferguson's men packing, empty-handed from a by then rare visit to Turf Moor.
My career has often seen me working abroad and in the pre-internet days of the 80s and 90s I paid extortionate sums for Monday newspapers in Jakarta, Manila, Karachi, Quetta, Sofia and Bucharest only to be deflated by reports of home and away defeats and draws. That first day, August 29, 1959, really changed my life for the better – a lifetime sentence supporting Burnley. Courtesy of John Lingard
Michael Sharp was well familiar with the early Charles Buchan Christmas annuals and the FA Book for Boys:
The first match I saw was on New Year's Eve, 1955, against Newcastle. I was eight at the time and the whole family went including my mother. It seemed like a battle between good (us) and evil (them) especially with Newcastle in their black kit and their fiercesome, bald-headed centre-half Jimmy Scoular. We had perhaps our smallest forward line ever but managed to win 3-1. I think it was sometime that winter that I lined up with my dad in a massive queue for cup-tie tickets. We finally got to one of the counters and as we came away my dad said, 'That was the manager Alan Brown that served us.' Another match I remember from that first season was a league match against Chelsea that we won 5-0. Late in the game Les Shannon was hit in the face with a full-blooded drive and never flinched. Those balls were so much heavier than today and I marvelled at how tough he was.'
One evening when I was about 13 years old I will never forget. One of the parents had arranged a football match for the local lads in Scoutbottom in the Rossendale valley on a small, very rough pitch. He invited Ray Pointer to come and watch us. I couldn't believe it when he came with his girlfriend and stayed 'til the end, happy to sign autographs. The amazing thing though, this was around the time he played for England and yet they came by bus. I saw them standing at the bus stop afterwards waiting for the Ribble Bus to Burnley. He even came a special time and we weren't anything special, especially me. Courtesy of Michael Sharp
It wasn't quite Buchan Lane but Harry Redknapp remembered a story about Andy Lochhead in his newest book. It's a decent book full of his anecdotes and memories going back to the 50s when he was a lad growing up and going to football games with his dad. In books of this genre (lovely word – I shall write it again – genre) there's usually a Burnley tale or two. Back then it was standard practice for the centre forward to wallop the centre-half or the goalkeeper in the first minutes to let them know who was in charge.
I remember one game up there (at Burnley in the 60s). We kicked off and knocked the ball back to Bobby Moore. Lochhead started chasing him down like a lunatic. Bobby didn't fancy that so he laid it to our other centre-half John Cushley but Lochhead wouldn't give up. Now he began charging at Cushley who thought, sod that, and played it as quick as he could to John Charles. Again, Lochhead carried on and just as John was about to play it down the line, he launched himself at him from about 5 yards. It was like he was competing in the long jump. He hit John about knee height and just left him in a heap. Today it would have been the quickest sending off of the season. He'd have been gone within about 30 seconds of the kick-off. Back then it was just regarded as setting the tone for the rest of the game. Let them know they were in for a rough match. And being Scottish, Andy always had it in for Bobby.
The dejection of the Boxing Day result was improved by the birthday celebrations in the Queen although my chum Pete waiting for us there, took it hard. 'I'm gutted by that,' he said looking like he had just been told that Father Christmas isn't real. Pete takes things to heart so that being a Burnley supporter reduces him to despair quite frequently although in that respect I guess we all know how he feels. A large plate of battered fish and chips and mushy peas and then two huge slices of birthday cake restored him to planet earth. But next up was City away. I feared for him and wondered whether to post two more slices of cake to him.
24 hours later, two images came to mind from the Liverpool game, involving the slightest of deflections that defenders knew nothing about; one from the Ings shot and the second from an Arfield shot. Both were shots that would have beaten the goalkeeper just inside the post and both illustrate the fine margins that exist in this cruel game. This is the run of the ball that has currently deserted Burnley. We were still laughing at Brendan Rodgers' assertion that Liverpool had deserved to win. He must have been at a different game than the rest of us.
Maybe the word of the day before the City game was trepidation. The last Burnley win there was in 1963. In the late 60s I sat through an excruciating 7-0 defeat at Maine Road. The thought of a repeat of that must surely have flashed through more than a few supporters' minds when the fixtures were first announced. If this game wasn't Poundstretcher versus Harrods then nothing was. The millions, if not billions, that City have spent over the last few years is well documented. From the Theatre of Base Comedy that had City supporters either in despair or rolling around in laughter for not far short of three decades to the present mega outfit is remarkable. It seems only 5 minutes since Thaksin Shinawatra, the once Prime Minister of Malaysia and all-round Del Boy and bad egg, was the last comedy owner. At point of departure City were dicing with administration. In 1999 they were in Division Three.
But today, things are different, a set-up second to none, nine consecutive wins, steamrolling everyone in sight, their fans having premature ejaculations at the thought of another 6-goal feast; and Burnley fans wondering just when things might just turn their way. Mrs T had spent the morning making Turkey Pies with the remains of the Christmas feast, me careering down the icy, sloping drive with the green bin unable to stop and slamming into two other bins that went a*se over tip spilling cans bottles and tins all over the street. On Youtube it would have gone viral. Bryony our new young, slick-chick neighbour asked did I need help to walk back up the drive. Christ, I thought, I know I'm 70, cart-wheels are difficult these days, but don't rub it in. Back in the kitchen wondering should I dye my hair a bit to take a few years off, I then dropped an egg all over the floor. The omens therefore were not the best I've seen. 0-6 at City seemed a fair bet.
On Wizwig I managed to find a picture and groaned when Silva put City 1-0 up. Every now and then the adverts came up and spoiled the picture. The most frequent was of a porn site with a busty beauty eyeing me up and down. It was so annoying, because the football kept coming back on. At 2-0 the stream went altogether and I wandered off resigned to the tubbing we all expected.
But oh ye of little faith: in the office I wasn't paying any attention to the game at all when Mrs T suddenly yelled out that we had scored. And from that point on as we listened to Five Live in one ear and watched Sky Soccer Saturday with the other, we sat transfixed as Burnley roared back into the game pressing City onto the back foot and worrying their supporters into a state of nervous despair and testing their bowel retention to the full.
By this time I was on my second glass of very potent 12% mulled wine so that when the SKY picture said 2-2 (the radio lagging by a minute or so) the whole glass nearly went the same way as the wheelie bins and the egg. The pundits purred with admiration on SKY; over and over Armfield on the radio said Burnley can go on to win this.
From somewhere the referee dredged up 5 minutes of extra time; at least two of them must have been in his imagination. And still the radio guys kept saying Burnley can go on and win this. Yes the chances did keep on coming to win but eventually Burnley settled for just the point. The 2,800 Burnley fans roared away in the background probably in a state of euphoric disbelief. 'City shocked and stunned by Sean Dyche's home grown army,' bellowed a wide-eyed Jeff Stelling.
Just the point: do me a favour, the football world was staggered. So the first goal was offside, so what; it's time we had a bit of luck. McInally on Sky oozed compliments and admiration for the team and Dyche. Jeff Stelling was simply astonished. Hacks were no doubt sharpening their pencils and dreaming up the headlines. Absolute machines was the description of the players who had all played just 48 hours earlier. In fact this was an unchanged side for the fifth successive game. The best centre forward display I've seen, said Dyche of Barnes. His goal when we saw it later was a blur, a magnificent strike. Burnley's whole wage bill is less than what City paid for Mangala who Barnes destroyed. The BBC immediately put up an online poll: can Burnley avoid relegation? Trippier and Mee were no doubt partying well past their bedtime.
A short piece in the Mirror that looked at each team one by one had kind things to say about Burnley: Sean Dyche's Burnley have proved plenty of people wrong in the last 18 months, everyone has faced a battle to beat Burnley. No team has run more miles this season. If they do stay up – and they might just – they will be the team of the season.
It contrasted with Henry Winter in the Telegraph who must have had a premature senior moment when he omitted Sean Dyche from his feature on the 25 football stars of 2014, yet he'd included Eddie Howe.
'That goes down as an outstanding performance,' said Dyche after the game. 'That goes down as an outstanding pie,' I said to Mrs T a couple of hours later after half of the ones she'd made, provided a fitting climax. And best of all, my chum Pete once again believes there really is a Father Christmas.