Boy though, did I make a mess of one of them. Sometimes on a good day the postman brings a pile of them, maybe a dozen or more. It's like Christmas without the unwanted Boots vouchers.
Having returned from the kitchen where, being a Yorkshireman, I'd been ironing the creases out of one batch that had just arrived I tore up all the envelopes. And then it dawned on me; one of them felt just a little bulky as if there was something still in it. By thi 'eck: I'd torn a cheque up. Being a Yorkshireman I felt quite ill.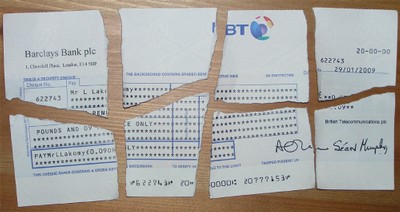 The pieces sat in front of me on the desk after I had fished them all out. Out came the sellotape. At the bank I passed the repaired cheque, three pieces taped together, at the desk and asked would it be OK. The cashier looked at it and had a think. She clearly didn't know.
Next, she passed it to the cashier next to her and asked would it be OK? She had a think. She didn't know either. Between them they decided to call the manager. The two cashiers stood up and showed the cheque to the manager. All of them by now were in the corner behind the screen deep in thought and holding an intense conversation that I couldn't quite hear. The cheque moved round the trio like it was pass the parcel. It was clear they hadn't a clue.
Cashier number one came back. 'We think it will be alright,' she said.
It wasn't part of the batch of ten I was paying in. I like putting taking them in batches of ten. I find it deeply satisfying. Maybe it's because I'm a Yorkshireman. I brought it back home to put it in with the next batch of ten. I'll let you know what happens next.
Sean Dyche could well be an honorary Yorkshireman. He doesn't part with the club's brass easily. The five signings so far have cost (we think) not much more than £2.5million. He got a call from one agent who told him his player was available at 15million and only wanted £45k a week. His reply was just two words: wrong club. He says that if his chairmen suggested he should buy a big price, big wage and big name player he'd tell the chairmen it just wasn't appropriate. Not only because of the money, but because it would tear up the dynamics of the group.
His yardstick is not the Wengers and the Mourhino's but Tony Pulis and what he did at Crystal Palace last season. With the right attitude and spirit anything is possible – like promotion last season. He insists that leaving Burnley-world and entering Premier-world is not scary. Burnley on a good day catching a team of galacticos on a bad day – and anything can happen. Burnley isn't 11 individuals it's a team. One star player coming in on a salary twice as high as anyone else would harm that. There is no wish to disrupt the culture and environment he and the players are all aligned with.
The £120million won't be frittered away. The diggers have already been in to lay new fibre sand-based pitches at Gawthorpe essential in a place where nature turns the tap on in October until March.
Pre-season training was in Austria. Two days were set aside, one for physical endurance and the other for mental toughness. If Cork was anything to go by last season it will lay the foundations for the rest of the season. In Cork they were driven to exhaustion pushing giant tyres around until they were on their knees. At the end of that just when they thought it safe to think about ordering a lager, they were subjected to 60-second sprints.
With the World Cup over we turned our minds towards the new season just weeks away and the news that the first game against Chelsea would be moved to Monday for SKY TV. In Brazil we watched the Chelsea players starring for Brazil and Germany, and then also remembered they had signed Fabregas and Diego Costa plus there were reports of a return for Didier Drogba. Costa signed for Chelsea for a reported £32million. That equates to the whole of Burnley's wage bill.
Suddenly my knees began to shake. History shows we need to play teams like this on a filthy night in January or February when the heavens open and the freezing rain and biting winds swirl round a misty Turf Moor so that these players from sunnier climes look out of the coach window and wonder what the hell I'm doing here. People like Jimmi Traore in that memorable Cup game against Liverpool, trying to be a fancy Dan, will then put the ball in their own net. Plus, if the heating is off in the away dressing room, the bath towels have vanished, and all the loo paper has run out, that'll make 'em think twice about showing their faces at a hostile Turf Moor.
In our house we watched the Final on BBC feeling that Mark Lawrenson was preferable to Andy Townsend. But Lawrenson was so bad, so inane, and so trite; we did actually switch to ITV. That didn't last long so back we went to the BBC. But all in all, it was a fabulous 4 weeks of football. Maybe it was the location, the blue skies, the pictures of the beach, the atmosphere and colour at the games that came across so vividly and in the end the right team won with a goal that oozed class. When it went in I did actually think: 'that's a Danny Ings goal.'
There were some great memories, Van Persie's horizontal headed goal, the BITE, the TV shot of the Christ the Redeemer statue with the setting sun behind it, the goal that Rodriguez slammed in against Uruguay, nerve-wracking penalty shoot-outs, the squirty foam being used for the first time and the look of astonishment when one ref squirted it all over the players' feet, Germany's magnificent seven, the chaos that is David Luiz, outlandish supporter costumes, the guts and determination of the USA, and little Costa Rica and Algeria playing their hearts out. It truly was Samba Soccer; and then, above all, the feeling that this was as much a giant folk festival as a football tournament. Beat that Russia.
And then there was England; limp, insipid, a complete let-down bereft of anything resembling a great player, slinking back home with just one point. There was a memorable tweet. 'How did we not beat this second-rate, third world lot?' It was from a Costa Rican. How Messi was awarded the golden-ball was another puzzling moment. There were flashes of genius but nothing over the whole tournament. Meanwhile the FA is preparing a 384-page report on the tournament. Reports and Official Inquiries are something we as a nation do well; actually doing something with them – that's another matter.
Supporters at Rawtenstall cricket ground during a Sunday game unfurled a long banner asking Danny to wave if he was staying. He has a 'plush' apartment in the old mills that overlook the ground. Plush is the Burnley Express word. When ah were a lad, you were plush if you had a bit of carpet in the middle of the floor and curtains instead of newspaper at the windows. Danny no doubt saw it. He later tweeted a picture of the ground in the setting sun with the caption: what a lovely way to spend the evening. On the BFC website Danny expressed how happy he was at Burnley, it was a lovely family club, and he was committed to his final season. But this is one smart astute young man, mature beyond his years. Of anything beyond that there was no mention and the main website, CM, went into a bit of a mini meltdown with a number of folk suggesting that if he wouldn't sign an extension he should be sold whilst he would bring a top price. Others of course said they were more than happy for him to stay even if it was for just the one more season. Talk of selling him however, is easy, and we are led to believe there have been no offers for him. The puzzling thing is that a contract extension with the obligatory get-out clauses, would give him security in the event of a bad injury or even a career-finishing injury. Letting a contract run down in this way I would think makes him quite vulnerable. It can also be said that of his time at Burnley he has had only one productive season. Perhaps the big clubs are a bit wary and 'still waiting to see'.
As a Yorkshireman I much admired the new Blackburn Rovers new-shirt video. It was clearly done on the cheap. It provoked huge mirth in Dingleshire, with comments ranging from 'beyond parody' to 'utterly hilarious'. It can be viewed on Youtube under the heading of Birdy's date. Briefly: it shows a paunchy, middle-aged guy, one rung up the evolutionary ladder from Albert Tatlock, getting ready with the under-arm and the splash-it-all over to go on the razzle but the punchline is you don't know he is middle aged and paunchy until, towards the end, he faces the camera. But he's not going on a date; he's going to the club shop to buy the new shirt. Get it… joke… side-splitting inn' it? If you thought the old ad of Rovers players eating Venky-style chicken nuggets in the dressing room was bad, then this one is beyond bad. But: here's the thing, is it rank awful, or is it the work of outright genius? It's going viral on the airwaves, it's hit the national press, and here we all are splitting our sides because it's got our attention. And isn't that what advertising is all about? I suspect Rovers have got a smash hit on their hands although the last I heard they'd taken it off the air.
Funny too that it coincided with me having a long and unexpected chat with a Rovers fan the other day. And this, astonishingly, was right outside my own house in Leeds as well. We've got some lovely new neighbours just moved in, young couple, must have loadsa money 'cos they're ripping the house apart. Looked out the window one morning and there's the new bloke out jogging – but in a Burnley training shirt – and don't forget this is deepest Leeds suburbia. Of course we get chatting and it turns out he's good pals with Andy Mitchell the ex-Burnley physio who's given him various bits and pieces of Burnley gear. Plus: the guy doing all their building work is their uncle and travels over from East Lancashire and is a Rovers supporter. Well: he was, he and his wife used to have season tickets but such is the chaos over there they don't go any more. We chatted for ages, him full of admiration for Burnley, which just goes to show that some Rovers fans do have a bit of sense. He said the marketing video of the new Blackburn Rovers shirt depressed him even more. When last we heard it had been taken offline.
But what if you're a Blackpool fan? Will they have the players, just eight at the moment and no goalkeeper, to fulfil the friendly fixture with Burnley? Tickets were on sale at the time of writing but for a 5-a-side, or 8-a-side, or 11-a-side no-one quite knew. The newest manager has just left in despair after being there just 5 weeks. Of course we have our moans and groans at Burnley but you look across to the coast and it makes you realise just what a solid club we are, well run (retainer apart), and how we are now so secure with the millions to come. Then, here in Leeds there's an owner who insists that players must live within Leeds itself, bring sandwiches for lunch, wash their own socks, and is attempting to fill the place with cheap Italian players. In Italy their opponents for a friendly didn't turn up so Leeds played themselves and won 3-1. Result!
All the stuff in this piece is totally insignificant and dwarfed compared with the senseless murders of the two Newcastle United fans on their way to New Zealand to see Newcastle in their pre-season tour. There were hundreds on board that 'plane of all walks, colours, creeds and nationalities. Each and every one of them is mourned somewhere in the world. I'm not saying for one minute that we grieve any more for the two football fans than others, but somehow, their death strikes some sort of a chord with me because of my own love of football and my club. You don't expect to go on a 'plane for the trip of a lifetime to watch a football match and then be shot down by so called 'rebels'. This was a crime that was abhorrent and pure evil in its intent. The world we live in is filled with atrocities on a similar scale. The heinous deaths of Liam Sweeney and John Alder somehow symbolise the whole pointless futility and ghastliness of air strikes, missile strikes and ground incursions wherever they are.