When one Clarets supporter was pleading with a bus driver to let him on the bus (he'd forgotten his money), the Pendle Witch Hopper to Nelson; he was about to be turfed off the bus when a beam of light appeared at the top of the stairs from the upper deck.
Yep: it was none other than Danny Ings wrote the forgetful one and Danny immediately paid the necessary 75p. Danny Ings saved my life said the Claret to one and all on the message board and all was well.
Throughout the summer Danny has popped up unexpectedly at weddings, schools, parties and brought a smile to people's faces. We watch his dance moves on Youtube. The legend grows and grows. And now he is involved in a Burnley scheme to encourage reading.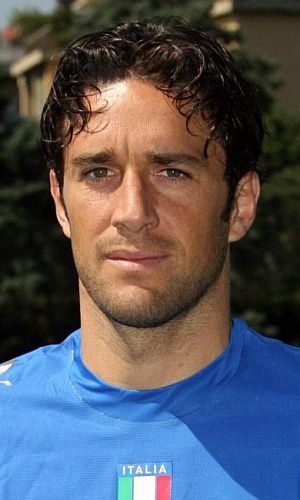 Luca Toni came up against Michael Duff
But there was no Danny in the side or on the bench to face Celta Vigo. You could feel the vibes around the ground. Was he injured? No he's going. He's sold. He's going to Southampton. Up front were Barnes and Lukas the Jut. Without Danny, this will be our Premier strike force we told ourselves. The rapier that was Vokes and Ings replaced now by the battering ram that is Barnes and Jut. Finesse replaced by force.
It was a first for me and Mrs T. We were up in the Bob Lord on the very back row; the ground laid out in front of us immaculate, but behind us the window ledges where (memo to cleaners) the remains of years of dead flies and pigeon feathers lie gathering dust. I like dust. My office is full of it. Dust is just layers of history and should therefore be preserved. But I can do without the flies and feathers.
No problems on our chosen turnstile. The machine scanned the ticket in the twinkling of an eye. Up the stairs we went and into old Bob's monument. To our left was the newly painted Cricket Field Stand. I'd been in the club in the late afternoon; workmen were still busy doing this and that, you could smell paint. The pitch looked like a green carpet. The Bob Lord turnstiles that we used were however, never designed for people with, shall we say, an ample girth. Back in old Bob's day it was common knowledge that at many grounds the cash from one turnstile was unaccounted for and usually ended up in a chairman's pocket.
Pre-match there was a buzz outside the ground. It felt good to be back. A long queue snaked its way from the ticket office. By now not too many seats left for the Chelsea game even with the astro-prices; predictions that there would be rows of empty seats quashed and the away end sold out. The club however remains cagey about exactly how many season tickets were sold after the early bird ended.
But on the way to the game, problems on the road at Luddenden Foot (again), more roadworks to set my nerves on edge and my chum Todclaret tweeted later to say sorry he'd forgotten to tweet earlier to let me know about them. It was the same bit they'd been digging at the end of last season, finished and tidied up, gone home, lulled us all into a false sense of security, and now they were back again digging more holes. They reckon to reach Australia by the end of the season. Nearer home on the Leeds ring road they are about to start massive improvement projects that will take 8 months and more on three roundabouts, two of which we have to negotiate to get to a game. Attending games this season is going to be a test of resolve, faith and keeping calm.
Up on the back row it struck me how complex now these pre-season preparations are. The game against Celta Vigo was an 'international challenge match'. We used to call them friendlies when ah were a lad. In fact when I were a lad my dad used to take me to the one pre-season game they had at Turf Moor which was Probables versus Possibles; in other words the first team versus the reserves. And that was it for pre-season. And there'd be over 10,000 people there. The oldies will remember this and players like Les Shannon, Jock Winton, Doug Newlands and Bobby Seith.
Now, they've had five games already and the Celta game was tasty and almost too competitive. In fact it had something we hadn't seen at the Turf for years, a mass brawl started by a punch thrown at Dean Marney we learned later, a real melee of pushing shoving players (even gentleman Tom Heaton rushed out to join in) and Mrs T and me were just talking about all the dead flies on the window ledge behind us and weren't really concentrating and suddenly when we paid attention and looked there was this almighty confrontation going on and we'd no idea what it was all about. I remember one years ago when Colin Blant was in his pomp involving Derby County at the Turf. There was mayhem but the best bit was when Blanty fell to the ground as if poleaxed by a real haymaker but there was not one player near him. Funny what you remember.
It was I have to say, quite interesting up there on the back row because it was clearly a good vantage point for all the scouts from all the other clubs who sat there taking notes and talking and discussing the game intensely although we couldn't quite hear what they saying. Among them were Brian Flynn and Kevin Reeves. Anyone from Chelsea might have jotted down that last season's rapier force of Ings and Vokes had been replaced by the Jukes/Barnes battering rams.
They, and we, saw a thoroughly entertaining game. Burnley won the first half against what seemed to be the Vigo second string. It was 1-0 within a couple of minutes thanks to the power and strength of the Jut who shrugged off the defenders and slotted home. He then hit the post, Mee headed narrowly wide. A 2-0 or even 3-0 scoreline would have been reasonable at halftime. There was some decent play and confidence grew. But 1-0 was a fragile lead.
What we assume was the Celta first team came out for the second half and the game was suddenly very different. For 25 minutes Burnley were ripped apart and yet the defence held firm until the inevitable equaliser. You wondered if this was a foretaste of things to come during the approaching season. To our astonishment in what was just about Burnley's first attack of the half, the Jut was in the Juke Box again to tap home a Barnes cross. They might have held on to the lead. The game became more balanced but another superb Celta move tore the defence apart and the equaliser was slammed home from the edge of the box.
Overall, 2-2 a decent result in a properly competitive game and Celta showed what Burnley will be up against. They held their own in a game where the brawl was almost comical as even the now-fit Tom Heaton raced out to join in. Next up, the Italians.
The pundits meanwhile had Burnley as popular favourites to go straight back down. Charlie Nicholas was the latest although in no way as derisory or as excruciating as Craig Burley and Shaka Hislop on an ESPN programme. It was truly cringe-worthy and it makes you wonder if the ESPN bosses ever watch the programmes they pay people like this to be on. To call them clowns would be an insult to the circus industry, or what's left of it. Being a circus clown is an art and a practised skill with years of honing your craft. Being Craig Burley or Shaka Hislop on a football programme is simply infantile and grossly ill-mannered and needs no practice. Theirs was a display of sniggering ignorance, and lack of any respect and research. Two villages are clearly missing their idiots.
There were three more idiots in Burnley, scumbags (no other word) in fact, who on their motor bikes rode over the commemorative crosses at Towneley after the 100 years anniversary service, one of the many things that is so much to be proud of in Burnley. It was estimated that a thousand people attended a wonderful ceremony and conducted themselves immaculately. In contrast there were just three idiots riding their bikes thinking they were having such fun. They need to be named but I'll bet they daren't step forward to apologise and replace the ruined crosses.
It turned out later that Danny was still a Burnley player. He had not been sold. He was not in Southampton. He had a hip injury. If I tried some of his dance moves at my age I think I'd injure a lot more than my hip. Sean Dyche said he'd been keen to play but Dyche preferred to play safe.
Saturday 9 August: it looked and felt more like November at 6 a.m. Where was this August heatwave promised by the Daily Express a week or so ago? Now we were battening down the hatches in preparation for Hurricane Bertha. The whole ground was open so as to test all the turnstiles and scanners. And maybe a couple of hundred Italians made the game and brought a level of noise and atmosphere that made it a great afternoon.
By kick-off it was more like August, blue sky; warm sun and scudding white clouds. Luca Toni the man mountain Verona centre-forward an international and World Cup winner. Next to him Duff looked like an undernourished waif, but honours were even, a yellow card apiece after a bruising afternoon for the pair of them.
We were sat right across the aisle from the Verona guys my left ear taking the full brunt of their incessant noise. Picking one that looked hygienic and sober I stuck out a hand, grinned and said a nice smiley 'welcome'. He responded with a grin of his own. 'You are from Verona then?' I asked with a bit of entente cordiale. 'Well of course he bloody is,' I told myself.
'Chester,' he said. 'I work there. I am Marco.'
Were the rest actually from Verona or had every Italian restaurant in East Lancashire shut down for the day? I wondered if some of them might just be the characters from Tim Park's book 'A Season with Verona?' Marco said the book was just as well read over there as it is here. These were the famed supporters that Parks wrote about so wonderfully well. A book came to life this afternoon.
The stewards had their hands full but all was well. They were rowdy, rumbustious and passionate, their flags and banners draped the front of the stand. They sang every English football song in the book, but the Italian versions of course, including Have You Seen the Muffin Man and Rule Britannia.
The first half was a bit cat and mouse, the second half a different game altogether. With half the Verona fans still in the concourse, they scored from a simple short lob over the top and the wide man raced onto it and headed over Heaton. It was totally unexpected. So was the equaliser within minutes coming from a move at pace ending with Ings, who had a superb game, cutting the ball back and Taylor, a very impressive acquisition, smacked it home with the outside of his foot from 12 yards. What a difference Ings makes, so quick-footed, so nimble, able to go past players like they aren't there, terrific first touch and able to control any ball from any angle. How unlucky not to score today.
So too Verona from a point blank bullet header that Heaton saved when a save seemed impossible. Miracle, miracle bemoaned the Italian commentator broadcasting back to Verona. Two Verona players shook Heaton's hand in admiration so good was this save. Meanwhile Duff and Toni continued with their battle. If anyone had any worries that Duff, fast approaching bus-pass application time, a Zimmer frame on order, would cope this season, Luca Toni will tell you otherwise.
The Jut scored his inevitable goal, six now in six pre-season games; a powerful header from just inside the Juke Box. But maybe the third was the best. A free kick from 35 yards struck with swerve and venom by Wallace that just flew into the corner. The Verona guys just carried on singing… and singing… and singing.
What a shame that there was a crowd of fewer than 5,000. The prices were cheap, down to a fiver for pensioners and kids. Those who didn't come missed a good show and some good football. They missed a classic centre-forward versus centre-half contest, no favours asked and none given. They missed a sparkling show from Ings, good keeping from Heaton, plenty of slick football and that same relentless effort and covering that we saw all last season. These have been two good work-outs this week and a scoreline of Burnley 3 Verona 1 is one to be pleased with and looked very impressive on the Sky info bar.
On the way home into the Queen at Cliviger for Steak and Ale pie, ecstasy in a crust and not the merest hint of a queue at the roadworks in Luddenden Foot. The Premier League and Chelsea await. And I'll bet more than a few of us will look out now for the Verona results this season. It was a visit to remember and my migraine is just about gone.