The bookcase at the top of the stairs (minstrel's gallery in the brochure) is all football books. The office is filled with them, on the window ledge, on the floor, on the shelves, under the desk, behind the door. In the bedroom the table has a stack of them waiting to be read – and another two arrived this week. Down below in the basement old stuff goes to the charity shop to be replaced by football books and programmes and magazines, heaped up next to the home-made marmalade, plum jam, chutneys and crates of Bollinger. The shelves groan under the weight.
I thought the David Peace 'Damned United' book was outstanding in its 'differentness' and style; so I bought his new one 'Red or Dead'. With the success of his other books, Peace is in the J K Rowling bracket inasmuch as a new book is an 'event'. He is a 'name' and his subject 'Shankly' is a name. Thus 'Red or Dead' is already number 7 in the top Amazon bestsellers. Four of the others, incidentally, are cookery/diet books.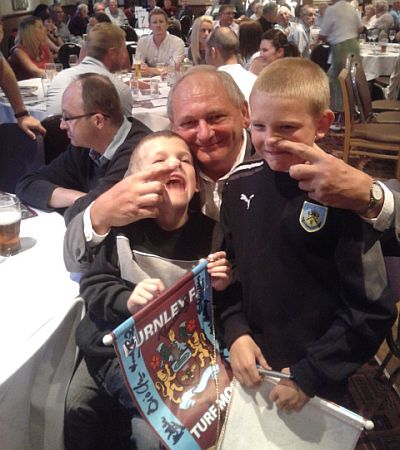 Steve Kindon and friends at the Adamson book launch
At 700 pages it's a monster of a book. If you buy a copy you'll see exactly why it's 700 pages. It's written in the style of a Janet and John school reader, or the old Ladybird Peter and Jane books with endless word and short sentence repetition. Interspersed with all this are passages of dramatic powerful stuff. By coincidence I'd got as far as page 180 before we set off for the Sheffield Wednesday game. The bit I'd just read could have been written specially for that game. Liverpool had just beaten Everton 5–0 and Shanks addressed his troops. Burnley had just beaten Wednesday in a pulsating game and Dyche entered the dressing room.
After the whistle, the final whistle. In the dressing room, on the benches. Still in their kits, still in their boots, the players heard the footsteps in the corridor. Bouncing, dancing, Sean Shankly waltzed into the dressing room, around the dressing room. From player to player. Patting their backs, shaking their hands –
You were magnificent boys. Magnificent. Every one of you, boys. Every single one of you. I could not have asked for more. You have answered back every comment, every question with a magnificent display of total, team football. From the back to the front, from the left to the right, every one of you boys. Magnificent I tell you, boys. That is one of the best displays of football I have seen in my life. And no-one here today will have seen a better display, a better example of team football in this country since the war. Playing like that, playing like you can, we will be Champions again. We will win the Cup again. And we will win the Cup Winners Cup too. We can win them all, boys. We can win them all. So now you go out there tonight, boys, with your heads held high. And you walk among the people of this city. And you listen to what these people will tell you. Because to a man, they will tell you the same as I'm telling you now. You are the best team in England…
The other one that arrived was by Daniel Gray with accounts of his visits to different grounds in different parts of England. As soon as I knew there was a Burnley chapter, I pressed the One day 1 click button. 'Hatters, Railwaymen and Knitters,' looks at 13 towns that host a football team. He chooses Burnley as one of them. As an Englishman living in Scotland he takes the view that he can return to England as a traveller and see it through objective eyes.
Focussing on the Burnley v Bolton game when Owen Coyle returned with his team in the opening game of 2012/13 made it all the better. Lucky for me; I can salt the chapter away in the filing cabinet to use in the next No Nay Never anthology whenever that might be. I have this thing about writing a trilogy; three books in the set but not a fourth. That's mainly because I know a series of three is a trilogy but I haven't a clue what you call a series of four. Dan Gray immediately gave his permission and I added it to the permission letters relating to Brian Laws' book, Peter Swan's book, and a fascinating book called 32 Programmes, in which a poor hen-pecked bloke is commanded by his wife to reduce his precious programme collection to just 32; that's all the room there is in the suitcase before they move to the USA. Two of his programmes involve Burnley games – fascinating stuff. It's a book that's so simple in its basic concept that you wonder why the hell you didn't think of that. So that's the challenge to all progophiles; what would you choose if you had to prune your collection to just 32 if you've got hundreds of them. Permission too came from Brian Jensen to add the final chapter of his book to a profile of the big man. It's a book and chapter that makes some revealing comments about the Laws/Premier period. It seems Beast was none too pleased with the attitude of some of his team-mates during that time, though he doesn't name them. Judging by the displays in the home game defeats against Wolves, Portsmouth and Blackburn, it was probably most of them.
The news before the banana-skin Yeovil game was gloomy. It had trickled out late in the week and then there it was in the chairman's programme notes on matchday. For the year ending 30 June 2013, the club would be posting an £8million operating loss. It was a jaw-dropping figure and much as most people know that the club is leaking money, gates are slowly falling, that directors' loans play a huge part especially at critical cash-flow times, that player wages eat up vast percentages of the income; nevertheless this was a figure far in excess of anything suspected. It made the Charlie sale all the more important and the whisper was that the fee was in the region of £3million. No wonder he had to go. It begged the huge question – just what happens when soon there are no more parachute payments and annual income is solely what comes via tickets and commercial income. From a £3million profit at the end of June 2012, to an £8million loss in 12 months; most reactions on messageboards that by and large went into meltdown, were of disbelief. One or two tried to make some sense of it.
For years, without director loans, the club would have faced administration more than once. Today, should the co-chairmen decide they've had enough and walk away from the club and want their loans back; it would be in instant dire straits. Between them they have loaned the club £10million over the last three years, much of this I would guess because of cash-flow problems at the end of season and through the summer. On Radio Lancashire later in the evening Mike Garlick was optimistic that the club would be in a break-even position by the end of this current season. He didn't elaborate but it isn't rocket science to work out that drastic surgery will be needed in the absence of further parachute payments, to get staffing costs down when ticket and gate receipts will amount to little more than £3.5million. Without considerable increases in commercial, catering and retail income, it is hard to imagine a total income anywhere near big enough to sustain present club lifestyle. And, looming over all of that is the prospect of one day having to repay over £6million owed to directors. What happens if they decide they've had enough (and who could blame them) and choose not to invest yet more money is not hard to imagine.
Out of the hundreds there was one messageboard post that stood out: "I just feel it's a real shame that the first manager we've had since Coyle who seems to know his a*se from his elbow, is the one to suffer."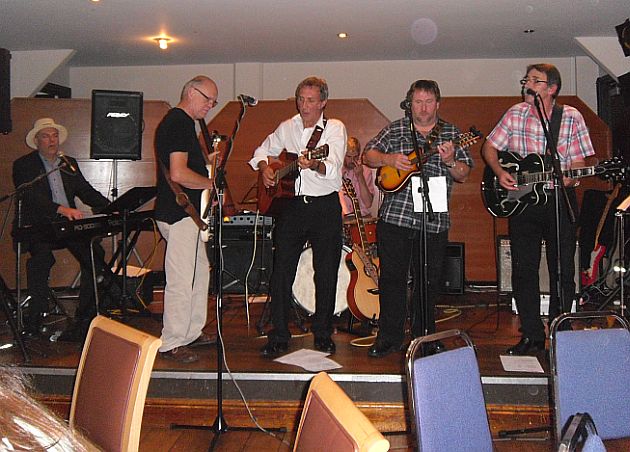 Gerry O'Gorman and his band
It was good to get back to the green bit and the Yeovil game and surmise that a win would cheer us up a bit. And, it was six-year old grandson Joe's first game. Yep, I'm doing my bit to drum up support and it was an extra £5 for the club coffers. We'd bought him a new shirt and shorts the other week – goodbye 40 quid or something in that region. We went in today and spent another £30+.
It was a game in atrocious conditions that until the latter stages seemed to be taking us all to an early grave. The sun had shone most of the week but this game was on as miserable a day as you could wish for. Mid-August and up in the rarefied atmosphere of row 8 of the Upper James Hargreaves we sat and shivered and covered our heads from the wind and cold and rain that drove in. Injections of sweets, buns (3), fruit shoots, and a sausage roll kept Joe at least semi-alert. He loved Stan's (his name for him) yellow boots and was thrilled at Treacy scoring, not because he knew much about him, but because his other granny is called Tracey. It was Bertie Bee, not the goals that had him laughing and chortling.
For the first 45 minutes the word dreary would not go amiss. Ironically as the rain intensified in the second half the tempo picked up and the ball fizzed about with a bit of venom. Tackles became a bit spicier; the yellow card increasingly waved about. With Jones giving a midfield masterclass, alas Wallace and the yellow-booted Stan were about as effective as a rubber hammer; they were subbed with 16 minutes to go. A win seemed a forlorn hope. But on came Arfield and Joe's new hero Treacy; Gawd what a relief when Treacy's goal went in. We've let some soft goals in at Burnley over the years and today at last we scored one when the Yeovil keeper seemed to punch the wicked, swerving cross that was heading for the top corner, into his own net via the crossbar. Within minutes, an Arfield thunderous shot that was heading for the Park View Chippie hit Vokes and cannoned in. Yeovil capitulated completely and by the end the score could have been doubled. Warmed by the goals, we headed for the exits, not only winners but in possession of third spot in the table. In the car Joe's sagging spirits revived quickly with copious supplies of hula hoops and cheddars.
The Jimmy Adamson night went down a treat (every copy you buy int club shop is another £9 off the loss). It was a free night thanks to the sponsors. Gerry O'Gorman and his band were terrific, boy can they play a bit; the pie as mouth-watering as ever. I had a phone call from Talksport in the afternoon. "Hello is that Dave, this is Talksport." I was chuffed to bits, my little head thinking great, an interview, some publicity for the book. I went into overdrive, rabbited and gabbled away about Adamson, Lord, Potts, broken dreams and the guy who had the football world at his fingertips and then walked away from it all when he was only 51. On and on I went. God I'm on't wireless, I thought, I'm famous at last. It's about bloody time. And then the guy got a word in.
"That sounds great, but," he said and then paused. "But all I want is to ask is, do you have Dave Burnley's telephone number."