So now it was two games in a week, essential that the first was a win to keep in touch with top-place Leicester and vital to get at least a draw at QPR to prevent them also pulling away.
The blank Saturday was therefore a day devoted to some TV catch-up. The taped Three Musketeers was a gem. Swash at its best; swords that really swished and lots of heaving bosoms. Buckle at its most buckling. Imagine Big Sam Vokes in one of these terrific musketeer costumes, girls. Your knees would turn to jelly. Those leather coats and wide brimmed hats – fantastic – I want one. You can keep the baggy pantaloons though.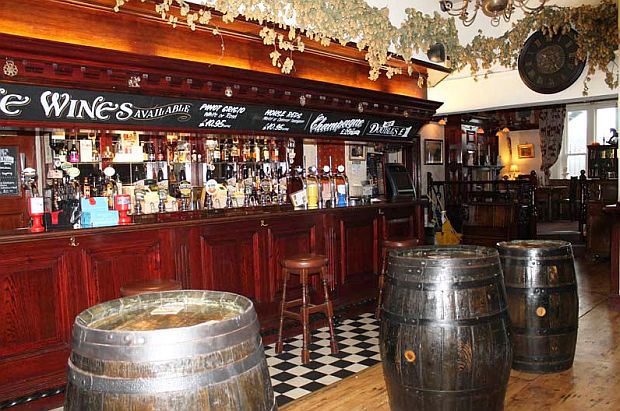 Outstanding food at the Hop Vine in Burscough
Before the Brighton game we received the news that Arthur Bellamy had passed away at the age of 71. News of our heroes passing seems to come with unfortunate regularity these days. Although he played many games for Chesterfield he was Burnley through and through, player, coach, assistant manager and groundsman. Arthur was always a Harry Potts disciple and never forgot a game at Tottenham in his very early days when the legendary hard-man Dave Mackay was kicking him all over the field. Harry wasn't having that and at half-time got hold of Mackay and pinned him against the tunnel wall and told him to lay off the young lad. Arthur never forgot that. He helped enormously with the Harry Potts book with no end of memories and stories and when Margaret Potts said she had never ever visited Gawthorpe, husband Harry's spiritual home, it was Arthur who arranged her first-ever visit when I mentioned it. Describing him as a gentleman is an understatement. People he coached and worked with thought the world of him. How he got the groundsman's job is one of those possibly apocryphal stories that abound in football. John Bond had arrived and had begun his cull of the staff. Arthur happened to be passing by one day and Bond asked him did he know how to drive the tractor and operate the lawnmower. It may or not be true, but Arthur realised if he said no he'd be out of a job and nodded yes. And thus, that is how he became the groundsman, allegedly. True or not, it's a lovely story befitting of a lovely man.
For 48 hours before the Brighton game there had been speculation in the media that West Brom were about to offer £7million for Ings. Having lost Shane Long to Hull City, being desperate to offload Nicolas Anelka, Ings was reported as being the obvious replacement. Sean Dyche meanwhile had reported that there had been no offers for any of his players. With the Sky News transfer-window-ometer ticking down towards the final evening when presenter Jim White would froth at the mouth, we did our best to convince ourselves that the directors would see a possible £90million at the end of the season as an inducement to rebuff any offer. As we took our seats, thankfully there was Danny. Surely they wouldn't sell the lad while he was doing his stretching exercises and playing piggy in the middle or when he'd gone back inside. No they didn't, and out he came for the game.
Not that it did much good; this was as disappointing a night as we've seen this season. It just didn't click. The ball just didn't run kindly. We seemed to be out of luck again as well as being out of sorts and so predictable. The first half was in a word dreary. My pal said dire. Mrs T said dismal. Someone else joined in and said it was dull. His neighbour said drab. The sum total of first-half excitement lasted maybe a minute in a spell when Kightly drilled a shot cum cross at 100mph that either smacked into the post or the keeper shoved out (we couldn't tell) and then the cannonball return shot was blocked away miraculously on the line. At the other end Heaton saved a certain goal when faced with a one on one. Glum faces all round at half-time.
And then just as glum at full-time: even though the performance picked up in the second half. But still it lacked all the features that brought the run of games that took us to the top. The sizzling, sexy, samba football was now mainly a sort of slow, tea-dance shuffle, Flavia was now Anne Widdecombe. Nevertheless bit by bit Burnley became more dominant, Trippier surged, Jones prodded, Marney scuttled, Ings twinkled. Vokes had a point blank header saved; Duff hit the post with a header. Jones had a screamer just an inch too high. A hopeful lob trundled wide. And yet Brighton could have nicked it so easily in the final minutes when somehow one of them was clear in the box but there again was Heaton to save the one on one as we had our hands over our eyes.
All of us in our little enclave were agreed; with Kightly and Arfield offering much running but little threat, both Stanislas and Barnes could have come on to freshen things up after half-time. And those corners: how many more did we have to add to the ten in the last game. And not one delivered a goal. The game cried out for the quality corners and crosses that Stanislas can deliver. The eagle-eyed spotted that Brighton midfielder Keith Andrews had a simple role – supporting the back four making their formation almost 5-4-1. You could see the thinking – get past that - Ings and Vokes if you can. They couldn't. It cried out for someone to beat a man and cross from the by-line. We don't have forwards who can do that. Thus the hopeful long ball was humped, pumped and lumped forwards where Vokes jumped but too often was gazumped. And we humphed.
Brighton were good, organised for the draw and a breakaway, skilful and difficult, but irritatingly the ghost of Poyet still lingers as they auditioned for RADA, fell, rolled, clutched heads, knees and did all the things that made them such an unpleasant team a year ago. Not quite as bad 'tis true, but enough to annoy us all intensely. Dyche thought they'd come to park the bus. 'Gerraway,' the Brighton assistant replied. But Poyet we missed. His touchline dramas and hysterics used to be worth the entrance money alone.
Burnley stayed in third place and were three points behind QPR who won and 11 behind Leicester who won. The dream of a top-two place seemed to be slipping after this game. The QPR game was thus set up to be the game of the season so far. A win for them would leave Burnley six points behind them. A win would put Burnley back to second. Austin had damaged his shoulder against Bolton and had been subbed. He'd scored most of their goals so far. The less sympathetic of us hoped it was bad enough to keep him out of the game.
We were in Ormskirk with chums for the QPR weekend. So here's the restaurant bit. On the Friday night we ate in Burscough at the Hop Vine, built in 1874 and once a stopping off point on the old turn-pike road. There's a micro-brewery in the back garden. The food is outstanding. It was my treat (took some doing as a Yorkshireman I can tell you) as a thankyou to our friends for the way they looked after us a year ago after the accident we had over there. Any Burnley fans in the area or passing through, it's worth a visit. I had the pulled pork, marinated in a Tennessee style rub, steamed over apple cider overnight and loaded onto a sour dough bun with chips and spicy coleslaw. Mrs T and our chums had the small fish and chips. Small… it hung over the plate. The large fish overhangs the table.
Harry previewed the game saying that his squad was down to the bare bones - yeh, right Harry and then as the window closed he went out and signed five players. One of them was Kevin Doyle; we grimaced at that and with good reason when he scored after just six minutes. Burnley were slow off the blocks. When Ings equalised from a Trippier cross it was about all they had done in the half. At half-time we could be forgiven for thinking that this was going to be a bad day at the office as QPR went in 2-1 up when Dunne was left all alone to volley the ball home when the ball came out to him following a clearance from a corner. Burnley just weren't in it, the millionaires stroking the ball around, Harry looking relaxed, Barton pulling all the strings; the referee allowing QPR to dump Burnley players on their backsides as and when they chose, whilst Kightly was booked for merely brushing against a QPR player.
We were watching in in La Cantina, stone floors, low ceilings; furnishings from old churches, schools and libraries, a rustic little wine bar in Ormskirk that specialises in imported red wines from Sicily, venison pies from Wrexham and cakes from next door. Seven of us made it into the temporary Burnley Bar. Half time pies, bacon sandwiches and toasties cheered us up. Must have put fresh energy into Burnley as well; they came out a different team and had a superb second-half 45 minutes. Dyche must have worked his magic in the dressing room. This was terrific stuff they played. If QPR were deservedly ahead at half-time a Burnley win would have been deserved by full-time. Vokes scored two classy goals; the second after an Ings run and cross after he had robbed Assou-Ekotto. The first after a passing move that involved several players, then a Kightly cross and in Vokes raced to place it home.
Ings fashioned his own chance to make it 4-2 with a moment of magic but missed the top corner by inches. 4-2 and it would have been game over and at that point QPR chairman Tony Fernandes must have been worried that he would lose the side bet with Burnley chairman John B. A Burnley win and Fernandes would have had to paint the tail of one of his Air Asia planes claret and blue. A QPR win and John B would have had to run round the pitch in a QPR shirt. John B was the canny one. A QPR shirt would have cost about 40 quid. Painting an aeroplane costs a small fortune. It was John B who netted the newest board member Terry Crabb and the word is that Terry isn't short of a bob or two. We'll soon have more money at Turf Moor than we know what to do with. John B is working his socks off for the club.
La Cantina was rocking with optimism. But this is Burnley is it not. Instead of 4-2 to Burnley it became 3-3 as a mix up between Mee and Kightly allowed Hoilett to dance through and cross for the equaliser. La Cantina fell silent. The minutes ticked by, no side wanting to lose, Hoilett the danger man. But again Assou-Ekotto goofed, he with the lavatory-brush hairstyle, does he not know what a twit he looks, and this time let Stanislas in. Stan, buffeted by the toilet-brush and off balance, some say having his shirt held, lobbed. Green was out of the area. The ball arced high. We gawped with mouths open. This was the very last minute. It peaked. The trajectory turned downwards. Was it going in? Down it came in slow motion, bloody hell this would be 4-3 and a wonderful win. Tony Fernandes must have been thinking where to get the paint from. But no, it bounced agonisingly inches wide. Sean Dyche talked about rub of the green. There hasn't been any for several games now. If we'd been having Leicester's luck we'd have been having results like theirs. Had that gone in I suspect we'd have drunk La Cantina dry.
We were drained. It must have been worse if you'd been there. Leicester then went on to win with another contentious goal, Bournemouth players hollering it hadn't crossed over the line. But Derby on track to go above Burnley, succumbed to an injury time equaliser at Birmingham so Burnley stayed third. Sean Dyche was understandably proud of the team, he knew they'd come within a whisker of a deserved win. Ings had apologised to the lads for missing the chance he created. Dyche told him he had no need to.
Crunch time then, came and went. Just the 2 points from the two games but by the end we were still hanging in there. Meanwhile, if you're ever in Burscough do try the Hop Vine. If you're in Ormskirk do try La Cantina – and tell John you're a Burnley fan.