Close Encounters of the West Ham Kind
Feature by Dave Thomas
Updated Tuesday, 6th December 2011
It was that time of year again; time to make a trip to the capital. If this journey had taken place two weeks earlier we'd have been quaking in our boots. But after two great wins the mood had changed.
Sure, we didn't expect to go down to the Hammers and blow bubbles in the West Ham faces, but there was just that faint, tiny, teeny-weeny little bit of an idea that just maybe, maybe, we could sneak away with something. The game was set up (in my head if nobody elses') for a 2–2 draw with Stanislas scoring one of them.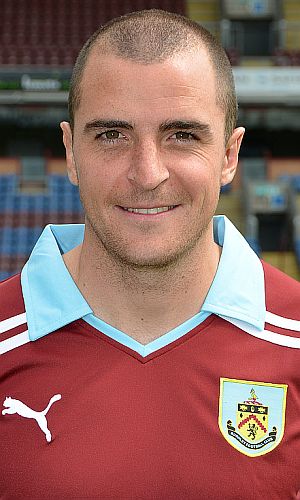 Dean Marney - extra body in midfield and one of the heroes
If the 3–2 win away at Hull hadn't been the biggest surprise since people on the Titanic looked up and yelled: "What the hell's that?" Then the 4–0 demolition of Ipswich a couple of days later was an even better result. How it wasn't 8–0 remains a mystery. Jimmy Jewell described his side as a pub team. That was true enough, but for long spells Burnley looked like Barcelona. Rodriguez and McCann were outstanding. Trippier was on fire. Treacy had his best game so far. Vokes won just about everything in the air. Here's a topic for discussion. Is he a better partner for Rodriguez than Austin? The defence looked rock solid (I've just re-read that bit and yes it says rock-solid). Grant might as well have brought a comfy chair and a newspaper. Endless chances were made. There was even a clean sheet. The Ipswich keeper made stunning saves and blocks.
At 2–0 down at Hull there were Burnley, at that moment, in the bottom three of the Championship. 100 minutes later there they were in 14th place just 5 points below the top six. How much better it might have been if Burnley hadn't still been top of the most-shots-off target table. It's a position they've hogged now for the second season.
It was a sign of the times that there were only 32 people on the weekend coach to London. The first time we ever did this caper was on the team 'plane to West Ham in Stan's time. Then there was the weekend when we lost 5–3 in the Prem. Little by little the number of people who can afford this extravagance has fallen. Me and Mrs T just about managed it; we sold some of the wood we had been saving to light our little fire this winter. There'll be no goose this Christmas either. With this government we've cooked our goose already.
I knew it was going to be a good weekend when the lady sat next to me and Mrs T on the coach got chatting about Clarets Mad. I don't know how my name came into it and she had no idea who I was but "ooooh," she said, "I do enjoy reading that Dave Thomas on Clarets Mad, I think he's really witty."
Well who was I to stop her Barbara thinking that? Lucky I had some books with me to sell so when I showed her one and owned up, oh how we larfed… and she bought one as well. Result.
In Banbury where there was the usual pitstop I just missed meeting Banbury Dave, chairman of the Banbury Clarets (just the one member at the minute). He might have been able to shed some light on the availability these days of the famed Banbury Cake. Stuart wandered into a nearby Greggs to enquire. They'd never heard of them. Apparently they're a bit like an Eccles Cake. And whilst in Banbury we wondered exactly what a "cock horse" is, as per "ride a cock horse to Banbury Cross?" Well in the olden days it was a high spirited horse, or it was a little wooden hobby horse.
The Docklands Ramada where we stayed is part of the huge ongoing re-development of the whole Docklands area. Well, they used to be docks. They aren't any more. Amongst the giant Excel Exhibition Hall, the City Airport, the Docklands Railway and all the blocks of swish new apartments and converted grain warehouses, the only reminder of what there used to be, are some of the old dock cranes that tower skywards and line the quays like sculptures. The water is empty other than an occasional duck or seagull.
We headed around the Excel building on Saturday morning in search of the Docklands Museum. "Just 5 minutes away," said the girl at reception. She must havehad a different watch than mine, it turned out to be miles away. "OK we'll get the railway then," we decided. These are automatic and computer controlled. The bank of ticket machines looked like the control centre of the Starship Enterprise, all touch screens and flashing lights. God knows what we did but eventually a price came up: £7.30.
"EACH?" We looked at each other and by marital telepathy both thought the same.
At that point the Yorkshireman took over and we abandoned all thoughts of any Docklands Light Railway adventure.
"And anyway," said Mrs T, "I'm not getting on that there's no driver."
It was more fun watching the huge queues of wannabees lining up for the Britain's Got Talent auditions and watching the Judo Olympic test events in one of the halls.
The hotel was filled with young healthy looking folk in tracksuits from countries all over the world. One of them was at the toast machine at breakfast on Saturday morning. It was one of those infernally slow machines where you stick the bread in at one end and an hour later out comes a half done piece of toast at the other end. It's another hour to do the other side.
"This is the Olympic toasting machine," I said to one long-legged, tanned, gorgeous beauty with flashing eyes and dazzling teeth, in a Brazilian tracksuit.
"AH ha," he laughed, but it was clear he hadn't a clue what I'd said. (ha ha bet you thought I was gonna say she).
Another group was in there making swishing noises and pretending to kick bricks and split planks with their foreheads. The Burnley Football Supporters Club, you can't take 'em anywhere.
None of us had given much of a thought to the game. A defeat was expected. Nevertheless when you don't expect much you ain't gonna be disappointed. The coach inched its way along the golden mile that is the High Street that leads to the ground. I looked in vain for a pie and mash shop yet again. On both sides of the street there was every café, restaurant, fast food, takeaway joint you could imagine. This was a culinary geography lesson. Africa, Middle East, Mediterranean, Turkey, Greece, Thailand, China, the Caribbean, the International This, the International That – this was mouth watering stuff. And just one fish and chip shop. How things change. Mind you, it was the only shop with a queue.
What I did get inside the ground though was a superb cheese and onion pasty. It was Barbara I saw munching one with a contented look on her face. Barbara knows her onions, I thought. That looks good I decided, staring. This is good, she said, looking at me looking at her pasty, drooling.
"Have one," said Mrs T to my surprise. It must be Christmas I thought. And yes, truly this was a pasty amongst pasties. Light golden pastry cooked to a T. An inside packed with the most delicious cheese, onion and potato. This was a pasty to make the expected impending defeat a whole lot more acceptable. But wait, it wasn't a defeat. We actually bloody won; and won well.
There was a first half of containment, Marney the extra body in midfield. There was no goal fest. West Ham tis true created a chance or two but only one was the proverbial bad miss. But it was all too good to be true when early in the second half a hoofed goalkick bounced off Cole's head into the path of Kevin Nolan who flicked it over Grant's head. We feared the worst. But Burnley are made of sterner stuff these days. Perhaps they'd all been fired up with a cheese and onion pasty. On came the Vokes wagon and little Rossy. Off went the enigma that is Stanislas who had barely featured other than crossing the ball for McCann's terrific headed equaliser. We went mental. And the best was yet to come.
A Wallace corner and there was the Vokes again to head powerfully home. We went double mental. Were we really going to win? Nolan by now was in thuggish mode. What an odious, loathsome player he is. Three brutal challenges left Burnley players writhing. How Trippier, caught on the touchline, after he had released the ball, is still walking is a miracle. The referee ignored each one of these repulsive fouls. Each one merited a yellow card. By now I desperately wanted to win not just for the three points but so as to deny the despicable Nolan any kind of satisfaction.
There is a God. We did win. Burnley held out comfortably. Duff and Edgar repelled everything. McCann was surely man of the match, but Rodriguez, Trippier, Marney and Vokes were heroes; Mee as well, another victim of Nolan nastiness.
At the end Nolan trudged off defeated, a silent, sullen, surly, sulking, scowling, despondent figure; a picture of oafish ugliness. The Burnley lads on the other hand celebrated at the away supporters end absolutely beside themselves with elation and achievement. They threw shirts, blew kisses, waved, hugged each other and danced. The coach drive home was actually quiet. I guess all of us were drained and spent by the drama and the tension of those final minutes ticking away on the giant clock at the opposite end. Some games leave you with a special feeling when you've won. This was one of them. All of us will say in years to come: "Were you at West Ham when Burnley won 2–1?"
Dinner at the hotel that night was superb. Six of us dined by the Christmas tree, and ate and drank from 8 till 10. The wine went down a treat. Even the toast machine on Sunday morning seemed quicker. The Brazilian was there again.
We all headed for Greenwich after the Full English breakfast on Sunday. The last time I was there was with a school trip in the 70s when the Cutty Sark was in one piece. We wandered round by the river's edge and into the naval buildings; from there through the Georgian streets towards the park. And then I stopped and stared. I thought I was hallucinating. Good God there were dozens of Santas running up the hill. My mouth dropped open. "Bloody hell, there's hundreds of Santas over there," I said to Mrs T.
"Don't be daft," she said scornfully. "There's only one Santa, everybody knows that."
And then she too stopped and stared: hundreds of them all running up and down the hill doing a charity run. It was raining Santas. You just had to smile. We followed the trail of abandoned white beards along the road up towards the Observatory, and then back down again. Those who had finished filled the streets and cafes. Japanese tourists looked bemused. You could see them thinking, just how did we lose the war to this lot?
The weekend wasn't finished. One of the old Admiralty buildings is now Trinity Music College. In the chapel a couple of students were rehearsing, one singing to the accompaniment of his pal on the grand piano. Mrs T and me sat transfixed for half an hour or more as they played and rehearsed What a Difference a Day Makes, the arrangement dreamy, mystical and absolutely spellbinding. You'd pay handsomely to hear something like this at a concert. Britain's got talent alright. It was here in the chapel performing for anyone who cared to sit down.
We've had some great weekends away with the Suppporters Club. This was another one. Saturday's treat was the cheese and onion pasty and a Burnley win. Sunday's treat in Greenwich was a Danish pastry and 500 hundred Santas. Oh and what a difference a day makes, says the song. What a difference a win makes says the heart.
Interact with us
Sponsored links