I went to see him a couple of days after the Millwall game and the 2-2 draw. Yes he was surprised to be in top place in the division, but at the beginning of the season thought there might be a top six place. In days gone by he was a regular traveller on the team bus to away games. It was Steve Cotterill who put a stop to that, he said. Now, he has a luxury motorhome, big enough to tow a small car behind. So for the Millwall game he and Mrs Holt 'camped' at Redhill, Surrey, south of Millwall and then drove in for the game; what a brilliant way to follow your team through a season.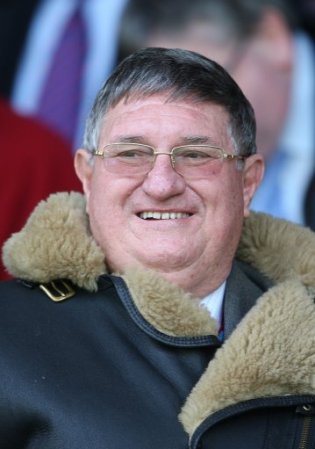 He was just 13/14 when a leg with nerve /ligament damage, ended all his football days. Hospitalised with his leg in plaster, he then recuperated in Bournemouth on holiday. And it was whilst sitting on the beach there with a football magazine that he came upon the name of Burnley Football Club. It was an article that fascinated him, all about Bob Lord and the club's famed youth policy and was sometime around 1956, he recalls. He had no notion at all then that one day he would end up in Burnley working for an engineering company and that one of the things that attracted him to the area was the fact that there was a decent football team. It was one of the ticks on the list, he says, although he turned down the first job offer in the area and it was two years after that first offer, that he accepted and moved to Foulridge where he has lived ever since.
Engineering has always been his profession, at both Vickers and Vokes; starting as an apprentice, then as a design draughtsman, as a sales representative and latterly running his own companies. It was Vokes that offered him the chance to run their factory in Burnley, though he professes to have no idea still, why they thought of him as the man to run it. Nevertheless at the second time of asking he moved north. Whilst in Kent he watched non-league football at Gravesend, now Ebbsfleet. When he was based in Guildford he was able to watch Aldershot, or get into London to watch Arsenal or Charlton or Third Division South football. That was way back in the days when there was no Premier League or Championship, but there were four divisions; First, Second and then Third Division North and Third Division South. Only those of a bit long in the tooth will remember those times.
Once in Burnley, having also turned down the chance to manage the Vokes factory in sunny Australia, he then attached himself to Burnley FC and has never watched anyone else since. One of his first recollections of the club is Steve Kindon returning to Burnley and rescuing one particular season when they looked odds on for relegation. He used to stand on the Longside and then with his first season ticket sat in the Cricket Field Stand. That was where he was when Celtic arrived in town and Turf Moor saw the worst ever riots and terrifying behaviour by the marauding Celtic hordes.
From there he progressed to the rather more exclusive 100 club and from there became a Vice President. He can't remember what it cost him back then but he does remember being quite vociferous at one of Bob Lord's dinners for the VPs. It was when Lord announced huge rises in the price of being a VP. There were maybe 60 of them there, he thinks, and they were all stunned. Being a self-confessed vociferous critic when needed, it was he that the others voted as spokesman to go and see Lord and tackle him about the increases. He got nowhere but remembers Lord being jovial and amiable, but does think that by then he was showing clear signs of fading interest and energy. At that point Clive didn't know how financially bad things were. That knowledge would come later.
The next few years until he became a director in July 1986 were marked by the death of Bob Lord, a promotion in 1981/82, then relegation, then the John Bond season, and then John Benson. Things were sliding more and more and by now he had taken to writing critical letters to the local papers and was now well known for his forthright views particularly about the lack of any ambition. Looking back on it all now, years later, he sees it as a period of inertia, where the then directors were content with things as they were, just drifting along in a boardroom that was becoming more and more just a cosy place to have a drink.
'So I was invited,' he says, 'to put my money where my mouth was. Accordingly, I put £20,000 in when it was Frank Teasdale who was chairman when I joined the board. John Jackson had resigned. The club by then had the revelations about Bob Lord's infamous Lowerhouse land deal.'
(Lord had a useless piece of land behind his meat factory which he persuaded the football club to buy from him so he could raise some cash. The amount was around £15,000. Then the decision was made to build the M65 and suddenly this land was very valuable. Unexpectedly the land was valued at six figures. Lord then turned round and dragooned the club into selling it back to him so he could then sell it on. The agreement was that a third of the price would go to the taxman, a third would go to the club and a third would go to Lord. As it was, says Derek Gill, [No Nay Never Volume 2] Lord got his third but the club kept the rest and gained around £70,000 in what was probably a highly dubious transaction.)
'This was before my time as a director,' recalled Clive, 'but was a possible reason why John Jackson eventually resigned as chairman because as a barrister he must have known it was not quite all above board.
'Anyway: so there I was as a Burnley director in 1986/87, the Orient season, when things were in such a bad state. I'd come a long way since I'd sat on Bournemouth beach with my leg in a pot reading a football magazine, probably Charles Buchan Football Monthly. If I couldn't play again, I had the next best thing – being a director.
'I remember the first ever board meeting I attended when the board consisted of Frank Teasdale, Basil Dearing, Bob Blakeborough, Bernard Rothwell, Doc Iven who had been there years, and cricketer Jack Simmons who I think only ever attended one meeting. It was some meeting I attended. Basil Dearing announced that the club was insolvent and were trading illegally. I sat there thinking what have I let myself in for? What am I doing here? But we got round that problem by having the ground re-valued at a higher value. In a stroke we were no longer insolvent. Frank Teasdale was excellent at holding off creditors back then and even sent flowers to the tax lady. He was excellent at finding sponsors who would pay up front rather than spread it over a season which in our state was no good to us.
'And all this was in the Orient season. At the beginning of the season manager Brian Miller told the board: "Gentlemen we won't get promotion, and neither will we be relegated." Well how right he was but it was a close thing and by the way you didn't want to be in the way when Brian was angry. At the beginning of the season I went to watch a pre-season friendly at Wigan to the old Springfield Park, my very first match as a Burnley Director, we were very poor and I started to question my sanity of why I had joined the Board. We had so few players that day.
'A few years later I went to a reserve game at Wigan with Bob Blakeborough. None of the Wigan directors were there so we helped ourselves into their boardroom and found their whisky except it was the foulest tasting stuff and I wonder to this day what it really was. God knows what it was. The funny thing at Wigan back then was that they had a picture of the chairman framed on the wall. But it had curtains that drew across. If they won, the curtains were pulled back to reveal the chairman. If they lost they remained closed.
'Near the end of the season there was a game when we lost at Scunthorpe and the Lincoln directors were there to watch and afterwards gloated that they would be safe. How wrong they were. It was Lincoln who went down. We lost 1-0 at Crewe and I knew from my stopwatch that the referee had blown several minutes early fearful that Burnley fans were going to stage a riot. Frank Teasdale lodged a complaint with the Football League. It fell on deaf ears. I remember there were four clubs that could go out of the League that final day. If Burnley won I was certain that one of the others would lose. And so it turned out. The money from the Orient 'gate' allowed us to get through the summer.
'Some of us went out for dinner after the game and my wife said to me she couldn't stand another season like that one. I told her it wouldn't happen again and next season we'd get to Wembley. And we actually did in the Sherpa Van Trophy and then the Wembley money saw us through the next summer.
'When it did actually look possible that we might exit the League we had this tongue in cheek plan to take over a struggling Cardiff City, a club then about to collapse. The idea was to relocate them to Burnley and rename them. We even spoke to the Football league about it. Far-fetched I grant you. So: the Wimbledon idea was first thought of at Burnley years earlier.'
In the second part, Clive talks about a fellow director demanding his resignation and the Russian trip of 1991.