"Little old Burnley," is how Peter Beagrie, a smile etched on his face, referred to them with clear affection the end of the day. This was the club with one of the smallest budgets and one of the smallest squads in the Championship. The season had begun badly with two defeats and two draws. Slowly but surely things were turned round. Then over the Christmas period there was a run of five consecutive defeats. Again things were turned round so that by the final game of the season if Burnley won the last home game they would progress to the play-offs. This they did with a thumping 4–0 win over Bristol City, not a bad side themselves.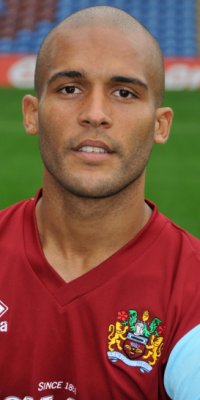 Behind the scenes, however, the club was in financial turmoil. In April administration was imminent. The club could not meet the wages bill. The payment instalments for the purchase of Chris Eagles had already been re-negotiated. Four directors, Barry Kilby, John Sullivan, Ray Griffiths and Mike Garlick saved the day with more loans totalling nearly £1m. All this was a well-kept secret. Without those loans, the push for the play-offs and the Premier League could have taken a far different turn. It made the Wembley play-off even more of a match to remember. In the great scale of things it was up there with the Orient Game of 1987 when basic survival was at stake and Burnley might just have folded.
The two semi-final games against Reading were won, 1–0 at Burnley and 2–0 at Reading. Yet again Clarke Carlisle was immense in both games. To reach Wembley within the context of all the background problems, limitations and pressures was a miraculous achievement. To have actually won it was quite simply an astonishing fairy-tale and with a £60m jackpot at the end of it, how those directors celebrated, although one of them, Ray Griffiths, lay in a hospital bed unable to attend this most marvellous of days. It is not unreasonable to say that the win over Sheffield United saved Burnley Football Club from eventual financial meltdown.
BURNLEY ARE BACK said the Burnley Express report in the May, 26th edition:
The day was all the sweeter for those who have traipsed around, with all due respect, places like Aldershot, Maidstone, Halifax, Rochdale, and those who witnessed Hereford win 6 – 0 at Turf Moor, an FA Cup embarrassment at Telford, a defeat to nine-man Rochdale, and those who refused to let their club die on that fateful day in 1987.
The teams came out to Ian Brown's FEAR, which starts, "For each a road…" and it certainly has been a long old road since 1976. The Burnley supporters wondered which path this wonderful team would take on a day of destiny. But any early nerves were settled in sensational fashion.
If the goals in the semi-final second leg were special, Wade Elliott's 12th minute strike was every bit as good – and it will now acquire legendary status – the goal which took Burnley up.
It started with a driving run, typical of the former Bournemouth man, whose piercing movement when played through the centre has been instrumental in Burnley's success over the second half of the season.
The Blades backed off, and after he laid the ball off for Chris McCann to try his luck, when his effort broke, Elliott effortlessly whipped the ball inside the top left-hand corner to spark mass celebrations in the stand, but not on the pitch where Elliott remained calm.
He knew, as has been the mantra throughout the season, nothing was won yet.
The game took a lot of winning. As is often the case, the Clarets did things the hard way. They created a raft of chances, Martin Paterson curling an effort inches wide, Steven Thompson nodding just past the post. Joey Gudjonsson had an effort scuffed off the line after the break, and then Kyle Walker somehow got back to deny Robbie Blake from Thompson's pass.
You wondered if the missed chances would come back to haunt them, but with Brian Jensen untroubled all afternoon, all fears were unfounded.
We dared to dream, we believed in this team, and my, how they have delivered.
BURNLEY ARE BACK.
They came from all over the world, from Bermuda, Philadelphia, Sydney, Adelaide, Melbourne, Wellington, Mexico, Bulgaria, California, Vancouver, Seattle, Yemen, Kazakhstan, Florida, Belgium, Malta, France, Norway, France and Cyprus. They came from all points of the UK compass, Ireland, Dublin, Belfast, from the tips of Scotland to the ends of Cornwall. There is a family of Burnley expatriates for who the umbilical cord will never be stronger. And Burnley itself was half empty.
How many miles did people travel during the season to watch them, how many thousands and thousands of pounds did they spend. Which of them during the opening month of the season did not think that disaster lay ahead? Which of them did not live on their nerves towards the season's end when the prospect of success was close? Who did not feel despair when we could only draw at Southampton, or Derby scored their last minute equaliser with just a handful of games remaining? When were the first thoughts that something special might happen?
"Little Burnley," we kept saying and little Burnley became the 'peoples' club' as the feeling grew in the outside world that here was a hard-up, modest club from a small town battling against the odds. The pundits and the great and good wanted us to succeed. They remembered as we did that horrible night against Tottenham in the Carling Cup when Burnley were just two minutes away from the Final.
None of us dared contemplate with certainty a win over Sheffield when the actual day came. To be there was a bonus we consoled ourselves but for Graham Alexander it was his seventh experience of play-offs, the previous six all failed. Surely this time he will be lucky we implored the football gods.
I know that I spent the Sunday wondering if just one moment would settle it. Would it hinge on referee's decisions or would one man seize the moment and strike home a winning goal? As it turned out, the football gods were indeed on Burnley's side. Every Burnley player played his part none more so than Carlisle who gave a masterclass in the art of defending. But they were all on top form. Blake twisted and turned until he sent us all dizzy. Caldwell was not far behind Carlisle. Paterson ran and ran and did the work of two players, in attack one minute, defending the next. Elliott was all guile and darting runs, Duff and Kalvenes solid at the back. Thompson up front was more than a match for the physical Morgan. And the Beast, the player of the season, had a quiet day, rarely troubled by Sheffield, but was there on the rare occasions he was needed.
The spectacle at the end was stunning. Mike Dean blew his whistle and the claret and blue end erupted. The tears flowed. Exultation, exhilaration, exhaustion, joy and more joy, cascaded down from the terraces and engulfed this band of brothers who had defied the odds and achieved this miracle. The noise was deafening as we danced and hugged with strangers and pinched ourselves and asked was this really happening. The Sheffield end had emptied by the time skipper Caldwell lifted high the trophy. Another roar filled the stadium and more tears flowed.
This was little Burnley, a founder member of the Football League and no-one could say that they had not earned their place in the Premiership. On that warm sunny afternoon the members of that team had they lost would have been heroes still. But in winning they, and Clarke Carlisle, became legends forever.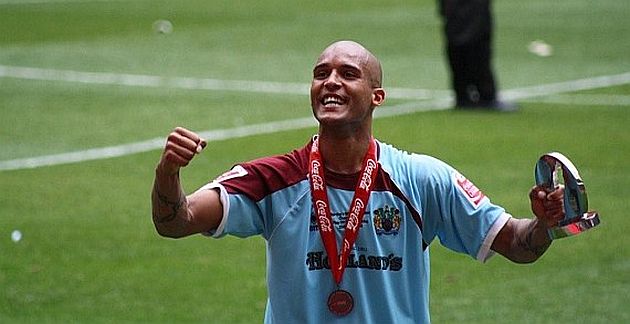 Carlisle afterwards described his feelings on the day. "Words will not describe how it felt at the final whistle to stand in that centre circle. I didn't know what to do, whether to laugh or cry. It was unbelievable – such a magnificent achievement.
It was awesome. I cried like a little girl on the pitch. It was an unbelievable time and a moment to savour. What an achievement, 61 games, 23 players. It was such a compressed workload but we did it.
Every single one of us, from the gaffer and Sandy Stewart and Steve Davis and Phil Hughes all the way through the playing staff, what I'm so proud of is from a town of 80,000 there were 36,000 out there, more wanted to come, and we performed and we gave them something to sing about. We respect their support and we're Premier League now. It's awesome.
I'm just trying to say to the lads who have always been on the fringes of success, and young lads like Alex MacDonald, Adam Kay, Jay Rodriguez, savour the moment. Moments like this don't happen ten a penny in your life. Just enjoy it and make sure you experience the 36,000 out there and all the trappings that come with it. It's an awesome day.
It had to be a normal 90 minutes, and that's why we stayed at the Bull where we stayed before the Cup games against Chelsea and Arsenal, and we made it as normal and down to earth as possible because when you step into the arena, the last thing you want is to have been daunted already.
The lads went out, did what they had to, and I was just blessed and privileged to have been a member of this."
There is no doubt that the media and the experts widely welcomed Burnley's return to the big-time, and just about everyone who saw Carlisle's after match interview could not fail to have been deeply moved.
Neutrals sighed with relief at not seeing Sheffield United playing Stoke in the Premier League next season… instead Burnley will grace the top division, 33 years after they left it and 22 after they nearly slipped into the Conference. It gladdens the heart and makes you feel good about the old game…Daily Express
It was settled by a goal that deserved to win any game. If Burnley's tale, on a club level, is a romantic one for having been away from the top division for so long, then the goalscorer encapsulated the fairy-tale nature of their ascent. Wade Elliott, 30, who settled the outcome after only 13 minutes, was a free transfer from Bournemouth having previously played in non-league football at Bashley… The Independent
Grown men cried, strangers embraced, and under a shower of ticker tape Wembley saw an emotional outpouring that brought an end to 33 years of hurt… it was hard to avoid being consumed by the euphoria that greeted the minor miracle overseen by Owen Coyle… among the Claret and Blue hordes few ever imagined they would see this day come to pass… nobody can say they do not deserve it… The Times
For all ages of Burnley fans, yesterday was special… for the older supporters it was all about the restoration of the natural order, a return to the time when Burnley were an established force in the land… The Telegraph
All over the pitch there were Burnley heroes… Carlisle didn't put a foot wrong. Then there was Elliott who can dine out for life on his winner… make no mistake the better side won… The Telegraph
Burnley are back in the big-time and ready to bring a touch of much-needed romance to the billionaire world of top-flight football. They are the smallest town ever to boast a Premier league club and their entire population could fit inside Old Trafford. What Owen Coyle and his players have achieved this season is little short of a miracle… and no-one could begrudge brilliant Burnley their long-awaited return to the big-time… The Sun
It will be 50 years next season since Burnley won the title and the anniversary will be celebrated among the elite. A Lancashire town has burst into the limelight, their elevation back among the elite constituting a staggering achievement by one of the Championship's thinnest squads… The Guardian
The enormous significance of this match was that a town was united both during the game and afterwards. Supporter Mark Griffiths was both at the game and the celebrations and parade afterwards.
"I can't get over what I witnessed. There's real poverty in Burnley – there were young women with teeth missing holding their grubby babies up like it was some kind of papal blessing. There were whole Asian families waving and shouting at the roundabout by Centenary Way. It was magnificent."
Our little town turned itself inside out to applaud – nay worship our team. They were stood on walls and rooftops and leaning perilously out of office windows and hanging banners from the bridges over Yorkshire Street and Finsley Gate. It was still magnificent.
Leaving the Town Hall the chill descended and the crowds thinned out a little, but the busses were pursued by young girls and middle aged men waving homemade flags and tattooed adolescents who'd ripped their shirts off. When we approached the Turf again the crowds were still there, deeper and even more urgent, with some having sprinted across the town to get there. When we crossed some of the junctions you could see people running along the parallel streets. In a 'zombie' flick it would have seemed threatening, but instead, here, it was utterly heart-warming to see that people cared so much."
Burnley has had its well-documented problems in the past, both social and political. But this was a match and victory that brought a town together. It was a glorious triumph.
In the Premier League, Carlisle appeared in the fabulous wins but was as stunned as anyone when Owen Coyle left Burnley and just as surprised when Brian Laws was appointed. It was then Eddie Howe who saw that he was a player that Burnley could now release. He went to York City and then soldiered on at Northampton, re-united with Aidy Boothroyd, and appeared in the Wembley play-off final of 2013 having clocked up over 70 games after he left Burnley. Alas he was on the losing side but it was a fitting place to play his final game. He announced his retirement on Thursday 23 May and thus enabled himself to concentrate on new career roles; the chairmanship of the PFA being a role he would now have to relinquish. In a radio interview on his retirement he described himself as a player of moderate ability, but always giving 100% had made full use of it, and he'd had some phenomenal moments, the greatest being Wembley, 2009. He was a bargain buy by Steve Cotterill and a giant in the promotion season especially in the final stages. He becomes another player who will always be welcome back at Turf Moor.