But whilst the togetherness at Burnley encompasses supporters, town and team, at Leeds that togetherness is relevant only to supporters as they heroically rally round their ailing club despite all the chaos that surrounds them. What a mess that club is in. It showed no signs of getting better as Massimo Cellino was kept waiting yet again regarding his purchase of the club. And yet the crowds still roll up on a Saturday at Elland Road desperate for some sort of salvation. Credit where it's due, the Leeds crowd were superb at Burnley.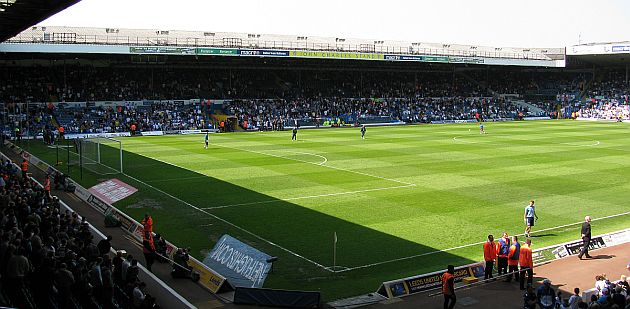 How different Leeds history might have been if only the Leeds directors of the time had sanctioned Jimmy Adamson's plan to bring Kevin Keegan to Leeds from Hamburg. But they would not back him and Keegan went to Southampton instead and totally galvanised the city and the club. Imagine Keegan at Leeds and the impact he would have had at a club with their stature. Not even the kindest person could say that Southampton then was a big club. But Leeds were, even though they were in the doldrums.
The Leeds club shop would not stock the Adamson book 'The Man Who Said No to England.' Someone somewhere there decided that the two Adamson chapters focussed on a time at the club when things weren't too good and didn't reflect too well on the club. So they preferred not to stock it. That's a shame. It might have opened Leeds' supporters' eyes a bit regarding what went on at the time. Adamson was abused and derided at Leeds, but the Keegan bid was real. Contact was made according to Dave Merrington his right hand man. But when it was scuppered by directors who would not fund it, Adamson as good as decided, what's the point of bothering? What am I doing here? These were directors that he said he could never trust. He left by mutual consent with a nice pay-off and then successfully sued the club for things said about him by the incoming manager even though there had been an agreement that everyone would maintain a dignified silence. His successor, Allan Clarke then took the club to relegation and yet remains a hero and legend.
Today, if things go pear-shaped with the Cellino bid it is quite possible Leeds could enter administration yet again. They currently borrow money simply to pay off existing loans and loans have been paying the players' wages. Leeds supporters who are genuinely 'in the know' don't know in fact where March's wages will come from. Current owners GFH haven't paid the wage bill for months, according to the influential Leeds website 'The Scratching Shed.' Cellino has already loaned the club money and if his bid is unsuccessful will want it back. The current owners are desperate to unload.
Chris Boden at the Burnley Express must look across to his counterpart at the Leeds Evening Post with a degree of envy. Phil Hay has had juicy material, crises and problems to report on at Leeds for years. He already has one book under his belt about the financial woes that existed under previous owners. Hay yet again filled page after page in the build-up to the game at Turf Moor with questions and articles about the ongoing shambles. Leeds is a goldmine for a journalist, with endless scoops, revelations, drama and mysteries. At Burnley the only drama is finding the culprit who left the lights on in the empty boardroom, or will Ings' ankle recover for Saturday. It didn't.
On 13 March, Phil Hay asked 10 key questions about what the hell was going on at Leeds not the least of which were; how big were the club's debts? Who was in charge? What happens if the takeover falls through? What was McDermott's future? How was the club being funded?
Supporters' tweets made fascinating reading… if this takeover falls through, no plan B, administration, relegation and the possible return of Dennis Wise, I can see it now… Burnley away has to be the day we make a stand. There's no better occasion to put this horrible year behind us…
Peter Lorimer in his column came out with: 'Being boss at Leeds United is like no other club in the Football league.' Perhaps that was what Jimmy Adamson discovered all those years ago. There was no love lost between him and Lorimer, according to Lorimer himself in his book.
On 14 March, the day before the game, McDermott was 'defiant,' reported Phil Hay with Leeds 11 points from the play-offs. Meanwhile the Football League said it could be 10 days before they made a decision on Cellino. The majority of outstanding issues had been resolved, they said, but they still awaited news from Sardinia about Cellino's tax evasion case. The Football League by the way was seemingly backtracking on the Financial Fair Play rules they had introduced knowing that they were about to be legally challenged by the big clubs that faced debt and sanctions; no surprise there then.
On the fans' page in the YEP the mood was gloomy and despondent…
Fans face up to more misery on matchday… we go into this game against a form team like Burnley thinking we will be lucky not to concede four… Only a fool would predict anything other than a home win 3-1… Manager Sean Dyche has proved that you can succeed in this division on a small budget and yes I am going for a Burnley win… There will be another huge following making the trip to Burnley more in hope than expectation, displaying a loyalty that frankly this club does not deserve… The work Sean Dyche has done at Burnley over the last 12 months has been nothing short of a miracle… Our squad built on a significantly bigger budget than Burnley's continue to embarrass… Burnley 3 Leeds 0… I fear another hammering this coming weekend as this Burnley side is the best I have seen in the championship, fast, well-organised and my tip for automatic promotion… They have players who know their jobs and do them well… Burnley 3 Leeds United 0… My head just can't see us winning…
But then there was one glimpse of optimism: 'But it would be just like this Leeds side to win the most difficult game of the last three, Burnley 0 Leeds 1.' Chilling words to bring any Burnley fan down to earth with a bump. Such things and unexpected results happen in football.
For me and Mrs T this was a Leeds game with a difference. Hush, but we were bringing a Leeds fan with us. We'd met on holiday last September and turned out he was from Leeds. We'd listened to Leeds 1 Burnley 2 on the internet. He'd squirmed and we'd whooped and hollered. We collected him from Birkenshaw and commiserated (as one does) at the last results he'd had to sit through at Elland Road. He was totally convinced there would be nothing in this game for Leeds United.
'The Scratching Shed' came up with some pearlers in its 'Lambs head for Slaughter' piece:
It would take an incredible degree of delusion to believe this Leeds United side can win tomorrow's encounter… The fat lady has finished her swansong and the Whites have nothing left to play for… If you're inclined to throw good money away betting on a three-legged rocking horse race the odds on Leeds winning will be astronomical… As team news goes, Leeds United's is terrible. Jimmy Kebe is too ill to travel which I think is code for cowering in a corner… Anyone predicting a Whites clean sheet should head to the nearest psychiatric hospital… There's more fight in a frozen chicken than our current ensemble…
The stats were ominous for Leeds. Burnley had averaged 2 points a game through the season, automatic promotion form with a win ratio of 54%. Leeds had averaged 1.29 points a game with a win ratio of just 35%. Burnley's defeat percentage was an astonishingly low 8%. Leeds was 41%. To any outsider this was surely a game that Burnley would win with only a minimal chance of losing. But football has a habit of kicking you in the teeth, we worried. And all this talk in Leeds of the sacrificial lambs rolling over and being given a mauling by Burnley seemed just too good to be true. 4,000 Lemmings hurtling towards a cliff, wrote Leeds fan Andrew Butterwick in his website, as they drove to 'the dark, satanic mills of Burnley and one of the most ancient and worst equipped stands in the championship. Only alcohol and blind loyalty was firing up Leeds supporter enthusiasm to an absolute buzz,' he mused.
All winter the Daily Express had headlined with horrendous but continually wrong forecasts of ice and snow lasting for weeks. Two days before the game they were headlining with Ten Days of Sun. It was wrong again as we woke on Saturday to cold, grey skies and a vicious wind that had blown up a couple of days before. The news that Ings would be missing was not unexpected but increased the feelings of apprehension.
If the stats were ominous for Leeds they played as if nobody had told them. They were certainly not lambs for the slaughter. For most of the first half they were up for it whilst Burnley were nervous, edgy and slow off the blocks. The ball spent more time in the air than any ten previous games put together. Leeds pressed, harried, and it was hard to tell which team was second in the table. A goal seemed inevitable, and not for Burnley.
Were Burnley out of sorts because not just Ings was missing but also Kightly and all the irrepressible energy and tracking he brings? Was it because this was the third game in just six days?
Mental tiredness could well have been the cause of the careless, suicidal Jones back-pass when it looked odds on that McCormack would score as he pounced on it and raced for goal. But like Rhodes a week earlier the ball smacked the post with Heaton quickly lessening the space to aim at. Shackell cleared it away. And so, yet again luck came to Burnley's aid. But why shouldn't it? At Birmingham three points became just one thanks to a last minute goal that should never have stood.
Slowly Burnley began to wake up as they began to impose themselves and at last began to get the ball down on the floor. But a Leeds goal came when Wickham took a good throw-in, the giant Smith got the flick-on and McCormack scored with a bullet header from 9 or 10 yards out. We feared the worst. The makings of an upset were clearly visible but then any possibility of a Leeds 1-0 win vanished when Trippier broke clear, whipped over a superb cross, and a hapless Leeds own goal got Burnley right back into the game. This time it was the Burnley fans that went ballistic, the eruption almost as colossal as the one that followed Blakey's goal against Man U; everyone now fully conscious that Burnley were standing on the brink of a quite astonishing if not miraculous achievement. Barnes, Ings' replacement, grew more and more into the game. He ran, worked, chased, hustled, and took more than one clattering. Vokes became more and more influential. And Arfield was immense.
Fittingly it was Arfield who scored the winner, rifling home a shot from 12 yards as Burnley became more and more dominant. By now the vocal backing for Leeds was diminishing whilst Burnley's grew. Stanislas by now had replaced Wallace bringing some badly needed threat, guile and craft. The minutes ticked by and a series of Leeds corners in the final minutes in front of 4,000 howling Leeds fans, had Burnley supporters' nervously screaming for the whistle. Shackell, Duff, Mee et al held firm, the ball cleared each time.
A Burnley win then, gutsy Leeds players crestfallen, fans filing out morose and downcast, many not quite believing they had lost, Burnley players leaping with joy. But the game was never pretty. This was a win that was the result of grit, determination and the never-say-die spirit and 'relentless mentality, physicality, quality and organisation,' which Dyche has instilled into them. This was a victory for 'passion and desire,' when the team ethic and support for each other compensates for any player having an off day. Dyche several times has said (with a degree of false modesty I suspect) he was never much as a player but what he had was a relentless desire to win.
This was the first double over Leeds United since 1927. The crowd of something over 18,000 was the best of the season. Our Leeds chum was magnanimous. But like so many other Leeds fans he has grown used to the continuous disappointments that come these days to The Mighty Whites, and they are all on pins now desperate for news of the Cellino takeover. If it fails they know that things will get even worse and defeats at 'little' clubs like Burnley may well become a regular event.
Andrew Butterwick's thoughts on the way home were plaintive: 'Burnley looked a well-drilled and very hard working side who have taken advantage of some astute signings to mould a team who seem to have one of the automatic proportion spots tied up. If Burnley can do it on a shoe-string, why can't we?'
For 'little' Burnley the giant prize edged a little closer. Derby could only draw so that Burnley were now 10 points clear of third place; but that good news was soured by worries that Ings' ankle may not be so quick to heal. A visit to a specialist was planned. Next up Charlton, our tickets booked. Little Joe was envious. 'When can I come to an away game?' he asked.
Ten games to go; tweets and texts asked the same thing – can they do it?