The floors glistened, the windows freshly coated with windolene, ledges dusted, pictures all hanging straight. There was a quiet hush. The admin staffs were up there catching up on things.
The ideal university – no students; I used to love school in the holidays when I went in to work – no kids. I used to love it if I went in early sometimes at 7.30 to work on my own till 8.30 when it was calm and tranquil. It was bliss – then the teachers came in.
It was like that on Thursday when I looked at the pristine, immaculate, green pitch that you could have played bowls on. The whole ground looked like it had been hoovered and polished from top to bottom and a bit of blue sky set the whole scene off perfectly. On the inside looking out, through the great picture windows you can imagine games from the past, conjure up the memory of a goal or a bit of skill. On a weekday if you're in there and it's such a sight you enjoy it all the more because there's no poor result to spoil things at the end.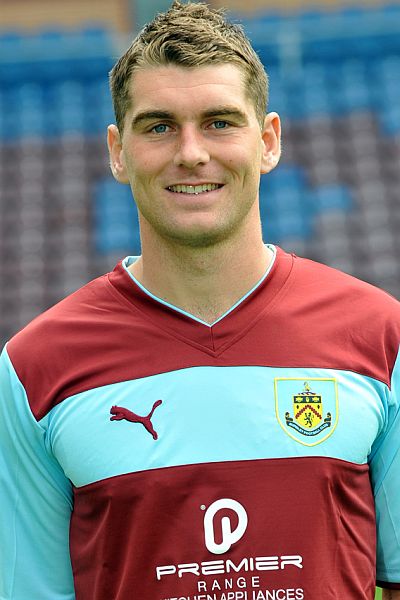 Sam Vokes - a class act until he shoots
Before a game when you sit up in the Upper Hargreaves and look down as the ground fills up there's always that sense of anticipation. The game hasn't been lost yet; there's all to play for, three points on offer. It was the same at Barnsley except it was a Cup place on offer. There's the programme to read, expectation, the build-up, faces you recognise, people you wave to, chat with while you wait. The next round beckoned at Barnsley. You look forward to it; and then the players come out and spoil everything.
Not against Crystal Palace. It was generally agreed this was the best all-round performance by a Burnley side under Dyche. Hell, it was the best performance all season if you discounted the woeful finishing. The half-time talking point was the number of shots that sailed over the bar in the first half. To say Burnley cut them to ribbons in the first half might be stretching it a bit, but the moves that created a shooting chance were frequent; alas the end product embarrassing. We looked at each other several times grimacing as if to ask just what do they do all week in training.
But the goal that won the game heading towards the end of the final minutes, when it came, was a corker. Stanislas on the edge of the box received the ball, seemed like he was in a dead end, but he looked, weighed up the options, decided which top corner to go for, and then unleashed a curling strike that bulged the back of the netting. It was no more than he or Burnley deserved although ironically he was about to be hooked off, having faded noticeably.
The first half: all cat and mouse stuff, tentative, not many thrills or much excitement, just the shots that headed towards the top of the Cricket Field Stand. A couple of good runs from the elusive Stanislas, all trickery and guile; Wallace busy, little legs going like the clappers; Ings impish, feet mesmerising, turning on sixpences, a little jack-in-a-box; Marney everywhere, putting himself about, a pain to play against, a bit like an annoying wasp, buzzing about, the destroyer with the knobbly knees. Edgar, no frills, tall, giraffe-like, imposing, long-legged, in efficient control; all the back four dominant, well in command, Trippier outstanding and Grant a couple of good saves – the Cat. And Vokes filled with power, muscle, strength, the gentle giant, hold-up play excellent, pressuring the defenders – a class act until he shoots and then yer get yer tin helmets out, except for a shot on the turn in the final minutes that had goal written all over it – but Speroni saved.
The second half was riveting. Burnley under the cosh for a spell; Palace can play a bit. On a few occasions you could see why Zaha gets rave reviews but the lad who took my eye was on the other side, the number 7. Other than a couple of occasions Trippier kept Zaha quiet but on the other side it was Bolasie who caused the problems in the second half. In the first he might as well have read a comic. The downside of both Zaha and Bolasie is their petulant diva histrionics, the spoilt-brat whingeing protests when they end up on their backsides. One of them, couldn't tell which, put on a display of temper and pique and dummy-spitting so awful it left you wide-eyed. It merited a booking it was so appalling – almost Bikeyesque. My mind drifted back to the days of Maurice Setters and Big John McGrath and what they would have done to sort him out. When they'd finished with him; he'd have been more ha ha than Zaha, more Bolognese than Bolasie, piles of twitching, groaning limbs left in a contorted heap on the grass.
Oh and Eddie Clamp as well. Eddie Clamp, I shiver at the name; that's exactly what he did, clamped you in a vice-like tackle that left you a different shape than when he started. It was allegedly Eddie Clamp who put a stop to Jimmy Mac's time-wasting by the corner flag routines when he slid in from 20 yards, nostrils flaring, eyes narrowed, teeth sharpened, temples bulging, ears flapping, malice aforethought and murder in his heart – and took Jimmy and ball and corner flag ten yards up into the stand.
Clamp feared no-one and knew how to take the mickey. When a statue of Stanley Matthews was unveiled he looked at it and smiled and commented to Matthews. "That's a grand statue. You're high enough up for the dogs not to piss on you; but the pigeons can still crap on you." Stan, a firm believer in his own legend, was allegedly not best pleased. And that was when they were team-mates. But he could be protective too. When a very young and none too wise Ron Chopper Harris decided to batter the senior-citizen Matthews black and blue at Chelsea, Clamp took the young Ron on one side and warned him to stop or he'd sort him out. Chopper, a bit on the dim side, did not heed this good advice and so Clamp bided his time. Then when the opportunity came he sought retribution and boy did he succeed. He whacked him so hard, so ferociously that Harris sailed so high into the air on Saturday he came down on Sunday. Chopper could barely walk for a week since his head was where his arse once was. I'd have paid extra money to see Clamp set to work on Zaha and Bolasie. Alas in today's namby-pamby, sanitised game, those days are long gone. I miss them.
With Palace and Bolasie tearing into Burnley for a good spell in the second-half you feared the worst. But the Burnley defence and general organisation is now made of sterner stuff. Manager Dyche in his after match talk gave the stats to illustrate that the goals against column now had dramatically altered, whilst at the other end the attempts on goal haven't much changed. With the hand of Dyche imposing method and steel the goals against has been more than halved.
But the goals-scored is a tad worrying. If the number of attempts and shots is much the same then the lads clearly need intense shooting practice at Gawthorpe – and a fit Charlie. Vokes could have had a hat-trick and in truth Grant might have cost the win at the other end. With the score at 1–0 and Palace swarming he dropped a cross, or was it a corner? The ball bounced around and even hit the crossbar. It could have been so costly but the danger was cleared.
My pal Tim emailed: "A host of CM posters have complained that our goal scoring has dried up because Dyche is playing too defensively. That has never had a ring of truth about it. Yesterday we made enough openings to have won the game comfortably. Our finishing is atrocious though. We have been wantonly wasteful for several months now and Charlie isn't exempt either. With better finishing we could and should have beaten Blackburn and Watford and drawn with Charlton. Although Leicester were superior to us in one of the Xmas games we should have snatched a late equaliser but Paterson spurned a tap-in in the final seconds. I hope Dyche is doing something about this because for weeks there has been a startling absence of composure in front of goal. Quite frankly the standard of finishing exhibited by Vokes yesterday and Paterson in earlier games would arouse derision on the local rec.
"It is so frustrating because Burnley look so good in much of their approach play although it is noticeable that other sides produce a greater proportion of dangerous crosses that we seem to manage. Trippier and Stanislas are easily our best crossers, particularly Tripps who manages to produce a succession of whipped, head-skimming crosses that cause mayhem in the box. If we can do something about the finishing there's still so much to play for this season. We are clearly fitter, more physical and determined under Dyche. We play at a higher tempo too. It's not simply a question of tactics.
"That's three clean sheets out of the last four and there are good signs there. Dyche spoke to the players on Friday and aligned them with the stats. (Touch of the AVBs there), they showed that we were conceding 2.2 goals per game under Howe, and now that's down to 0.85. At the other end we were making just one less chance than we were earlier in the season. We were making 15 and now its 14. The difference is the amount of truth when the ball hits the net. They were taking 1.8 chances and now about one. There is this perception that we have become tight at one end and not creative enough at the other, but it's quite simply statistically not true.
"To compete we have to harry and press far up the pitch and in my view it is considerably to Dyche's credit that he's got us doing that more energetically and consistently. The effort rate has been upped. The spate of clean sheets is not just down to Grant and his back four, although I feel Grant has looked a better keeper since he has had better protection."
So, we missed a hatful of chances, but to grumble groundlessly would be churlish. Despite the poor finishing this was a cracking and deserved win and Holloway has never won a game yet at Turf Moor. The horror show at Barnsley we hope was a blip, just one of those things and a replay was a cert until the goof that we will not talk about. Holloway expressed amazement that Palace hadn't got at least a point. He must have been at a different game than us.
Fish, chips and mushy peas at the outstanding Stubbing Wharf in Hebden Bridge on the way home sitting beside the roaring log fire, sticky toffee puddings: a very pleasing win and Mrs T's thumb might be out the pot on Tuesday so she can get back to doing the ironing. Now that's what I call a good weekend.
But Ian Holloway: can we play you every week? And Sean: the pupils need to stay behind after school and practise shooting more.