A top four side definitely, but inconsistent, beatable, and their days of title and Cup wins were over. It had been the 'reserves' and youths who Wenger had played so far in the Carling Cup and they had swept all before them with big wins over Sheffield United and Wigan Athletic. The nation purred at their silky skills, their interplay, the lovely passing, their technical skills and certainly the quality of the goals.
These had been home wins though and it was generally felt that these youngsters, good as they were, would find a cold, wet, inhospitable night in Lancashire, changing in cramped, basic dressing-rooms, to which they were unaccustomed, a far different prospect than the comfort and sophistication of the Emirates Stadium. Nothing had changed in these claustrophobic, tiny changing rooms since they had been built 40 years earlier in the days of Bob Lord. "All they get is a chair and a coat hanger," said CE Paul Fletcher with a twinkle in his eye, "this isn't a hotel."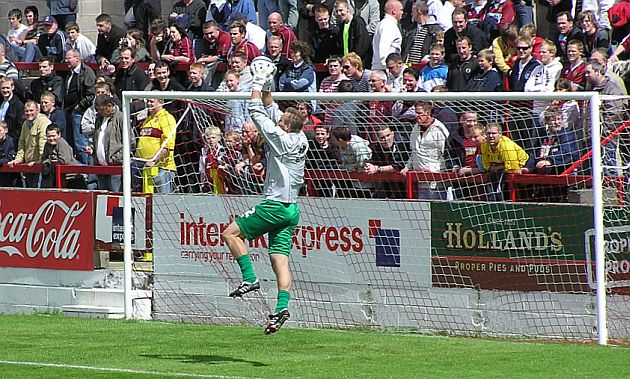 Ahead of the pre-season game at Accrington
With Fulham and Chelsea already despatched, (capital punishment was the slogan), Burnley, the team town and supporters relished the visit of Arsenal. There was a palpable sense of a win in the air especially as conditions on the night were appalling. Snow had fallen in Burnley and the surrounding areas. It was horribly cold. It was bad enough to prevent some fans getting to the ground. But the pitch was clear and the night was right for an upset. Thanks to a wonderful team display, and a marvellous individual performance by Jensen, the upset duly came.
19, 045 people were there on December 2nd 2008. It was a match of a lifetime for Jensen and a game to remember for the Burnley fans who roared themselves hoarse. Burnley had not been in the quarter-finals of a major competition for 25 years.
The bare stats say that a goal in each half from Kevin McDonald won the game but give no inkling of the pulsating 90 minutes that took place with millions watching on TV and Jensens's heroics.
4 mins: A sign of things to come came when Jensen saves from Nicklas Bendtner who beats the offside trap and is clean through.
Two minutes later the Clarets are ahead but within minutes of that Jensen saves a certain equaliser when again Bendtner has a golden chance.
10 mins: Carlos Vela's flick-on puts Bendtner in the clear again. Jensen saves the one -on-one.
12 mins: Jensen saves a shot from Merida.
20 mins: Jensen saves from Carlos Vela.
37 mins: More opportunities come the Clarets way but in the 37th minute Jensen again keeps Burnley in the game when the best move of the game sees Mark Randall break through and shoot powerfully. The shot is beaten away by Jensen. It seems over and again that Jensen must be beaten as Arsenal play their one-touch football.
41 mins: Jensen again as he saves from Carlos Vela.
49 mins: Merida shoots having beaten three defenders but Jensen's positioning forces him to put his shot wide.
57 mins: Goal by Burnley as McDonald latches on to Eagles' throw and scores with the outside of his foot. Instead of being three or four goals down, Burnley are now ahead. 2–0 it might be but the game is far from safe as Arsenal still make chances and force more saves from Jensen. There are occasions when you think they must score but there is just no way round, through or past the giant keeper.
87 mins: A slip from Caldwell lets Vela in. His cross is hit by Bendtner whose shot is smothered by Jensen who again positions himself well and the ball flies over the bar. The look on Bendtner's face says it all. "This man is unbeatable."
"The 33-year-od Jensen was the scourge of Arsenal with a heroic display of goalkeeping as Owen Coyle's Burnley ruined Wenger's hopes of lifting the Carling Cup with the youngest team in the competition's history. McDonald's goal in the 6th minute put the hosts ahead, yet it was Jensen's performance at the opposite end that defined Burnley's night." The Guardian
"For all the clever touches, delicate passes and intelligent movement, the visitors could not find a way past Brian Jensen in the home goal. Four times in the opening half, Carlos Vela and Niklas Bendtner created opportunities. Four times the Danish goalkeeper stood tall to deny them. He remained a frustrating figure." The Herald
"Arsenal's kids… were unlucky to run into big Brian Jensen – the Best of Burnley – who has grabbed his share of glory in this competition. The keeper made a string of saves to deny the visitors a place in the last four. Jensen, the penalty shoot-out king who knocked out Chelsea put his frame in the way time and again as Arsenal went one-on-one so often. Nicknamed the Beast because of his bulk, Jensen made sure the Lancashire club's Carling Cup adventure continues…" Daily Mirror
"Burnley hero Brian Jensen has his sights on lifting the Carling Cup after dumping another of the big four… he overshadowed Claret's two-goal Kevin McDonald with SIX great saves to deny Arsenal's kids. Gunner's boss Arsene Wenger said: we had six one-on-ones with their keeper sand did not score any of them…" The Sun
"Burnley fought their way to the semi-finals on the back of a superb display of goalkeeping from the enormous Dane Brian Jensen. The 33-year-old made four point-blank saves in the first half alone… Daily Mail
A stunning performance by goalkeeper Brian Jensen booked Burnley's first major semi-final for 25 years." Telegraph
The reward for Jensen, as well as the not unexpected MOTM award, and everyone else was a place in the semi-finals against Tottenham. A rather more unusual and unexpected reward, was the presentation of a five-foot sausage sandwich to commemorate his sterling displays. Burnley butcher George Heys and baker Glen Whiteside decided to pay tribute to him by naming the huge sandwich "the beast."
"I've been in the game a long time," said an astonished Jensen, "but having a sandwich named after you is something I never expected. Apparently they'll come up with something else if we win promotion. It's a shambles (he uses the word as we might use the word mad). A butcher turned up at the stadium with the biggest hot dog I have ever seen and now I have got a couple of bags of sausages back home. It was funny at first but I did so many interviews about it that when I was asked to do another one I said no. It was time to concentrate on football, not sausages."
It is undoubtedly that concentration that has enabled Jensen to see off each rival who has arrived at the club and to bounce back from his early career setbacks. Club goalkeeping coach Phil Hughes has no doubts as to why Jensen had the best season of his career in 2008/09. "Brian Jensen is one of the hardest working keepers I have ever worked with," he said. "Brian has always had the attributes to be a top goalkeeper. He has the size, the work ethic and technically he is absolutely fine.
"Brian is not a player who sulks or someone who turns his back on competition," added Hughes referring to the arrival of each new keeper at the club. "He meets every challenge head on and he's managed to keep ahead of everybody who has come in through determination, self-belief and hard work."
The world of the goalkeeper is in the spotlight for the full 90 minutes of any game. Whereas one slip from an outfield player might not be costly, one mistake from the goalkeeper and fingers point and heads shake. One serious mistake can cost the game. If an outfield player can hide or have a quiet spell during a game, there is no such luxury for the keeper. A centre forward misses a golden opportunity and a week later if he scores the mistake is forgotten. Not so with a goalkeeper whose mistakes can be remembered for weeks. Only the strong survive, and Brian Jensen is very, very strong.
At the Gawthorpe training ground the goalkeeper arrives 30 minute early for individual coaching. They receive an hour and quarter specific goalkeeping practise each day. On top of that there is the shot stopping drill that comes when other players have their shooting sessions.
A goalkeeper might be called upon in a game to make routine saves and then perhaps two or three saves that are out of the ordinary and quite special. In the Arsenal game Brian Jensen made six saves that were quite extraordinary. It was his night and the match of a lifetime.
One set of Turf Moor programme notes, as his season of a lifetime came to a close, likened to his career as a soap opera – and one with a happy ending. "I have always had kicks in the teeth. The only season I have known for a fact that I would be playing was my first season here in 2003/04. Since then I have always been fighting with really good goalkeepers and it's always been 'here we go again'."
After Arsenal came Tottenham in the semi-final. Having lost 1–4 at Tottenham in the first leg, despite a first half performance that could not have been bettered by Barcelona, the return leg at Burnley was won 3–0 so that at the end of normal time the tie was level. In other competitions the away goal they scored would have taken them to Wembley but not so in the Carling when Tottenham then had an extra 30 mins to try to score again. This they did with just two minutes to go.
The goal that took Tottenham through was a perfectly placed shot by Pavlyuchenko, but even so Jensen got a finger to it and nearly saved the day. It was a cruel, cruel ending.
"Because we were up against the wall against Spurs and everyone had written us off, we showed everyone what we were about and in the end it was a case of so near, so far."
But referring to the Arsenal game he added: "When I made the early saves I felt nobody was going to beat me and I'll tell you it's the best feeling in the world."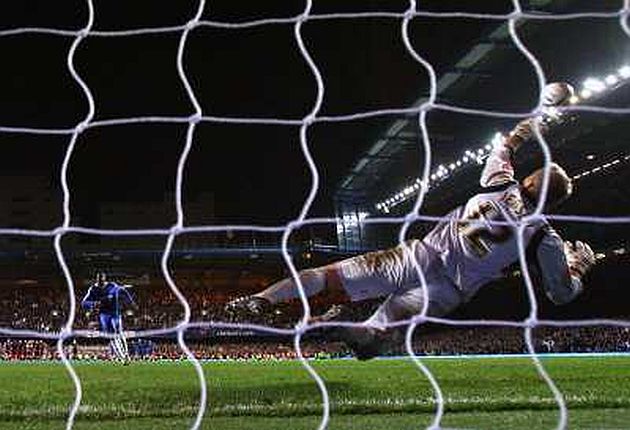 Chelsea's last penalty in the Carling Cup
The reward for Jensen and all his perseverance was yet another never to be forgotten day at Wembley in May 2009. In the final weeks of the season everything went right for Burnley Football Club, and Jensen contributed to six clean sheets in the final eight games. How important they were. On Wembley day he wasn't called upon to perform heroics as he had been in other games; the day belonged to Wade Elliott and his marvellous goal. The victory, though, meant Premier League football at last for 'The Beast', this amiable giant of a man. Everything comes to he who waits, goes the old adage. In Brian Jensen's case what it should really say is, everything comes to he who works and perseveres damned hard.
Life after the Premier League season took another turn for Brian. Brian Laws upped his salary and his very entertaining book, full of insights, was an instant hit. He left the club at the end of season 2012/13 having been reserve to Lee Grant for much of the final two seasons of his Burnley career. An appearance at Barnsley in the FA Cup in 2013 was his final game and sadly it was marred by the kind of error that is a 'keeper's nightmare. It was a cruel way to appear for the final time other than a cameo few minutes in the very last game of the season on May 4th. With the 2–0 win assured, manager Sean Dyche brought him on so that the crowd could say a final thank you to him and he could have one last touch of the ball in the first team. It was an emotional moment. Say what you like about him, he served the club to the very best of his ability, for ten years. There were several memorable occasions when he was unbeatable. Some players are remembered for many, many years and some are soon forgotten.
Brian Jensen will be one of those remembered with gratitude. That flying save against Chelsea's last penalty in the Carling Cup will be an image that lasts for years; and will be in the club's history books forever.