And the Beast, Brian Jensen, is someone for whom Chumbawumba might have specially written their hit song 'Tubthumping', with its line that goes: "I get knocked down… but I get up again… you're never going to keep me down."
In truth Brian Jensen has had more ups and downs than a fiddler's elbow but he symbolises the old maxim that if you keep at it, work hard, persevere and believe in yourself, you get there in the end.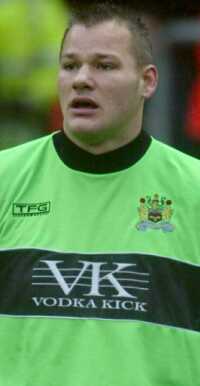 First season at Burnley
In a number of seasons he was a keeper prone to making regular errors that cost points and games. At West Brom he was replaced by Russell Hoult. At Burnley he would win his place and then lose it. Other goalkeepers were bought to replace him, but it was always temporarily as he inevitably fought back and hung on to the shirt. In his own words he was always being "kicked in the teeth."
Despite all this, by season 2008/09 through sheer hard work, dedication, application, and intense practice, he was thought of in some quarters as the best keeper in the Championship, shared the Burnley player-of-the-year award with Robbie Blake, was named the Carling goalkeeper of the tournament, and gave several master classes in the art of goalkeeping. In ten out of Burnley's 61 games he was voted man of the match on the Clarets Mad website. If 2008/09 was one of the greatest seasons in Burnley's illustrious history, Brian Jensen was one of the major reasons.
During that season there was an early home game against Reading when Burnley won 1–0 but the day belonged to Jensen who defied a rampant Reading with a string of saves. It was a portent of things to come. In the final run-in, including the play-offs, there were six clean sheets in the final eight games. At Chelsea in the Carling Cup on that never to be forgotten night in November he made great saves during the game itself and then saved two of the Chelsea penalties after extra-time had finished.
"When we were watching a video of Chelsea the day before the game, the gaffer broke the ice by saying, 'come on lads they've just been beaten, it's easy to turn them over'. Yeah they'd lost a couple of weeks earlier to Liverpool, their first home defeat in 86 games. Everybody started laughing and the boss said, 'Just go out there and enjoy yourselves. You've come this far, it will be a great experience you're never going to have again, make sure you enjoy it'. That was how we approached it, and maybe the fact that we were so relaxed is why we did so well. Drogba scored, but we came back and equalised in the second half and after that we always felt we could cause an upset.
"In the shoot-out, as I saw it, there was no pressure. We'd already done ourselves proud in taking Chelsea that far at their place, so although the outcome was massive, I didn't feel under any pressure – even with 40,000 breathing down my neck. I saved their first penalty, from Wayne Bridge, and their last from John Obi Mikel so I was portrayed as the hero but really all 14 players we used were heroes. If I was a hero it was only for 10 minutes, they were heroes for the first two hours."
The night will be associated with two players; Akinbiyi who came on as substitute and scored the equalising goal, and then the defiant Jensen. Of the two, it was Jensen's night. He broke Chelsea hearts but sent 6,100 Burnley fans home in raptures.
In the next Carling game, at home to Arsenal, he had a truly amazing game, saving a procession of one-on-ones. If it was Chelsea that was the glamour night, the night of shock and astonishment; it was the Arsenal night, when Burnley won 2–0, that brought back memories of those great Cup nights of the sixties at Turf Moor. His performance was truly astonishing.
Born and raised in Norrebro, Denmark, Jensen began playing football as a defender. The team he played with, however, lacked a tall goalkeeper so the job went to him, (in his own words) "the biggest and the dumbest." Attracting the attention of AZ Alkmaar he then impressed further in a youth tournament in the Netherlands where he was named best goalkeeper. From Alkmaar he was loaned to a small club for eight months, Hvidovre back in Denmark and at the same time finished an electricians' course. Returning to Alkmaar he played just one game in the championship being second-string keeper behind Dutch international Oscar Moens.
He was next invited to train with West Bromwich Albion and here he was bestowed the soubriquet 'Beast' when the West Brom first choice Chris Adamson told reporters that he was "nothing but a beast." The name stuck as soon as the fans shouted the name at him in his first game. He moved to West Brom on March 2000, reports vary as to whether it was £80,000 or £150,000, and made his debut against Tranmere Rovers keeping a clean sheet in a 2-0 win.
He stayed at West Brom for three years and was a regular for much of 2000/01 until the arrival of Russell Hoult saw him lose his place. Injuries and the form of Russell Hoult blocked his return and left him frustrated in the reserve team.
"I went on trial to West Brom," he said in a later interview, Brian Little brought me over in March 2000. I arrived on the Friday, I was on the bench the following day when we lost 3–0 at home and Brian was sacked on the Monday. I have a lot to thank Brian for but I never got to work with him. I played the last 12 games that season, and then the new manager Gary Megson brought in Russell Hoult. What could I say? We won 28 games, 23 of them 1–0. It was clean sheet after clean sheet. Russell was brilliant. When somebody is doing that well in your position, you have to take it on the chin. Fortunately Burnley came in for me. I would have taken anything, just to prove West Brom wrong."
His first-team place was never regained so that in 2003 Stan Ternent at hard-up Burnley, eager to replace goalkeepers Marlon Beresford and Nik Michopoulos, saw Jensen as the replacement and signed him on a free transfer.
"West Brom gave me my big opportunity and I'm thankful for that. It was a good achievement for me and it was nice to be there."
Despite the aggravations at West Brom and an opportunity to return to Denmark, Jensen opted to remain in English football where he was determined to stay. "I had a couple of offers from Denmark but I told all the managers in Denmark that my first priority was here. I wanted to stay in English football because that's my style of football.
The giant Dane put his name to a two-year contract and looked forward to the new challenge – and a regular place in the side. "It's a challenge and I'm just going to do my best," he said.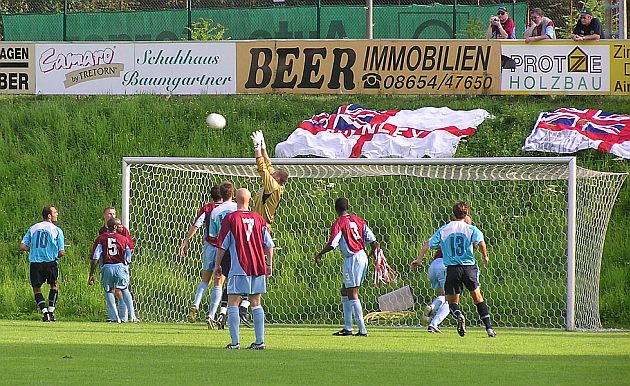 Jensen in action during the pre-season in 2004
With that supreme irony that happens so often in football his first League away game for Burnley was against West Brom. Burnley lost 1–4 making it seven goals conceded in the first two League games. It was a far from easy season for the Clarets who by the end were just two points away from relegation. His form had its ups and downs during the season but one particularly stunning game was at Sunderland. Burnley came back with a 1–1 draw and it was down to him with a series of remarkable saves.
"There were three saves I could pick out." The save from a Kevin Kyle header was his favourite. "It was just a reaction save and how it went round the post I don't know." The spectators' favourite, however, was the injury time tip over the bar to foil Marcus Stewart.
Being someone able to analyse his own game Jensen knew that at this time he was not consistent enough. "I'm starting to be a little more consistent but I'd like to keep a few more clean sheets. It's irritating me that the goals are going in," he said at the time. Sometimes it was not his fault and certainly he had several very good games.
"Jensen stems a deluge," began the Independent report by Norman Fox on the Millwall Burnley Cup game in February 2004 when Burnley lost.
The final season of Stan Ternent's tenure was beset by shortage of money. At one point relegation looked a distinct possibility but one game stemmed the downward tide. It was at Bradford City and there was an unlikely 2 – 1 win with a last minute Ian Moore goal. But prior to that, it had been Jensen's day with what Bradford manager Bryan Robson called, "a world-class display," when he made save after save.
For the new season new manager Steve Cotterill looked for a more consistent keeper and Welsh international Danny Coyne was brought in from Leicester. If Jensen was irritated or dissatisfied he did not show it as Coyne took the jersey. Coyne began well but a bad injury at QPR put him out of the game for six months. Jensen duly came back into the team.
With Coyne fit again, Steve Cotterill introduced a clear policy to alternate the two goalkeepers – Coyne and Jensen – and it was up to each of them to stake their claim. The decision to alternate the two raised some eyebrows. Coyne was happy; it was the chance to get some games. Jensen was polite and tactful. "The manager has told me there is no number one round here. He plans to play us both on and off until the end of the season. It's a strange one really but I can see what the gaffer wants to do. At the end of the day we are both good keepers and I think his decision will work out well for the club. It gives me a break after playing in the last 29 games and I certainly think it can work."
It is not unreasonable to assume that privately Jensen might well have been far from happy with the situation, but to have said so publicly would have resulted in another period where he was ostracised by the manager.
He was awarded a new three year contract and asked the Denmark manager, Morten Olsen, to take a look at him. "I thought that last season in particular they would have come out to watch me. I broke the record here for clean sheets at Turf Moor and I thought personally I was doing pretty well and so did everybody else. They never even sent anyone just to have a quick look. I was a little disappointed."
On recovery from his injury Danny Coyne eventually regained his place ousting the Dane. But again another freak injury put Coyne out. Again Jensen came back into the side for most of 2005/06.
Consistency was still elusive, Coyne suffered a third injury on his return, and in January 2007 manager Cotterill unhappy with Jensen's performances took Mike Pollitt on loan from Wigan. There were differences between Jensen and Cotterill and he was not even on the bench. Supporters thought this was ridiculous. There is the story, apocryphal perhaps, that it was the chairman's wife who persuaded Cotterill that it all looked rather silly and would look even sillier if there was an injury to Coyne, after he'd returned for the departed Pollitt, during a game and Jensen was sat in the stands twiddling his thumbs. As it happened back came Jensen yet again.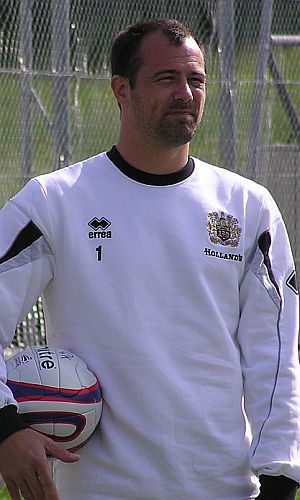 Gabor Kiraly was signed in the summer of 2007
But still Cotterill looked to find a replacement for him. The injury prone Coyne was released and in came the Hungarian Gabor Kiraly, he of tracksuit bottom fame. Again Jensen was relegated to the number two spot. Having seen off a Welsh international, he now faced a Hungarian international.
Kiraly began well but his eccentricities were evident. Jensen came back for a couple of Carling Cup games and won the game for Burnley at Grimsby in the penalty shoot-out. He was equally impressive in a 3–0 win over Oldham. He kept his place for the next game at Colchester but a last minute clanger in the next game against Blackpool at Turf Moor allowed Blackpool to take a point. Back came Kiraly. In truth the goalkeeping situation was becoming a joke and being dropped again after the Blackpool game led to another rift between himself and Cotterill.
"It's all very well being dropped but it has to be justified. Everyone knows I didn't think that was the case otherwise I wouldn't have asked to be on the transfer list. There were a few things that the manager Steve Cotterill and I didn't agree with, but that's how it goes in football."
Manager Cotterill was next replaced by new manager Owen Coyle. Kiraly at this point had the goalkeeper's jersey but two dreadful games where he came in for vast criticism, a 0–3 defeat at Blackpool and a home Cup defeat against Arsenal, saw him lose his place. Yet again back came Jensen.
Still the pantomime was not over. Bad mistakes by Jensen saw Kiraly come back yet again. But then Kiraly had a nightmare game against Wolves. Once more in came Jensen and 2007/08 petered out with no solution in sight to the goalkeeping problem – except that out went Owen Coyle to sign Peruvian international Diego Penny – the new number one for season 2008/09.
Penny looked OK. Pre season games had been excellent. Confidence was high. New signings were in place. There was a quiet optimism. The first game of the season was away at Sheffield Wednesday, but within minutes at Sheffield, Burnley were 0–2 down and the game was lost 1–4. Penny was shell-shocked and Jensen came back yet again for the next game at Bury in the Carling Cup. His performance was so good that Coyle retained him. Faced with competition from a Welsh international, a Hungarian international, and a Peruvian international, here was Jensen back again and the stage was set for what was going to be a marvellous season both for him personally and the team as a whole.
Perhaps the first indication of what was to come was the game at home to Reading on October of '08/09. "Brian Jensen heroics deny frustrated Reading," began the Telegraph report. "While Blake took the scoring accolades, it was goalkeeper Brian Jensen who emerged the real home hero producing a string of sterling saves."
"He really replicated what he does in training. He is a top class, quality goalkeeper," said his manager. Those words were music to Jensen's ears and his display was a foretaste of even better things on the horizon. It was about to get even better.