Most of us Northerners too, have a bit of Viking blood in us somewhere so we are part Norwegian ourselves. And anyway there's this huge following over there of Burnley fans, Atle Norman being one and they all come over two or three times a year. Grethe and Gunnar Lorgen are Clarets and are from Aalesund.
Some years ago yours truly and Mrs T actually spent a few days in Aalesund (pictured below). It was with our chums Bob and Linda who ran a travel business and they were looking to test a few hotels in the town where they could send clients that wanted a bit of cold weather and snow. Ever helpful we went with them on this fact finding mission, looking at bijou hotels. That sounds frightfully posh but bijou simply means rooms that were tiny, hotels that were beautifully designed and furnished, but in which there wasn't room to swing a cat.
Then there was a memorable boat trip up a fjord. It was a proper fjord all narrow with towering hillsides covered in snow on either side with little villages dotted along the shorelines. You could well imagine Kirk Douglas with an eye patch in a Viking Longship slowly gliding out of a creek heading off for a weekend pillaging and stuff. It was a twin engine motor cruiser type boat we were in and all went well until one of the engines slowly phut phutted and then died meaning we limped back down to Aalesund at a snail's pace praying the other engine didn't do the same. And cold! I've never been so cold, so that I fancy Fredrick Ulvestad might confuse Burnley with the Riviera even in January.
We've never had too much luck with foreigners at Burnley. Arthur Gnohere kind of went off the rails a bit. Andre Bikey sort of imploded. Diego Penny hired on the strength of a video we are lead to believe played just one game. Besart Berisha's flame died quickly. Luigi Cennamo's name usually inspires the response – who's he? Flying winger Dane Richards played half a game at Barnsley and was quickly got rid of. Fernando Guerrero got few opportunities and was another one allegedly signed on the back of a video. It's a lengthy list of overseas flops we've seen at Turf Moor so far.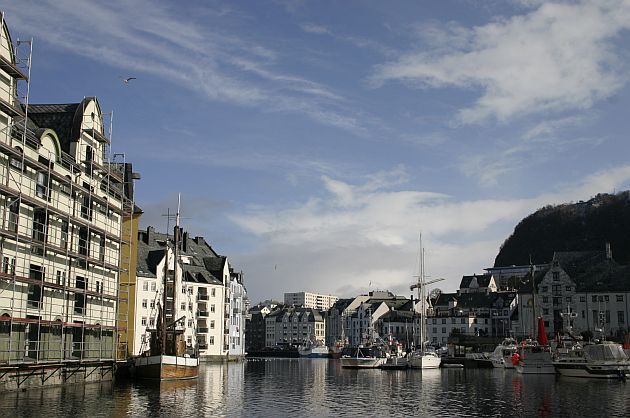 Ulvestad should be OK though; he's a northern lad, cut from the same cloth as ourselves. There'll be none of this Mediterranean 'mamma mia' performance malarkey, or ooh la la, French fancy-Dan stuff, or South American tantrums. There'll be no flying off the handle Spanish or Greek hissy fits. Fredrik will fit right in. The Norwegians are OK.
Chelsea versus PSG: gamesmanship, brinkmanship, petulance, niggles, histrionics, play-acting, pressuring the referee, and Costa's downright thuggery, bad temper and toddler tantrums – it was all there for everyone to see. They are a disgrace to the game. A dreadful Matic rake down the back of a PSG leg and Costa's tackle from behind on Silva by the touchline kind of put Barnes's alleged follow-through in the Burnley game into some kind of perspective.
And did you spot the picture in the Telegraph of the Oscar flying tackle on Ibrahimovic? The day after, the pictures showed Ibrahimovic hurtling into Oscar but from a different angle there was a different story showing Oscar's leg-breaker in all its glory, both feet a foot off the floor, Oscar flying in horizontally and boot studs landing on Ibrahimović's knee. Barnes on Matic: have a look at Oscar on Ibrahimovic, Mr Mourinho. The picture is in the Telegraph in full colour. Then tell us your thoughts on the SKY sofa again only this time perhaps Mr Kamara will be a bit more robust with his questions.
With stories of dressing room tensions at Manchester City during and after their game with Liverpool and an alleged spat between Kompany and Fernandino, it was hoped that City might be ripe for a shock result.
For sure, many City websites were not exactly brimming with 100% confidence about their team coming to 'the testing hills of Burnley' and all of them were mindful of the 2-2 draw at City when Burnley pulled back a 2-0 deficit. There were mentions on all of them for Danny Ings and Burnley's work-rate and that this was a team scrapping for its life ready to provide a banana skin of a game for the millionaires. It was hard to imagine that this particular Burnley side would be ripped apart like last time, with senior players ripping into the manager and one player waltzing off to the pub for a pint at half-time having had enough of the whole sorry business.
It had been a strange week leading up to the game with more than the usual reports of weird lights and UFO sightings. Some were in the Wigan area, but then it's never a surprise to see weird things in Wigan. What gave them some credence however, were reports of lights and UFO's in the Pendle area, two UFO's to be precise. There was weird weather too, when it snowed in Burnley on Friday before the game. And weird and whacky goings on in a school where it was revealed that the headmistress punished naughty children by lying them down on the floor while she went to telephone God to tell Him how naughty they had been. This, I thought, was truly over the top. In my days as a Head I too used to do this - but never with children, only the staff that p*ssed me off.
In a Mirror double-page spread the headline was: 'I was a lesbian who fell in love with a man who became a woman… and we are now a mum and a mummy.' Perfect for an Emmerdale script, I thought. Or as my granny used to say: 'there's nowt so funny as folk.'
The weirdest and funniest thing though was the soldier found guilty of pretending to be a police officer. Some things just crease me up and have me laughing uncontrollably. This was one of them. This guy bought a set of blue flashing lights to put on his car and then stopped anyone he judged to driving badly. He had them sitting in the back of his car while he took notes of their names and addresses. It made me wonder if Lance Bombardier Aydn Walster had ever impersonated a referee and if he was the guy that refereed the West Brom game at the Turf.
And sex: a survey this week revealed that sex was good for the memory and helped fight off dementia once you were 70 or more. That would be true enough, I thought, if only I could remember what to do when I was feeling a bit frisky.
By Saturday the snow had gone save for a smattering up the top of Pendle. Jeremy Clarkson's temper had abated. Friday had been Red Nose Day. Now it was Scott Arfield versus Yaya Toure.
The Thomas family had a tailgate party. In places like Houston and Orlando they have barbecues, picnic tables and chairs, steaks and salads, awnings to shade them from the hot burning sun, and coolers filled to the brim with beer. At the Turf we sat in the car under grey northern skies and shivered with our tuna sandwiches and Ribena. The Peugeot is a healthy eating zone on a matchday.
But outside of the car where life and eating is normal I munched on a pie and a pic of this little bit of England, this Hollands Delight, was tweeted across the Atlantic to Orlando to show them that the Brits don't need blazing sun to enjoy themselves. All we need is a tatie pie and Bovril to enjoy ourselves. Such things won us wars, in the trenches, on the beaches and in the deserts, the skies and the Falklands.
And notwithstanding the pie, boy did we enjoy the afternoon, the game, the atmosphere, the drive home, the endless replays of George Boyd's blistering bombshell of a goal; a bombshell because it decided the game and as good as ended any Man City chance of the title as well as providing a massive boost for the Clarets. This was the Champions that Burnley beat. This was a small corner of Little Britain versus The World.
Of course my head said City would win this. How could they not with their array of players, facilities and cash. But my heart said all day that a win was possible. Football is so unpredictable. Miracle wins do happen. But in fact this was no miracle. This was a controlled, deserved win, the result of superb organisation, a solid defence, and the return of Vokes and the evergreen Duff. Vokes was dominant, Arfield bossed the midfield, Shackell tackled, Trippier surged and Heaton pounced when needed.
It was no coincidence there was the first clean sheet for an age. Duff was exceptional. There was a change of role too for Barnes, who played a sort of left side midfield role, like a lolloping Kightly with attitude and added extra beef, clout and muscle. Finesse and a fancy car he may lack, but when the Ash is around, no-one can relax for minute, watch out, or the Ash is gonna get yer.
They ran, they chased, they hustled, blocked, covered, tackled and in the second half withstood some dodgy challenges as City used any method to combat Ings and Trippier and even Duff as he got in the City half. It was from the free kick that Ings earned, that Boyd scored his wonder goal. All this was in contrast to a first half that was all cat and mouse, after you Claud, would you mind awfully passing me the ball, gentlemanly best behaviour stuff, with hardly a free kick to be seen.
But both sides must have cottoned on at HT that this was a winnable game. As pace and tempo increased, the inscrutable, doe-eyed Pellegrini, watched almost impassively seated in the dugout, whilst Dyche bestrode his area, swigging water, urging, gesticulating, driving his players on. The referee was poor at seeing several dubious challenges on Burnley players yet ridiculously booked Duff and Mee for innocuous incidents that opponents made the most of.
Seven Clarets covered more than 11km. Duff played his 350th game. Burnley more than matched City inch for inch, stride for stride and shot for shot. And it was Boyd who struck the one that mattered when a headed clearance came to him from Trippier's free kick and with as sweet a strike as you will ever see with his left foot from outside the box, slammed it home like a missile just a couple of inches above the turf, between sets of legs and bodies. The stadium rocked from side to side, the stands shook with the thunderous roar and avalanche of sound that wrapped itself round the ground. This was the rumbling, reverberating, migraine-inducing roar that we made 5 years ago when the blessed Robbie's strike nearly broke the net against Man United. You kind of knew that this would decide the game. We do drama on a regular basis.
If that was a key moment then there was another at the other end when Zabaleta went surging into the Burnley box to be upended by Mee. There were just minutes to go. Even from my seat half a mile away and without my glasses this was a stonewall penalty. But when things are going your way a referee will give the decision you want. You waited for him to point to the spot but it was Zabaleta that was penalised. The free kick decision went Burnley's way. All I could think was bloody hell.
When the world is against you, teams score last minute penalties to level the score and send you home wanting to kick the cat, or if the cat is out, the front door. But not this time; 1-0 it stayed as the crowd bayed, shrieked, and bawled for the final whistle.
Forget Blue Moon, we were over the moon, and why not; we deserved that bit of luck that had been sadly absent over the previous few weeks. Sam Vokes had been denied a stonewaller a couple of weeks earlier. They say things even out over a season. This was just a bit of that process and we breathed a huge sigh of relief. The points were safe. The whistle was two minutes away.
At the City end Blue Moon turned to bad mood as it hit them that the title was going Chelsea's way. Ironic that: nobody much likes Chelsea in the Burnley area. Matic two weeks after the event was still moaning about the 'tackle'. Presumably, like Mourinho, he too didn't see the Telegraph picture of the Oscar two-foot horizontal assault on Ibrahimovic.
The websites and twitter were filled with pride. Words like brilliant and breathtaking were matched only by 'the best night of my life.' The guy on his bended knee that proposed to his girl at halftime on the touchline will never forget it. 'You don't know what you're doin,' sang Burnley and City supporters alike.
This was one of those special days seen around the globe that makes football so marvellous. The £11million team beat the £300million team and for some reason always the better for being under the floodlights. I've no idea why it increases the drama; but it does.
This really was David and Goliath. 25 points and nine games to go; Mrs T and me booked on the supporters' weekend trip to Southampton. And if you're reading this in Orlando, you can keep your barbecued steaks; give me a day like this, a Hollands pie and Bovril, on a cold Lancashire day anytime.