I felt the same when City put six past Burnley in the rain last time in the Prem and were 3-0 up after just 6 minutes, just shell-shocked. But, looking back on that one, it almost seems funny; slipping and sliding around in the downpour, the footage of the Burnley fan breaking his hand as he stormed out and punched the concrete, praying for the ref to abandon it, Brian Laws on the touchline looking totally out of his depth, the roar when Burnley actually scored as if we were at Wembley again, and a player legging it to the pub at half-time. If Carlsberg did comedy games it would have been that one.
But seeing Germany playing the way they did, I seriously thought, now where have I seen this sort of football before. And yes it was Burnley last season – the relentless pressing, the rock solid defending, the forcing of opposition errors, the swift breaks, classy goals and the same unruffled, calm organisation and control of a game. I can pay Germany no higher compliment.
In early July The Lancashire Telegraph featured the 'news' that season ticket sales had passed the 13,000 mark and after the early bird period had hit the 12,500 mark. The club seemed cagey about the exact number of 'full-price' sales. The feature was quickly followed by a lengthy messageboard debate about the 'slow-burning' sales.
Whilst the club might have hoped that the retainer issue was now forgotten, it wasn't. It remained clear that the majority of comments were of the opinion that there was a direct correlation between the unsold 1,500 season tickets and the price hike. Five years ago 16,500 season tickets were sold within days. This time they were far from sold out. The message was clear; this is Burnley not Arsenal.
It is pure speculation of course to suggest now that the board may well be regretting the additional price increase. I suspect some directors might well do so but none will come out and say so. But how can they? The thing is too far gone. It is too late for any alteration. A loss of face would be involved. John B made a cryptic comment at the fixtures list breakfast when the subject came up. 'Well there are 7 directors you know' or words to that effect.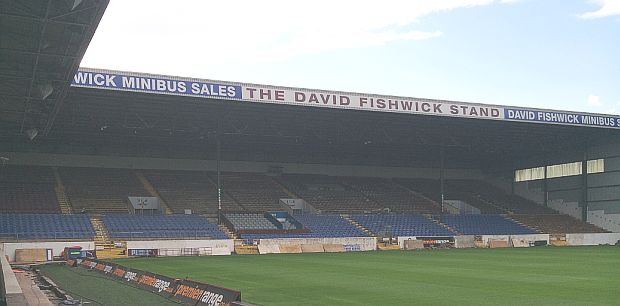 The blue seats in the cricket field stand
The club has yet to announce the walk-on prices. If they are governed by the highest season ticket prices then there are fears that £40 or more will be the price. Some people cannot get to every game. They do not buy season tickets. They may well balk at paying £40+ and that will be a few more supporters that disappear.
The unsold season tickets remain such a shame and so regrettable especially as in every other area the news was so good. Ingsy was still here. New players were being signed, Kightly, Gilks, Taylor, Sordell and Reid, the alterations to the Turf were in full swing; the ancient seats in the Cricket Field Stand were being repainted, the new Teamcard system was unveiled, and there were planning proposals for a complete revamp of the Harry Potts Way frontage, buildings and facilities. So much to commend, so many reasons to give chairmen and directors a huge pat on the back, so much work being done in such a short space of time, so much to be proud of and look forward to. But: the retainer remained as a huge question mark in an otherwise splendid 12 months.
Amongst the improvements was the replacement of all the seats in the lower Jimmy Mac Stand. A rusting health and safety risk was the reason after just 18 years of use since the new stands were built. The plastic was fine but the metal supports were finished after being exposed to the elements. At the opposite end of the ground the wooden seats in the Cricket Field Stand were still going strong after 45 years of life. In another 45 years maybe the club can hand them over to the National Trust or English Heritage. By now a third of the CF seats had been painted a lovely shade of blue. The latest pictures showed just the two guys still steadily working their way along. It just seemed so essentially British; two guys methodically slowly painting a whole stand of seats. If they paint like I do, they'll have one hand in a pocket and never spill a drop.
The Independent reported some alarming news of special interest to Sean Dyche. It is quite possible that the numbers of red and ginger-haired people in our green and pleasant land may well be facing slow extinction. Red hair is thought to be a response to the lack of sunshine in Scotland, Ireland and the north of England over the centuries and an adaptation to gloomy skies. But as the climate has changed and sunshine has increased over the years the need for that genetic adaption has diminished, says Dr Alastair Moffatt who added that light skin and red hair are the result of not enough sun. This could well be true enough – when did you last see a red-haired Arab? Another scientist who did not wish to be named agreed: 'Climate change could see a reduction in the number of people with red hair in Scotland.' In Scotland it is estimated that 13% of the population are ginger and 40% carry the gene. Is it possible that Sean Dyche could be the last of his kind? If the answer is 'yes' then we at Turf Moor have been truly blessed. In the case of Neil Lennon however, perhaps disappearance would be no bad thing.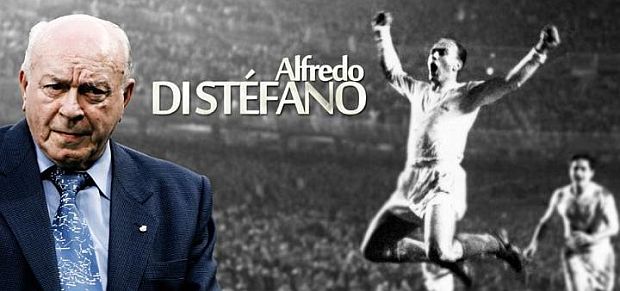 Alfredo Di Stefano passed away this week at the age of 88
The death of Alfredo Di Stefano at the age of 88 marked the end of another glittering football life. Both Bobby Charlton and Pele said he was the greatest player they had ever seen. An Argentinian who eventually played for Spain, his career was synonymous with Real Madrid with 8 title wins, plus 5 European Cup Final wins. He scored in all five of them. The last of those goals in 1960 was the result of a 7-3 win over Eintracht Frankfurt in the Final played in Glasgow. It was a Real Madrid display of teamwork and goal scoring that has always been held as the yardstick by which other club sides might be compared. Di Stefano scored three of the goals. I can still remember watching grainy footage of the game and sitting open-mouthed at the speed and control of Gento, the skills of Puskas and the total control Di Stefano had of the ball and the game. Jimmy McIlroy related the story that Harry Potts got hold of a cine film of the game and had everyone at the club sitting down to watch it. Alongside Di Stefano were Ferenc Puskas and Francisco Gento. In my head there is still an iconic picture of the three of them on their haunches along with another wonderful player, Raymond Kopa. There's a fifth player with them too whose name I forget, before a night time game at the Bernabeu. Stefano is in the middle, his hands resting on the matchball. At the time it was the most fabled forward line in football. An all-white kit added to the image. When Revie took over at Leeds the first thing he did was to deliberately copy that kit so as to expunge Leeds' previous history.
Ironically, but for various problems and red tape at the time, Stefano might have signed for Barcelona when he left Argentina. In a bizarre episode he was kidnapped by Venezuelan revolutionaries whilst Real Madrid were in South America but was released unharmed after two days.
At Centre Vale Park where we had our Tod Grammar games lessons and football matches; after we'd seen bits of the European Cup Final on TV, sometimes we'd pretend we were Puskas or Di Stefano as a change from Jimmy Mac, Ray Pointer or John Connelly. None of us were fast enough to take on the role of Gento. Today you can count the number of truly great and gifted players in the world on the fingers of one hand. Di Stefano belonged to a golden and romantic (or so it seems now) age of football where great players abounded throughout the game. For most of them, there was little money or glamour. And amongst all those legends, Stefano was just sublime. If a football team is an orchestra then he was both conductor and composer and principal instrumentalist.
By the time of his death he looked small and bent, and walked with a stick. But he was Real Madrid President and every galactico who signed for that club posed for pictures with him well aware of his name and stature in the game. People filed past his coffin at the stadium paying tribute as if he was a king. As each of these master-players from that distant era passes away, those of us who saw glimpses of them playing, either at first-hand, or in flickering newsreel films, feel a little more of our own distant youth fading away.
Co-chairman John B was the guest of honour at the most recent London Clarets AGM in July and used a PowerPoint for the first time ever, he revealed proudly. I felt the same when I sent my first ever text message after years of saying why do I need a mobile phone. I am indebted to London Claret Phil Whalley for this report:
Nothing of huge interest from John B, even though he did come armed with a PowerPoint! Some figures he revealed was that we would have broken even (no more than a £500k loss) were it not for wage bonuses. Wage bill last year minus bonuses was £11.5million.
I asked him about how they foresaw wages moving from hereon in. In a previous article of mine I mentioned that both Norwich and Swansea's wage bill had jumped to around £35million right away. John B confirmed that he expected this to be similar with us. Part of the jump comes with typical Championship contracts. The quid pro quo of paying relatively low basic salaries are clauses that stipulate that they can jump considerably in the event of promotion to the Prem. So, a lot of the players whose contracts were not up for renegotiation will still enjoy a hefty pay rise.
The players that have, or are negotiating new deals will be in a position to demand even more, as I'm sure Trippier and Ings will be doing. Add to this the salaries of players like Taylor, who comes with Prem experience; and suddenly we have gone north of £30million for the year. The only consolation to this is that salaries will come down automatically in the event of relegation.
Also, he did confirm that there were bonus schemes attached to the loans that were owed to the board, so again we face the prospect of large sums of money going back to the major shareholders without a great deal of accountability or transparency. David Conn has estimated our total debts to be £12million most of which is owed to the board. If this is accurate, then we must surely be looking at around £15million to pay this off. Add that to the £35million wage bill, and £50million of the guaranteed £70million has already gone!
We will also have spent around £2.5million on the Turf before the Chelsea game due to PL demands.
The issue of the retainer was raised but he held something of a contradictory position on this, defending it in itself, but also admitting that they would have gone about things differently if they could rewind the tape, although precisely how he couldn't say, presumably because he doesn't know. He did claim that the principle behind the retainer had been discussed with the supporter groups and not one had thought it unreasonable. (Thanks to Phil Whalley)
The final paragraph is an interesting one. If it was discussed only 'in principle' with supporter groups (and how many was it discussed with), then presumably those discussions did not include indications of the actual price increases. Were those groups aware that the season ticket increase would be £200 after the early-bird? Had they done so, one wonders if the retainer might have been strangled at birth and Turf Moor would now have a waiting list for season tickets.
Summer holidays approach. Time to shove some books in the suitcase; I recommend Neil Warnock's 'The Gaffer'. 'The trials and tribulations of a football manager' is the perfect sub title and he outlines them with clarity, humour and real honesty. Alas it reveals little of the chaos that was Leeds United and deals much of the time with QPR although all the way through the tales he tells cover his full career.
Dennis Bergkamp's book, 'Stillness and Speed,' provides a masterclass in the art of playing football and developing a striker's skills. In many ways and in the way it is written, the book is a conversation with Bergkamp. Equally good and has been out for a while, but more of a proper and dramatic story is Zlatan Ibrahimovic and I am Zlatan the story of a kid growing up in poverty, becomes a rebel, and still is, and how he became a superstar. Don't expect any degree of modesty. 'I'm a Ferrari,' he says, 'not a Fiat.'
One of the simple pleasures of retirement is sitting down and reading a newspaper from cover to cover. In a recent one I was intrigued by the full page article devoted to a training school in Cowes on the Isle of Wight that specialises in training young people to serve the wealthy and work on the giant super-yachts and boats that now criss cross the oceans, the ones owned by everyday folk like Roman Abramovich. Skills range from navigation, fighting off pirates, cordon blue cooking, and serving martinis in a Force 9 gale on a slippery deck. One of the instructors, Sam Clark, recalled the time when he was a working crewmember.
'There was one trip when we crewed a boat that had been hired a by a group pf Premier League footballers for a summer cruise,' he said. The players, he recounted, would bring women back to the boat every night. On the day that the wives and children were due to join them, it was his job to make sure there was no evidence left behind and maintain a discreet silence.
'Premier League footballers and all their money,' I thought. 'Bless em and their risqué escapades.' And then I remembered. 'Hell, we have a bunch of our own now. We can only hope that a Sean Dyche 'straightener' keeps them on the straight and narrow.'