Gerry is one quarter of the band, The Witnesses, a northwest band that play Rock and Roll, Country, and Rhythm and Blues PLUS a huge repertoire of Burnley FC dedicated songs written by Gerry. If he was at Barnsley he'd have seen a performance described as 'garbage' in one tweet with not one Burnley shot on target in the whole 90 minutes. He could add a new song to the album. It will be The FA Cup Oakwell Blues, or maybe even the Robbed by a Rotten Ref Requiem. Chirpy and cheerful it will not be.
'Always a Drama' is a song about his dad; it was a phrase often used by his dad when he heard the results. When we're up we're up and when we're down we're down, heaven one minute and hell the next. The Barnsley defeat was a drama no doubt about that, with the referee sending off Stock as a result of mistaken identity for the first yellow he received. Always a drama, always a hullabaloo, things are never easy, when you wear the claret and blue… you can say that again.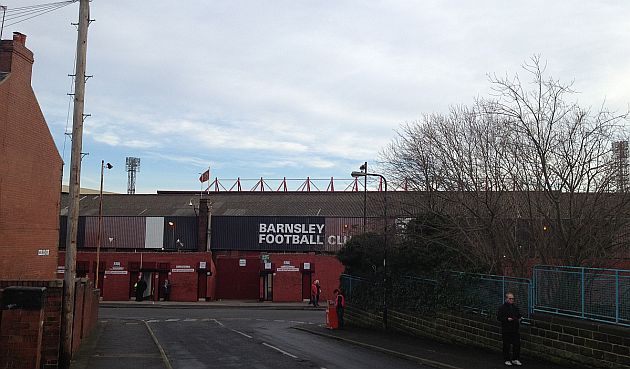 Oakwell in Barnsley, the Tuscany of the north
Manager Dyche was far from happy claiming Marlon Harewood should have been sent off for an incident in the wall prior to a Barnsley free kick. He wasn't. It was in the melee that Stock was mistaken for Duff. To be fair before that Stock had been a shadow of his usual immaculate self, pulling strings and spraying passes. Even with 11 men Burnley were off-key and off-colour. Those sat round me and Mrs T who had been at Sheffield Wednesday could not believe this was the same team (just about). If Sheffield was a master show with Treacy a revelation, Barnsley was a no-show.
Manager Dyche said he was happy overall at the plan to contain Barnsley and then counter. Contain Barnsley! Hell this was the division's bottom side and more and more they came into the game, took control and were allowed to perform a passable impersonation of Barcelona Reserves – and that was even before Stock went off. Back at home I played Clarets Blues from Gerry's brand new album 'Better to Have Loved', 11 songs inspired by the fans and players of BFC. It summed up the mood.
After Stock's dismissal any hope of this being an even contest disappeared. It was backs to the wall; Vokes was isolated up front, and Treacy was replaced at halftime by Edgar to stiffen things up. That was exactly what I told Mrs T was needed. Hell I could be a football manager – no sweat. Wallace contributed less and less, Ings became the Invisible Man, Vokes faded, and Marney was totally out of sorts; only the back four performed with any credit, plus Edgar when he came on.
With ten minutes to go, Barnsley swarming all over Burnley but not really getting anywhere, somehow the score still 0–0; only wayward Barnsley shooting had kept the score goalless plus resolute penalty area defending. Burnley barely had an attack, not a Burnley shot on target. Nevertheless there was the clear feeling that Burnley were defensively solid and Barnsley would never score till the cows came home. The increasingly erratic Wallace was replaced by new man Dane Richards the flying winger. For a few minutes it looked as if he would tackle Barnsley on his own with two tremendous runs. Alas he too faded.
And then disaster – the theme of several of Gerry's Burnley songs; Gerry knows alright what it is like to be a Claret. It ain't a barrel of laughs that's for sure. But better to have loved and lost (another Gerry theme) than never have loved at all – even if it's Burnley. Imagine having no football team to love –how dull life would be. Imagine how boring it would be winning trophies, dominating the Premiership, seeing top players game after game.
The disaster of Brian Jensen's own goal with five minutes remaining will remain a nightmare for him for years to come – for that in effect is what it was. I still can't work out how it happened. I do remember a ball pumped up miles into the air from the flank somewhere. It seemed to come down from the stratosphere almost vertically. Did he lose it in the lights? Did he lose track of it? It all happened so fast it was hard to tell if he tried to tip it over the bar with both hands. Or did it bounce back after hitting the bar and then fall to the feet of the Barnsley player. Whatever the order of events it was disastrous and the ball was slammed into the back of the net along with Jensen's water bottle that he flung backwards in anger and frustration. He walked off at the ended dejectedly. We all did - stunned.
There was a frenetic last few minutes of determined effort from ten-man Burnley. But when it's not your day, it's not your day.
'That's the last time I come to this place,' I said to Mrs T. Barnsley – the Tuscany of the north – it once described itself. I assure you it's bollocks. Not even a spring-like day with some blue sky and a bright sun in our eyes could make Barnsley look beautiful. This is the land of beer, not vineyards. Nearly 1,400 Clarets made the journey to Tuscany wondering how this team does this Jekyll and Hyde act so well.
The messageboards were mostly filled with horror at the goal, with just an occasional vote of sympathy, but I still have this soft spot for goalkeepers. It's the way that their howlers are remembered and cursed for weeks, but seldom their great games. A striker can balloon the ball over the bar, miss a sitter but is forgiven when he scores his next goal. But in just the same way that a 'keeper's errors can be so costly so can a striker's misses. We'll all remember Robbie Blake's stunning goal against Man Utd in the Premier game (so does Gerry on the CD) but will any of Jensen's terrific saves in the promotion season, be remembered in the same way. I'll hazard a guess that none of Charlie Austin's misses over the last few weeks will be imprinted on our brains. How many folk remember the half dozen Fletcher sitter misses in the Prem season? They cost us points just like any goalkeeper goofs.
But the image of Jensen's clanger will probably define his career at Burnley, despite his heroics in other games – Chelsea in the Carling anyone? The five one-on-ones he kept out against Arsenal in the Carling? If the Barnsley game proves to be Jensen's last for the first team, I'd rather remember him for the superb season he had in 2008/09 when he was one of the bedrocks of the team, rather than his calamity at Oakwell. He'll have wanted the ground to open up and swallow him but over the years that he has been at Turf Moor, he's been a great, great servant.
And what made Shackell so irate at the end of the game as they trudged off? This normally placid guy was incensed at something or somebody. He looked as though he'd have picked a fight with anybody given half a chance. Annoyed at the result? Roughed up by Marlon Harewood throughout the game maybe? Harewood used his weight and size all afternoon to bully anyone near him. It was a throwback almost to the days of big, burly centre-forwards who were there to frighten and intimidate and knock opponents off the ball. One of them, Derek Kevan, battered many a centre-half in the 50s and 60s, and passed away the day before the game. They called him The Tank at West Bromwich and that's just how Harewood performed.
And the referee: Dyche says Harewood should have been sent off for hitting a Burnley player in the back of the head. The story of the game hinged on the referee wrongly giving Stock his first yellow. And then at the very end of the first half Wallace was badly fouled in the act of shooting and the referee simply waved play on. Give Harewood credit for trying to tell the referee that Stock's first booking was wrong but he was having none of it.
The one good thing about Barnsley is that it is close enough to Leeds for us to be home in 45 minutes. That was in time to see Van Persie's fabulous later equaliser for Man U and a leisurely whisky while the M&S Fuller Longer Tikka Masala warmed up in the oven. Since Mrs T's thumb has been out of action my ability to read the instructions on M&S ready-made meals has become quite extraordinary. But sadly the images of this drab performance would not go away. I sat up late to watch the 30 seconds 'highlights' on ITV to try to fathom out how their goal actually happened.
Meanwhile: Gerry O Gorman's CD (Gerry.ogorman@hotmail.co.uk ) is a worthwhile addition to any Claret collector's shelves. I've things in my collection that I treasure, including the two special condoms, in pristine condition, that the club distributed back in the day. One has a picture of Adam Blacklaw and the other features Graham Alexander. Gerry's CD will sit nicely beside them.
His first trip to Turf Moor was back in May 1968 when Burnley beat Leeds with goals from Lochhead, O' Neil and Dobson. The sleeve notes describe the noise, the smells of onions and tobacco and the sight of hats and scarves and the great towering floodlights that Bob Lord used to switch on early on a matchday so that folk knew there was a game that night. He mentions the Longside singing and how the choruses were so inventive and witty. His CD remembers the Longside fashionistas with their sheepskins and monkey boots. He pays homage to memories, fans, and terrace songs, along with games like the final one of 1987 that we endured and at the end of which we cried. Without Ian Britton's goal, where would we be today? There's a song called 'Quiet Desperation' an emotion we've all felt from time to time. Mind you it was more a furious, livid, enraged, mad-as-hell desperation after Barnsley. Another song alludes to Frank Casper's goal at Blackpool on Boxing Day 1972. And then there's his tribute to Jimmy Mac.
In years to come when we're old and grey and toothless, and we sit round our firesides with Gerry's fine CD playing in the background, a glass of grog in our hands, and reminisce of good times and bad, of great wins and poor defeats; we'll ask were you at this game or that. We'll certainly ask were you at the Orient game in '87; were you at Scunthorpe in 2000 or at Wembley in 2009?
And another will be the defeat at Barnsley and we'll grimace and say: "Errgh, and were you at that awful Cup defeat at Oakwell in January 2013?' It will become a badge of honour to have been there and say for all their faults and shortcomings we still love our team AND Brian Jensen; and we'll be there for the next 90 minutes of head-in-hands exasperation.