I love Mrs T dearly but I took exception to the magazine article she plonked in front of me the other day whilst I was relaxing and reading a feature about Ings and Vokes in one of the sports papers. I'd just put the bins out which always is a bit strenuous. Anyway: this article was one of those things written by a woman where they complain that husbands do so little in the house while they run round in circles seeing to things. I read it while she made lunch and unpacked the shopping. Later in the afternoon after she'd finished the ironing I decided to retaliate and whilst I was watching TV made a list of all the things I do. I read it to her while she was making dinner.
'I put the rubbish in the bins. I put the wheelie bins out every week. I empty the dishwasher. I am forever wiping the sink. I wash all the pans after dinner. You get a cup of tea every morning in bed. I keep the window ledge in the office tidy. Granted I don't do any dusting. Dust is only layers of history. And I like history. I bring the washing up from the basement. I am not allowed to hang it in the garden because I peg it out wrong. I am not allowed to put the washing in the machine because I get coloureds mixed up with whites. To my dying day I will never understand why some coloureds are whites. It is me that feeds the cat. I hoover and keep my bedroom tidy and put away all my toys. I make all the beds. I drive you to the games at Burnley and don't forget this is 80 miles there and back. Last year when you had your arm in a sling I cooked Christmas Dinner from start to finish. I take the cars to the car wash once a year. I organise the servicing of the cars, the gas boiler and the alarm system. I do all the packing at supermarket checkouts. In fact I am so bloody good I have been asked to do training days. I assemble IKEA flatpacks.'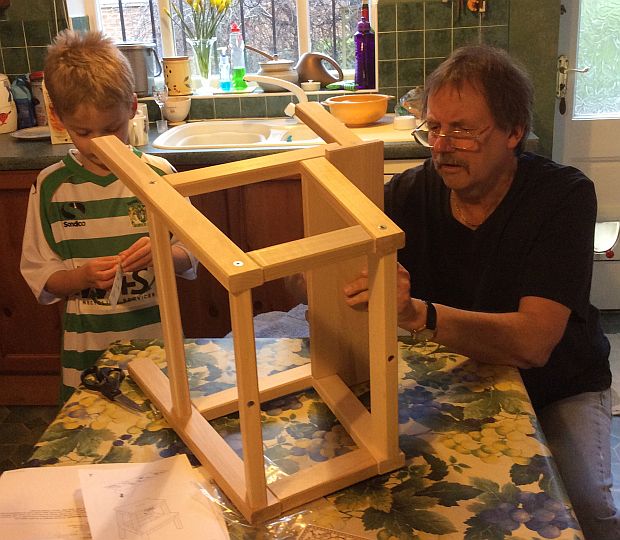 The IKEA step/stool: there were only 8 pieces to bolt together. There were only the 11 bolts. But oh God how could it take two hours. It took that long because for a start the pictures in the instruction book were in Swedish. Some of the bolts were different sizes. Some of the holes in the different pieces of wood that needed to match up didn't. Certain holes needed certain size bolts. Certain holes needed to be on the inside. When we figured that out we had the thing half made. We dismantled it and the air was blue. Once a bolt was half into a hole the thing got harder and harder since these cunning Swedes had drilled the holes just that fraction too narrow. IKEA by now I had figured, was Sweden's joke gift to Europe. Somewhere in Europe, I imagined, someone else would be having just the same problems as me, be it with a cupboard, a wardrobe or a stool. At any one given moment it's a fair bet that in dozens of countries dozens of people who have bought something from IKEA are all simultaneously trying to fit it together and cursing all things Swedish.
At the end of the two hours the thing was complete except for the last bolt that fixed the step to the frame. Now then: the step is the important bit. Loose, and it will slip and whoever is climbing up will fall flat on their arse. 'The last bolt', I muttered. 'And then it's done.'
Would the bastard thing go in; would it bloody hell. Some numb-nut Swede had made the receiving hole too small for the bolt to even begin to go in, probably deliberately. He was probably laughing in his Swedish IKEA flat-pack house that he had bolted together himself perfectly because everything in Sweden fits and in Swedish primary schools they have lessons in fixing flatpacks. Only the sub-standard stuff is exported. 20 bloody minutes I wasted turning the bolt round and round wondering why it wouldn't go in with what can only be loosely described as the fixing tool. Even this tool came in two parts that had to be fixed together.
What do you do then? You get the biggest hammer in the garage and you look at the bolt and you hit it. You pretend it's Nick Clegg and hit it again. And it worked. In it went and the step was firm and the whole thing was finished.
That was nearly two hours to fit just 8 pieces of wood together. Tell you what; the next time Mrs T says I don't do much in the house, I shall just point to the IKEA step/stool. And I shall say, 'Darling, you ordered it, next time, you do it.'
'Have a Sloe Gin,' she said afterwards. 'Calm your nerves.' Splendid idea I thought. The bottle, alas, was empty.
I therefore looked forward to the game against Nottingham Forest. In midweek Derby had beaten Sheffield Wednesday and snuck up to within 2 points, thus overtaking QPR and shoving them down to fourth place. Forest had just got the one point against Leicester. Leicester got another penalty; funny that. There was a QPR fan that had been interviewed on TV and had wailed and bemoaned that with their money and their players they should be leading the division by 20 points. Doesn't quite work like that does it, I thought, sniggering.
BFC had undertaken a huge and vigorous campaign to promote the Forest game and its importance. Co-chairman John B had written an impassioned plea for fans to attend. It was widely featured on twitter and in the Press. There's no question the guy works hard to gee things up.
Sean Dyche had waxed lyrical about the away support, especially on long-distance trips; 1,705 to Yeovil, 1,447 to QPR, 1,300 to Bournemouth. The tickets for the away game at Blackburn were sold out, despite the atrocious, compulsory bus travel and it being on TV. 'The away fans have been phenomenal,' he acknowledged. The fan and player connection at Bolton had been particularly noticeable. He was aware of the costs involved. But, as a twelfth man, the away-support effect should never be underestimated. Good home support that is non-critical helps the players relax. Then they play better.
Saturday, 22 February, Burnley in second place, the first of two home crucial games; win them and the finishing line we all wanted would be that much closer. Forest unbeaten in 14 league games and Burnley in 9 and aiming too for a 20th home game unbeaten; Forest the team that spent £5.5million in the summer and bankrolled by Dubai millionaires.
I truly thought that we wouldn't make it to the game by 3 o'clock. Roadworks in Mytholmroyd caused a huge tailback halfway back to Halifax. Traffic inched its way forwards. Never mind, there's the quick route over the tops we can do immediately after Hebden Bridge to make up time. This is the infamous Mytholm Steeps, one of the top ten UK gradients as it snakes for nearly 2 miles almost vertically in some places. It's the last place on earth you want to do a three-point turn. Halfway up, a red sign announced ROAD CLOSED. It's Saturday I decided, it won't be closed, they won't be working, so up I went. Wrong, they were working and a gang of blokes was re-surfacing the road. Guess who had to do a three-point turn? By now it was after 2 o'clock so back all the way down the hill we went and joined the traffic again as it queued agonisingly slowly through Todmorden. We did make it in time but I'm a born pessimist and decided that with luck like I'd had all week a Burnley defeat was on the cards. I couldn't have been more wrong.
The first-half display that Burnley put on against Forest was acknowledged by everyone as being one of the best performances for years. Comparisons were even made with the great team of the early 70s that passed the ball around for fun and opposition teams hated to play against because as Bobby Moore once said, they could never get the ball off Burnley.
Within 35 minutes they were three goals to the good as Forest were ripped apart, shredded, mangled, minced and made to chase shadows. Manager Davies' explanation was simple; his team didn't follow his instructions, and Burnley caught them on a good day, he had so many players out injured. Truth is, they were simply woeful in that first period and made to look woeful because of Burnley's superb approach play, accuracy, passing and movement. It was one of those halves that you wanted to go on and on because you knew that Davies would give his team a rocket, and they might be a different proposition in the second half. And so it proved.
Forest came out bullish, no longer the donkeys. This was no longer one side clinically dismantling the other; it was now two evenly matched sides with Forest making chances and nearly scoring twice before a soft penalty was awarded against Duff for allegedly tripping the Forest forward. Those in line with the incident said Duff made no contact as Cox dropped to his knees theatrically.
3-1 the score but had Danny Ings been more accurate two of his chances might well have gone in. Duff's teasing shot went narrowly wide. In the first half his header was disallowed for a narrow offside. Treacy's piledriver was well saved. Penalty apart Burnley never really looked in danger of losing the points so admirably won in the first 45 minutes with football that sizzled and scintillated; football that was so slick and sophisticated it would have ripped apart any team that Billy Davies had put out.
One by one you could go through the team and drool over each performance. Heaton actually saved the penalty but the Forest player ran in to head home. Trippier was sensational, Vokes unplayable, despite his misses Ings dragged players all over the place and Jones was simply magnificent, Kightly and Arfield terrorised their respective full-backs. Duff came forward imperiously including a marauding raid down the wing, Shackell was calm elegance personified. Mee was a rock and Marney covered every blade of grass.
The best of the goals: the second, following some dance floor footwork from Trippier on the by-line before he slung a vicious cross over at perfect heading height so that Vokes could bullet home the header, almost a carbon copy of a Connelly cross and Ray Pointer header way back in '69/60 against Spurs. Trippier's stepovers and the final split-second sleight of foot that left the defender for dead, probably had him needing a trip to Specsavers to untangle his eyes. The old codger we met in the pub afterwards had also been to the game and ironically he too saw something that harked back to that golden team that won the title. 'Vokes is like the great Jimmy Robson,' he said, 'unsung, under-rated, just such a great team man, a big man with delicate skills, but always on the spot to score goals.'
The crowd was a disappointment however. Despite all the efforts to drum up a better attendance, it failed to top 15,000 and maybe 2,500 of those were from Forest. The Burnley folk that stayed at home missed a treat. This was vintage claret or a Noel Wilde Rhapsody in Claret and Blue. Dyche purred with satisfaction and pride and like the rest of us talked of that first 45 minutes with awe and admiration.
Second place was retained although Derby still remained within 2 points. But poor old millionaires QPR lost again away at Charlton. The chicken and ham pie at The Queen in Cliviger on the way home, the buzz in the pub, and the memory of that mesmerising first 45 minutes banished all thoughts of nightmare drives and IKEA flatpack stools. Trauma gave way to equilibrium.
By coincidence, Colin Waldron was in the Queen Hotel. I never thought that one day I'd tell him that I'd seen a display as good as the Team of the Seventies.