My pal from Watford, Matt Rowson, has written regular reports for years. His latest made for a nice view (albeit abridged) from the other side:
'I was reckless with my routine today, trains instead of cars, Mexican food with Dad instead of the pub. And as the match kicked off, with the spring weather unsure what to make of itself, things began to shake themselves out rather well. With Lewis McGugan prominent, this was as effective and dynamic a 45 minutes as I've seen him put in, in yellow, we looked bright and prominent in the early exchanges, kicking towards the Rookery with Sean Dyche presumably having advised flipping the ends. Ten minutes in and we were ahead, the irrepressible Deeney latching on to Pudil's pass and belting us into the lead. We got a break, a deflection off Jason Shackell's thigh looked critical in lifting the shot over Tom Heaton; everything Troy strikes is going in at the moment. Minutes later, another break; what looked like a tight offside call denied Burnley a decent equaliser…
Burnley's disallowed goal was greeted with a rousing rendition of 'One Stuart Attwell' from the Rookery. Coming hot on the heels of the inevitable mock-celebration in response to the first shot drifting wide of the Clarets' goal this briefly suggested that the much-discussed first return of Attwell since the ghost goal of 2008 would be commemorated with sarcasm and wit rather than ire and red-faced barracking. That it didn't prove that way was in no small part down to an erratic display from the official, albeit that the only decision that had the potential to directly affect the outcome was, if failure it was, down to Attwell's assistant… which sounds familiar. That call got the visitors on his back and he was never going to get much leeway from the home end, so both sets of supporters were on his back as he left the pitch at the interval…
Faced with the absence of his two prolific strikers Sean Dyche had selected his only available forward, target man Ashley Barnes, who remains as respectful of the rules of engagement as Beppe our manager is to the boundaries of his technical area, in front of a five-man midfield. This begged the question; do Burnley score a lot of goals because of Ings and Vokes, or do the forwards score a lot of goals because of the players they are in front of. The truth appears to be somewhere in between, for while Burnley on the day could be summed up as 'a striker or two short of a very good side' and struggled to turn their possession into clear cut chances, they did not look blunt and, as one would expect of a Sean Dyche side, were utterly single-minded and focused on their task…
My youngest daughter is four. At story time she delights in re-hearing one of a limited number of favourites, even if we have read it the previous evening, and the evening before. In some cases such as that of 'Hairy McClary from Donaldson's Dairy' the scope for silly character voices makes this tolerable; in others, 'Elvis and her bloody Magic Ponies', less so. Elder daughter, seven, rolls her eyes, demanding greater variety. I can cope with the whimsical demands of a four-year old, but am less able to respond calmly to this same old story being played out in front of us at Vicarage Road.
It should be acknowledged that the visitors DID play a role. They had turned up the pressure a little, inevitably, and threatened for the first time. Brian Stock's free kick from wide on the right was whipping inside the post until Abdi's forehead intervened. From a corner, Ben Mee's header was clawed out of the top corner by an astonishing Almunia. Worth noting, too, that it's tempting to attribute every late goal to our inability to concentrate for the full 90-plus-whatever. Sometimes opponents do just score late goals. In context, however, this was a complete pain in the arse. Scott Arfield, a fringe player at Huddersfield and an odd-looking recruit by Dyche in the summer, hit his eighth of the season, turning sharply in the box and driving low past Almunia, who got a hand to it but not enough…' (By kind permission of Matt Rowson)
Meanwhile in the real world outside of football, it was indeed spring and an old man's thoughts turned to the garden. There are different ways of looking at spring; firstly that it is a wonderful time of Easter Eggs, rebirth, fresh greenery and things warming up; or secondly, it is a time of great irritation to a gardener when the list of things to do seems longer than the number of MPs fiddling expenses and mortgages. As ever the decking and shed needed painting, the furniture needed checking to see which legs have fallen off, the grass needed the first cut, the hose needed disentangling; plus which I must be nice to the neighbour next door because sure as hell I'll need to borrow his power wash. And then there are the potatoes to go in. I swear I once knew someone who thought that early potatoes had to go in before 8am. Then there is the neighbour opposite who is so organised and his drive so clean and immaculate that he even power washes the fencing. It is the time of year when our wonderful Prunus sheds its almond blossom all over the street and out he comes with his leaf sucker-upper glaring daggers at us. In truth though, there is so much of it, that if it were snow you'd be out building snowmen and sledging down the slope.
And thirdly, I suppose, it is the time of year when promotion and relegation issues are sorted, especially in the old days when clubs played three games in four days.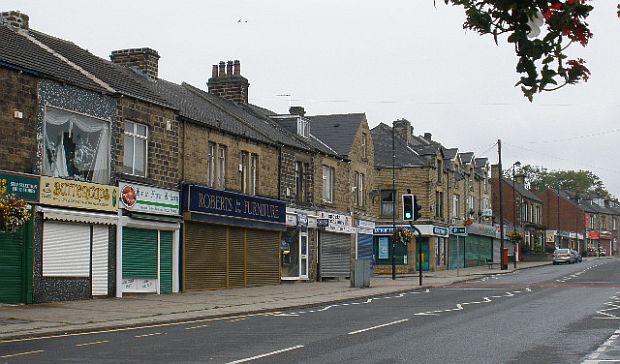 Barnsley - the Tuscany of the North
It was with that in mind that Barnsley beckoned, or, the Tuscany of the North, as it once liked to describe itself to get one over on Rotherham because Rotherham once christened itself the new Milan. In fairness there is some gorgeous countryside around the area and the scars of pits and mining on the landscape have long disappeared. Some years ago Barnsley had one season in the Premier League and Peter Ridsdale was once chairman. Michael Parkinson wrote stories about them and their legendary players. One of them, the story goes, used to head-butt his way out of the main door of the club as a party trick. This worked well and caused him no problems other than an occasional migraine until one day the hinges were changed and doors replaced so that they swung the other way. Of course no-one told the unsuspecting clod so that when he did his usual piece-de-resistance he knocked himself out cold and lay there for an hour while folk stepped over him and went about their business without batting an eyelid, as Yorkshire folk will inevitably do , especially in Barnsley.
The news on Monday was good. At Leeds Massimo Cellino had completed his takeover so that all of us who enjoy the whacky world of football would have more fun and games to follow. There was no truth in the story that Massimo would be contacting Maria Miller for mortgage and financial advice. At Burnley Marney would be back. There was nowt wrong with Jones following his early exit from the field at Watford feeling unwell. And, Trippier and Ings were back in contention, said Dyche. Burnley folk were expected to be there in their thousands having snapped up 3,000 tickets and then more paying at the gate.
Unfortunately Barnsley has never been a happy hunting ground for Burnley and every year I've sworn I'll never go to this place again having seen so many dire games there. The 0-1 defeat in an FA Cup game not long ago was typical. It was the last game for Brian Jensen and his sad goof cost Burnley the game when a long Barnsley hoof made its way three miles up into the sky and the Beast made a total hash as it came down from Space. It was an ignominious end to a great career for Burnley although now he is still, at the age of 38, keeping clean sheets at Bury.
Barnsley then: Tommy Boyle's first club, a classic encounter in prospect, third from bottom against the second-place favourites to go up, both teams desperate for the points. QPR were at Blackburn and Derby at Blackpool, providing a rare occasion when we wanted local rivals to win.
A motorway accident delayed hundreds of fans with the supporters' coaches trapped in the delays. The game had started by the time they arrived. They, plus the fans there for the kick off, almost filled the away end. The songs, the chants and tributes were non-stop on a par with the vocal support at Charlton. The roar that greeted Barnes' goal in the early minutes had the foundations of the stand shaking.
What a goal and what a start: Kightly once again on fire whipped over a superb cross and there was Barnes stooping low at the near post to bullet the ball home. It was no more than he deserved especially after the one disallowed at Watford. For the rest of the night he was superb, brave, ebullient, here there and everywhere. It was one of those nights when the ball stuck to his feet, he won the headers, he played the ball off, he held it up; he played the right passes and was a handful for the Barnsley defenders all night, including the giant centre-back Lewin Nyatanga, so big he can head lampposts.
Ings was back as well to the delight of the supporters. Vokes limped in on his crutches and received a warm welcome. Trippier was fit but remained on the bench. Marney was back from suspension. Ings got most of the game under his belt and showed several moments of sheer class. A goal would have been the icing on the cake but it was not to be. Any thoughts after the early goal that this would be a walkover were soon dispelled as Barnsley fought all night. They harried, stopped Burnley playing and were quick and sharp. But all of it then came up against the wall that was the Burnley back four so that other than a half dozen routine catches Heaton had little to do other than read the programme. Certainly he had no saves to make since Barnsley, for all their possession, industry and neat, tidy play made few inroads into the Burnley box. On the occasions that they did, Duff and Shackell vigorously ushered them straight back out again. For all their good play they never looked like scoring. Did they even have a shot at goal on target?
On radio afterwards, after the hour or so of the obligatory drooling over the Chelsea win, at last the programme spared a moment to look at Burnley's result and listen to callers. The rich earthy tones and broad accent of a Burnley chap joined the programme. He spoke passionately about the season and the miracle of it all. He spoke about how little had been spent on this marvellous Burnley team. And then he mentioned the values and costs of Premier League players that cost £50million or more.
'And ey, you could buy all of bloody Burnley for that,' he said, to the delight of all of us listening.
QPR lost at Blackburn so that temporarily we all loved Blackburn for a fleeting moment, about a nanosecond. But a plummeting Blackpool could not beat Derby so they took third place 11 points behind Burnley. It was an astounding thought that should Burnley beat Middlesbrough in the next home game and Derby failed to win, then Burnley would go up. Not only that, Leicester City lost at home. Could Burnley go on and even win the Championship if Leicester had a bit of a wobble?
So: a night for samba football this was not. If footballs had feelings, this one would have had a headache from the battering it got. This was a night of industry, resilience, digging in, dogged defending of the precious lead, and restricting Barnsley to the edge of the box more or less all night. This was a night when the result was more important than the performance. Not that the performance was poor; far from it, but it was functional rather than flowing, determined rather than dazzling. They went out and did a job. But this was not winning ugly; this was winning with calm professionalism.
The following morning the Yorkshire Post waxed lyrical about the carnival atmosphere and the whole team on the cusp of promotion, 'well-drilled, physically strong, swift and purposeful.' But all season Sean Dyche has urged his all players to be the man that makes the difference. It was Barnes who was that man at Oakwell.