Both of us have had a bit of surgery. Mrs T something internal that is now on the mend (thank you for asking) and me to open my wallet. No – truth is I had one of those nasty moley things that can turn iffy so I had it removed. The doc said it was only shallow when it was removed a few weeks ago (bit like the stuff I write then) but I had to go back to have another clump the size of a Dodge hubcap taken away to make double sure. I wasn't too worried until he brought an old fashioned sewing machine in to stitch it up. I felt a bit knocked about I can tell you after all this so I went into the caff for a sit down and a cuppa and a biscuit. I had my old Burnley training waterproof on with the badge over the left chest bit. Suddenly a lady sitting on the next table with her husband and daughter beamed and said BURNLEY!
Gawd, you can't go anywhere without bumping into brother Clarets. This was in in Chapel Allerton Hospital, Leeds. Anyway the guy was called Andy Firth and was from Keighley originally but now lives in Leeds; in hospital slowly recovering from a serious illness. Andy I hope you get well, I really do and I'll bet all Clarets madders wish you the same even though most won't know you, but you're one of us.
Actually, it isn't the first time I've had a skin thingy removed. The first was many years ago when there was something on the end of my nose. I thought this was quite worrying so I asked the doc would it be a big operation.
"Yes," he said, "you've got a big nose."
So they took this basal thing off the end of my nose and then in the vacant space grafted on some of my left ear. This was fine and still is, except I now sneeze out of my ear and listen with my nose these days. I should go on 'Britain's Got Talent'.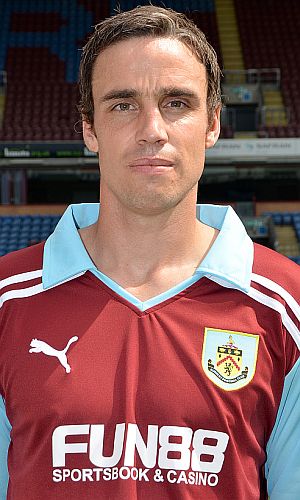 Michael Duff on for Sam Vokes at Huddersfield
So: back from the hospital on the night of the Middlesbrough game I sat feeling sore but (silly me) buoyed by the Bolton game, thought a win there would cheer me up no end. It sounded like they were playing some great stuff and dominated the early stages, deservedly taking the lead with an Austin goal. The euphoria didn't last long, a minute to be precise; the equaliser being with a long shot that as kids we used to call a pea-roller. Somehow it found the bottom corner. By the end of the game Saturday's bubble had been well and truly burst with a Burnley performance that we have seen so often – play well, let the other side get back in the game, and lose.
The only consolation was that two of the Boro' goals were from strikes that just make you feel helpless – Eddie's word as well – that any goalkeeper would struggle with. These two fantastic strikes went in from 25 yards (and don't forget the pea-roller was from 25 yards) that made the home supporters blink with astonishment, and the away supporters shrug in resignation. Add to that the third goal coming in the 88th minute after Burnley had levelled it at 2–2 and you just swear with exasperation.
The visit to the Galpharm/now John Smith's Stadium is a chance to plug the new Paul Fletcher book that should be published on November 1st this year. The McAlpine Stadium as it was then was his project, the first stadium he was involved with and the story of how he got involved forms one of the chapters. The core of it is that he was CEO there and then got dragooned into being involved by the chairman. It was a sink or swim situation inasmuch as he'd had no experience at all of stadium building and learned as he went along. The result however, is the iconic building that you see there today with built-in community use being the foundation of its conception. He'd be the first to say there were some good people working alongside him. The original ownership shared between the football club, the rugby club and the council has become somewhat hazier since he left. For an interesting read, google, Huddersfield's Community Stadium dream turns sour in ownership wrangle. It's one of those classic David Conn articles that explains how Fletch's trail-blazing stadium, after he left, became a story of share transfers, changing ownership, awkward rows and property development.
As ever with Fletch, funny stories are never far away. But when you read the Coventry City section you'll find out (and so will Coventry fans) why the football club is in such a mess. Fletch also reveals the most surprising, eye-popping, jaw-dropping name on the applicants list when Mr Coyle departed to the much better position at Horwich where there was such a better chance of staying in the Premiership. This guy sent a superb Power Point presentation to introduce himself. Just one clue – it wasn't Sven.
Meanwhile, the Brian Laws book is due September 8th. Two other things in the pipeline are a definite Jimmy Adamson in October 2013 and a probable Bob Lord, but I haven't heard a date for that one.
Launch night for the Paul Fletcher book is planned for Thursday, November 1st in the UCFB, in the Jimmy Mac Stand with supper and plenty of players from the 70s, 80s and 90s. This will be a function where anyone who comes is welcome to bring books and pictures for signing; with just 200 tickets at probably £5 for an event that should be good fun with jokes and laughs from Steve Kindon and Mike King and the chance to get signed anything you want to bring along.
The last time me and Mrs T went to Huddersfield was ten years ago we saw a dreadful Cup game that was settled with a Papadopoulos goal in extra-time. It was notable only for the Cornish Pasties being sold out before I could get to the kiosk. I vaguely remember that it livened up a little in the second half but we prayed that someone would score from either side so that we wouldn't have to sit through another 30 minutes of penalties. There was delirium at the end when it finished with a win, not because we had won, but because we could all go home.
Long before this next game ended I would have been quite happy again to go home before the final whistle went. It wasn't quite an abject performance but almost. The Bolton bubble is now well and truly burst and if this is be the norm for away games then a long hard season is in prospect. The score could easily have been 3–0 for Huddersfield after just 25 minutes. In the full 90 minutes Burnley had just one on-target shot. Eddie Howe said we controlled possession particularly in the middle third. He must have been at a different game to most of us. The stats say the possession was 53 Huddersfield to 47 to Burnley.
Make no mistake Burnley were off-colour, lacking in pace, incision, width, ideas; too often had no darting runs from Wallace or Stanislas into wide areas to be the runner for the man with the ball to play to; both of them drifted inside too much. When Stanislas should be making himself available with a swift break wide-left, he is more likely to be ambling into the left midfield. Burnley were totally bossed for most of the game. All nine corners were easily cleared; there was no variety or invention. There was a brief flurry towards the end but it soon ended. This team did not possess one forward player who had the pace and guile and skill to beat a man out wide and scare the opposition and make them panic. Some were poor in the tackle, in fact shirked the tackles, and lacked bravery with the headers. If Paterson was missing and if he is the type of player who makes a difference; then why not give a 90 minutes chance to MacDonald or Fletcher who could at least attempt to copy his role? MacDonald was brought on with just a couple of minutes to go. The purpose escaped me.
At 2–0 down Duff was brought on replacing Vokes, to make three centre-backs. "Ah protecting the 2–0 deficit," a wag commented next to me. Presumably the idea was to release Trippier and Mills more to raid down the wing. It made not one jot of difference. Whatever the reason, it was the first time in 50 years of watching Burnley I have seen a Burnley manager chasing a deficit bring on a third centre-back and take a forward off.
The away end was filled to capacity. There were maybe nearly 3,000 of us crammed in by the time the game started. Many had to stand on the steps. Torrential rain had cleared. Some sunshine appeared. Stewards in the Burnley end were few and far between. The few that were on duty were harangued and harassed by irate Burnley fans demanding that they make people sit down so as to stop obstructing their view of the game. Personally I thought the ones who couldn't see were the lucky ones. With this level of support both in numbers and volume something better was expected than the tame show that Burnley provided. We need to see the Bolton quickstep not the dull slow waltz. An occasional header just over the bar (one I think) and a Wallace free kick late on that skimmed the roof-netting, and that was it.
But, the passion and confidence, everything that we saw against Bolton, the verve, the adrenalin, McCann's runs, Marney's bossiness, Edgar and Shackell's dominance, were all missing. Edgar carried a bad knock for most of the game that clearly restricted him; why wasn't he replaced with Duff. Treacy replaced Mills late on making not one jot of difference.
Sure Burnley slow-waltzed the ball round nicely at times in the middle third, but there was never anything at the end of it. All of it was impotent. Twitter, message-boards and websites were deluged with dissatisfaction. It's only a week since the Bolton win. How things change – and so quickly. It would be easy to say that this was just a bad day at the office but if Bolton was raw steak for lunch before the game, Huddersfield must have been limp lettuce.
And then to make matters worse, all the way through the game there was that bloody drumming going on and on and on. If you hadn't started the game with a migraine you sure as hell had one by the time it finished. I bet if that drum was anywhere near the directors' box and the posh seats they'd soon sling it out.
"I don't think we've been outplayed or outclassed," said Eddie. Something like 3,000 of us might just disagree. But we're only the paying fans, some of us only watching the game for over 50 years – so what do we know?
But never mind; If our heads were down a bit after this game they might be up again and smiling in just a couple of weeks, I said to Mrs T. "Three home games coming up and three smart wins will transform things,' I chirped with uncharacteristic cheeriness. How does that song go?
"Always look on the bright side of life dee dum, dee dum, deed um, deed um, deed um…"
If you're a Claret, you have to.