He was talking about Luca Toni, the impossibly good-looking Verona centre-forward with the sculptured face, tousled hair and Herculean figure who was here for the friendly. Sometimes I think life is so unfair on us ordinary blokes that don't usually look in the mirror any more or go on the scales. Mind you, I did cut quite a dash in my younger days.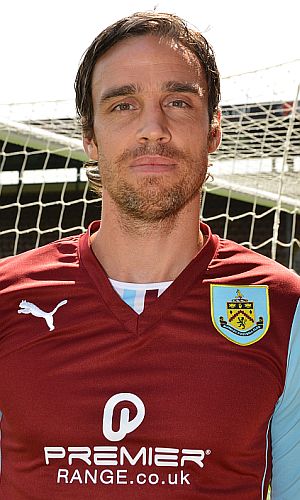 Michael Duff was outstanding
Now it's a tight squeeze to get through the turnstiles, and I only have distant memories of the 'trim little bum' I once had that Mrs T notices every time she sees Jason Shackell. I used to have one in my hockey playing days.
And so it came to pass it was Monday and Chelsea. The last lick of paint had dried. The Chelsea end a sell-out, the ground heaving, packed, expectant and record gate receipts. How could they not be at those prices? Fabregas said it was an honour to visit Turf Moor. Mourhino said they were the underdogs. Cahill said he was looking forward to coming; the place was still special to him. From his very first game for Burnley you knew he was exceptional. The whole team was a who's who of talent and internationals, star names and medal winners. The game was beamed around the world.
Before the game the Daily Telegraph's panel of 7 experts unanimously tipped Burnley to go down. Charlie Nicholas, research bang up to date, was looking forward to seeing Vokes score lots of goals. Mark Lawrenson couldn't wait to see Mourhino's team playing in the Ribble Valley.
"To win against Burnley will be very hard,' said Mourhino on Chelsea TV. That of course would be true enough if they all got off the coach in Clitheroe. Mourhino meanwhile had never lost an opening day game as manager of Chelsea.
'Come one clock bloody move, I just want this game to start. I can't settle, I've got loads of jobs to do but just need to get to Turf Moor and get the season underway,' wrote one MB poster. I think we all felt that way.
'Cinderella at the ball,' said a Polish newspaper in its season intro.
And so it proved on the night when push came to shove. I wanted to write that we were dreamy-eyed at Burnley's wondrous 1-0 win over the galacticos when Scott Arfield scored a stunning goal to put Burnley 1-0 up in front of what I read was an audience of billions around the globe. And stunning goal it was as he fired home from just inside the box early in the game. Images of that 1-0 win over Man United 5 years ago raced back into probably every head round three sides of the ground.
Before kick-off surveying the ground, the heaving crowd and the view and hearing the buzz and feeling the atmosphere you could only feel pride and a lump in the throat at Burnley's wondrous achievement the season before. The reward was what lay before you, the Premier League and all its media attention, cameras, star players and celebrity managers and all the rest of it; pure razzmatazz and pure theatre, with those advertising boards around the perimeter like stage spotlights. Turf Moor looked just memorable. 'Can't think of many better views from a football ground,' wrote Oliver Holt.
Alas the dream did not last long. Chelsea 1-0 down remained calm, unruffled, and took control. The next 20-25 minutes they produced a brand of football that was just a different level, as if it were from another planet. The gulf in class and resources surfaced and within something like 10 minutes they were 3-1 to the good. Images of that awful game versus Man City came back. It was as if the floodgates were about to open and there'd be another 6 or 7 goal tonking. Fabregas was immense. Humiliation seemed on the cards. And yet other than picking the ball from the net three times, Tom Heaton hadn't had much of a save to make. Nor was he unduly troubled in the second half.
The Chelsea first was sod's law. The ball bounced not to safety or out for a corner, but back off the post to the lurking Diego Costa. He didn't miss and said thankyou very much to his God. The second goal was from Mars, quite brilliant in its slickness and speed of thought. The third was a gift from slack marking at a corner. With supreme irony Chelsea were doing to Burnley what Burnley did all last season, pressing, hustling, and not allowing the opposition a chance to play. Burnley had to pass the ball back to Heaton probably more times in this one game than all last season put together. Unable to gather the ball Heaton was reduced to whacking the ball upfield. Possession was usually lost. It was not pretty.
The Chelsea work rate is phenomenal, their first time passing and speed of thought at pace overpowering. It comes from world class talent and it's hard not to admire. And to think, Ron Chopper Harris and Eddie McCreadie were once their best players.
But Burnley are resilient. They did not become the punch bag. Slowly they got more and more back into the game. In the second half they forced fine saves from Courtois. Ings was suddenly through but his crisp shot was wide. Arfield smote another mighty shot. If the first half was lost 3-1, the second was a gritty 0-0 draw and much to appreciate in it. Duff was outstanding; The Jut the best of the forwards.
There are consolations. They did not become lambs to the slaughter. They will not play Chelsea every week. Stick to the game plan that served them so well last season and they'll win games. And how many more people round the world now know where Burnley is and will probably look for their results in games to come? The game was reported from the USA to China, from the Middle East to Oz, the roll call of newspapers providing a geography lesson.
The media in the morning drooled over Chelsea and the joy of Cesc and how costa effective Diego was. Sky drooled over the second goal over and again. Burnley scored one just as good against Wigan in the game that clinched promotion. But that was Championship. It doesn't count.
Sometimes there is honour and pride even in defeat. This was one of those games. We drove home by no means dejected but upbeat and optimistic.