Add to that the convincing win over Ipswich and one might even say "All's well that ends well."
In truth it ended surprisingly well with a very respectable 61 points when just a couple of weeks ago after that horrible display at Leeds the bottom three began to beckon quite alarmingly. Even at 3 o'clock on the penultimate Saturday the knees were trembling a bit. It all ended badly for Bristol City, Wolves and Peterborough with at one stage during the final 45 minutes any club from Millwall, Peterborough, Barnsley or Huddersfield could have gone down along with the other two. I said a silent prayer of thanks that Burnley weren't involved in this last-day roulette.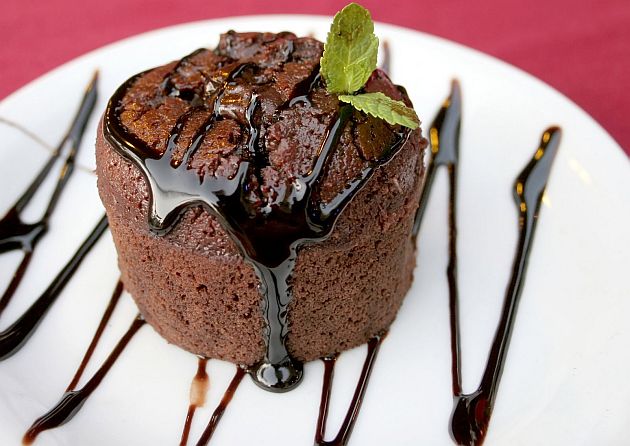 The second half against Ipswich was a delicious chocolate soufflé
At the other end Hull City joined Cardiff. You couldn't really begrudge Cardiff their success, they've been knocking on the door for more than just this season, and at their own ground they gave Burnley an absolute lesson. But Hull: I'm still trying to figure out how they pulled it off. The game at Burnley was a shocker and I lost count of the number of times I muttered to myself just how are this lot second when they went away after a 1–0 win. It was hard to see any difference at all between the two sides other than the goal they snuck away with.
In years gone by when we had no money, pre-Premiership, didn't we always think that reaching the 60 points mark was good going. Maybe we've forgotten how good we used to think that was. Since then have we changed a bit – become a bit more demanding? With parachute money swelling the coffers did we think maybe that the play-offs were the new level of respectability so that expectations had become unrealistic?
It's been a funny old season and the first yawnfest half of the Ipswich game kind of summed up all that was bad about it with an aimless performance (counting seagulls was more fun) that made us dread next season. Mrs T and me had a change of view; for this game not from our little perch in the upper James Hargreaves, but instead, in the Jimmy Adamson suite. At half-time at 0–0 we came in shrammed and glad of a warm. At 11.45 before the game, bacon and sausage sandwiches had appeared. Then, at half-time, steak, ale and mushroom pie appeared with a masterchef quality puff pastry topping. I thought the little Hackney lass that won masterchef, by the way, was an absolute treasure.
Thoughts of the dire first half vanished in direct ratio to the speed the pie went down. I'm a simple man. Bacon sandwiches and then just 90 minutes later steak and ale pie and chips; did I not mention the chips? We vowed to eat nothing more for the next 24 hours. I felt like that Adam bloke on Man versus Food who eats everything put in front of him, including burgers that weigh over 5lbs and whose sole comment while his eyes roll round and he has an orgasm, seems to be "Oh my Gorrrd… that is awesome." I've scoffed pies all over the world and am a founder member of pie festivals in places as far away as Hornsea and Sydney, but the trays of BFC meat pies are outstanding.
Suitably fortified out we went for the second half and there was a transformation as soon as Stanislas came on and the system changed. At last there was some football and Ipswich more or less vanished from the game after running much of the first half – a half that was very much biff, bang, and wallop although at a dreary end of season pace. You could be forgiven for saying a silent thankyou that this was the last game of the season.
Then: out of the blue Stanislas scored a peach of a goal from 25 yards as a gap appeared and he moved forward almost unopposed, and from that moment on it was game over with Ipswich surprisingly poor, and the second goal from Paterson right in front of us made it game set and match. This was a half to delight the palate; if the first half was cold porridge, the second was a delicious chocolate soufflé. What a great way to finish a strange season; a season punctuated by the departure of Howe and the free-scoring side that unfortunately couldn't keep goals out at the other end; and then with the appointment of Dyche, the departure of the free-scoring side that then learned in fact to defend at the other end. All that plus the loss of Austin for long spells so that we wondered with him out of action quite who would score the goals. Vokes was unlucky in fact not to get a couple against Ipswich. Like Marney he does a lot of the thankless ugly work.
Shackell in the programme noted that 13 defeats had been by the odd goal. Since February five of them were 0–1. Unfortunately some of them ranked amongst the worst games ever seen involving Burnley and that's not counting that dire affair at Barnsley in the FA Cup when I swore to Mrs T that if she ever dragged me to that ground again divorce was seriously on the cards. Had seven of those odd-goal defeats been draws Burnley would have been in the top six and the playoffs. The margins in football are so close. The actual finish was seven points from the top six and seven points from the bottom three but it took until the last two games of the season before we could feel comfortable. Mind you if that ridiculous goal that Blackburn scored at Ewood had been disallowed as it should have been, and Austin's had counted, as it should have done, then the brief flirtation with the possibility of joining the bottom three could have been dismissed much earlier. In our darkest days Blackburn did, however, keep us thoroughly amused.
We drove home still filled with pie and well satisfied that we'd seen such a good second half show and that at last there was something to feel cheerful about after a season of a great deal of mediocrity. 61 points don't lie with a position above the likes of Leeds United, Blackburn, Ipswich, Middlesbrough, Birmingham, Blackpool, and of course the hapless Wolves.
If one player showed his worth it was the back-to-form Paterson. By the time of this last game he had yet to re-sign. Neither had McCann. Of the two, Paterson showed that he was the one to try and retain. But these two lads aren't daft. They have wage offers on the table and by waiting can see if anything better comes along. In Paterson's case I hope not after this showing when he perked up in the second half.
There were two nice touches. Jensen came on for the last few minutes with Grant waving to all four sides as he came off as if to suggest that this was his last game and he was off to Derby. The roar that greeted Jensen's walk onto the pitch and then his first touch of the ball was the crowd's thank you to a man who reached his peak in that great promotion season. And that goof at Barnsley in the Cup was certainly not the way I wanted to remember him. By all accounts the worst games of the season were in February when me and Mrs T were in Oz; so the Barnsley game for us was the pits.
The second nice touch was Ings at the very end when as soon as the whistle went took off his boots and gave them to a young lad in one of the wheelchairs in the corner of the ground by the corner flag simultaneously planting a kiss on his forehead. Football sometimes brings a lump to your throat for the right reasons.
If we slept through a few games during the season then off the pitch there were moments of drama not the least of which was Eddie Howe's departure to Bournemouth and it is now amazing to think he will bring his side to Burnley. When he took over down there they were in the bottom three. Is it me or did it seem like years ago rather than just months when he left and Dyche came in. And then there was the remarkable spat between Brendan Flood and the two other Board members, Clive Holt and Mike Garlick. It does seem that being in possession of an IVA, Brendan Flood spent 12 months as a board member when really he shouldn't have, and it could well have landed the club in hot water so that behind the scenes they had some pretty serious explaining to do when it came out into the open. It was all a messy and unfortunate end to his time at the club and maybe we should see him in the same light as Jensen – that 2008/09 just wouldn't have been the same without him.
Then there was the intrigue of the Russian investment story. Just what was it based on? Was it all just a load of bullski and wasted newsprint? There's probably a broody novel waiting to be written about all this and what goes on in the shadows of the night and there are secret meetings in dark alleyways in Moscow and seedy hotels between men from Burnley and the local mafia.
There were some interesting stats on CM: The points tally was only one less than the previous season and there was a higher league position. The points total for the second half of the season was as good as any other since Wembley. Only three of the last 12 matches were defeats and all of them by 1–0. When Howe left Burnley were 16th and with Dyche they rose to 11th. Funny things stats though; they can make things look really good.
Here's an odd one: Burnley won 30% of the games in which ace goalscorer Charlie Austin played and slammed the goals in for fun until Christmas when you'd have slapped a £10million price-tag on his head. They won 50% of the 10 games in which he did not play. "Make of that what you will," added the guy who posted this particular stat on CM.
So that's it then 'til August and maybe a trip to sunny Bournemouth. Another year gone by, a respectable finish, the usual questions about who will be here and who will not in a few months' time, will Trippier and Austin be sold, and what new faces will there be. I've moaned and groaned for much of the season but isn't that what supporters do. And then we mope about all summer and wonder what to do on Saturday afternoons while we wait for the new season to begin and start all over again.
Here's to July 13th then and the trip to Ireland.
Oh and keep Thursday August 15th free… there'll be a bit of a Jimmy Adamson do in the 1882.