That pal was John Helliwell, he of Supertramp. In our youth, we used to scour the market stalls of Manchester for jazz records on Saturday mornings. There was a little band at school, he played saxophone and I played piano. He practised and practised and I didn't. He stuck to his lessons and I gave up. He became a millionaire and megastar of the 70s and I became a poor teacher. There's a moral in there somewhere.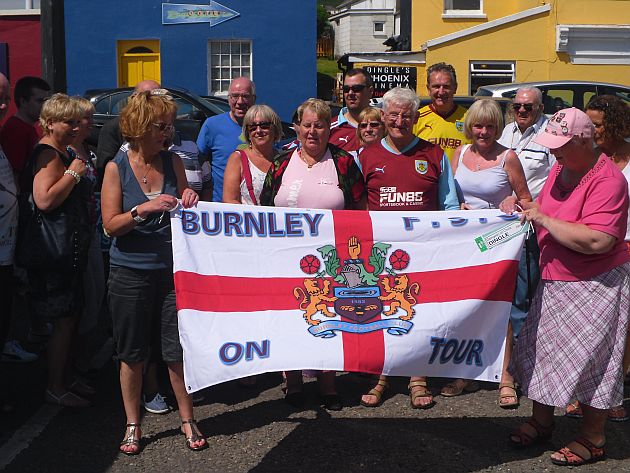 The Dingles in Dingle
It was a 6.30 am start from Turf Moor – with the usual crowd and some new faces as well. Zimmer frames, bus passes, walking sticks and things with wheels were in plentiful supply. I'm not mocking – I'll be 70 meself next year. We see some of the crowd just the once a year and you just pick up where you left off. 33 people made the trip and had the hotel had spare rooms there might have been more. We'd left Leeds at 5 and drove over the tops on a gorgeous morning and the moorland covered with cotton grass. Pendle Hill poked out of the mist that covered the vale and Burnley below.
The talk on the journey, (along with Rocky shouting down the coach when's the next brew) was of what happens next at this football club. The ground buy-back was a plus; the exit of key players a worry. Pato and McCann gone and other players, of lesser value tis true, had been told they could clear off. Austin had been on the verge of signing for Hull City but then the deal was called off when the medical showed problems with his knee according to Steve Bruce. In truth it produced a no-gain situation for everyone, leaving Burnley with a player who could walk free in a year's time even if he stayed and ran his socks off and scored 30 goals. Then no doubt, dodgy knee or not, the offers to him would come flooding in. Or, it gave Austin a tricky decision as to whether to play safe and sign the new contract offered by Burnley. And for Burnley - £4.5million would not be heading their way this month. While we were in Ireland, Championship clubs like Reading were allegedly sniffing round trying to sign him on the cheap for £2.5million. Minus the pay-out to Swindon it would leave Burnley with a paltry amount that would barely last a couple of months. Didn't the directors say at one stage we do not need to sell? At that price I hope not.
24 hours later the first pre-season friendly ended in a 1–0 defeat at Morecambe. Opinions varied as to whether it was a tad disappointing; or it didn't matter because it was just a glorified workout and fitness session in the evening heat. Maybe I'm old-fashioned but Burnley 1 Morecambe 0 looks better than the other way round, and wins breed confidence.
Replacements for departed players had been hard to spot other than four new goalkeepers. Then there was the mystery of Mills signing permanently with the surprising news that it had been part of the loan deal a year ago. And yet with Dyche he had hardly figured in the first team. Hero of the promotion year Jensen was another to depart muttering (allegedly) that there had been little interest in his testimonial year. There had been talk of a testimonial game – it seemed to be following the same path as the proposed Jimmy Mac testimonial game some time earlier; nothing happening, until Jensen tweeted that things might be in the offing.
Through the preceding weeks we'd worried or grumbled about this and that; membership of the EU, the euro, Syria, the vacuum that is Nick Clegg, the bloomin' cold spring, the state of Nigella Lawson's marriage. For anybody heading to Egypt for a holiday in the sun it wasn't just the Germans who might be snaffling the sunbeds – now you had to watch out for the Muslim Brotherhood getting there first. A couple of things were never off the news – the royal baby and Rooney, would he or would he not stay at Man U. Frankly I didn't give a jot. And then there was that wonderful sporting weekend when the Lions stuffed Australia in Sydney and then Murray won the Wimbledon Final. That was truly mint. I had a tear in my eye and a lump in my throat and the last time that happened was Wembley 2009 at the final whistle.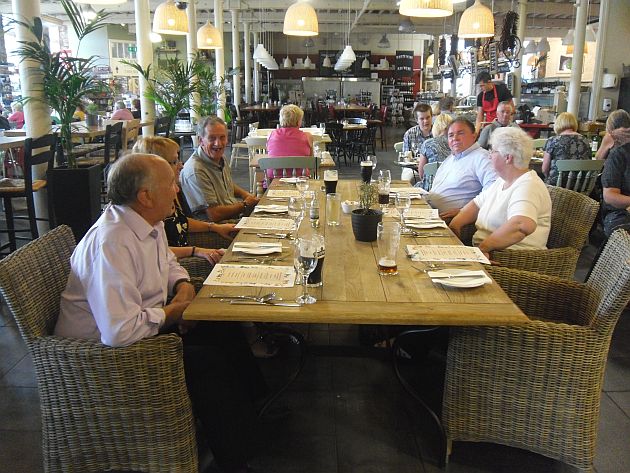 Time to eat
Nobody grumbled on the coach at the glorious weather. It was brilliant from start to finish other than a few clouds appearing from time to time. We saw Ireland at its glorious best, green, verdant and largely empty until you reached a small town here and there. The Irish Sea was flat and still; the journey to Cork on largely vacant roads.
From our hotel bedroom window we could see Blarney Castle poking up through the trees. We climbed up the hundreds of winding stone stairs on the morning of the game to get to the top and the famed Blarney Stone. Up and up and round and round this narrow staircase we went inside the walls hanging on to the safety rope; the same steps where men in tights swashed and buckled, and years ago one guy killed his brother and then he himself was murdered by his son in order to inherit the castle. They didn't mess about in them days. Little tiny rooms lead off from the stairway where evil deeds and skulduggery took place, when pillaging was a respectable profession.
When you get to the top you skirt round the battlements and because the roof caved in years ago it's now an awful long drop to the ground floor. At the stone you lie down on your back and twist and bend and end up half upside down with your head over this drop of hundreds of feet down below. A guy hangs on to you and then you kiss the stone. Mrs T couldn't quite reach it and kissed it with her nose. It hasn't increased her gift of the eloquence, but she says she can smell things a lot better. This stone is supposed to be one half of the Stone of Scone; or the other tale is that a local vicar years ago thought, "Now here's a way to make some money, bring on the tourists."
Blarney is a nice little place with a few brightly coloured shops and bars dotted round the village green. On one side of that there's the huge old Woollen Mills now converted into a huge three-floor shop, and other parts of the mill now a pub, a vast stone-floored restaurant and then the hotel. On the other side of the green are the castle and the gardens. Coaches pile in; people pile off, all through the day in both mill and castle. When we wound our way up the castle stairs there were Americans in front of us and Australians behind. Blarney is big business, but trust me, all done in the best possible picturesque taste and somehow it still seems unspoiled.
It was the weather for shorts and a whole range of chubby knees were on show. John Smith and Barrie Oliver revealed knees that hadn't been seen since the Coronation. The chef came out of the kitchen and I could see him totting up the chops he could get out of them.
We took a stroll round the village after breakfast on the first day. A few Garda were lolling about waiting for a café to open or a crime to avoid. The castle has a Poison Garden filled with stuff like hemlock, cannabis, heroin, opium, wolfsbane, belladonna and birthwort. Poisoning the neighbours was a popular sport in medieval days. It needs special permission to grow some of this stuff in there today but the Garda raided it one night and took a few plants away. As we strolled round the street one guy sitting on a wall bid us good morning – at least I think that's what he said – it was almost unintelligible. A little further on was a little chap with an orange beard, in a green suit sitting on a mushroom. He grinned and nodded so I smiled back. I never gave it a thought but then quickly realised: hey that's odd, green suit, orange beard, surely not. But when I turned round just seconds later he'd vanished. Now then: I'm not one for making things up but I thought the way he suddenly disappeared was pretty spooky and left me wondering…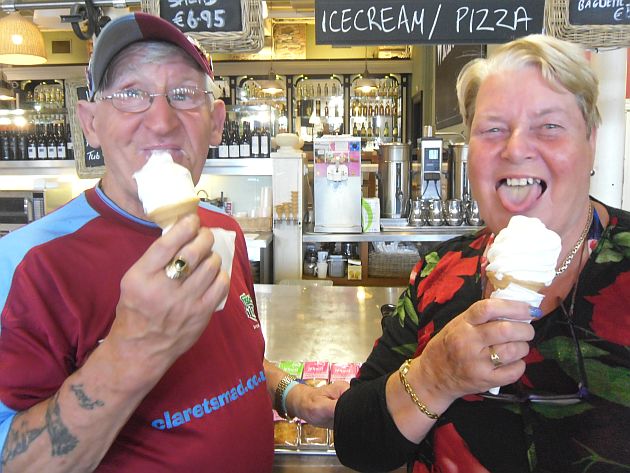 Who are ya? I've no idea but he's wearing a Clarets Mad shirt
The coach left for Dingle at 10.00. The Dingles in Dingle on the Dingle Peninsula, we had to make the pilgrimage. The journey took us through Ireland at it its best. Eddie demonstrated that it is indeed possible to drive a ten foot wide coach down an eight foot wide country lane. The roads wended and weaved this way and that, uphill and down dale, through mile after mile of fields and farmland. Sometimes a view of the sea, creeks, rivers and estuaries opened up. Through the villages we went; Tralee, Trala and Traladiddle, Ballybunion and Ballyawful. Signposts pointed to Kilkenny, Killarney and Kilwilly. Macroon was the biggest that we passed through, a long main street lined with bars and shops and cottages. They have the habit over there of painting every building they can in the brightest, most garish colours possible, so gaudy you need sunglasses. Blues, crimsons, purples, yellows, reds, you name it and then the window frames are painted in something else, usually the opposite, equally psychedelic. It's like driving through a Technicolour cloud of LSD. It's as if people find a shed filled with old paint tins that need using up and think, 'Jaysus Paddy, this'll look grand.' Do this at home and you'd have the Town Council jobsworths telling you to cover it up or demolish the house.
'Grand' is the word to use. "How are yer this mornin'?"
"Ah oi'm grand."
"Good mornin' Seamus,'tis a lovely day 'n all."
"Ah ter be sure, 'tis grand alroight.'
"Good mornin' sor and would yer loik the full breakfast?"
"Oh yes that'll be grand."
Dingle on a rainy day no thanks, but this was a day of warm sun and blue skies. It was grand. It was packed, the place doing a roaring trade. On a normal day it's just a quiet fishing harbour. We took a boat trip round the bay to see Fungie the local dolphin that's lived there for 30 years. For an hour this creature, as big as a mini, swam, dived, leapt and plunged for our entertainment. He'd come alongside the boat and then disappear. I swear it puts on a deliberate act and a performance and has done this for years. The bugger knows though, just when you're about to click the camera, it vanishes to pop up on the other side of the boat. If Dolphins could blow raspberries this one would blow the loudest.
In the evening back at the hotel there was old time dancing and familiar Irish songs with Finbar O' Shuffle and the McHooligans. Rocky (on his best behaviour most of the time) and Rockette did some fine gliding around. A few of the elderly locals turn up every Sunday for this musical treat. Young folk on our trip were hard to spot and before anyone says, "Oi cheeky sod just watch what yer saying", I'm a pensioner meself. Anyway we fitted in quite well on this musical evening. The night before, after dinner, we'd sat out in the warm, balmy air putting the world to rights.
Matchday was Monday and a chance to wander round Cork after some shopping in the Woollen Mill in the morning for those who had any money. On yet another blazing day there was a temperature of 30.5 in the city. Cork is a kind of mini-Dublin and the open-top bus tour took some of us round the city's narrow streets and along the riverside. Others headed for the Guinness dispensaries. From the upper deck of the bus we could look down on claret shirts and travelling fans congregating outside the pubs. It made you remember there was a game that evening. These pre-season trips are special. For me the game is not the priority; it's the 'holiday', the meeting-up with old chums, meeting knew ones, the big breakfasts, seeing new places and then if there's a win it's a bonus. The weather made it all totally special.
There was indeed a win. We were dropped at the ground, Turner's Cross, at 5.30. Turner's Cross is the home of Cork City sponsored by Clonakilty Black Puddings. Some went to the pub for the free drink, some went in early to read the programme and eat our sandwiches. The players were out warming up in the still-blistering sun and we, knowing no different and with ageing eyesight, and they being on the far side, thought it was Burnley. "Yes that's Wallace," said Mrs T. "There's Austin." We watched approvingly as the goalkeepers went through their routines thinking they were our new ones that we'd never seen before. 'Looks good,' I said as one of them made some smart saves. And then Burnley came out.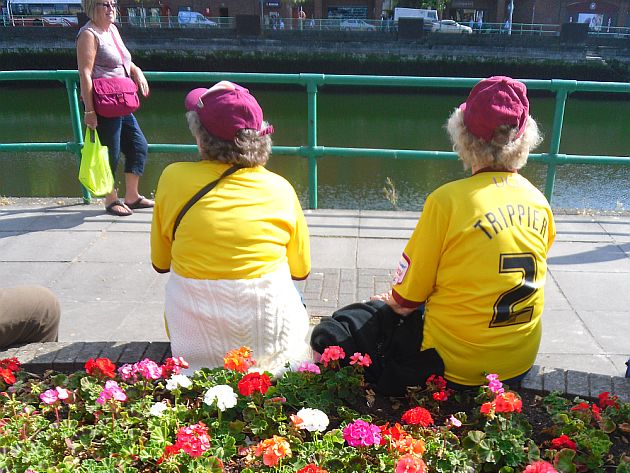 Relaxing in Cork
Having discovered that these were the Cork guys that we'd been admiring, one of their goalkeepers came over clad in black and with black tights to our touchline with the job of lobbing crosses over for his buddy to catch. Behind us sat Lynne Barkess and her gang, the golden girls. We were only a few seats away from the poor lad in tights. It's not long since Cork were penniless and the lad's tights still had holes in them. This loud voice belted out from behind us, a voice that could fell trees a hundred yards away.
"D' yer know yer've gor 'oles in yer tights?" He didn't hear or pretended not to. The voice yelled out again.
"D' YER KNOW YER'VE GOR 'OLES IN YER TIGHTS."
This time he heard and turned round sheepishly. A Burnley accent at 10,000 decibels would sink a battleship. He rubbed his ears. Suddenly he had a migraine. The golden girls mocked him shamelessly and offered to mend them for him. Craftily he shifted his position so that he was ten yards further down the pitch out of harm's way.
Lynne was with her father who was also on the trip, 90-years old Harvey O' Hara. What a fantastic fella. He's watched Burnley since before he can remember. He saw Tommy Lawton. He worked down the mines in Burnley as a boy. He joined the army in WW2 and became a commando. He jokes he knows exactly where he was on the beach on D Day, "Sixth from the end on the left." These guys are heroes.
The squads went in; the Cork goalie presumably making a mental note to raid his girlfriend's tights drawer. Burnley came back out with new man David Jones. Trialist Arfield played the whole game and in the second half in the middle of the park had a storming game. Ings was in little genius mode. Wallace pinged over the crosses. Austin looked classy. Shackell, with Long and then Duff looked solid. Mee joined Mills on the injured list coming off worst in a 50:50 tackle. Treacy showed again that somewhere in there is a damned good player who could run a game commandingly if he wanted to. Hewitt didn't do much wrong and looks a bit meatier. Chris Gibson after he had stuffed himself on chips and gravy at half-time fell asleep for the second half. All in all we looked a class act for long spells and then found out afterwards this was only the Cork City second team.
What was impressive was the number of Irish Clarets there. One of them lives just 20 minutes from the ground and three or four times a year comes over to stay in Harrogate and then gets to a match. Another guy from Longford was staying in the hotel.
It was a 7am breakfast on Day Four and an 8am departure. I guess most of us could have stayed longer. There have been some memorable pre-season trips. This was one of them. The sea was still like glass and the return ferry journey smooth and calm. If it's Cork again next year, put our names down now Joyce please. The whole trip was just –grand.