It was in '64 that he left for Manchester United and he was there for two years. At Old Trafford it was great players rather than great coaching or training that brought them trophies. Whereas Harry Potts was an ever-present at Gawthorpe, training and taking part in the 5-a-sides, Matt Busby was rarely seen at The Cliff. He would give a short team talk on a Friday and that was largely it. The Cliff was frequently waterlogged so makeshift training took place at Old Trafford, very often under the stands, when an impromptu obstacle course was laid out. At Burnley and Gawthorpe the training and facilities were so ahead of their time. There was a coach to collect the players from Turf Moor and take them to Gawthorpe. At Man Utd it was pile into your cars in muddy kit and go to wherever was available for training. Your car soon filled up with squelchy mud.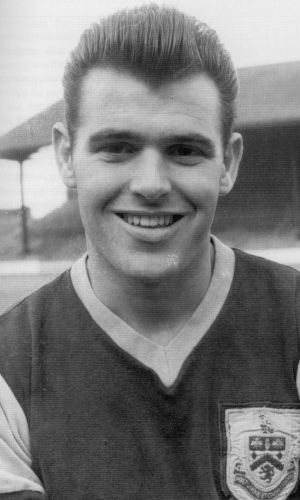 But with players like David Herd, Bobby Charlton, George Best, Denis Law and Nobby Stiles, and the simple instruction 'just make sure you pass to a red shirt,' the wins piled up and he more than held his own in this illustrious company. Connelly remembers it was an era when they played even when injured with the cortisone injections that were commonplace.
"You played even if you were unfit, but just about the only player who refused to play if he wasn't fit was 'the King', Denis Law. He was the only one who would stand up to Busby. If he wasn't fit he wouldn't play, although that wasn't very often." Connelly's memories of just how ad hoc the training was echo those of other players like Noel Cantwell who arrived and was astonished at what he found. But until John Connelly had a disagreement with Busby and asked for a transfer, he enjoyed his time there and scored 35 goals and is still in touch with people like Charlton and Stiles. He was in awe of Bobby Charlton he says and had great affection for George Best. He remembers one day his car was parked next to Best's.
"George's car and mine were covered in girls. But they were waiting for him not me and they'd daubed 'George we love you' all over his in lipstick." After that he made sure he never parked next to George again.
In 1966 he was in the World Cup squad and played against Uruguay nearly scoring on a couple of occasions. But after the 0–0 draw Ramsey made changes and he was dropped.
He went to Blackburn after United, rather than Burnley who approached him, for something around £40,000. When Bob Lord found out that he was available he sent trainer Ray Bennion to see Connelly. Bennion turned up in a taxi and sounded him out. It went as far as Connelly visiting Lord at his home in Read, but he turned the chance down. Can it be as good if I go back, he asked himself? Is it wise to return to a former club? And by that time he was aware that Jimmy Adamson had been appointed first team coach, and knew of the jockeying for position that was going on between Adamson and Potts and had no wish to be caught up in that. This was a period when players weren't quite sure who was running the show.
"My one regret is that I was a bit hasty, not in asking for a move away from Old Trafford, but in not taking more time to choose where I went."
In that magical early sixties spell where he had been part of a Burnley team that slammed in goals for fun, he remembers how Adamson even then would take charge of some aspects of training at Gawthorpe. "All of the throw-ins and free kick routines on the right hand side of the pitch Jimmy would organise. Harry would do them on the other. Even at that stage before he became coach he had a large input."
"He was a natural captain and a good one, good at talking to younger players. But he never spoke about the England job. I was in Chile with him when he was assistant manager but he never talked about why he turned the job down."
When I asked him to name the best eleven players he had played with he would not be drawn into giving a firm answer. "I couldn't do it; I've played with so many great players. But Bobby Charlton would be the first I'd pick and then there's Jimmy Greaves, Jimmy McIlroy, George Best, and Johnny Haynes. Ted Phillips at Ipswich had the hardest ever shot. Alf Ramsey was the best manager. Harry Potts was a lovely man. Maybe Jimmy Adamson was a bit more ruthless. Players were scared of Alf Ramsey. He had this manner, like a headmaster, an aura, and a presence. We had to call him Alf; but if after a game you said 'see you next time Alf', he'd look at you and reply, 'don't be too sure about that'. He made sure you knew he'd drop you so that no-one was sure of a place.
"Jimmy Greaves was such a character though. There was one blackboard session with Alf and he was drawing diagrams with arrows here there and everywhere and pointing in every possible direction. None of this meant anything to Jimmy who suddenly piped up, 'Alf which of us are the bloody Indians'."
Of course the one question I wanted to ask more than any other was what happened at the end of season '61/62. It was the season when Burnley looked certain to do the double. In the first 30 or so league games they were simply superb and had already scored over 90 goals, playing magical football. And then it all went wrong and they ended up being pipped at the post by Ipswich Town. Was it just one win in the last ten games? Ask any member of that team exactly what happened and none of them have any firm, clear idea. Jimmy McIlroy thinks that the adrenalin just stopped flowing, their legs had gone and they were just worn out. Ray Pointer thinks that nerves crept in. John Connelly had no answer but remembers how gutted he felt.
The Cup Final he thought was wonderful and a footballing memory on a par with the World Cup. Coming out onto the pitch for the opening ceremonies of both games was a magnificent experience. You could forgive him if he felt a little miffed that he was dropped after the first World Cup game, missed out on the last game of the title season at Maine Road because of injury and lost in the FA Cup semi-final. But he was philosophical. "That's life," he shrugged and smiled.
In the FA Cup Final Burnley just didn't play well at all. "I'm not saying we should have won but before they scored from their penalty there was a free kick that should have been awarded to us," he commented.
There was another game I wanted to ask about, but John mentioned it before I did. Clearly it was still in his mind. In '60/61 it had been Spurs that did the double as Burnley attempted to win all four trophies that season. Burnley and Spurs seemed to meet regularly and once more they met in the Cup semi-final. Spurs were worried about Burnley that day and admired them greatly.
"I didn't like Villa Park," said John. "And we lost 3–0. But Jimmy Robson had a perfectly good goal disallowed. It was a perfect goal. Afterwards, Maurice Norman their centre half came to me and said that it was the biggest injustice of the day that it was disallowed. "We played in front of some huge crowds in those days. At Everton one Christmas it was 75,000." I told him I'd been there. I was about 15 and mentioned the score was 3–0 to Burnley. "Did I score?" he asked with a cheeky grin. I told him I couldn't remember.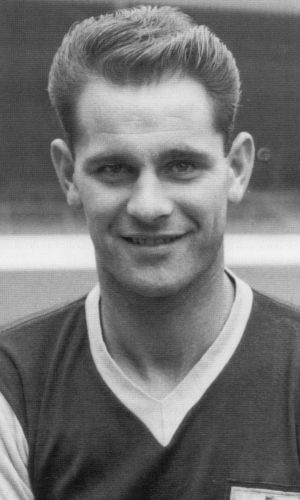 Jimmy Robson would know who'd scored
"Tell you one person who will and that's Jimmy Robson. He knows every goal that's ever been scored. And the goal that Jimmy Greaves scored in the Final against us. Every time I see him I tell him he just miskicked it and it bobbled in. No, he meant it he tells me. There's a '66 re-union every year and we all meet up. This year it's in Harrogate and it's Norman Hunter's turn to organise it."
If he describes THAT goal at Reims, it is then that John Connelly is at his most diffident and self-effacing. It's always fun talking about things like the greatest ever goal. Was it Tommy Cummings at Turf Moor or Ashley Hoskin at Swansea? Or maybe it was John Connelly at Reims because this goal had the added edge of taking Burnley into the next round of the European Cup at a ground that was so hostile that they were afraid for their safety. He laughs about it now.
"I've never known a place so hostile and I was reminded of it when I saw Lille versus Manchester United last week. At Reims they were sending fireworks across the pitch. And cheating, I've never known cheating like it. Every free kick as soon as the referee's back was turned, they were moving the ball forward ten yards every chance. When I took one corner I stood with my arms over my head as the bottles came over the netting. I'd never even seen netting round a pitch before. And the goal I scored… all I could do was keep running. I knew there were players behind and I knew if I stopped or slowed to look for a man to pass to, I'd be trampled. So I just kept running and let fly. It went in. Somebody gave me a video of it a while back – but I've never watched it."
When his wife Sandra returned from a trip into town, I looked at my watch and was astonished to see that I had been there nearly two hours. One final comment he made gives a picture of the man. I asked him if he still went to games at Turf Moor.
"Yes I have a friend with a box in the James Hargreaves Strand and I enjoy that when I go. But what I don't like is being in the Bob Lord Stand. Sometimes people will shout out to me that I should be playing and I could do better than this lot. It's embarrassing and makes me cringe."
Not unsurprisingly, he looks at the state of the pitches today and envies the players who have the chance to play on them, especially with the balls that dip and swerve and change direction unpredictably. The thought of John Connelly playing in these conditions today is just mouth-watering. In an age when a 20-yard goal was far less common because of muddy balls that weighed a ton, and on pitches that today would be deemed unplayable, he still managed to score screamers from the edge of the box with ease in so many games.
A winger who could score 20 goals a season? What price today? Who knows? But clubs like Arsenal, Chelsea and Man City would be beating a path to his door. When I got home I looked to see if he had scored in the 3–0 win at Everton. Jimmy Robson scored two… and who got the other… John Connelly… I should have known.
This two part tribute came from a 2008 interview with John Connelly