A few things lightened the gloom however; top spot in the division (I kept looking at it and blinking), Ings selected for England U21 and Sean Dyche named manager of the month for September; Downton is back, and a delightful letter from someone who had just finished the Adamson book. Getting letters like this is one of the pleasures of writing.
I have just finished reading your recent book about Jimmy Adamson which I collected from Turf Moor on the day of its launch along with a nice glass of wine and the pleasure of a chat to Mr Jim Thomson – a grand bloke. I have found the book absolutely fascinating.
Jimmy was my all-time favourite player. I always felt some affinity with Jimmy's career as my first ever visit to Turf Moor coincided with Jimmy's home debut on February 24, 1951 against Spurs who went on to win the championship of the old First Division. Result: Burnley won 2–0. Jacky Chew scored them both and Alf Ramsey played for Spurs that day. I was only just gone 14 then and had pestered my father for weeks to take me to Turf Moor. I seem to remember changing buses twice and a pie dinner at Burnley market.
I have enquired many times about Jimmy since I became a Senior Citizen and season ticket holder but no-one seemed to know much about him anymore. So, it was a thrill to see him one last time at the opening of the Adamson Suite. I confess to a tear or two on that day.
My friends and I came to Turf Moor as often as we could (when we were not playing ourselves)including the famous replay against Bradford City when the ground was full to bursting, with allegedly, a few thousand getting in without paying.
Sometimes nowadays, during a dull period of play I see Jimmy in my mind's eye breaking up an attack with a clean tackle, and moving forward to give another immaculate pass. (Does anyone know how to make a clean tackle and stay on their feet anymore?)
To some extent I understand Jimmy falling out of love with the game he graced for so long. I too am sick of the cheating, diving, rolling around as if pole-axed; then running round like headless chickens if they manage a tap-in; a game that has made millionaires out of some very ordinary players. We saw the best of it when the game was played with two wingers and the ball was moved forwards, when the likes of Billy Elliott and Jimmy Scoular could flourish. Those two would last about 5 minutes with today's referees. But they were wonderful footballers too. I could go on – perhaps it's just old age.
Anyway many thanks for a superb book which has been a joy to read, filling in all the gaps for me. It was a delight.
Yours Sincerely, Raymond Geldard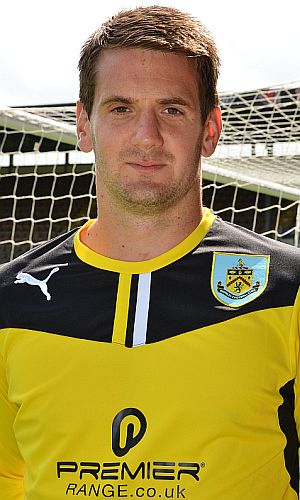 Tom Heaton, competition for Joe Hart
Jimmy Scoular: what a player my Uncle George always used to say many years ago when I were only a nipper. George was a Geordie and saw Scoular play for Newcastle many times. Prior to that he had played for Portsmouth and Jimmy Mac still tells the story that when they first played against each other and Jimmy was a just making his way in the game, Scoular crunched him out of the field of play with a snarling and ferocious tackle so that Jimmy ended up near the perimeter wall in a crumpled heap.
"Take that you little Fenian bastard," snarled Scoular standing over the stricken Jimmy.
"But I'm a Protestant," replied Jimmy quivering.
As soon as he heard this, Scoular was mortified and helping Jimmy to his feet, and putting his arm round his shoulder, assured him that he was terribly sorry for his mistake, and would never ever tackle him like that again.
'A footballing volcano,' wrote Ivan Ponting in Scoular's obituary. 'He tackled like a runaway coal wagon, and was prone to explosive eruptions of fury. It was said of him that he played as if he hated everyone on the field, demolishing opponents, bawling out team-mates and confronting referees.'
Enormously muscular, Scoular had legs and thighs the size of tree trunks. Such things seem to have been bred out of the modern footballer, now built for speed and athleticism. Andre Bikey was the nearest I've seen, in physique, to the legendary Jimmy Scoular, especially that snarling moment when he ripped his shirt off. When he played for Portsmouth, Newcastle fans labelled him a "dirty bastard." When he moved to Newcastle, they described him as "robust but fair." Such is the football fan.
Meanwhile the Adamson book began the slide down the charts. In all honesty it amazed me that it did so well anyway and stayed at number 1 for a number of weeks. It's the 'celebrity' books that seem to hit the heights, books by the big names, referees and galacticos. That the Adamson book became a 'hit', albeit short-lived, I fancy was down, amongst other things, to the nostalgia of it all and a stunning cover picture that made you look twice.
The night before Reading we caught up on the two new Downton episodes. We love it. Lord Crawley was as gormless as ever, Lady Mary in episode one took the word miserable to new heights, and Lady Cora's face, as she lay in bed, when she discovered her maid, the devious O' Brien, had walked out without giving any notice, was worth the entrance money alone, when she suddenly realised she would have to dress herself that morning. Mrs T has a similar expression she displays when I say I won't be able to bring her the first cup of tea in bed. It's hard to imagine that people really did live like this (and worse) in the upper echelons, so out of touch with real life. Apparently the Cleggs and Camerons still do, with no idea of the price of a loaf even. With programmes like this, Come Dancing and Homeland, plus Dave Wynne's blog, the winter becomes bearable.
Saturday: Star Date 5 10 2013: the rain gone temporarily, season tickets dusted off, the piggy bank raided for ticket money for West Ham and Millwall, Kalkan already a fading memory, Mrs T looking longingly at Viking River Cruises, me looking nervously at prices; and Reading next game. A bad omen when we had to turn back to Leeds after a few miles because both of us had forgotten our phones; the curse of modern life is that you think they're essential. A bad omen when I heard we hadn't beaten Reading since the 2009 play-offs. And as the old saying goes there's many a muck-up between a mickle and a muckle.
The game tentative in the early stages, a bit of probing and fending like two wary fencers; each side neat and tidy, spruce and clean-looking in immaculate kits on a billiard-table playing surface; all of us on pins wondering would this be the end of the fine run that had taken us to the top. Top spot brings its own pressures. Could they handle it? Could they rise again to the occasion? Were they over-achieving? Were we expecting too much? Would the bubble burst after so many fine wins?
Slowly but assuredly Burnley imposed themselves. The tempo picked up, the attacks increased; the slow waltz became a quickstep. Possession the key, passing the ball around from the back and then the penetrating ball forward, or played out wide. One-touch passing movements, little triangles, close control and then a superb Trippier diagonal ball that eluded the defenders and there was Ings to strike it home. Belief grew in crowd and team. And this is a team, a proper team, with balance, work-rate, passion, commitment, energy, creativity, with a strong midfield, and the two centre-backs at the top of their game. Duff like a fine wine that matures and improves with age produced the tackle of the season in the first-half, the full-backs defended with zeal and bite, Trippier getting forward when he could, Marney and Jones complementing each other perfectly. And the forwards: Kightly balletic and pacey; Ings, he of the twinkle-toes and quick feet, a Will o' the wisp, now you see him, now you don't; Vokes another imperious performance playing out of his skin, and Arfield, the willing workhorse, the fetcher and carrier, quick to get back, quick to break forward.
And then Tom Heaton: what a signing. All the way home on Talksport, Collymore was banging on and on about Joe Hart and his current form and is there any competition? Well yes there is and he's between the sticks at Turf Moor but he won't be looked at because we're not fashionable. Barely a minute on the Football League Show summed up national interest. This guy has that priceless quality, presence. Just a few keepers have it, most don't. The latter can still have great games every now and then; but the ones that possess it are worth a goal start and can be the difference between winning and drawing, or drawing and losing. His tip over the bar was the only save that was spectacular; the others, always in the right place at the right time to make them look easy, a sure sign of a good 'keeper.
The first half drew to its close, hands stinging from the number of times we'd applauded a move, voices raw from the incessant cheers and yells of appreciation. It could have been 3–0 had Ings not snatched at a golden chance that he dragged wide. And an Arfield header went across the goal with the keeper beaten, but went just wide.
Reading could have had no grumbles if by the 70th minute they'd been four or five goals down. Only their goalkeeper kept the score down, with some stunning saves, to something that left us all a bit nervous until Vokes scored. We're at the stage now where we assume that both Ings and Vokes will score each game. Burnley took their foot off the pedal a wee bit and Reading increased their possession stats and a bizarre goal gave them hope. A bullet header from their big Russian guy back across the goal ricocheted in off Shackell's knee and he could do little about it. There were still several minutes left in a game that could have been dead and buried, so that it became tense and uncertain until Burnley took control in the final minutes and played out the game with the crowd willing the ref to blow the whistle until at last he did.
The players elated, the crowd singing and cheering, win number six against a fancied side that was in the Prem last season; Dyche jubilant after the game extolling the virtues of his 'group' the new word.
"I am thrilled," he said. "I am waxing lyrical for the first time," he added; saying that this was one of the best performances since he has been at the club. And why shouldn't he feel proud? Last season there were indeed some dull games, but it was not his team and in it were sub-standard players, that he probably knew had to be shifted out, plus one who thought he was far better than he really was and even had the gall to ask for a pay rise. Today, this was HIS team made up of shrewd acquisitions of real quality, Heaton, Jones, Arfield and Kightly, all of whom have bedded in with the remaining players as if they've been at Turf Moor for years.
I'd love to have been there at Sean Dyche's team talk during the week when he spoke about expectations and the great athlete Ed Moses who remained unbeaten in 122 races over ten years. What did Ed Moses think each race? What was his mental mind-set? What did he think after 50 races, 70 then 90? It made me think of Al Pacino and the Any Given Sunday "inches" speech. I'll guess that Dyche with that voice of his that sounds like sandpaper rasping on a nail file does a pretty good team-talk.
We too drove home waxing lyrical. The bubble is still inflated and there is already a sizeable gap between top and seventh place. Of course there is a long way to go, the season is only a quarter over; optimism is dosed with realism. Cover for key positions is scant. The question was asked all the way down the stairs as we made our way out: "Can they keep this up?"
Who knows, but for now we have the two-week break to enjoy the astonishing sight of a worthy Burnley at the top of the Championship.