It disappeared the next day as fast as it had appeared. For us Claret gardeners though there's a big decision to make – when to put the onions sets in. You don't want frost getting in yer onions particularly as this variety is called 'Golden Ball', and as I said to Mrs T, there's no way I want frost in MY Golden Balls.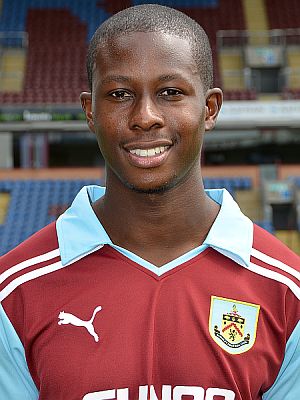 Marvin Bartley, the only one missing at Doncaster
The big debate after the Birmingham game was about Eddie Howe's claim that there was nothing much wrong. Brendan Flood tweeted that the only difference was missed chances by Burnley and ruthless finishing by them. I fancy there was a bit more to it than that. For sure there were some missed chances and poor finishing plus a couple of excellent long distance attempts one saved by the goalkeeper and one headed off the line, but that did nothing to mask the fumbling dross that was on offer for the first 45 minutes. You could then argue that the improvement only came about because Marney went off with a head injury resulting in the unplanned introduction of Stanislas and the resultant restructuring of the formation and injection of purpose.
There were a couple of Easter games coming up. In ye olden days clubs would play three games over Easter and titles were won and lost in that period when it was two points for a win. It added real excitement and drama to a season and I can't remember Jimmy Adamson, John Connelly or Jimmy Mac ever complaining that they were tired and "overused". The modern player might argue, I suppose, that he is so finely tuned and stretched, he is more vulnerable to injury. But the old timers I have ever talked to say that they were injured just as often but carried on playing regardless.
I'd have been grateful for a draw with Brighton on the evidence of what we saw against Birmingham. But life is full of surprises. Howe put out a team that even down to the bare bones again, was balanced, the formation was right and players were in their best positions although Wallace was again at left back. And what a game he had. There was width with Stanislas (who started the game) one side and McQuoid the other. McCann was in his best place left centre. So the Birmingham tinkering/experimenting, if that's what it was, was abandoned and how it showed.
This was a terrific game, all thrills and spills, edge of the seat stuff and gripping from start to finish. Brighton made sure it was no tame end of season game playing for a top-six place. But what a disgrace of a team they were, a mirror image of Poyet their drama queen, mad manager. This was a team that lacked any semblance of self-control or sportsmanship. Astonishingly it was Burnley who picked up 5 yellow cards and Brighton received just two. And this during a game when 4 Burnley players were clattered so badly, that a red card would have been merited in two of the incidents. A good shout for a penalty was ignored. But Bartley too was lucky not to be red-carded for a wild tackle. He's just the hard man that a team needs but the downside is recklessness with some challenges.
Charlie Austin scored the single Burnley goal and later was one of the four players to be walloped, in his case with an elbow into his side that eventually saw him taken off. Trippier and McQuoid were nearly cut in half by scything tackles. Yet it was the Brighton players that constantly harangued and harassed the referee whenever they felt aggrieved, which was more or less continuous.
The first half Burnley performance was excellent. If Birmingham was bad, then this was in total contrast. Stanislas had a superb first 45 minutes. Trippier raced up and down his wing all half. Edgar and Duff were solid in the middle. McCann rampaged up and down the middle. Ings was everywhere and Wallace looked like he'd played wing-back his entire career. Grant made key saves when needed.
The second-half was pretty much backs to the wall stuff with the Brighton histrionics and false protestations increasing more and more as the end got nearer. Apparently Poyet was so infuriated he left the field five minutes before the end. Exactly what he was infuriated about was clear to no-one. With his team… the referee… losing; who knows how his head works? Presumably he thought that Burnley might provide easy pickings the way things have been going.
Even one of the Brighton websites castigated him saying that his behaviour was unacceptable and they couldn't imagine Alex Ferguson ever leaving a game 5 minutes before the end. "Some of his attention seeking has to stop," it continued. "Grow up Gus," was the general theme, "out of order and disrespectful"; the blame for the defeat was clearly laid at Poyet's door, his team selection and his tactics.
"Your team is a disgrace," the Burnley crowd chanted en masse for long, long spells. Was it even possible he agreed? If teams are a reflection of their manager's personality, then Brighton were the proof that this is probably true. Their antics in front of the referee, arm waving, mouthing, moaning, whingeing and arguing were like nothing we'd ever seen before. Winning never felt so good. It was almost good versus evil.
At last Mrs T was recovered enough to make the journey. She'd heard me moan a lot lately. But towards the end of the first half she was the barometer that passed judgement. "This team could be really exciting next season," she pronounced. Well it probably could if reinforcements arrive in time.
As the minutes ticked away towards the end how desperately we wanted to win this game, so bad had been the Brighton behaviour. And then 6 minutes of extra time were added on. We groaned. Brighton had come into it more and more. They exerted real pressure. Trippier was limping and dead on his feet. Football justice demanded a Burnley win. And win they did to our utter relief and satisfaction. There aren't enough words to describe how dreadful Brighton were. Just one point for them would have been a travesty.
Brian Pilkington was the legend from the 50's that made the half-time draw. By the time the '62 Cup Final came around he had left the club. Still around from the '62 team there are Jimmy Mac, John Connelly, John Angus, Alex Elder, Ray Pointer, Jimmy Robson and Gordon Harris. Thanks guys, I was there that day. Truth is Burnley never really showed up for that game, and it was in hindsight all a bit of a damp squib; but it's great to be able to say "I was there". I wonder if in ten years there will be a dinner to celebrate the 2009 Wembley triumph. Next year it's the 40th anniversary of Adamson's triumph in '72/73. and the year after is the 20th anniversary of Jimmy Mullen's second promotion. That's another Wembley game I went to. That's the thing about Burnley; its history is such that there is always something to remember. Let's just suppose your first Burnley game was in the 91/92 season; what a 20 years you've had.
This year has also seen the 30th anniversary of the '81/82 promotion from the Fourth Division. Former Director of that period, Derek Gill, gave me his notes and diaries from that season. Boy what a book they would make seeing as they go on to detail all the events of the following relegation season, and then the John Bond season. The word dynamite springs to mind. Derek's detailed report on the state of the club, which he was asked to provide, following the demise of Bob Lord makes staggering reading. Behind the scenes it was a total chaotic shambles as well as being in a state of near insolvency.
That's one thing that cannot be said now and Barry Kilby's legacy to the club is one to be proud of. As supporters we can all grumble at this and that but overall if you look at where we are now, and where we were when Barry took over; plus all the things we have enjoyed in between, his is a remarkable record, even if he did call Delia," Celia," all afternoon when Burnley were down at Norwich. There's an interview that I did in 2006 with him for Russians Don't Land Here. In it I asked him where he saw the club in five years' time. "We'll have had a year in the Premiership," he said. "And the Jimmy Mac void will be rented out to something like the NHS." Well, substitute the UCFB for the NHS, and his predictions were pretty bloody good, if you ask me. (Er forgive the plug but I have a garage full of these books and it's still available at all good charity shops).
It was tempting to go to Doncaster when we heard you could pay on the gate. Unfortunately there was the small matter of the hundred onions to put in. And anyway after the thrills of the Brighton game Mrs T had to rest all day Sunday other than a Sunday dinner down at the Owl in Rodley. For anyone in the west Leeds area it's a beaut of a carvery. AND pensioners get discount and can still eat as much as they want. Some plates were loaded so high it took two people to carry them. The Sunday roast at The Owl was absolute grade A.
We wondered what team would appear at the Keepmoat. Despite Burnley's two wins in three, the fixture had the look of a home win simply because you know what happens when Burnley play a bottom team; and results against Doncaster have never been the best. Down to the bare bones yet again Eddie wasn't tempted to bring Easton back in from the cold just for the one game. Eddie sure knows how to shift out the unwanted.
Astonishingly of the several players who were nearly crippled by Brighton only Bartley was missing although Trippier played like he was only half mobile. Three youth players made up the bench. Jensen who was alongside them must suddenly have been feeling very old. There was no Hell Hadj Joof in the Doncaster line-up. Don't ask me how but in my collection of football rubbish in the garage I have pair of his signed boots (any reasonable offer accepted especially good quality manure).
Well by God they went and won. It was the tenth away win of the season and by the sounds of things Austin might have had another hat-trick but for the Doncaster goalkeeper. Three wins in four and the barometer was reading 'set fair' again. The Birmingham dross now seemed a long time ago and optimism returned. Over 1,000 Burnley fans made the journey. McQuoid scored with a delicious volley/lob from 30 yards to open the scoring. Austin got the winner with a well-placed penalty. The talking point was the growing partnership between Austin and Ings so that, sad as it would be to see Rodriguez go; it would not be in any way a disaster.
And finally some good news and bad news: bad news is that yes the Titanic did sink; the good news is there's only one episode left.