A few were recovering from long-weekend Blackpool hangovers. Dozens queued for tickets. Over 19,000 eventually made it inside and saw football history being made.
The signs were not good. Wigan were powerful, the team that most people had tipped to walk the Championship and back into the Premier League at the first attempt. And then they appointed Owen Coyle. It's reasonable to think that had Rosler been manager from the start they would have arrived at Turf Moor in top spot.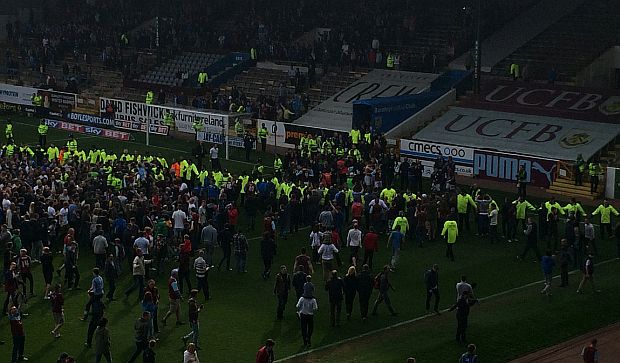 Over the last six games Burnley had won three times and lost twice, both of those defeats at home. The points return was reasonable but the goals had dried up, just five goals in six games. It was the defence that had held things together conceding just four. No wonder the goals had slowed to a trickle; for a number of games both Ings and Vokes had been missing. Ings' goals on his return had dried up. Vokes was still hugely missed. It was Kightly that was the man in form. Dyche was adamant that the team was still strong, full of running and energy. In fact they were even increasing. The stats said so, he said.
Wigan had just crushed Reading 3-0 and had staged a wonderful performance in the FA Cup semi-final against Arsenal, although they had lost. Wigan fans were therefore a little concerned that at Burnley they might have an off-day.
'After the Lord Mayor's Show comes the dust cart,' one blogger worried.
The scenario for this game was simple. A Burnley win and they were up. Match Derby's result and they were up. If Derby only drew, they were up, even if Wigan won. We chewed all these things over endlessly in our heads, in our sleep, out shopping, in the pubs and on the messageboards. But it was hard to predict anything other than a Derby win and at Turf Moor history said Wigan would not have an off-day; the stats said that over the years Burnley had a poor record against them. The sense of foreboding grew a little more.
Yet again Burnley unchanged but Rosler had rotated his squad. A friend the previous day had remarked, 'Hey haven't you got a terrible run-in, don't Derby have it easy?' It's what most of us were thinking and if you were a Derby fan you'd be thinking, 'We can do this.' For Burnley fans it was how was it possible to have an 8-point lead and feel nervous? Would the last minute Macheda goal, bundled in with his arm that equalised for Birmingham and cost Burnley two points, prove to be so very costly after all?
Traipsing round the house like an expectant father in a maternity ward… nearly there… please let it be today… can't cope with any more of this… our fate in our own hands… we are Burnley, super Burnley, we are Burnley from the north… barely slept… going to enjoy it whatever happens… one game at a time, this is THE game…
It was indeed THE GAME. 'That was better than Wembley,' said Mrs T
They did it. They did it handsomely. They did it with style. They did it with two wonderful goals. They did it in front of a packed house. They did it for themselves, for the club, for the town, for the people. And when the final whistle went, they brought the house down and Burnley's name flashed round the world. The significance of promotion is immense; Burnley instantly became a marketable brand around the globe. Within minutes a friend emailed to say it was plastered all over the news in Australia.
This was a Burnley day, not just for the club but for the community. They flocked to Turf Moor in their extra thousands, the young, the families and the elderly, some on their walking sticks. Some of them gasping their way step by step, quite painfully to the top of the James Hargreaves and you feared for their health and wondered if they'd make it. But they did, determined to be there. At the end, the pitch invasion was not just the teenage numpties, it was families, it was lads and dads, it was grannies and granddads and it was even the disabled on their mobility scooters not quite doing wheelies but almost. It was fabulous, wonderful, awe-inspiring, and every other superlative you could think of. It was just a special, special day, so unexpected, so unforeseen. My head jumped forward several months to that interminable BBC Sports Personality of the Year show. The team of the year, Liverpool no doubt will garner the accolade, but why not Burnley; this Brad Pitt 'Moneyball' team fashioned and cobbled together from other folk's bits and pieces that has gelled, become something truly extraordinary and attained the unthinkable.
The day warm and dry, pale sunshine bathing the ground, the conditions perfect, the pitch looking fresh like it was being used for the first time, the atmosphere electric, tingling with that magical sense of excitement and frisson of anticipation, along with more than a few hopes and prayers. A bit of fun too when the Wigan fans sang 'Owen Coyle… is a wanker… is a wanker,' and the Burnley fans laughed and applauded. Opponents and rivals yes, but brought together by football's gallows humour.
If we were worried about Wigan, we had no need to be. It was indeed the dust cart they arrived in. This was game between footballers and true comrades in claret and blue, against brute force and a disparate collection of individuals in black who for the first 45 minutes could do little other than pump and hoof the ball high into the Burnley half, whilst Burnley danced their way through their defence for the first and then curled the ball in for the second with a free-kick from near the touchline that would have graced the Nou Camp. The first was text book, intricate passing and first-time touches, rapier sharp and unstoppable.
'If this was Arsenal it would be shown 400 times,' said Dyche later.
Of course Wigan gave a better show in the second half, but the fabled Burnley defence gave them little joy. Halley, Boyle and Watson would have smiled with appreciation. There was never a moment that the two-goal lead looked in danger. At the other end Ings hit the post and all game he'd twisted and swerved and trick or treated, and led the Wigan defence a merry dance. Barnes had led the line magnificently; Kightly was electric, now it was he that was the man who made the difference. A Barnes second-half volley from a ball that came at him at 100mph and was punched away by a goalkeeper who could only have seen a blur; what a goal if it had gone in.
The minutes ticked down. You knew the end was near when dozens of stewards began to line the perimeter. 2-0 and coasting, Duff, Shackell et al in total command; thou shalt not pass.
At half-time the great Jimmy McIlroy appeared with the news he was at last to be inducted into the Football Hall of Fame. How that man was not inducted years ago is one of the great mysteries. We worked on his two books for a year and it amazed me then that he was not included. It just seemed so ridiculous. Five minutes to go and Arfield and Ings began the age old routine of playing for and wasting time by the corner flag. Jimmy Mac must have watched with approval. He invented the routine and it became known as doing a Jimmy Mac.
Tick tock, tick tock, the clock wound down and we laughed and smiled at Wigan's futile attempts to win the ball. The crowd by now knew that the club, the town, the supporters; all were on the edge of a truly great football achievement. Four minutes extra time the board showed. We knew then the game was ours. We knew the prize was ours, the Premier League, the bloody Premier League and all its great stars and teams that would visit Turf Moor. And: all the money it would generate. We knew that the glory was ours. Our time, our team, our club, our Turf and all the rest of it was seconds away and within our grasp.
All those games during the long hard slog of a season in all conditions and all weathers; yet another clean sheet, the meanest defence in the division, just five defeats and one of those only because there was a crass referee that couldn't see a penalty if it had hit him in the face. And then goosebumps and emotion and lumps in the throat as the whistle went and try as they could the stewards could not hold back the surging crowd racing onto the pitch.
Goosebumps: when Ings fell to his knees with his head buried in his arms just like Phil Malley did all those years ago at the end of the Orient game. And then Ings was gone, vanished beneath the tide of supporters who engulfed him. Goosebumps when at last the team and Dyche and all the staff local-lad Tom Heaton collapsed in tears; when suddenly Ashley Barnes spotted his little boy and arms wide gestured for him to join him. Goosebumps when Danny Ings found Joe Skinner in his wheelchair; when Sam Vokes limped along on his crutches; more goosebumps when Danny gave a fleeting glimpse of his famed body-popping dance routine.
Goosebumps too when you thought of the story of Scottie Arfield, a young lad who at the beginning of the season had no club to go to, tagged along on the pre-season Irish trip, all of us wondering who he was, and then just months later found himself a key member of a team bound for the Premier League. 12 months earlier he was on the football scrapheap, shown the door by Huddersfield Town. Before Huddersfield he had been a bright talent in Scotland linked with top clubs. New managers can mark the end of football careers. It had happened to Arfield and now here he was having had the best season of his career. Fairy tales do come true. At Burnley he'd found a club with history, 'a strong club with a great group of players.'
And then the sheer wonder of it all. Just how did it happen? How was it possible that this little group, this happy band, this united squad of buddies and pals and clean cut, well-spoken lads, had achieved the impossible? Not a single expert at the beginning of the season had given them one tiny chance of an automatic promotion place. Just 22 players all season and of those some had made just a handful of appearances.
At the end of the game Sean Dyche was hoisted by the players onto their shoulders. Of course he paid them tribute and there was that word 'relentless' yet again when he said they were a such a committed group 'willing to be relentless.' To achieve automatic promotion as they had done, with the points they had amassed, within such constraints, using so few players, was a 'marker in history' he doubted would be repeated.
I bought a bundle of newspapers the next day. What more pleasure could there be than to sit back and read and re-live the day. Little Joe had been there too. The five games he'd seen had all been wins. It was Manchester City he wanted to see the most. We had to explain that Burnley might one day lose and at that he'd looked just a little non-plussed; the thought had never occurred to him. But we'd be able to collect Panini stickers and make a Premier League scrapbook together.
'Thrust into orbit,' said the Guardian, opening with Dyche being asked if this was his greatest achievement. He rolled his eyes and insisted to laughter, 'No I've had a few mate… a year ago there were people questioning me.' Now they are celebrating and serenading him.
'It feels like the destination at the end of a long journey. It is the people's club.'