They had stumbled to a draw at Blackburn but wound up the Blackburn support singing: 'going up with the Burnley.' They had stumbled to a home draw against lowly Yeovil and only equalised in extra time when goalkeeper Schmeichel came up and fired in a bullet header which led to a goal. The Leicester fan was expecting to lose.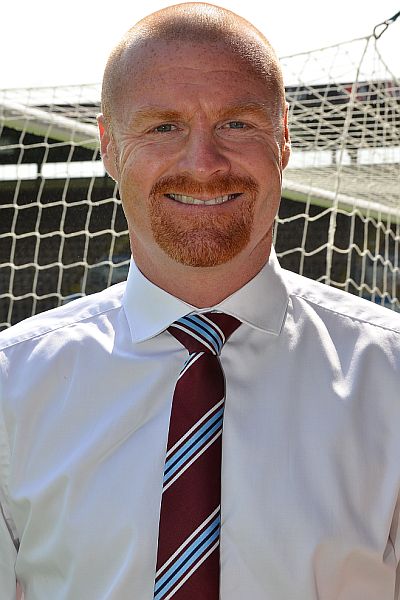 Sean Dyche's memories are locked in his head
Out of interest I looked back at this time just about 11 years ago on page 189 of Its Burnley Not Barcelona. Leicester had been to Turf Moor and won 2-1. And then there followed a 1-1 draw at home to Grimsby. It was that weird and whacky season filled with ridiculous score lines, mostly with Burnley on the wrong end of them. But the write-up of the Grimsby game made for interesting reading.
'Of this for the moment we will say little… save to say, the sun shone beautifully and we got half a suntan. During the first half I read the programme from cover to cover. The chap behind me actually fell asleep (honest I do not make that up). Pigeons settled happily on various parts of the pitch there was so little to disturb them. In fact sometimes they settled on a player's head. Grimsby were so bad it is a mystery they aren't marooned at the bottom already ninety points behind the rest and this had all the ingredients, passion and interest of listening to Iain Duncan Smith. This was the classic end of season game that neither players nor crowd were interested in.
And yet at that point 11 years ago there were still nine or ten games remaining. Contrast that to now and the end of season run-in. The game then was described as passionless garbage, 'huge expanses of time taken up with nothingness,' and the money alarm bells were ringing loudly as crowds dwindled. The next game was Bradford City at Turf Moor, 'two struggling teams battling for mid-table inferiority.'
Fast forward eleven years and supporters couldn't wait for the next game. Yet the attendance for the high flying 'new' Burnley against Doncaster was only 1,000 more than 10 years earlier. Ings and Vokes had between them done something never done since the heady days of Lochhead and Irvine over 40 years ago when both strikers had bagged 20 goals or more.
Whilst Leeds supporters were in agony at the fast approaching meltdown of their club where the players and staff were now wondering if they would be paid for March, happy Burnley fans were packed into the James Hargreaves Suite attending a Radio Lancashire fans forum with Sean Dyche, Lee Hoos, Mike Garlick and John B. At Leeds, owners GFH were denying responsibility for paying the wages claiming that this was still Cellino's job; the same one that had been deemed an unfit and proper person. GFH claimed that notwithstanding the league ruling there was still an agreement that he would fund the club for 6 months. He was said to have paid the wages and running costs for January and February already, paid off a loan of £1.7million to a sponsor, and bought £7million in shares believing his appointment would be a formality. Here is a club, one report said, that never mind they didn't own the stadium or the training ground; they didn't even own the tables and chairs.
GFH, according to Cellino, didn't even have the money to pay for the washing powder and had allegedly told GFH to f***k off in response to their claim that it was down to him to continue stumping up the lira. Manager McDermott was reported to have said that all the talk at player level was; were they going to get paid? In fact they got 50%.
It was therefore with a degree of pleasure that I tuned into the Burnley Fans Forum that was broadcast by Radio Lancashire. Those that were there agreed it was a superbly successful evening. The panel took questions for nigh on two hours.
'You have Vol au Vents in Burnley?' smiled Dyche wryly at the mention of the words.
With things going so well, someone mentioned why not a Sean Dyche Way, as well as the Harry Potts Way? 'Last year it would have been Sean Dyche No Way,' he responded, laughing.
Transcribe the complete broadcast and you'd fill a chapter but along the way there were a few things that stuck in the mind: 'you're a custodian, not just a manager… the club has a rich history and it has got to be protected…. being ginger is a unique selling point… I'm flummoxed half the time with referee's decisions… there are no plans to rebuild the Cricket Field Stand but we are looking for painters and decorators to spruce it up… the signings we have made have been fantastic, the players have been fantastic so far… group mentality has been the key… the best thing is seeing a group become a real team believing in each other… taking away egos has been key, each accepting the others for what they are… behind my façade of being the ginger beast I can in fact be quite light-hearted… if Lego are listening I think they owe me a few quid… the voice of the fans is the most powerful thing in football.'
The Lego reference was in connection with a new model figure that displayed an uncanny resemblance to Sean Dyche. Lee Hoos revealed that season ticket sales had passed the 9,000 mark that very day. And then a most telling comment after listing all the foreign owners of Leeds, Leicester, Derby, Nottingham Forest, Reading et al – 'Burnley owned by Burnley folk.' There in a nutshell was the uniqueness of Burnley and its core distinctiveness.
Friday night before the Leicester game: we knew Ings and Marney would be missing. The word on Trippier was that it was touch and go but was unlikely to play. With the deadline day approaching for advance price season tickets both the upper Jimmy Mac and the Bob Lord were approaching a near sell-out. Leeds United players received a 'proportion' of their wages. Folks arrived in Burnley from all over. One lad posted on Clarets Mad that he was coming up from Southampton; 'but my mum thinks I'm coming to see her.' A 2-0 win would see Burnley go top. The mere prospect was astonishing. Twitter and fans' sites were filled with messages from people who couldn't sleep, were on pins, couldn't stop thinking about it; couldn't wait for the game. This was match of the day.
But it was a game too far.
Ings missing, Trippier missing, and Marney missing: nevertheless Stanislas was there and he'd had a magnificent game during the week, and big Sam was there. But then it was four missing as Vokes twisted a knee as early as the 5th minute and lay prostrate on the turf by the dugouts. We looked at each other and groaned. It was game over from that moment. Alas it was then five missing as Stanislas never looked like running the show as he'd done against Doncaster.
Burnley fought and battled as any Dyche side would do but with Edgar on from the bench, in preference to Wallace, or Treacy or Stock, and Barnes on his own up front it was an impossible task that faced them. It looked like they might make it to half-time with a 0-0 scoreline but then Burnley's nemesis Nugent cut in and from 20 yards curled and guided the ball into the bottom corner with Heaton powerless to do anything other than make the dive. Until then neither side had come anywhere near scoring, neither goalkeeper had anything of note to do. But it was clear that Leicester were by far the better side as they imposed themselves and controlled most of the play. There was never any doubt where the points would go.
In the away end the massed ranks of Leicester fans all decked in blue T shirts given to them by the club as well as a bacon roll and coffee breakfast, sang and chanted as we did at Charlton. Going up, going up, and they knew it and it was hard to see this powerful and talented side losing another game all season.
You always hope for a breakaway goal, or a stroke of luck, or a free kick and a referee's decision going your way. In a Burnley attack, and there were several, there were loud claims for a handball but the claims were waved away. When Leicester scored their second, the ball carelessly given away cheaply, so that it was swept upfield for the forward to run onto and nudge Duff out of the way, the referee waved play on. Others might have blown for the foul. The finish though was sublime with a shot from 20 yards that went in like a rocket. Leicester had striker options on the bench that Burnley didn't. If there was one huge difference, that was it.
Ironically it was hard to recall a single save that Heaton had been called on to make. But there he was, on the wrong end of two goals.
Burnley battled on. Kightly had a terrific strike that Schmeicel punched away. Treacy put in a 20-yarder that tested him. But it was Arfield who had a plumb chance to equalise when the score was still at 1-0. The defender slipped on the edge of the box and suddenly Arfield was clean through with only Schmeichel to beat. But the shot was from an angle and though on target hit Schmeichel and away it bounced. You knew then even more that this was not to be Burnley's day. We applauded our boys loudly at the end. They'd given their all. The defeat had to come one day. And now we had to wait and see what Derby and QPR would do.
They both had 'easy' home games, QPR to Blackpool and Derby to Charlton. No-one could see anything other than three easy points for the picking and three closer to Burnley. It was a very quiet drive home. On went Soccer Saturday on Sky and we watched the results coming in just as nervously as if Burnley were playing.
But football is filled with surprises. Derby won comfortably but QPR could only draw. So Burnley still remained nine points clear and still had the better goal difference. Suddenly things didn't seem quite so bad after all. And the injured brigade had a week's rest to come.
Dyche took the defeat on the chin and his reaction was pragmatic. Look where we are in the table, he told the players, see what we have done; that it had been a year since anyone had last come to Turf Moor and won.
This was a day too when two more major pieces featured him in the Guardian and the Daily Mail. If the Mail is correct he would return home after the defeat and let the time with his family expunge the memory and freshen him up ready for the next round of preparation.
'If you go into my house there's not a thing about football. You wouldn't know whether I was a bricklayer, a builder or an IT consultant. Why would I want to keep thrusting it in my family's face? I don't want my wife constantly reminded of what her husband does, or the children. I want them to lead their own lives. I keep all my memories locked in my head. I've got a couple of scrapbooks and my mum and dad have my Chesterfield shirt from the semi-final; no signatures or anything, I wasn't interested in anyone else's. Collecting souvenirs has never been my bag.'
Dyche was sticking to his one game at a time mantra, no talk of promotion, but said he was human.
'I'm human. It's smashed in your face every turn of the page, every news channel. League tables are for fans to look at and the media to speculate about. I'm more interested in performances and getting the preparations right for the next game. I won promotion four times as a player and I'm not going to deny I wouldn't enjoy another as a manager but you can ask any of the clubs I went up with and they will tell you the same. My focus was always dead calm, always on the next game. I know what I believe and what I think the group can deliver but outside expectations are a different thing. I'm aware of that the media suggests, I'd be naïve not to be. Every single week there's someone linking us with promotion but I never even mention it and I won't until the job gets done. But what I can say is that the stats show that we are getting stronger, working harder, covering more ground. We are not tailing off and that gives everyone encouragement.'
At the end of the day, seven games remained and the table still looked damned impressive. The sensible thing was to shrug it off and accept that all good things must come to an end. Next up Watford v Burnley, Bournemouth v QPR and Middlesbrough v Derby, not quite the home stretch, but almost.