"Well," he said shaking his head. "Why is it that Leeds have the only Arab owners in the Middle East with no money."
And then he added, "Plus, to cap it all one of them wants to ban the sale of alcohol at the ground and in the vicinity." He was referring to reports that one of the Leeds directors wanted to ban alcohol from being consumed anywhere within Elland Road to reflect the Muslim beliefs of owners, GFH Capital, the Dubai-based subsidiary of Bahraini Capital Investment Bank.
Salem Patel, the head of investment management at GFH, and reputedly deeply religious, has made his feelings clear and is even thought to have brought up the subject at board meetings. So: imagine a football Saturday afternoon without beer in the concourses, Sauvignon Blanc in the corporate areas, or Benedictine in the upper James Hargreaves.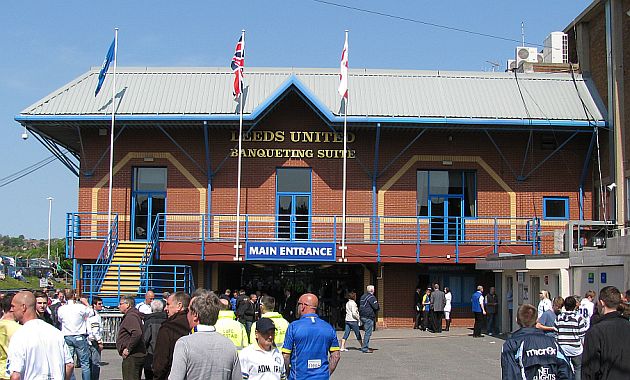 An alcohol free banqueting suite at Elland Road?
My pal was relieved though, along with probably many other Leeds supporters, to learn that other board members were not in agreement, and Mr Patel's views certainly weren't shared by the club's first lady, Lady Harewood, allegedly overheard voicing her disagreement. The aristocracy, thank goodness, is alive, well, and still influential.
We had a week away, heading for Kent, travelling down on the day of the Brighton game; resisting the temptation to head for the game there. Good decision as it turned out with a 2–0 defeat. On the return journey home it would have been no great problem to make a detour to Derby but decided not to. Bad decision: with a marvellous 3–0 win and by all accounts a near perfect performance. The goals went in as we trundled up the M1 making the dullest bits of the drive through the 50mph limit zones bearable.
The praise came thick and fast… an all-round superb performance and a joy to watch… tremendous away performance… as complete an away performance as I've seen from a Burnley team… a very special performance… best performance I've seen for a long time, superb display…
In between those two games Preston were neatly disposed of in the League Cup but there were reports of chaotic scenes at some turnstiles as people tried to pay at the gate and the decision to keep both upper tiers closed for the local derby with was roundly criticised as some people gave up the attempt to get in and went home.
Clips of the Derby game showed what a superb goal Ings scored with a burst of acceleration that took him past defenders as if they weren't there. His celebration 'dive' was worth the entrance fee on its own – I seem to recall Graham Alexander did a similar routine once or twice. Vokes' goal was the result of a defender's clearance hitting him on the head and ricocheting in like a bullet. You wonder if they practise this at Gawthorpe. On the way out of the game Derby fans were overheard saying that his performance was the best they'd seen from a centre-forward. Derby fans must be sick of Burnley arriving at Pride Park and winning year after year. The penalty decision by the referee following Shackell's superb, perfectly timed tackle was one of the worst refereeing decisions you could see. Had Derby scored from the penalty it could have turned the game. Ings' disallowed goal was easy to shrug off when you're winning 3–0 and afterwards you can make light of it. But disallowed goals like this can have a huge influence on the final league position when goal difference can be the decider between sixth or seventh place. Didn't this happen years ago when Stan T almost took us to the play-offs?
End of August: three wins, one defeat and one draw and Burnley sitting nicely in third spot. It would have been a supreme optimist in July who would have predicted this. The messageboards were a mixture of optimism and caution, but there was agreement on one thing; that there is a clear team spirit and bond that exists between this bunch of players. The best teams are exactly that, a team, a group, where the sum is greater than the individual parts.
I sat glued to Sky coverage of the transfer window countdown. Over the previous weeks it must be a rare person who wasn't bored rigid by the sagas of Gareth Bale and Real Madrid, Chelsea and Rooney, Arsenal and Suarez, Fellaini and Man United.
Up bright and early on deadline day: little Joe sleeping over, school hadn't started because roof repairs weren't completed. Switch on Sky: the anchor people at their desks, reporters at all the major training grounds, the sun shining everywhere but cloudy Leeds; Wenger telling the one assigned to Arsenal to expect a major surprise. 14 hours to go. Cardiff City reported to be sniffing around Trippier.
Bale's agent looking tanned out in sunny Spain informed us that that particular transfer was done and had taken 110 days. Apparently Burnley had once been linked with him on loan when he was bench-warming at Spurs. Bale told his adoring fans that Spurs would always be in his heart. I read an article some weeks ago that since he'd had his sticky-out ears pinned back his confidence and performances on the pitch had increased dramatically. For £85million I'd have any bit of me pinned back you'd care to mention – yes – including that one.
Six hours to go, no sign of Jim White, who is to deadline day what Robin Day once was to election night and what David Frost was to That Was the Week That Was and David Jacobs to Juke Box Jury. That was sad news about them both passing away; each of them part of my vanished youth. But nice to see the Beast back at a club, Bury; he served Burnley well. Sky used the word 'extraordinary' for the millionth time since breakfast. Would Arsenal get Demba Ba as well as Ozil? Would Man U get Herrera? Barmiest bid must surely have been the £6million offer that Coyle made to take Jordan Rhodes from Blackburn. Since Blackburn allegedly paid £8million for him to Huddersfield in the first place, the logic of this silly bid escaped me. Chairman Whelan later denied the bid adding to the mystery and also announced the Everton bid for McCarthy was ridiculous.
Following all the news every now and then through the afternoon, I thought the biggest set of numpties on view seemed to be the chumps at Liverpool's training ground. It's usually the goons at Stoke who take this award.
But where was Jim White the usual anchor man? The Telegraph had a nice paragraph about him.
'Sky's earl of excitement, their high priest of hyperbole, Jim White has made deadline day his own in recent years, serving a valuable if unintended purpose for the viewer. Warmed up recently by touring the country in a helicopter for Sky's '92 Live' feature. As a general rule, the more screen time White is getting, the less there is actually happening.'
I flicked back to the news-desk at 7.30 and wahey, Jim was there at last, all spruce and scrubbed up, beaming away, presumably there to crank up the excitement during the final hours like Peter Snow does with the swingometer at Election time. Meanwhile: Chelsea had agreed terms to send Demba Ba to… but wouldn't say where.
8.30: dusk falling round the nation and Abdul Razuk (who the hell is he) leaves Man City. Norwich want Vaz Te from West Ham. I settle for a cuppa Te and a ginger biscuit. BIG NEWS Fellaini hands in a transfer request at Everton in a sneaky brinkmanship move to force a deal. Watch an hours TV, an episode of Ray Donovan we'd taped.
10.05: the nation in pitch darkness except for floodlights at training grounds all over the country. Arsenal fans competing with Liverpool's for the title of prize idiots. The big surprise: no live interview with Harry Redknapp through the window of his car. The Ozil deal still not sorted because of protracted complications and time is running out. Clarets Mad offline – service unavailable; Jim White uses the word 'extraordinary' for the millionth time. Burnley fans in the know tweeting that Michael Kightly might be a great under-the-radar signing by Dyche. The Burnley first-team is off on a golf bonding trip to Scotland. Plans to rename Deadline Day to Agents' Day announced. Both Burnley journalists, Boden and Geldard, tweeting that Michael Kightly could be on his way from Stoke. Pursuit of Ashley Barnes of Brighton is "now dead in the water."
10.25: and a beaming Jim White in dark suit, crisp white shirt and yellow tie proudly announces "Arsenal have got their man. Ozil is now an Arsenal player." The Arsenal fans behind "our reporter at the scene" are having a gurning competition. Still can't load up Clarets Mad.
10.40: Gareth Barry drives into the Everton training ground. Everton have first refusal on Lukaku of Chelsea. Claretsmad now loading but slow; "This is really exciting," says Jim White. Harry Redknapp at the QPR training ground since 8.30 in the morning with deals in the offing. "Don't go away," implores Jim White.
Five minutes to go and Jim White has Ian Holloway on his mobile. "Wow it's all happening," he cries looking like he's having an orgasm. Meanwhile McCarthy could be on his way from Wigan to Everton; no mention of Fellaini and Man Utd. Will Burnley get Kightly?
BONG… BONG…BONG: The bells of Big Ben begin to chime out 11 o clock. The window is closed but Jim White, still irrepressible and exuberant, tells us that dozens of deals that have been started will now have folk scuttling round all over the place to get the paperwork sorted and finished. "That was amazing," he says. And then minutes later, voice decibels an octave higher – "here's confirmation Mario Fellaini has gone to Manchester United for 27 and a half million pounds – WOW."
And Everton have gained McCarthy, Lukaku, Barry, and won Bradford West from Labour and Orpington from the Conservatives.
11.20: the icing on the cake; Harry Redknapp (with two gains) on his way home stops the car, and is interviewed through the open window. "Quite amazing," says Jim.
And then the news that all Burnley fans had been waiting for (but not on Sky) Sean Dyche had pulled a rabbit out of a hat. Michael Kightly had indeed signed a season-long loan deal. Twitter in meltdown mode. Jim sends us over for an update to the West Brom training ground where the fans gathered there comfortably took the award for the dumbest-looking. The Herrera to Man U deal was off with the rumour circulating that the guys dressed in black suits who arrived to do the deal were imposters. It was at this point that I could feel the will to live slowly evaporating. The last dregs of energy helped me switch off whilst Jim was on his mobile to yet another manager and Bryan Swanson at the Totalizer was in full flow pleased as punch because the Fellaini deal took the day above the £600million mark.
Bed: and I dreamt I was doing keepie-uppies in the Bernabeu. Perhaps I should watch less TV and get a hobby. That was a long, long day.