Charlton were another club that had been in the news. The new owners were Belgian. Manager Chris Powell had been sacked. The new manager was Jose Riga a former coach at Standard Liege and conveniently available. Supporters were worried that this once proud club would simply become a feeder club for some other club elsewhere. Some of the players had been brought in on the new owner's recommendation. This was the club that had won the FA Cup Final in 1947 against Burnley. It had been a club of repute and stature. Now, it was another club where fans asked what the hell was going on.
It was alleged that owner Roland Duchatelet was telling his sacked manager who to play in the team. On principle Powell refused to play the goalkeeper that Duchatelet had imported so Powell paid the price. Duchatelet is said to own six clubs dotted around Europe and nobody really knows why he would buy Charlton as well unless he has eyes on its youth set-up and sees a goldmine of young players he can sell on or shift the best to his key club Standard Liege.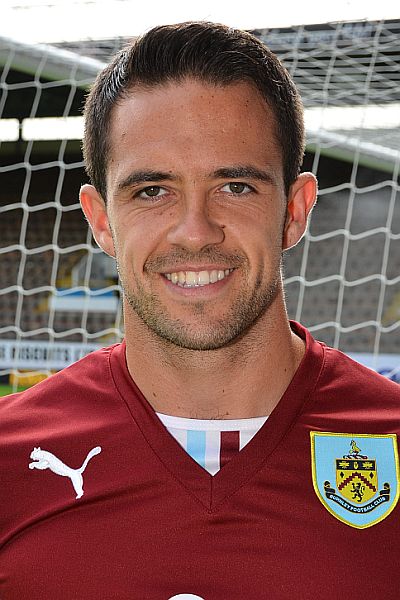 Danny Ings was relaxed and dining at The Three Fishes
Monday morning in Leeds and their supporters weren't too despondent having seen Leeds' spirited fight at Burnley. Ross McCormack tweeted to his pal Scott Arfield that he hoped Burnley would now go and finish the job. He was generous towards Danny Ings when Ings won the Football League Championship Player of the Year award and McCormack had been one of the other two nominees. Eddie Gray in the Evening Post was generous in his praise of Burnley and suggested they should be the model for Leeds to aim at. That was ironic; Jimmy Adamson years ago had brought his Burnley team away from Elland Road after a tubbing and said that Leeds was the team to emulate.
But with or without promotion at the end of the season, clubs and the media everywhere were looking at Burnley and seeing how a good, organised side could be produced on a shoestring and be up there in an automatic promotion place. But at Burnley, it was still feet on the ground, one game at a time, especially with the injury to Ings. The P word was avoided. 'You won't get talk of promotion here,' said Scott Arfield, 'Not from me, not from anybody.'
Phil Hay in the Yorkshire Evening Post described Burnley as the essence of relegation fodder at Elland Road in April, 2013. Those of us who were there will remember it well as Burnley lost 1-0 and were utterly dire in a depressingly awful game. The only consolation was it took just half an hour to get back home. At that point we looked at the bottom three with growing alarm.
'But their win on Saturday stretched the gap between the two clubs to 29 points which says as much about United's standing as it does about the huge steps taken by Burnley. Sean Dyche has taken the club to the brink of automatic promotion inside one full season and 70 league games. His expenditure on transfers has been low enough to suggest that money is less of a factor than managerial aptitude and the ability of his players to exceed their presumed talent.'
'Leeds need to follow Clarets' example,' wrote Eddie Gray. 'When you look at them they are not a team of superstars. They are now not that far from getting over the line and are the only team who look like holding on to Leicester. They haven't lost a game at home for over a year. Everyone is surprised how they have maintained it this season and you have to give them a lot of credit.'
Unusually for me I bought yet another edition of the Yorkshire Evening Post. It was filled with the news that Massimo Cellino's bid to take over at Leeds had hit the rocks again. He had been found guilty of tax evasion by a Sardinian court. The Football League therefore would surely be unable to accept him as a fit and proper person to own a UK football club. Fans were in meltdown and despair. It was front page news on Wednesday.
And so to the Belgian Republic of Charlton: depart Leeds 6.30am for the 8am bus from Turf Moor, a bag full of bacon sandwiches and more feelings of nerves as the next game became yet another of huge significance. Charlton were out of the bottom three of the table thanks to a win over Bournemouth but with games in hand still had everything to play for. The midweek results had been kind to Burnley with a falling-apart QPR losing 3-0 and a rampant Wigan held to a draw by lowly Yeovil. While those games were going on and Russia was upsetting the world and Malcolm Rifkind was issuing a stern warning to Putin, and the EU was threatening embargoes, and Cameron was threatening sanctions, the ITV Champions' League coverage was sponsored by GAZPROM. You couldn't make it up. But comfortingly my garden chiminea was still in one piece, the woodpile was fully stocked, and the 10-point gap remained.
People had spent the week working out the permutations. 7 Burnley wins would definitely do it. Five would probably do it. Four might do it if other results went Burnley's way. Local psychiatrists were doing a roaring trade. The number of people seeking counselling rocketed. Ten games to go and just six weeks remained. The word was that if Ings' meeting with a Leeds specialist was the bringer of bad news, then the club would look at a loan signing as cover. Meanwhile as we all fretted the night before his appointment; the lad himself was relaxing and dining at The Three Fishes in the Ribble Valley, established in 1814. Fish Pie is £12.50; a pure breed Angus rump steak £36. You can have a Sauvignon Blanc at £16.50 a bottle, or a New Zealand Mudhouse Red at £9.95 a GLASS. On top of the Ings worries was the news that Trippier was also struggling and could be out for two weeks. The consolation was the signing of Chris Baird from Reading.
A footballer's life is a precarious one and unpredictable. Roger Eli wrote about all that in his book. 32-year old and highly respected Irish international Baird was out of contract and training with Reading who couldn't afford to re-sign him. Suddenly he finds himself plucked from obscurity to travel to Burnley for a 2-month contract as back-up during the final run-in. He and Dyche had played together at Watford some years ago.
Faced with such a long trip, I took Mike Smith's new book on the coach to read; The Road to Glory, the story of Burnley's 1914 FA Cup win. If you want detail and research this is the book. The time that went into it must have been phenomenal. April will see the 100th anniversary of the cup win. In just the first few pages I found out how the Bee Hole End got its name, why horseshoes were so lucky in one game, and that the club was so hard up at one point the ground was used as the site for a travelling menagerie of wild animals. But the elephants couldn't pull the wagons onto the pitch so the club only got a tenner out of it. At Blackburn Rovers the tradition continues, but only with chickens. I got my copy from Amazon. The club shop didn't have it in stock.
When it came, the news about the Ings' ankle was glum. Whilst Osborne was delivering a budget that makes life much better for beer and Bingo fans (remember how George Orwell wrote about governments controlling the masses via gambling and drinking), Danny was poked and prodded and advised it was settling quickly, but he'd be out for a few weeks; although no-one was really saying exactly how many. For anyone who liked beer, Bingo AND Danny, this was a mixed day. 'Top geezer,' said the guy who met Ings in Barrowford, walking up the 'fair hill', past the White Bear and up to Pasture Lane, and chatted to him. Danny himself confirmed it would be OK but he'd be out a few weeks. On the coach to Charlton the resident stato was quick to point out that of Burnley's last 9 goals, only two had come from Ings or Vokes, and of the last 17 points from seven games, Ings had scored only once; hardly the stats of a one-man team.
Pre-match, Mrs T was confident, she always is. But cautious moi would have settled for a scrappy point. Charlton had been on a roll, three unbeaten games and a goal – impressive. Derby had won at lunchtime 5-0. The day had the makings of an upset. The pitch we were warned was a muddy gluepot. Eddie Howe after his defeat said it wasn't made for today's players, or something like that. And Charlton when they came out looked like giants.
The coach journey down was superb; Burnley to The Valley in under six hours including a stop. At 2 o'clock the crowds were already milling around; we ate tasteless sandwiches in a children's playground nearby, bought at the Motorway stop. Reggae music blasted from someone's open window. There'd have been more taste in an old sock. The pitch even at its best looked dreadful, the goalmouth just feet away from us down at the front like one of our veg patches ready for planting. Heaton was covered in mud by the time the warm-up finished. Behind us the away end packed; this is the end where to get in or out everyone funnels in to make one almighty slow-moving crush negotiating your way passed the queues at the bar. It makes the James Hargreaves concourse look like the Ritz.
John Gibault from Seattle was over, Seattle! I rarely use exclamation marks, but Seattle deserves one! He was over for long enough to see three games and had picked this week specially. Originally from Jersey as a lad he'd picked Burnley quite arbitrarily as his team to support. He told his mum one day at home assuming she'd think he was mad. 'Oh,' she said, 'did you know you had a cousin in Burnley?' And so began a long love affair with all things Claret. The stories of how so many long-distance supporters became Clarets would no doubt fill pages. I've got one Claret pen pal who lives at the Double D ranch in Driftwood, Texas.
He, we, weren't disappointed by the game that Burnley played, their organisation, their approach, their adjustment to the god-awful pitch, the slow and steady stranglehold they exerted on the opposition so that when they scored it was just reward for their patience and the way they'd weathered the Charlton storm. Actually storm is a bit of an exaggeration, brief shower might be better. Whatever it was, it was over the minute Barnes headed home Stanislas' sublime cross in front of the away supporters, a lovely thumping header that as good as eliminated Charlton the minute it was scored. It was the tonic Barnes needed. He grew into the game more and more despite receiving pushes, shoves and being leaned on all afternoon, conveniently ignored by a referee we can only assume could only see out of one eye. But of course if a Burnley player as much as sneezed, the whistle was in his mouth in a blur.
A penalty by Vokes calmed our nerves, but in case the blessed Sean wonders why Burnley fans are so cautious, a generally disbelieving lot, someone might just gently have a word in his shell-like and explain that it is in the Burnley fans' psyche from years of experience that only when we are leading a game 3-0 do we relax a little – and even then it is not both buttocks but only one.
Kightly's goal was then icing on the cake or the pie on the mud perhaps. Having run Charlton ragged, Stanislas was taken off and the energy of Kightly was unleashed to torment Charlton further still. He duly obliged cutting in from the left, nutmegged one hapless defender, skipped effortlessly past another, smote a mighty shot from an impossible angle, and the ball careered in off the third Charlton goon looping over the bearded goalkeeper. Now, we at the away end, felt totally euphoric. With just a minute to go, Charlton were buried. Now we could all return from whence we had come, by coach, tube, train, taxi or whatever, with smiles on our faces… unless…
My pal Tim emailed to say what a helluva shift they'd all put in. But afterwards it was chaos on the rail in SW London. The wrong sort of lightning had wiped out most of the network and Waterloo station was like the evacuation of Saigon. No such problems on our smooth coach journey home to the frozen north. Pendle, all bathed in white, had looked magnificent early in the morning as we drove over.
Yep the shift they all put in certainly shifted Charlton out of the way. Arfield stood out in a team performance for which all of them deserved their pay packet. Baird shone, looking like he'd been a fixture at Burnley for months. They were all of them man–of-the match. The ten-point gap was restored after Derby's brief and impudent catching up.
Relentlessly, you might say.