Back in an austere 1950 when I was just 6, anybody who was 56 was pretty much on their last legs. They looked old, they sounded old. Many of them still worked in the mills. They were senior citizens long before the name was invented for someone who turned 65.
Today, what is being 56? It's nowt is it? It's nobbut a chicken. They say life begins at 50. Back in 1950 the thought of being 70 never occurred to me. I think it occurred for the first time earlier this year. It bothered me when I left my 20s and turned 30; but none of the other years that ended in a nought ever made me lose a wink of sleep. But 70… hmmm…? For sure it's a significant birthday, it's a point when you look back and count up the things you've done and look in the mirror at disappearing hair and increasing wrinkles. You climb the stairs and get to the top with an aching hip.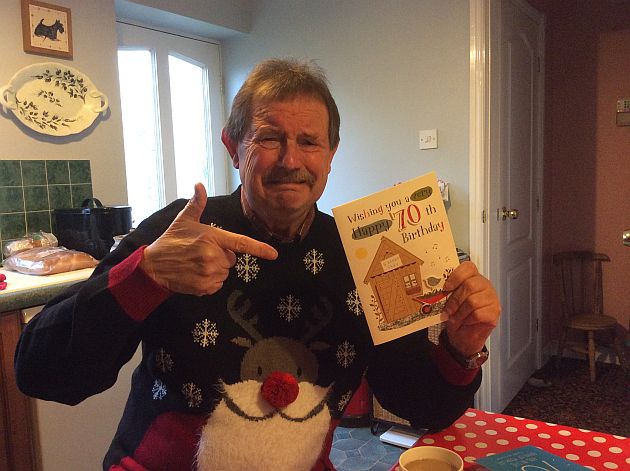 1944 the year I was born and Harry Potts was somewhere out in India. My father was having his hair burned off under the hot sun of the Egyptian desert in the RAF servicing the planes that were chasing the Italians back home. He took me to my first game sometime in 1955 but I wasn't hooked. That came in 1959 when it became a season to remember ending at Maine Road and a title win. The first game of that season was on a baking hot day at Elland Road and a 3-2 win that we went to by train from Tod station. When steam was king we used to put pennies on the track and then see how flattened they were after a train had been over them. Then the station master caught one of us and gave him a good hiding. You could do that back then with naughty kids and after that we never did the penny experiment again.
After the title season there were European nights, the Cup Final of '62 and more European nights in '66 and '67. The list of names of great Burnley players of the 50s and 60s would fill a page. They played with injuries and when they felt ill. If they broke a leg the trainer fixed it with a wet sponge. In the days when there were no subs they could be shunted out to the wing with their arm in a sling if they broke it – simply to be a nuisance. My imagination might be playing tricks but I have a hazy recollection of Jimmy Mac doing this, though not quite with a broken arm. They played consecutive games on Christmas Day and Boxing Day in the 50s. They played 3 games in 4 days at Easter in the old days. Warm-ups, what were they? Back then it was standing by the radiator before the game. They never complained about being tired or overworked. It was the way things were. Could the modern player do this? Of course they could if they had to, but they are wrapped in cotton wool and are such athletic thoroughbreds they are a protected species.
The FA Cup was a glorious tradition, a sacred day in the football calendar. For sheer drama it was up there with a Briercliffe Parish Council Meeting. If someone had a grainy black and white TV you crowded into their house to watch. Streets were empty and towns deserted. Contrast that with the way today's top teams field their reserves and fixtures are shunted around either for TV or because clubs shield and pamper their players from having to play games too close to each other.
The 60s were wonderful at Turf Moor until the rot began to set in somewhere around '66/67. The Youth Cup Final win of '68 provided a degree of joy and hope that better times were around the corner but it wasn't to be with relegation at the beginning of the 70s. Married by now, with Mrs T I saw it all and then the brief re-birth and the wonderful period '72 to '75. But it was all doomed by the new wages, the inequality that infected the game and the takeover of the game by the big city clubs. In the space of four years John Connelly, Willie Irvine, Andy Lochhead, Willie Morgan, Alex Elder, Adam Blacklaw, Brian O' Neil, Ralph Coates, Dave Thomas and Steve Kindon were all sold.
What we didn't see were the Wilderness Years of being stuck in the old Fourth Division. A year ago I went to York City for the first time and looked around and tried to imagine what it must have been like on that magical night when Burnley escaped from imprisonment in the basement. But we did get to Wembley for the play-off final of '94 and that memorable game when Stockport disgraced themselves and there we were up another division. It was short-lived and our visits to games was intermittent to say the least until Stan T achieved legendary status winning promotion in 2000. From then on our attendance at games has never wavered barring holidays. Weekends and pre-season trips away with the Supporters' Club have been memorable. Friendships have started and grown. We've had fun and laughter and sadness too when travelling friends have passed away.
So: being 70 takes me into 55 years of following the Clarets. We may grimace at the name of Owen Coyle but let's not forget the man provided one of the most enjoyable and exciting seasons in the club's history. Pick just one season out of all the many we've seen and that might be the one for me. And yes I saw the 'team of the seventies' and other promotion seasons but season 2008/09 not only saw us reach the pinnacle of the Premier League but also all those marvellous cup wins. We just seemed to play game after game that had such a feverish cup atmosphere; even league games assumed the air of cup games with the biggest of all at Wembley against Sheffield United. Mrs T and me came home on the Supporters Club coach that night in a haze, with a bottle of wine we'd taken just in case.
We all know what happened next and all of us could be forgiven for thinking that 2009/10 might have been the last ever season in the Premier League. But here we are, Premier League again, against all the odds, quite unexpectedly, with a tiny budget and the small squad of players that went on winning week after week after week.
And on Boxing Day, 2014, my birthday, it was Liverpool and a full house, sold out weeks earlier, with an atmosphere that was compelling, tense, vibrant and hugely expectant for both sets of supporters. Us oldies can still see the old packed Longside when 17,000 could squeeze in, the air thick and noxious with cigar (small ones) smoke and the smell of whisky from hip flasks. Blokes wore their Christmas presents, mostly scarves and gloves. Way back in the later 60s I'd seen Liverpool come and humiliate us twice at Turf Moor. The 'team of the seventies' did quite well against them and Ian Brennan's 30-yard piledriver at Anfield was the stuff of legends. Traore's hilarious own goal at Turf Moor when Steve Cotterill was manager is a Youtube favourite. Be-spectacled Benitez thought he could come to Turf Moor with half a reserve team for the FA Cup game and discovered what a clanger he had dropped. Alas it was the game against Liverpool at the back of end of 2009/10 that sealed relegation back to the Championship. I watched it in a bar in New York convinced this would be the last time we'd see them in the Premier League, cursing Coyle's infamy and baffled as much as the players at the appointment of Brian Laws in January.
Way back in 1962 Burnley won 2-1 at Anfield with goals from Pointer and Lochhead when Burnley were still dominant and Liverpool were finding their feet in the division. Shankly always said he could trace Liverpool's rise to that game; that from it they'd learned lessons, it was a turning point in their history and afterwards Liverpool got better and better. Margaret Potts said Shankly was always ringing Harry Potts for a chat, more often than not at some ridiculously late hour. So there you are: it was Harry Potts and Burnley all those years ago that inspired Liverpool to become the team that that dominated for so long.
So: Saturday, December 26, Burnley versus Liverpool, 22,000 packed in. Pre-match turkey and stuffing sandwiches in the car and a birthday table booked at The Cliviger Queen after the game. Christmas Day was as ever splendid. We had an Irish turkey – it was looking forward to Christmas. The applause for Clarke Carlisle in the fifth minute following his mishap on the A64 was moving and emotional. You can't tell a person with depression to 'get a grip.' It doesn't work that way. Rationality goes out the window. Knowing that he was on the way to recovery genuinely made my own Christmas and celebrations a whole lot better. He was immense in the Wembley play-off final of 2009 a day that was one of the best of our lives for so many of us. Burnley Football Club is in his debt.
This was the halfway game of season and some of the Pre-match stats were mixed. Liverpool put eight past Burnley in the last Prem season and Burnley hadn't scored against them in the last four meetings. Liverpool once put 8 past Burnley on a Boxing Day many years ago. But there were good signs too. Liverpool hadn't won on Boxing Day for four years and way back on Boxing Day in '73/74 Burnley won 2-1 with goals from Fletcher and Hankin.
Pundits had predicted Burnley wouldn't win a single game all season with Merson saying early on that they were way out of their depth. They didn't win this one either but not for want of effort and some wonderful football. Sean Dyche said it was the best he'd seen Burnley play since he'd been here. Mrs T said just the same at half-time. The football in the first 45 minutes was a joy to watch. The passing, movement and pressing was incessant. A Liverpool side packed with internationals worth millions was made to look ordinary. Over and again Burnley cut through at will.
But the shooting, oh dear, that was another story. The stats of the game reveal the usual truth that Burnley can dominate, play another side off the park, have us all applauding and purring, but they go in at half-time having failed to score and we all sit back and know dammed well what will happen next.
The shots rained in during the first half but not once did anyone truly test the keeper. Liverpool have possibly the two worst keepers in the division yet not once were they stretched. Shot after shot went just wide or just over the bar. Ings hit the post after some great work; the ball rebounded perfectly to Barnes, with the goal at his mercy. He fired over. But you kind of knew that this was gonna be another of those irritating and frustrating days when the visitors steal the points.
And so they did. In Raheem Sterling they had the matchwinner. In the first half he'd been largely anonymous. In the second half he had one chance, latching onto the ball, racing away, then rounded the keeper and slotted home. Just one moment of brilliance and the match was won. Ings, meanwhile, had several moments of brilliance, alas none in front of goal.
At the immediate end of the game we sat dejected thinking once again that football can be so cruel. By the time we got home, after dissecting the game in The Queen, we could only accept the simple basic premise that if you don't score you don't win, and you can play the best football on the planet but it will win you diddly squat if you have no-one who can score often enough at this level. The stat that of 16 Burnley shots not one was on target tells the story.
People talked of 'smash and grab,' or 'daylight robbery' and 'had our pockets picked.' But the stark truth is that if this continues Burnley are only going one way. The ray of hope was the appearance of Sam Vokes to a superb reception after his long lay-off. Maybe the value of his return will be the weight it takes off Danny Ings. Make no mistake Ings was an absolute handful during the 90 minutes. His involvement, his dribbles, twists and turns, the way he lost defenders, his close ball control, his willingness to run at defenders at pace, the wonderful way he can control a ball with one deft touch are a delight to watch.
On every messageboard you saw the same comment: 'How we lost that one I'll never know.' Unfortunately in the cold light of day, it was not hard to fathom out how and why. But having said that, just when oh when will this Burnley side enjoy just a tiny bit of luck. A dodgy decision or two going our way, a ball that hits the post and goes in, a penalty given instead of being waved away, an opposition goofy clearance, a ricochet off a defenders that goes in and not wide, a goalkeeper error that gifts a goal. Shooting you can practise. Luck is a gift from the Gods. Such gifts have been in short supply.