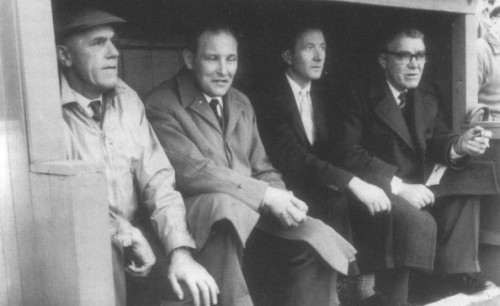 ONE
Harry was born in Hetton Le Hole and when he was a boy was a big pal of ex Liverpool manager Bob Paisley. They were known as the terrible twins in the village, playing football together and a lot of snooker. The big treat of the week was a game of snooker and then a bag of chips made by Harry's mum and then put in a cone shaped paper bag made by his dad. His dad was a skilled cone-shaped paper bag maker because he was a grocery salesman and rode round the villages in pre war days with a Coop horse and cart.


TWO
At school Harry was very accomplished and quite scholarly but football (and cricket) was all consuming. It got to the stage where both his headteacher and vicar (Harry was always a staunch churchgoer) told Harry to make a choice between football and studying as soon as possible. His mother who idolised him, was devastated when Harry left the village to come to Burnley whose youth policy dates back to the thirties.


THREE
When Harry returned to Burnley after serving in India during the war he had the best tanned legs in Burnley and with his blonde hair and good looks was Burnley's 1940s answer to David Beckham long before David Beckham was ever invented. In India Harry was a PT Instructor and his fitness fanaticism dates back to this. Harry played quite a few duff games when he first returned to Burnley being out of practice and touch, but it didn't stop all the females cooing at his physique and defending him against criticism. Many a mill girl's heart was broken when he married Margaret.


FOUR
Current Burnley Chief Scout Cliff Roberts was an apprentice at Everton in the early fifties when Harry was a player there. This makes Cliff a lot older than he would like people to know (sorry Cliff).

FIVE
Harry's friendship and partnership with Bob Lord goes back long before he ever became Burnley manager. Bob Lord made a firm forecast to Harry in the early fifties that within five years he would make him Burnley manager. Lord and Potts continued their friendship when Potts was an Everton player, then became Wolves coach and then Shrewsbury manager, visiting each other during those periods. Many people will say that Potts was the son that Lord would love to have had.


SIX
The story of how Harry met his wife Margaret is like a magical little fairytale. Margaret was returning to Burnley from S Wales in '47 where she had just finished a 6 months nursing spell. When she got off the train at Manchester to get the bus to Burnley, she was offered a lift back to Burnley (they too were travelling back to Burnley) in the Burnley team coach. She decided to ask for all the players' autographs to give to her father who was a keen Burnley fan. The other players, thinking that it was about time Harry found himself a wife, sent Harry round the coach to gather the autographs and then present them to Margaret… and the rest is history as they say.


SEVEN
Harry's great hero was Billy Dougal who was a Burnley coach/trainer and then manager for a very short time before Harry got the job. Jimmy McIlroy relates how Dougal was one of the greatest ever heroes of BFC, full of so much good advice, every word wise and shrewd, what he didn't know about football wasn't worth knowing and whose favourite piece of advice was "always do what the opposition don't want you to or don't expect you to do." As a player after training Potts would spend hours listening to and talking to Billy Dougal and another member of the backroom staff – Ray Bennion. There was a 'boot room' at Burnley, long before such a thing was ever invented at Anfield, when Potts, Dougal and Bennion would go over a game or talk after training.


EIGHT
The alleged inventor of 'the boot room' the great Bill Shankly, in his early days was forever on the phone to Harry Potts, at all hours of the day and night including the small hours of the morning when Harry was fast asleep, seeking advice and the chance for a chat. Then they fell out when Shanks got mad because he accused Harry in 63 of interfering in a refs decision to postpone a game at Anfield because of weather conditions.


NINE
Harry loved training and keeping fit and "nobody tanned like Harry" says Margaret.

He loved the 5 a sides at the end of training so much that Jimmy Mac laughingly turned to Jimmy Adamson one day and remarked "we must have got the highest paid 5 a side player in the country." Harry loved Gawthorpe. "Why it's just like being in Switzerland," he'd say to the players as they slowly froze to death on an icy winter day. He spent twenty years telling Margaret how beautiful it was and that one day he would show her round. He never did but Margaret at last got to see it and have a chat with Steve Cotterill in 2005.

At Blackpool in later years when he was manager, training took place on the beach very often and in a force nine gale or during the heaviest rainstorm. Harry would just smile and announce, "what a grand day for football." But not even Harry could compare a soggy beach at Blackpool with the beauty of Switzerland.


TEN
Harry bless him was never noted for tactics or complicated theories, although he was a fully qualified coach. He became famed for his instructions

"Go out and play like the Brazilians."
"Play with a chuckle in yer boots."
"Go out and entertain the crowd."
"Just go out and score more than they do."
"Make sure you score the next goal."


ELEVEN
Harry is one of few people (players or managers) to threaten the legendary Tottenham player Dave Mackay. At Tottenham when Arthur Bellamy was playing only his second or third game (and Arthur was never more than eight stones dripping wet) Mackay was giving Arthur a fair bit of tough treatment in the first half. Potts was so incensed at what he thought was outrageous bullying, as the players came off the pitch he grabbed Mackay by the throat, pinned him against the tunnel wall and told him in no uncertain terms to lay off Arthur. Mackay was wide eyed with amazement. You just didn't mess with Mackay – but Harry did.


TWELVE
As a player Harry was an accomplished 'diver' long before it became an art form. He was famed for it but as this was long before the days of cameras and videos and slow mo replays it was folklore rather than infamy. He was noted for diving three feet outside the box and winning penalties. He could make the most innocent challenge look like a blatant foul. And he loved the occasion when Jimmy McIlroy did just the same in a game against Sheffield Wednesday. Jimmy tells the story that as he 'dived' over the leg of a defender and won the penalty, he could see Harry dancing up and down on the touchline, arms waving with glee, fully appreciating the quality of the 'dive.' Everton manager Harry Catterick however was incensed. Another trick Harry had was to run alongside an opponent and tug at his jersey. When the player reacted furiously it was inevitably the opponent who was penalised whilst Harry looked quite innocent and surprised. But he was also a gentleman and was always first to dash to the aid of any opponent who was felled and injured. Perhaps that was all part of his 'act.' Gentleman he might have been but Harry knew all the tricks of the trade.


THIRTEEN
When Harry got married he was still a Burnley player and after the wedding, it poured down, the honeymoon was in the Lake District (it still poured down). Harry and Margaret were taken to Preston station by manager Alan Brown and helped to the platform and their carriage. Brown anxious that they should enjoy some privacy found a compartment (only us oldies will remember that in those days many railway carriages had separate compartments and their own door), and finding one person already in it, Brown, a large and frightening man, picked up the person's cases, and removed both them and the occupant and announced that this was now the honeymoon compartment. The terrified occupant didn't argue.


FOURTEEN
Harry never ever swore (well actually it's a rare man who NEVER swears) but there was just one occasion… In the late seventies Harry came back to Burnley for his second spell as manager. At Gawthorpe one day the players were practising shooting at the end of the pitch where beyond was a tree plantation. Harry was acting as ballboy and kicking back the balls that ended up in the trees. Footballers being footballers they decided to have some fun and kick every ball into the woods and for several minutes every ball that was kicked back by Harry was kicked straight back by the players to a Harry who by now was deep inside the trees. At last Harry emerged from the trees covered in twigs, branches and leaves, coughing and spluttering, red faced, wild-eyed, and fuming mad.

"What the **** are you playing at," he yelled, "can't you ever ****ing shoot straight."

Of course the players fell about in hysterics whereupon Harry too saw the joke and laughed as loud and long as they did.

FIFTEEN
Harry was never a drinking man and on the occasions he was manager of the month and won a bottle of whisky he always had it put in smaller bottles so he could share it with his staff. On one of the occasions when he played in the annual club cricket match it was particularly hot and thirst inducing and the players were gasping for a pint. Anxious not to offend Harry (or get in trouble) they had carefully hidden crates of ale behind the pavilion so that when Harry went in to bat (he was an accomplished cricketer) they could all run round to the back of the pavilion for a jar (or two) so that Harry would be none the wiser.


SIXTEEN
Harry was never a man to bear grudges or dislike people but allegedly two such people were Don Revie and Alan Ball Snr. One game between Burnley and Leeds was so brutal that an incensed Harry challenged Revie to a TV debate about it. Revie refused. Brian Miller tells the story that there was some kind of feeling between Harry and Ball so that at Stoke one day when Burnley were playing there Harry and Ball spent long periods of the game picking up stones and shale from the pitch perimeter track and throwing them at each other.


SEVENTEEN
The Potts temper usually only appeared on Saturdays. During the week Harry was ever the gentleman. On a Saturday, his passion took over, be it with linesmen who gave incorrect decisions, players who cheated, or referees who disallowed goals so that he got into trouble more than once for his touchline behaviour. And woe betides anyone who took liberties in his office. The story is told that on one occasion he returned to his office to find a reporter talking down Harry's own telephone giving a match report. Harry was incensed at the inaccurate description of the game, grabbed the phone off the reporter and gave him what for. Alas what Harry didn't know was that this was a radio report and Harry unwittingly broadcast his opinions about the report and the reporter to the nation.

A female reporter too once got short shrift when Harry found her in his office, sitting on his desk, legs crossed nonchalantly, using his phone. She was quickly sent packing with a flea in her ear.

EIGHTEEN
As a player he was a member of the great Burnley team that was second in Division Two in 1946/47 and was promoted (40 appearances and 15 goals), and also FA Cup runners up losing to Charlton at Wembley. In the following season Division One Burnley were third (38 appearances 14 goals).


NINETEEN
After Harry left Everton, he was offered a coaching job at Leeds United but turned it down. Imagine that, if he had accepted that job the whole course of football history might have been changed. Harry might never have come to Burnley. He might well have one day become Leeds United manager. Instead he came to Turf Moor, becoming the right man, in the right place, at the right time, and the club flourished and triumphed.

TWENTY
And I am sure that you do know that Harry Potts was the most successful manager in Burnley history. Winner of the championship 1959/60, two European campaigns, Cup and League runners up in 1962, another great team in 65/66, which finished third, winner of Anglo Scottish Cup in '79, within just one goal of taking Blackpool to promotion when he was their manager.

It's a rare player who has an unkind word to say about him. In a recent magazine poll he was number 35 out of 50 in a list of greatest ever British managers. He was ever cheerful, loved to be one of the lads, enjoyed the players' pranks, (Physio Jimmy Holland might still remember the occasion he was covered in shaving cream in the team coach whilst returning home after a win), ever the optimist, thoughtful, caring, protective, and loyal.

On the occasions that today's newspapers mention him, his name is invariably prefixed with the word 'legendary.' No wonder the road by the stadium is named the Harry Potts Way. The Harry Potts Way was to always give 110%, always do your best, know what's expected of you, conduct yourself properly, care for others, and remember you always represent the club. All this added together means that just about every person he came in contact with, will today, smile, and affectionately describe him as just a lovely man and a gentleman.

Harry Potts was a man who was totally in love with football, the playing of football, the joy of football and the pleasure of managing.

Just four words sum him up. Football was his life.


AND FINALLY
October 21st this year should see the publication of Harry Potts, Margaret's Story, the story of Harry Potts and the celebration of his achievements, a book that Margaret has long wanted to see in print. For various reasons it has been a long time coming but it is now very near completion.
This article was original published on 16th January 2006, the tenth anniversary of Harry Potts' death.