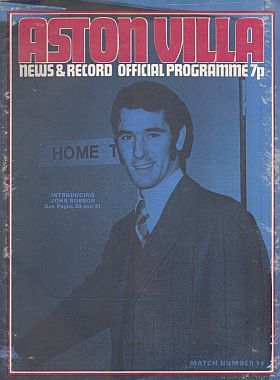 It wasn't a happy start to 1973 for one 16-year-old Burnley girl. She'd had a baby and it wasn't an event that had provided her mum and dad with much cheer. To say they were unhappy is something of an understatement and they told her in no uncertain terms that she would not be allowed back into the family home unless she gave the baby away.
As a young single mother she was totally dependent on mum and dad but, credit to her, she told them she would not give her baby away and would not have the child adopted. However, that left her in serious need of some help.
In stepped Burnley Corporation's Social Services Department. They found her somewhere to live and the deputy director of the department Mr John Moorwood was ready to use this happy ending as an example of how the creating of a new unit for unsupported mothers would benefit the town.
Mr Moorwood had been campaigning for such a unit for some time and his plan, costing £8,000, had just been accepted by the Government with work to start within the next eighteen months.
He said of this latest problem: "This girl had a terrible struggle with her parents while she was in a home for mothers and babies, but if the mother wants to keep the baby there are no grounds for adoption.
"If, as in this case, pressure from the parents is the only reason for an adoption, it cannot go through. We think adoption in these circumstances would be wrong. Fortunately, we managed to find accommodation for this girl in a single flat with someone to look after her but other teenage girls with babies in Burnley are not so lucky."
Meanwhile, local grocer Mr John Slater, had caused a political storm when he received a letter on No. 10 Downing Street notepaper. Mr Slater was the treasurer of Burnley and District Grocers' Association and had passed the letter to MP Dan Jones who was far from happy.
That was because, according to Jones, the Prime Minister was using his official resident to send out Conservative party propaganda. "I think it is absolutely wrong for the Conservative party to use No. 10 for the purposes of propagating policy of a partisan nature. No. 10 has always been, and still is, the right and proper home of the British Prime Minister, and as such he should function as the chief of staff of the Government," Jones said.
He'd no intentions of letting it drop either. The letter had actually been sent by Mr Douglas Hurd and Jones was going to take the matter up with Mr Harold Wilson, the leader of the Opposition.
There was a fantastic court case recorded in the Burnley Express that week. Some bloke had nicked a vehicle and then driven it with too much alcohol in his blood. The magistrates made the decision to commit him for trial at Burnley Crown Court.
The problem was, apart from the alcohol, that he'd not stolen a car but a double decker bus belonging to Ribble Motors. He'd then driven it dangerously from Burnley through Clowbridge towards Rawtenstall and caused damage to three cars, all of them police cars.
Just to make things worse, if they could get any worse, he was also accused of assault, causing actual bodily harm, to another man. I'll keep an eye on this one over the next few weeks, I think he might have the proverbial book thrown at him.
I feared the worst when I heard letters of sympathy had been sent to the town's mayor Councillor Abel Bridge on behalf of the members of Burnley Town Council. Thankfully no one had died they were letters of sympathy, linked with hopes for a quick recovery. Councillor Bridge had been laid low with a cold.
Some weeks ago I announced Burnley's seventies version of X-Factor. It was Top Trek and was being held at the Cat's Whiskers. What a success it was and it even attracted Dave Clark Five's Mike Smith as a judge and I bet he was glad all over to have been selected.
Over 100 entered the various heats and the overall winner was James Murray who beat Dave Stewart to the title. Jim had sung songs from the shows and was tipped for a glittering career. There was nothing for poor Dave other than possibly some sweet dreams about Annie Lennox.
As for the Clarets; we'd gone into the New Year top of the league and now had one of the biggest tasks of the season, trying to get something from Aston Villa at Villa Park, not something any Burnley team over the years has found particularly easy.
Manager Jimmy Adamson was given a problem ahead of the game with Doug Collins' suspension confirmed. The midfielder had been ruled out for two games because of reaching 12 penalty points and two days ahead of the game at Villa, Adamson confirmed his place would be taken by Billy Ingham.
It was Burnley's first team change in 14 games but Adamson had no concerns about playing Ingham in the number 10 shirt. "Billy has been doing more training than the other players to make up for his shortage of matches. There is no problem there," said Adamson.
He added: "Billy will be playing for his place. He's a great little competitor. I have every confidence in him."
Ingham had been the substitute for the previous seven games and had to be replaced. Alan West looked the most likely but, with there being a fitness doubt over Paul Fletcher, 16-year-old Ray Hankin was given his first taste of being involved with the first team.
Ahead of the game, Villa signed full back John Robson from Derby and he was set to make his debut in a team that included former Claret Andy Lochhead.
If there was a game during the 1972/73 season when you thought we were set for promotion then this was it. Against a Villa team who started the day in fourth place we simply played them off the park with a performance that bettered anything we'd seen in the previous year.
The Burnley Express reporter Peter Higgs opened his report of the game with the following paragraph.
BRILLIANT. Memorable. Better than ever. Whatever words you choose to describe this victory the message is still the same - BURNLEY WILL TAKE SOME STOPPING NOW.
Villa, promoted in 1972, were always thought to be one of the main promotion contenders. We'd beaten them 4-1 at home earlier in the season and this time we simply blew them away with this performance.
Ahead of the season, Adamson had said that the matches you often expect to be the tough ones often turn out to be the easiest, and so it was proving with this win added to the home win against Villa and the victories at Sheffield Wednesday and Blackpool.
This Burnley team was showing itself more than capable of rising to the occasion and the only problems for anyone connected with the club during the afternoon was for the Burnley supporters caught up in some problematic situations with irate home fans who, for some reason, didn't enjoy being outplayed on their own ground.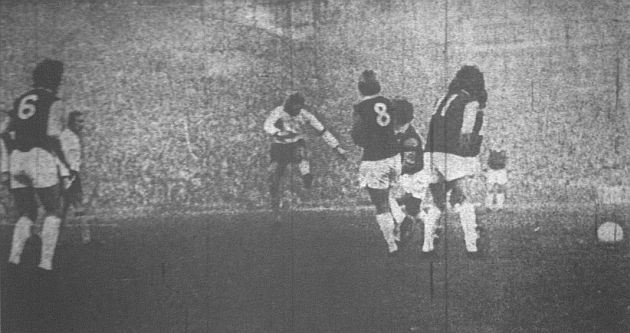 Keith Newton's left foot shot gives us an early lead
The opening minutes of the game were even with both teams mounting attacks but with only seven minutes on the clock we got ourselves in front. Ingham had started well and was fouled on the edge of the Villa box at the end of a good run.
He took the free kick himself and just rolled it sideways to Keith NEWTON who hit a left foot shot that goalkeeper Jim Cumbes could only touch into the net. It was the former England full back's first goal in Burnley colours.
Villa tried to get back at us but Alan Stevenson saved from Alun Evans. Burnley were by now looking the better of the two sides and midway through the half the lead was doubled.
During the period recently when Fletcher was the chief executive I was talking to him about this era. He told me that Adamson told him when he signed for Burnley that his job was not to score goals.
"I have better players than you who can do that," Adamson told him. "You just head the ball towards the penalty spot and they'll score the goals."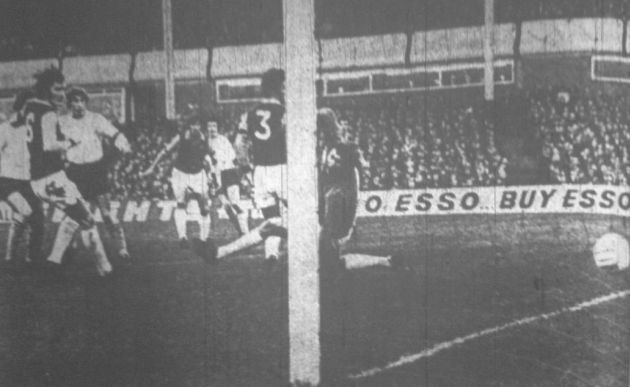 It's 2-0 as Geoff Nulty gets on the end of Paul Fletcher's knock down
The second goal was a perfect example of that. Frank Casper made a superb run down the right wing. He crossed to the far post where Fletcher rose to head the ball down, to the required place, and Geoff NULTY was on hand to volley home.
It was all Burnley now and we might have even extended that lead in the first half but twice Cumbes brilliantly saved to deny Leighton James.
Even so, it had been an outstanding first half from Burnley and the lead was fully justified. And things got even better within three minutes of the restart.
Having gone straight onto the attack we won a corner. Villa half cleared it but it was played back in and James looked a certain scorer until the ball bounced badly forcing him to slice his shot across goal. The ball fell for INGHAM who hammered it home from close range.
It was outstanding stuff from Burnley and it was only in the latter stages, with the points secure, that Villa offered anything of note. We were just controlling the entire game with captain Martin Dobson in sensational form in the midfield.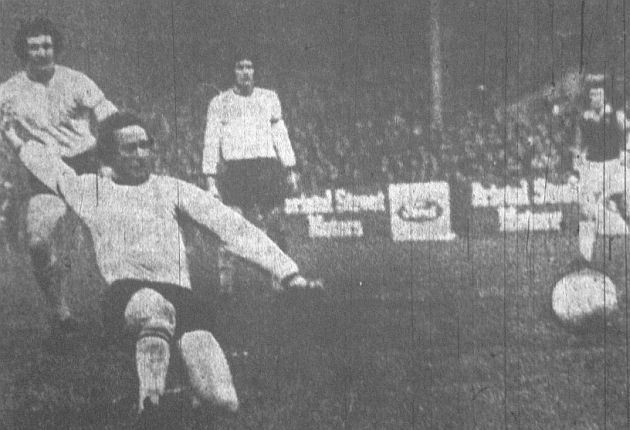 Billy Ingham completes the scoring with Burnley's third
When Villa did get forward in the last few minutes they did breach our defence twice, but firstly from Ray Graydon and then from Bruce Rioch, Stevenson made fine saves to ensure a clean sheet to go with the two points.
The only disappointing news on the day was a booking for Newton leaving him facing a potential suspension. Burnley had already informed the FA that, should it arise, they would appeal the booking Newton received at Sheffield Wednesday in October.
One national newspaper proclaimed that Burnley were already past the post and would be playing First Division football again in 1973/74 but Adamson, quite rightly, was playing it down.
"We are not taking promotion for granted," he said as he saw us go eight points clear of third place with 17 games remaining. "The only time we shall take promotion for granted is when it is impossible for the other teams to catch us.
"I remember in 1962 when were eight points clear in the First Division at one stage yet we finished second to Ipswich. The players are fully aware of the pitfalls if they become complacent."
He said that no targets had been set: "Our target is to get two points from every match," he added. "Aston Villa are one of our challengers and we have widened the gap between us and them. This is obviously what we want to do."
He thought it was one of the best performances of the season but not THE best and said: "I thought we played better at Orient where we could have won by six goals but had to rely on an equaliser in the last few minutes. Sometimes you can't justify the scoreline."
The teams were;
Aston Villa: Jim Cumbes, John Robson, Charlie Aitken (Ian Hamilton 45), Bruce Rioch, Chris Nicholl, Fred Turnbull, Ray Graydon, Alun Evans, Andy Lochhead, Ian Ross, Pat McMahon.
Burnley: Alan Stevenson, Mick Docherty, Keith Newton, Martin Dobson, Colin Waldron, Jim Thomson, Geoff Nulty, Frank Casper, Paul Fletcher, Billy Ingham, Leighton James. Sub not used: Ray Hankin.
Referee: Mr R. B. Lee (Cheadle).
Attendance: 38,367.
Second place QPR were also 3-0 winners, beating Preston who continued the poor run that had seen them drop from third place in the table. The lead over QPR was still four points with Oxford, Blackpool and Villa the three teams now eight points adrift.
Don Givens got another two goals in QPR's win and that took his total for the season to 17, six goals more than Bobby Owen and Alf Wood of Carlisle and Millwall respectively. Fletcher remained our leading goalscorer with ten.
Second Division Results
Saturday 6th January 1973
ASTON VILLA 0 BURNLEY 3
BRISTOL CITY 3 SWINDON TOWN 0
CARLISLE UNITED 0 HUDDERSFIELD TOWN 0
FULHAM 2 MIDDLESBROUGH 1
HULL CITY 1 SHEFFIELD WEDNESDAY 1
LUTON TOWN 1 ORIENT 1
OXFORD UNITED 1 NOTTINGHAM FOREST 0
PORTSMOUTH 1 MILLWALL 1
QUEENS PARK RANGERS 3 PRESTON NORTH END 0
SUNDERLAND 4 BRIGHTON & HOVE ALBION 0
Burnley's Goalscorers (League Only)
10: PAUL FLETCHER
8: LEIGHTON JAMES
7: MARTIN DOBSON
5: FRANK CASPER
4: DAVE THOMAS
3: FRANK CASPER, COLIN WALDRON
2: GEOFF NULTY
1: DOUG COLLINS, BILLY INGHAM, KEITH NEWTON, OWN GOALS
Second Division Goalscorers
17: DON GIVENS (QUEENS PARK RANGERS)
11: BOBBY OWEN (CARLISLE UNITED), ALF WOOD (MILLWALL)
10: ALAN AINSCOW (BLACKPOOL), PAUL FLETCHER (BURNLEY),
ALAN GOWLING (HUDDERSFIELD TOWN), VIC HALOM (LUTON TOWN),
BRIAN JOICEY (SHEFFIELD WEDNESDAY), STUART PEARSON (HULL CITY)
9: STAN BOWLES (CARLISLE UNITED & QUEENS PARK RANGERS), HUGH CURRAN (OXFORD UNITED),
JOHN GALLEY (BRISTOL CITY & NOTTINGHAM FOREST), JOE LAIDLAW (CARLISLE UNITED)
8: GORDON BOLLAND (MILLWALL), TOMMY CRAIG (SHEFFIELD WEDNESDAY), STEVE EARLE (FULHAM),
LEIGHTON JAMES (BURNLEY), JOHN MITCHELL (FULHAM), RAY TREACY (SWINDON TOWN)
The League Table
Team
pld
w
d
l
f
a
pts

BURNLEY

25

13

11

1

43

23

37

QUEENS PARK RANGERS

25

12

9

4

46

31

33

OXFORD UNITED

26

12

5

9

32

24

29

BLACKPOOL

25

11

7

7

39

30

29

ASTON VILLA

25

10

9

6

27

26

29

FULHAM

25

9

10

6

36

30

28

LUTON TOWN

25

10

8

7

32

28

28

SHEFFIELD WEDNESDAY

27

10

8

9

44

39

28

PRESTON NORTH END

26

10

7

9

26

30

27

BRISTOL CITY

26

9

8

9

32

33

26

MIDDLESBROUGH

26

9

8

9

23

29

26

HULL CITY

25

8

9

8

36

31

25

CARLISLE UNITED

24

9

6

9

38

29

24

MILLWALL

26

9

6

11

34

30

24

NOTTINGHAM FOREST

25

8

8

9

29

32

24

SWINDON TOWN

25

6

10

9

32

38

22

PORTSMOUTH

26

7

8

11

27

33

22

HUDDERSFIELD TOWN

24

5

11

8

21

28

21

SUNDERLAND

22

6

8

8

30

32

20

ORIENT

25

5

9

11

22

32

19

CARDIFF CITY

23

7

4

12

27

37

18

BRIGHTON & HOVE ALBION

26

2

9

15

26

57

13