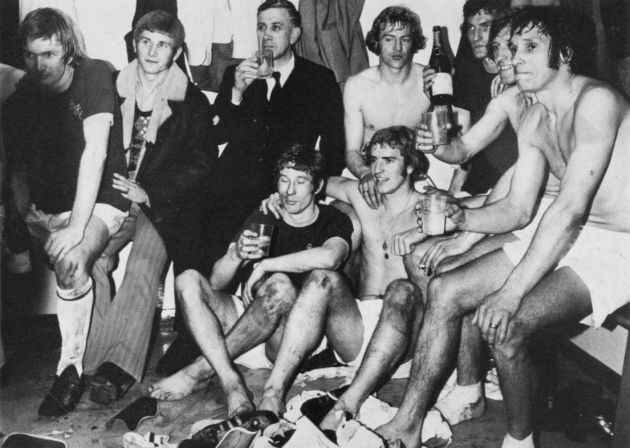 A toast in the dressing room after the promotion win
It was a couple of days when those closely involved had their say; the chairman, the manager and the captain. The goalscorer spoke about his two goals and there was news of congratulations from other clubs, including our closest rivals down the road at Ewood Park.
Paul Fletcher it was who scored the two goals that beat Sunderland and he was somewhat honest about his two goals when he spoke after the game. Anyone that's ever met Fletch will have been given the story of his overhead kick goal at Leeds, but these are certainly not two goals he's lived on for the past forty years.
"I've never scored two goals which gave me more satisfaction than these, but I suppose they were both a bit freaky," Fletcher said. On the first he said: "it didn't seem at the time like a goal shot. I was on the edge of the box and I tried to dip it a little, but it dipped a lot more than I expected and seemed to catch Jimmy Montgomery by surprise."
And the second: "Again it was Billy Ingham who laid it on and I hit the ball on the turn into the corner. Montgomery would normally have saved it, but it was almost as though he was worried about crashing into the far post. I was a bit surprised when it went in and I'm sure that it would not have beaten Alan Stevenson."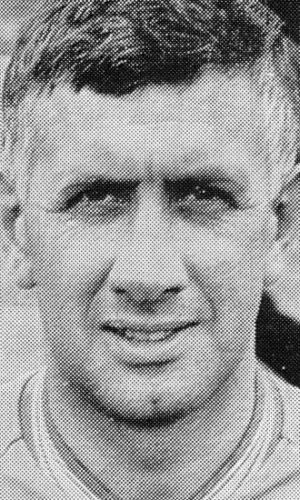 Adamson - the moment we've been working for
Manager Jimmy Adamson was in no doubt how he felt, describing it as a day worth waiting for. When everything had calmed down, he said: "During the three years that I've been manager of Burnley Football Club, I've known not only the happiness but also the hardship that football management can bring.
"None of that matters now. This is the moment that we've been working for and waiting for, and this is what makes it all worthwhile.
"Before this season began I said that we could win promotion. We knew it would not be easy, and it hasn't been, but thanks to the dedication and hard work of a lot of people, we've got there in the end."
He added: "When Burnley were relegated two seasons ago, I was quite prepared to take the blame, but while some people wanted my scalp, the club chairman, Mr Lord, and his directors have kept faith with me and now I'm happy to repay that confidence which they have shown in me.
"After we left Division One, there were many people who said a small town club like Burnley would never get back. I think we are all entitled to feel proud that we've proved them wrong.
"But as far as I am concerned, the job is only half finished. We have won back our place in the First Division; now we have to stay there. Burnley fans can rest assured that we'll be making just as big an effort to make a success in the First Division as we have in the Second Division this season.
"To the fans who have cheered us on through thick and thin in the past few years, I would like to offer my heartfelt thanks. If you keep on supporting us we will keep on doing our best for you and the town of Burnley."
Chairman Bob Lord was in no doubt how he felt. "Jimmy Adamson has brought my finest hour," he proclaimed.
He explained: "When Burnley clinched promotion to the First Division on Monday evening, it gave me more satisfaction than anything else I have experienced in football.
"We have had some great moments during the time I have been chairman but this was the best of all. When we won the championship in 1960 the maximum wage was still in force, there was not the huge amounts of money about, nor was football the rat-race it is today.
"That is why I think it is wonderful that despite the very heavy odds against us, we have brought success to a town this size. We have not only put Burnley back on the football map, we've put them back on the world map, and this is something the town should be grateful for."
Lord was in no doubt who deserved the credit. "I do not wish to deny the bouquets to anyone else, but one man must take the lion's share of the credit, manager Jimmy Adamson. This is his victory."

Fans wanted news from the dressing room and it came from the captain and brilliant midfielder Martin Dobson. "Fabulous," he said. "That's the word which sums up the feelings of all the players now that we've finally done it.
"We've clinched promotion and, after only two seasons, we are back in Division One. It's a wonderful climax to the happiest season I've ever known in football."
He added: "There have been many highlights during this wonderful season and the best is yet to come. That will be when we clinch the championship of the Second Division.
"For although we're all delighted about being promoted, it would be a big disappointment now if we did not become champions. We've been top of the league nearly all the season and we know that we are the best team in the Division."
Dobbo had words for all his team mates. "As captain, I must say it has been a joy to be associated with these players this season. It's been very much a team effort, with everyone playing their part.
"Our attitude has always been 'We're in this together' and there's never been any question of any player letting down the rest of the team."
Congratulations poured into Turf Moor and the first to arrive was from Cliff Britton who had managed the promotion team of 1946/47. It arrived within minutes of the final whistle.

Telegrams were also received from rival managers, such as Alec Stock and Dave Mackay, but sadly Sunderland boss Bob Stokoe refused to say anything positive about the Clarets although two of his team, Ron Guthrie and Ian Porterfield.
The first letter received was from Mr William Bancroft, chairman of Third Division Blackburn. Mr Bancroft had been at Turf Moor for the promotion clinching game and, in a letter addressed to Mr Lord he wrote: "It was most heart warming to be part of the scene at Burnley on the occasion of promotion.
I would like to pay tribute to Burnley's achievement despite the problems besetting town clubs. Burnley have achieved what many people thought was almost impossible."
But, as Dobbo said, the best was yet to come.