The town, after long debate, was about to lose one of its best known landmarks. We all know about the bus station clock now but back in 1973, and for years before, there was the old tramways office clock in St. James' Street.
The Burnley Express received a lot of concerned letters from Burnley folk when they heard the Palace Theatre block was to be demolished, the block that housed the clock, expressing the view that the old clock should be retained and restored.
However, the council's Development Committee made the decision that it was not worth the time, effort or money to keep it. They said the clock had no value and had no special significance, was of a common type and a similar one could be readily obtained.
As always, the last word was with Alderman Thomas Gallagher. He said: "It is clear that there is no special reason for keeping this clock. It will have to be scrapped with the other junk."
It was the sign of the times in 1973 when a bride chose to marry in Burnley, the home of her husband to be, rather than her own home. She was from Belfast and was marrying a British soldier and feared there would be attacks on her family should terrorists find out who she'd married.
The couple had made the decision not to return to Belfast and set up home in Burnley after their marriage at St. Mary Magdalene's Church.
A hostile night was expected when opponents of the M65 scheme, those residents of Gannow and Lowerhouse, met with Burnley Labour Party officials at the Clarion Club in Smirthwaite Street.
Instead it was anything but. MP Mr Dan Jones was there as was Labour leader of the town council Alderman Gallagher along with other Labour councillors. But the meeting turned out to be a get together of the Labour hierarchy when not one single member of the public turned up.
So I suppose they all enjoyed a quick pint and chorus of 'The Red Flag' and got home earlier than expected.
Wally Hebden wasn't happy when he found out that he couldn't get an improvement grant for work on his house in Rosegrove Lane unless he had the air raid shelter at the foot of his backyard re-pointed.
However, he found that it would take more than pointing to make it good so he took a day off work, hired a 'Kangol' hammer and reduced the shelter to a pile of rubble.
"What are we coming to when 28 years after the war I am having to pay to have something done to an air raid shelter when Government grants are available to knock it down?" he said.
He added: "I would have liked to have the shelter knocked down, but I cannot have this done as part of the improvement grant because there is a special Government grant towards knocking air raid shelters down. I understand they are only given to houses in improvement areas."
A council spokesman explained that the council had agreed that grants for knocking down the shelters would only go to houses in those areas. "Unfortunately, this man's house doesn't fall into this category."
Former Burnley businessman Mr Arthur Grimshaw Cowell had found himself in a bit of bother. The 69-year-old had previously admitted liabilities of £8,696 and assets of £7,174 at Burnley Bankruptcy Court and now, at Burnley Crown Court, was refusing to answer questions put to him about losing £800 at cards.
After the receiving order he'd drawn £800 from his bank account and alleged he'd lost that sum at cards. The judge said that if he did not give names of the people he lost the money to then he would be committed to prison. He remained silent and the committal order was suspended for seven days.
They say talk is cheap, but it wasn't for Mrs Catherine Hanlon when she received a quarterly phone bill for over £56. She refused to pay it and told the Post Office, then responsible for telephones, that there was an error.
"I hardly make any calls and neither does my husband," she said. "My two eldest sons live away from home and my youngest children are at Park Hill Convent School all day, so I don't see how these calls could have been made."
The Post Office were having none of it. They confirmed there was no fault and calls had been made to bring about such a big bill and queried whether Mrs Hanlon, like another customer who had made similar queries, had been phoning 'Dial-A-Disc' in Hull. "We are convinced that no mistake has been made in this case," confirmed the Post Office.
A Burnley police officer was found to be a Peeping Tom. He and an electricity board inspector went peeping through a letter box and saw a television switched on, something of a surprise given that the electricity supply had been cut off at the property.
When they got in the set had been switched off but a check showed that the supply had been re-connected.
The lady of the house appeared in court when Mr A. Smith, defending her, said: "She was in a difficult position, having one child and expecting another. She had obviously been sitting in night after night without electricity and she was desperate. It was nothing more than a temptation trying to get a little something out of life."
Two young boys, aged 14, were frightened during an evening stroll through Towneley Park when they saw a mysterious red light. "It was a strange red light about twice the size of a cricket ball," one of the boys said.
"It was about six feet above the ground and then it slowly went to ground level and vanished. It reappeared a few minutes later about 40 feet away and we got scared and ran off."
They reported it and went back the following day but saw nothing. There had been no other reports and it was thought it could have been a car light.
Two youths, one 18 and the other 17, stole a bottle of sherry from Rosegrove Cabaret Club. When they appeared in court they were remanded in custody for two weeks for social inquiry reports.
Custody for a bottle of sherry? It turned out that one of them had just been released from borstal. They both said they were bored as they had depressing jobs and had stolen the sherry to brighten their day.
Ahead of Burnley's trip to Nottingham Forest, Peter Higgs of the Burnley Express reported that we could be promoted within three days but only if -
1. Burnley beat Nottingham Forest
2. Luton lose at Carlisle
3. Aston Villa drop a point at home to Oxford
4&5. Sunderland take only one point from home matches against Bristol City and QPR on the Saturday and Monday.
Over a 1,000 Burnley fans were making the trip to the City Ground for this one. Everyone was confident and manager Jimmy Adamson said: "If we play as well as we have been recently away from home we must have a good chance."
I think it is fair to say that things didn't quite work out as planned.
For the first time all season we were outplayed as Forest recorded an easy 3-0 win. It was our heaviest defeat of the season, following on from home defeats against Orient (2-1) and Sheffield Wednesday (1-0) and the 2-0 defeat at QPR.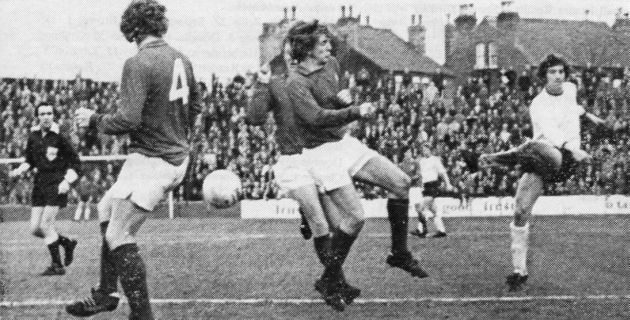 Martin Dobson tries to get the Clarets back into the game but fires wide
Despite having nothing to play for, Forest looked a very good team indeed. They showed a lot of skill and determination in conditions dominated by a high wind and bumpy pitch which made ball control difficult all afternoon.
The home fans considered it to be their best performance of the season but we had a bad day and made it far too easy for them. With the finishing line, for promotion at least, thought to be so close, had we become complacent?
It wasn't all one way. We did have some chances, but all went begging while Forest made the most of their opportunities.
By the end of the game we were well beaten by a side for whom Barry Lyons, Tommy Jackson, Duncan McKenzie and Jim McIntosh all played well alongside the simply outstanding Northern Ireland international Martin O'Neill.
Forest went ahead in only the fifth minute from a corner. Lyons' kick was missed by both Geoff Nulty and McKenzie, the Burnley defence was slow to recover as Bob Chapman headed the bouncing ball forward, and McKENZIE volleyed in from about six yards.
We had our best spell in the first half but three significant goalmouth incidents saw the match slip away.
In the 25th minute Paul Fletcher had a great chance to equalise when he ran clear onto a Collins' free kick. He opted to head between the goalkeeper and the near post but headed wide.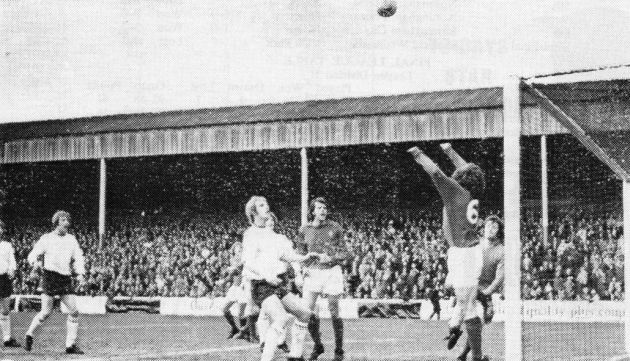 Burnley on the attack but the ball goes over the bar
A minute later Forest were two ahead. O'NEILL took a short pass from McKenzie, raced on as Jim Thomson hesitated, sidestepped the Burnley defender and shot hard and low past Alan Stevenson.
Burnley were close to a reply when Leighton James took a pass from Collins, beat two men in a jinking run down the left but then saw his shot brilliantly pushed round the post by Jim Barron.
We needed to produce something special in the second half to get back into the game, but in truth it was always Forest who looked the most likely.
And they added a third seventeen minutes from time. McIntosh centred from the right, John Galley flicked the ball back into the middle and LYONS ran through a yawning gap in the Burnley defence to shoot emphatically past Stevenson.
It was all over. We were well beaten.
Adamson pulled no punches after the game. "We did not play well enough to get anything out of the match but I did not think it was a 3-0 scoreline," he said.
"I thought we played well in midfield but we did not play well where it counts, in the penalty area. We did not give their goalkeeper enough problems and at the other end the defence did not play as well as it can.
"The conditions did not suit us but if you are going to be champions you have to overcome conditions like these.
"They lifted their game to meet us and played with a lot of drive and enthusiasm. They can't play like this every week otherwise they would be top of the league.
"I thought we fought hard but the goals changed the course of the game."
The teams were;
Nottingham Forest: Jim Barron, Liam O'Kane, John Winfield, Bob Chapman, John Cottam, Tommy Jackson, Jim McIntosh, Martin O'Neill, Duncan McKenzie, John Galley, Barry Lyons. Sub not used: John Robertson.
Burnley: Alan Stevenson, Mick Docherty, Keith Newton, Martin Dobson, Colin Waldron, Jim Thomson, Geoff Nulty, Frank Casper, Paul Fletcher, Doug Collins (Billy Ingham 70), Leighton James.
Referee: Mr N. Burtenshaw (Great Yarmouth).
Attendance: 12,552.
We needed a favour from Portsmouth if QPR weren't to close the gap to one point but we definitely didn't get it as they went down 5-0 to QPR who were now very much in the driving seat with a game in hand, and to make things worse we had no game a week later as our scheduled opponents Sunderland were otherwise engaged at Hillsborough in an FA Cup Semi-Final against Arsenal.
The game had been rescheduled for Monday 16th April.
Second Division Results
Tuesday 27rd March 1973
BRISTOL CITY 3 ASTON VILLA 0
FULHAM 0 LUTON TOWN 1
Saturday 31st March 1973
ASTON VILLA 2 OXFORD UNITED 1
BLACKPOOL 4 HULL CITY 3
BRIGHTON & HOVE ALBION 2 PRESTON NORTH END 0
CARLISLE UNITED 2 LUTON TOWN 0
FULHAM 1 CARDIFF CITY 1
HUDDERSFIELD TOWN 1 MILLWALL 0
NOTTINGHAM FOREST 3 BURNLEY 0
QUEENS PARK RANGERS 5 PORTSMOUTH 0
SHEFFIELD WEDNESDAY 2 ORIENT 0
SUNDERLAND 2 BRISTOL CITY 2
SWINDON TOWN 1 MIDDLESBROUGH 0
Burnley's Goalscorers (League Only)
12: PAUL FLETCHER
11: MARTIN DOBSON
9: FRANK CASPER
8: LEIGHTON JAMES
6: GEOFF NULTY
4: DAVE THOMAS
3: BILLY INGHAM, COLIN WALDRON
1: DOUG COLLINS, KEITH NEWTON, OWN GOALS
Second Division Goalscorers
21: DON GIVENS (QUEENS PARK RANGERS)
17: GORDON BOLLAND (MILLWALL)
16: ALAN GOWLING (HUDDERSFIELD TOWN), STUART PEARSON (HULL CITY)
15: BRIAN JOICEY (SHEFFIELD WEDNESDAY)
14: STAN BOWLES (CARLISLE UNITED & QUEENS PARK RANGERS), STEVE EARLE (FULHAM)
13: VIC HALOM (LUTON TOWN & SUNDERLAND), ALF WOOD (MILLWALL)
12: PAUL FLETCHER (BURNLEY), JOHN GALLEY (BRISTOL CITY & NOTTINGHAM FOREST),
JOE LAIDLAW (CARLISLE UNITED), BOBBY OWEN (CARLISLE UNITED), RAY TREACY (SWINDON TOWN)
11: HUGH CURRAN (OXFORD UNITED), MARTIN DOBSON (BURNLEY), GERRY GOW (BRISTOL CITY),
JOHN MITCHELL (FULHAM), DAVID SUNLEY (SHEFFIELD WEDNESDAY)
The League Table
Team
pld
w
d
l
f
a
pts

BURNLEY

36

19

13

4

59

34

51

QUEENS PARK RANGERS

35

19

12

4

71

35

50

BLACKPOOL

37

16

10

11

52

46

42

SHEFFIELD WEDNESDAY

37

16

9

12

56

48

41

ASTON VILLA

36

15

11

10

43

42

41

FULHAM

36

14

11

11

52

42

39

OXFORD UNITED

36

16

6

14

46

37

38

BRISTOL CITY

37

13

12

12

52

47

38

LUTON TOWN

35

14

10

11

42

41

38

MIDDLESBROUGH

37

13

12

12

35

39

38

NOTTINGHAM FOREST

36

13

11

12

42

40

37

MILLWALL

36

14

7

15

50

43

35

SUNDERLAND

32

12

10

10

47

40

34

HULL CITY

34

11

11

12

54

51

33

CARLISLE UNITED

36

11

9

16

46

43

31

SWINDON TOWN

37

9

13

15

43

57

31

PORTSMOUTH

36

10

10

16

38

52

30

PRESTON NORTH END

36

10

10

16

33

57

30

ORIENT

35

9

11

15

38

44

29

HUDDERSFIELD TOWN

36

7

15

14

33

47

29

CARDIFF CITY

34

10

7

17

35

49

27

BRIGHTON & HOVE ALBION

36

7

10

19

40

73

24