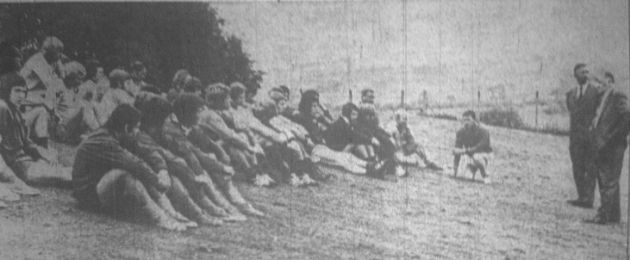 Bob Lord, standing alongside Jimmy Adamson, welcomes the players back for pre-season training
Peter Noble headed the new boys at the training ground following his summer move from Swindon and he was joined by Tommy Walker a 21-year-old who had been released by Stoke after making just two appearances.
Unlike Noble, Walker was here just for the Clarets to take an extended look at him and he'd signed a one month trial deal with the club to enable manager Jimmy Adamson and his staff the opportunity to assess him.
There were three new apprentices reporting for the first time. They were David Loggie, a centre forward from Newbiggin-by-the-Sea, left half Joe Jakub who hailed from Madison near Falkirk and inside right Keith Gordon, already a Welsh amateur international, from Shotton in Flintshire.
Burnley chief scout Dave Blakey revealed that Burnley had been forced to fight off a number of clubs to get Loggie and Jakub in particular, two players who would go on to make First Division debuts with Burnley and two players who would also go on to play in the Dutch League, Loggie with Sparta Rotterdam and Jakub with AZ Alkmaar.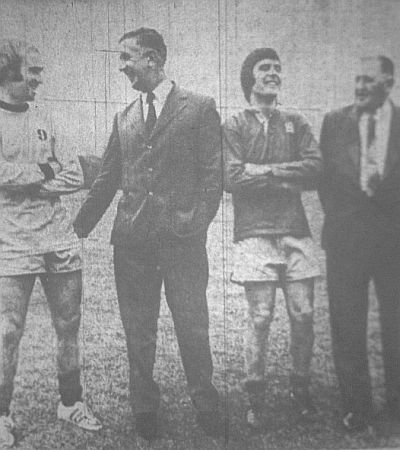 New signings Peter Noble & Tommy Walker with Adamson & Lord
Sadly, it was time to say goodbye to two more of our FA Youth Cup winning team with both left back Eddie Cliff and inside forward Eric Probert signing for Notts County. Only Mick Docherty, who had been passed fit following the cartilage injury he sustained at Huddersfield, and Alan West now remained from the team that had lifted the trophy five years previously.
With the league season set to get underway on Saturday 25th August, Burnley had a month to prepare for a First Division return with Adamson confirming that the club would play four fixtures ahead of that league opener.
All four would be away from Turf Moor with the first game at Penzance on Saturday 11th August, at Torquay three days later on Tuesday 14th August and Kettering a day later. The fourth of those games was the FA Charity Shield against Manchester City at Maine Road on Saturday 18th August, just one week before the season kicked off.
As always, chairman Bob Lord was at the training ground to welcome the players back and he had news of his own when he revealed that he was just one month away from retirement from the meat trade.
He'd sold all his business interests, including 56 acres of land and buildings in Lowerhouse Lane, to a Midland industrial development concern for a fee believed to be in the region of £200,000.
Confirming that he would not be spending more time at the football club, Lord said: "I have had 51 years of hard work, and I have now reached the age when I feel a little lessening of responsibilities and less need to work so hard.
"I'm going to take things a bit easier and have more time for holidays. There are many places I should like to visit with my wife, both in this country and abroad.
"All my working life has been like being on a tightrope. Now there will be some slack. It will certainly be a big change in my life, but I don't plan to devote any more time towards football. Above all I shall have more time to think."
The final word, in terms of the return to training, was with new boy Noble. He was at the start of a Burnley career where he would certainly make his mark, and after meeting his new team mates for the first time he told Peter Higgs of the Burnley Express. "It's great to be back with a First Division club.
"I'm used to success and I'm hoping for some more at Burnley. I played against Burnley twice last year and was very impressed. I thought they were the best side in the Second Division.
"When I was available for a transfer from Swindon I was hoping a First Division club would come along, but I didn't really expect it. I was delighted with Burnley's offer."
He added: "I can play up front or in the middle of the park. I don't mind which. I'd play in goal if it was for the good of the team."
Thirty days to go and Burnley would be back playing First Division football with that big kick off at the three sided Bramall Lane which was scheduled to stage its final cricket match just days before with the Roses clash against Lancashire.