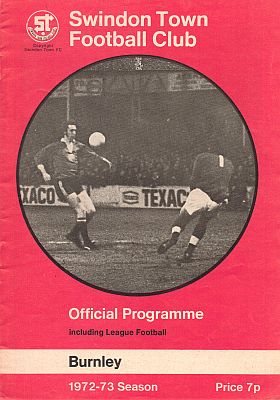 This was the week when the town was given a new name and yet it passed almost unnoticed. The County Borough of Burnley was in its last year and in 1974 the town would become county district 12, an area which would include the existing county borough along with Padiham and much of the Burnley Rural Council Area.
The decision for the new name was the responsibility of the joint committee of the present authorities and they came up with 'The Burnley district of the new Lancashire County Council'. Funnily enough, forty years on, I still refer to the town as Burnley.
Sadly there had been even more reports of vandalism when members of Scott Park Veterans' Association arrived at their hut in the park to find it burned out, with officials believing it was the work of vandals.
The wooden hut had been used by the old men as a social centre for more than twenty years. They'd equipped it from scratch with furniture and games but now they had nowhere to meet. Treasurer Mr Bill Turner said: "It will break some of those old chaps' hearts. They are certainly going to miss it.
"There's no doubt that vandals were to blame as they have been in the hut before and upset it. Once we found one of the clocks on the bowling green. We will have to have a committee meeting now to sort things out, and the problem then is finding a new place."
Local photographer Eddie Rawlinson immediately offered £5 to give a start to any fund to buy a new hut for the veterans.
Trouble was brewing amongst the town workers with industrial strife on three different fronts which were set to escalate. The disputes involved Lucas Aerospace workers, hospital ancillary workers and Local Government employees.
The Lucas problem was a resurrection of the one that had caused strife in the summer of 1972, that of workers at other plants having higher pay, and shop stewards called a mass meeting to tell workers of management's obstructive attitude in the pay parity talks.
The hospital workers were expected to step up their action against the Government's wage freeze with strike action a real possibility and Burnley officials of the National Association of Local Government Officers (NALGO) were asking for a national ballet with a view to conducting a national strike against potential redundancies.
Residents of the Rosegrove and Gannow areas had met again and decided on a militant plan of action, including refusal to pay rates, as a protest against the Calder Valley Fast Route (M65).
More than 250 packed into the Rosegrove Railway Club for a public meeting to discuss ways of saving their homes. Besides deciding not to pay their rates, they agreed to hold a mass demonstration at the next meeting of Burnley's Town Council.
Mr Ronald Bushby, a former mayor and now leader of the residents' group, said: "It was the most militant meeting I have ever attended. It was pretty obvious that tempers are becoming strained.
"All the people in this area want is to be left alone and we feel that the motorway should skirt the town, not go right through the centre. It would be a simple matter to reroute the road so that it could be built without having to demolish property and upset scores of people."
There was some sad news of local 21-year-old Colin Horne who had a passion for cars. He'd bought a Ford Zephyr car three weeks earlier and, just three days after celebrating his 21st birthday, he took it to the M6 to give it a test run and was killed when the car crashed into a bridge support near Bamber Bridge.
His dad said he often took cars to the motorway to test them out and added: "He just lived for cars, and spent most of his spare time tinkering with cars at his garage."
In court that week were two youths, one aged 18 and the other 19. The two of them had gone into an outhouse at a home in North Street and stolen a hairdryer worth £4.
Both had admitted the offence at an earlier hearing and had been remanded for social reports. Both were committed in custody to the Crown Court for sentencing.
As Burnley prepared for the game against Swindon Town at the County Ground there was more news about the second Leagueliner trip to Cardiff.
Tickets were to go on sale the following week and, as a result of prolonged negotiations with British Rail, Jack Butterfield, the club's commercial manager, had won a better deal for Burnley supporters.
He'd won the right to provide the buffet service on the train in preference to British Rail's own caterers. This meant supporters would now only have to pay 10p for a can of beer instead of the British Rail price of 15p.
"The fans will be getting a better service and they will be getting it cheaper. This is what we have been fighting for," Butterfield said.
The cost of the trip was set at £3.75 for a standard booking but for £7.25 passengers could book a seat along with a hot lunch and dinner. A total of 168 of the seats on the train would be in the restaurant cars for those dining with a further 272 standard seats for whom packed lunches would be available.
Ahead of the Swindon game, manager Jimmy Adamson vowed to put back the missing ingredient into the Burnley team after the disappointing display in the home draw against Bristol City on the previous Saturday.
"We had an off day," said Adamson. "I know what the trouble was, but I'm not saying. One part of the team wasn't functioning as it should have been. This is something we shall have to sort out ourselves before the Swindon match."
What Burnley gave at Swindon was an efficient performance. It got us a clean sheet, a 1-0 win and two more points to strengthen our position at the top of the league.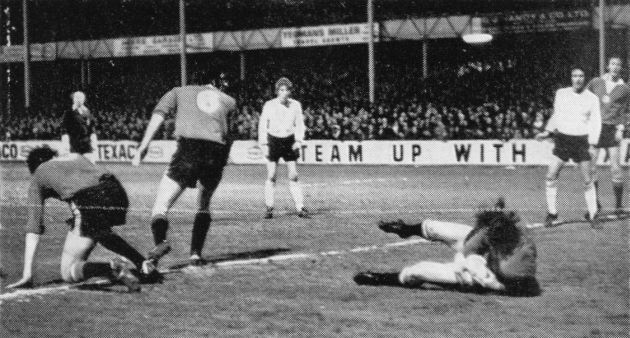 Peter Downborough saves from Keith Newton just minutes before the Burnley left back hit the bar
In a match that rarely reached the heights, we were too good for our relegation haunted opponents and won more convincingly than the one goal scoreline suggests. Having been held to draws in the last two games we were very much heading back to the sort of form expected.
When you are in need of a win there is nothing better than to get an early goal. That's what we did, with just six minutes of the game gone.
Keith Newton slanted a diagonal pass towards the penalty area, which Frank Casper and a Swindon defender both missed.
The ball came through to Paul FLETCHER who, despite the close attention of a defender, quickly brought the ball under control and sent a left footed half volley on the turn screaming past Peter Downsborough from twenty yards.
From less than a half chance we were ahead, and it was all so quick that Downsborough had not even moved by the time the ball was in the net. It stunned the home crowd into silence.
Swindon fought like tigers to get back into the game but Burnley always had the upper hand and looked a class above. The home side did have one short spell midway through the first half when they got on top but the Burnley defence stood firm and we relieved any pressure with our best spell of the game.
With half time approaching we were very much in control and just a couple of minutes before the whistle we came so close to a second goal after a brilliant interchange of passing between Newton, Leighton James and Martin Dobson led to Newton crashing a shot against the bar.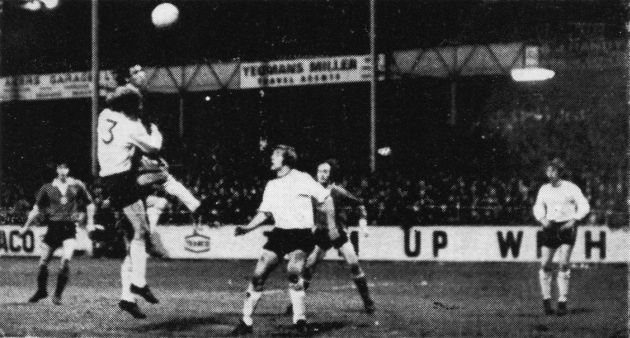 Newton in the action again, this time winning a defensive header
It had been a good first half and we were more than worth our lead, but the second half never lived up to the first 45 minutes as a strong wind took its effect on the proceedings.
We had just two scares. The first came when Swindon's Peter Noble got down the flank and crossed for Michael McGovern whose header was saved by Alan Stevenson and nine minutes from time Stevenson denied McGovern once more, this time with a sweeping shot, again from a Noble cross.
That was the last seen of Swindon as Burnley dominated the closing minutes with Dobson coming so, so close to a second Burnley goal on two occasions, heading against the bar and then firing narrowly wide.
Overall, it was the defence on this occasion who were the stars. Those two saves apart, Stevenson had a quiet night because the back four were all in outstanding form, and none more so than Mick Docherty who had returned to the team after serving a one match suspension.
It was another win for Burnley and a needed win given that QPR won at Carlisle the following day to remain just two points behind us.
The teams were;
Swindon Town: Peter Downsborough, Rod Thomas, John Trollope, Kenneth Stroud (Paul Walker 67), Frank Burrows, Ron Potter, Dave Moss, Roger Smart, Ray Treacy, Peter Noble, Michael McGovern.
Burnley: Alan Stevenson, Mick Docherty, Keith Newton, Martin Dobson, Colin Waldron, Jim Thomson, Geoff Nulty, Frank Casper, Paul Fletcher, Doug Collins, Leighton James. Sub not used: Billy Ingham.
Referee: Mr G. C. Kew (Amersham).
Attendance: 12,730.
The win kept us two points clear at the top of the league but there was even better news once all the games were played in that our lead over third place had increased from seven to nine points.
Third place Aston Villa were beaten at home by Fulham who had now moved up to third because Oxford had also been beaten at struggling Sunderland.
Things really were looking good for Burnley with Sheffield Wednesday the next opponents.
Second Division Results
Monday 26th February 1973
MILLWALL 3 LUTON TOWN 2
Tuesday 27th February 1973
SWINDON TOWN 3 CARDIFF CITY 0
Wednesday 28th February 1973
SHEFFIELD WEDNESDAY 2 BLACKPOOL 0
Friday 2nd March 1973
HULL CITY 2 BRIGHTON & HOVE ALBION 0
MILLWALL 1 MIDDLESBROUGH 0
SWINDON TOWN 0 BURNLEY 1
Saturday 3rd March 1973
ASTON VILLA 2 FULHAM 3
BLACKPOOL 1 LUTON TOWN 1
BRISTOL CITY 3 PORTSMOUTH 1
CARDIFF CITY 3 ORIENT 1
CARLISLE UNITED 1 QUEENS PARK RANGERS 3
HUDDERSFIELD TOWN 1 NOTTINGHAM FOREST 1
SHEFFIELD WEDNESDAY 2 PRESTON NORTH END 1
SUNDERLAND 1 OXFORD UNITED 0
Burnley's Goalscorers (League Only)
11: PAUL FLETCHER
10: MARTIN DOBSON
8: LEIGHTON JAMES
6: FRANK CASPER
4: GEOFF NULTY, DAVE THOMAS
3: BILLY INGHAM, COLIN WALDRON
1: DOUG COLLINS, KEITH NEWTON, OWN GOALS
Second Division Goalscorers
21: DON GIVENS (QUEENS PARK RANGERS)
15: STUART PEARSON (HULL CITY)
14: STEVE EARLE (FULHAM)
13: GORDON BOLLAND (MILLWALL), STAN BOWLES (CARLISLE UNITED & QUEENS PARK RANGERS)
12: ALAN GOWLING (HUDDERSFIELD TOWN), ALF WOOD (MILLWALL)
11: PAUL FLETCHER (BURNLEY), VIC HALOM (LUTON TOWN & SUNDERLAND),
BRIAN JOICEY (SHEFFIELD WEDNESDAY), BOBBY OWEN (CARLISLE UNITED)
10: ALAN AINSCOW (BLACKPOOL), HUGH CURRAN (OXFORD UNITED), MARTIN DOBSON (BURNLEY),
JOHN GALLEY (BRISTOL CITY & NOTTINGHAM FOREST), GERRY GOW (BRISTOL CITY),
JOHN MITCHELL (FULHAM)
The League Table
Team
pld
w
d
l
f
a
pts

BURNLEY

31

16

13

2

52

29

45

QUEENS PARK RANGERS

31

16

11

4

59

33

43

FULHAM

31

13

10

8

49

36

36

ASTON VILLA

31

13

10

8

38

36

36

OXFORD UNITED

32

15

5

12

40

32

35

SHEFFIELD WEDNESDAY

32

13

8

11

49

42

34

BLACKPOOL

32

12

10

10

44

39

34

LUTON TOWN

31

12

10

9

39

36

34

MIDDLESBROUGH

33

12

10

11

31

36

34

MILLWALL

32

13

7

12

44

36

33

BRISTOL CITY

31

11

10

10

42

40

32

HULL CITY

30

10

10

10

45

39

30

NOTTINGHAM FOREST

31

10

10

11

34

38

30

PORTSMOUTH

31

10

8

13

36

39

28

PRESTON NORTH END

31

10

8

13

30

47

28

SUNDERLAND

27

9

9

9

38

34

27

CARLISLE UNITED

29

9

8

12

42

37

26

ORIENT

31

7

11

13

32

39

25

CARDIFF CITY

29

10

5

14

34

44

25

SWINDON TOWN

32

7

11

14

38

53

25

HUDDERSFIELD TOWN

31

6

13

12

27

39

25

BRIGHTON & HOVE ALBION

31

3

9

19

31

70

15