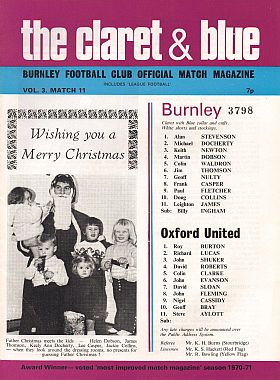 Not everyone was getting into the Christmas spirit and certainly not at the Waterloo Hotel in Trafalgar Street. Whilst most people were enjoying a pre-Christmas drink, one customer David Ingham was not too happy about the level of noise created by other drinkers chatting to each other.
When he appeared in court, Mr George Leonard, the licensee, said that he heard shouting in the public bar and when he went to investigate he saw Ingham shouting and swearing at another customer. He asked Ingham to either stop swearing or leave.
Mr Ingham did neither. Instead he picked up a pint glass and through it at Mr Leonard, hitting him on the forehead. For good measure, he then smashed a full bottle of egg flip. In reply, Mr H. G. W. Cooper (defending) said Ingham was upset at the incessant chatter and that he hadn't intended hitting anyone with the glass.
He was fined £12 for hitting Mr Leonard with the glass and was given a conditional discharge for the damage to the glass and the bottle of egg flip which was valued at 85p.
Over the last few weeks one of the main stories has been that of vandalism by young people and the attempts being made to bring a stop to it. Just ahead of Christmas came news that giant steps had been taken in the fight against vandals, thugs and hooligans.
An early warning system had been introduced by the police which gave any vandal little time to shake the dust off his heels before the law before the law caught up with him. It was being kept secret but the Burnley Express offered to help by naming and shaming anyone found guilty of such vandalism, and if they were unable to do because of age then they would name and shame the parents.
Whilst on the subject of hooligans, there was a major incident at an FA Youth Cup replay played that week at Maine Road between Manchester City and Burnley.
Firstly, well done to the Burnley team who won through to win a tie against Bolton, but the big story took part in the main stand during the first half when Manchester City's Malcolm Allison appeared in the directors' box wearing one of his trademark fedora hats.
"You look a right pillock in that hat", shouted one of the Burnley supporters and this really upset a Sergeant E33 from the Manchester Police. He called for assistance and had four Burnley supporters forcibly removed from the ground, causing injuries because of uncalled for thuggery by those police.
No action was taken against any of the four who were bundled back into the ground my home club physiotherapist Peter Blakey. Formal complaints were made regarding the police action but it was deemed that there was no case to answer.
Sergeant E33 got away with an abuse of his position and none of the Burnley supporters involved were recompensed in any way. I can only speak for myself but I don't believe any of the other three got any better response than I did.
News on our schools was not good news for Nobby and Dolly. Nobby was Noel Stokes, headmaster at the Boys' Grammar School and Dolly was Mrs Molly Dearing, headmistress at the Girls' High School.
Both spoke out at the news that Burnley schools would go fully comprehensive, bringing to an end the old style education system. Stokes felt it would hold back the brighter boys and quoted the success rates of boys in his schools in terms of university entrance and more so Oxford and Cambridge.
Mrs Dearing, however, was more concerned that girls should continue to be educated separately and not in mixed schools. She said: "I feel that eventually, with the growth of Women's Lib and things like that, co-education will be a good thing. But personally, I don't think that girls themselves are ready for it yet."
There's usually a good story ahead of Christmas and in 1972 it was about Mark Jones. Th e10-year-old had been struck down with spinal meningitis and it was thought that he may never walk again. The football mad youngster lost the will to live, that was until Burnley FC and its players stepped in.
During the summer, Arthur Bellamy (who had since been sold to Chesterfield), Martin Dobson and Leighton James had all visited him when he was at his lowest. But James kept going back, two and three times a week, and continued to encourage him. He had him pushing a football with a foot initially from his wheelchair but by Christmas the improvement was such that he was able to walk with the use of a frame.
By Christmas he was back on his feet and kicking a ball about and the boy's mum said without the support of the Clarets' left winger she didn't think her son would have ever have improved to such an extent.
There was news of a former Burnley player and manager returning to the game. Bob Stokoe had left Blackpool for Sunderland just a few weeks earlier and the Bloomfield Road board turned to Harry Potts.
Potts, then 51, was delighted to be back in football and even more so given that his first home game in charge would be the Boxing Day clash against Burnley. "It should be a real Christmas cracker," he said.
"Both teams are playing well at present and it promises to be a great match. I'm making no predictions but, of course, it would be nice to start with a home win. First we must travel to Nottingham Forest and that will be a tough match , too. So I couldn't have wished for a harder start."
It did prove to be a tough start as Blackpool, second in the league at the start of the day, crashed to a 4-0 defeat at the City Ground.
For Burnley it was a first home game in four weeks with the previous home game against Huddersfield having been called off because of the flu bug that had hit the Yorkshire club.
But it wasn't a triumphant return to Turf Moor as Oxford United came and, as they say, did a job and went home with a point in a 1-1 draw.
The only people who would have gone home happy from this game were the Oxford team and their very small group of supporters. For 90 minutes they stubbornly frustrated Burnley and the home support, scored a freak goal and with the aid of some very weak refereeing they stole a point they simply did not deserve.
Oxford didn't come to entertain anyone. Their sole purpose was to sit back and defend in great numbers and, on any occasion there might be danger, break the rules which they got away with time and time again because of a shockingly weak referee in Ken Burns.
Burnley came up against a packed defence in the first half and rarely threatened. Leighton James always looked the most likely but the closest we came to a goal was a shot on the turn from Paul Fletcher that Roy Burton did well to save.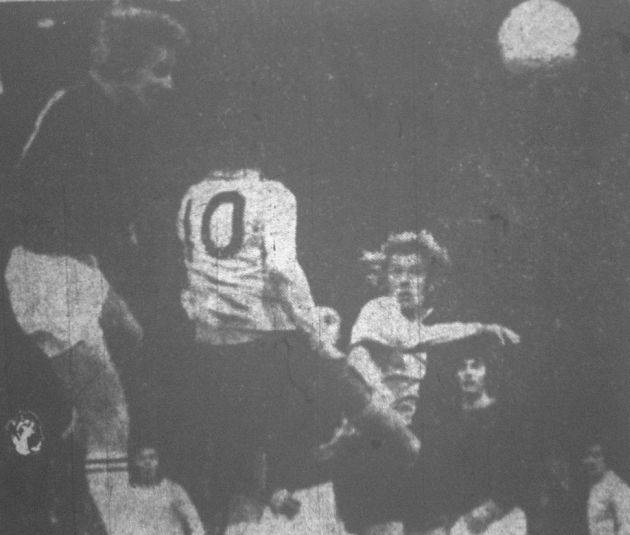 Colin Waldron heads home Burnley's goal
We dominated the entire first half with Oxford not really showing enough adventure to come out of their own half and finally, right on half time, we got the breakthrough.
Inevitably it came via a James run. He got into the box on the left hand side, was blocked off and Burns blew. As the crowd grew in expectancy at the award of a penalty there was a shock as the referee, instead, awarded in indirect free kick.
Doug Collins took it, floating it over to the far post where Colin WALDRON out jumped to defenders to head home and send us in at half time with a 1-0 lead.
It gave us just the lift we needed and we came out and dominated proceedings in the second half with Oxford now having to show more adventure. Burton twice saved from James and Collins missed the chance of the match. The second goal just wouldn't come and we paid for it.
Oxford, in a rare attack, got forward with John Fleming. His cross was only half cleared to Dick Lucas whose return shot was going nowhere near goal. Then, Nigel CASSIDY got in the way of it and it deflected onto the post and rolled in.
It was the first goal we'd conceded in six weeks and it was enough for Oxford to take a point. We pushed forward but as they dropped deeper and deeper they saw out the remaining minutes with few problems.
The teams were;
Burnley: Alan Stevenson, Mick Docherty, Keith Newton, Martin Dobson, Colin Waldron, Jim Thomson, Geoff Nulty, Frank Casper, Paul Fletcher, Doug Collins, Leighton James. Sub not used: Billy Ingham.
Oxford United: Roy Burton, Dick Lucas, John Shuker (Brian Thompson 45), David Roberts, Colin Clarke, John Evanson, Keith Gough, John Fleming, Derek Clarke, Nigel Cassidy, Ken Skeen.
Referee: Mr K. Burns (Stourbridge).
Attendance: 12,781.
QPR won 2-1 at bottom club Brighton to move back into second place some three points behind us. Blackpool, having suffered their biggest defeat of the season in Potts' first game in charge, and Aston Villa were both two points further behind.
Brighton were really struggling down at the bottom. They were five points adrift of all of Sunderland, Cardiff, Portsmouth and Orient with Orient joining them in the relegation places because of their inferior goal average.
Back to that QPR win and both their goals were scored by Don Givens. It took his total of league goals to 14 for the season, three ahead of Carlisle's Bobby Owen who was the second leading goalscorer with 11.
Burnley were now preparing for a Boxing Day visit to Blackpool. In the previous season it was where the campaign against Jimmy Adamson had reached its peak. Against Potts, he was ready to return to Bloomfield Road with a much healthier and happier Burnley Football Club.
Second Division Results
Saturday 23rd December 1972
BRIGHTON & HOVE ALBION 1 QUEENS PARK RANGERS 2
BURNLEY 1 OXFORD UNITED 1
HUDDERSFIELD TOWN 1 HULL CITY 3
MIDDLESBROUGH 0 LUTON TOWN 1
MILLWALL 1 CARLISLE UNITED 0
NOTTINGHAM FOREST 4 BLACKPOOL 0
ORIENT 0 PORTSMOUTH 1
PRESTON NORTH END 3 BRISTOL CITY 3
SHEFFIELD WEDNESDAY 2 ASTON VILLA 2
SWINDON TOWN 2 FULHAM 2
Burnley's Goalscorers (League Only)
10: PAUL FLETCHER
8: LEIGHTON JAMES
7: MARTIN DOBSON
4: DAVE THOMAS
3: FRANK CASPER, COLIN WALDRON
1: DOUG COLLINS
Second Division Goalscorers
14: DON GIVENS (QUEENS PARK RANGERS)
11: BOBBY OWEN (CARLISLE UNITED)
10: PAUL FLETCHER (BURNLEY), VIC HALOM (LUTON TOWN), STUART PEARSON (HULL CITY)
9: ALAN AINSCOW (BLACKPOOL), STAN BOWLES (CARLISLE UNITED & QUEENS PARK RANGERS),
HUGH CURRAN (OXFORD UNITED), ALAN GOWLING (HUDDERSFIELD TOWN),
BRIAN JOICEY (SHEFFIELD WEDNESDAY), ALF WOOD (MILLWALL)
8: GORDON BOLLAND (MILLWALL), STEVE EARLE (FULHAM),
JOHN GALLEY (BRISTOL CITY & NOTTINGHAM FOREST), LEIGHTON JAMES (BURNLEY),
JOHN MITCHELL (FULHAM), RAY TREACY (SWINDON TOWN)
The League Table
Team
pld
w
d
l
f
a
pts

BURNLEY

22

11

10

1

36

20

32

QUEENS PARK RANGERS

22

10

9

3

39

27

29

BLACKPOOL

23

10

7

6

36

27

27

ASTON VILLA

22

10

7

5

24

20

27

LUTON TOWN

22

10

6

6

31

25

25

OXFORD UNITED

23

10

5

8

28

23

25

PRESTON NORTH END

23

9

7

7

23

21

25

SHEFFIELD WEDNESDAY

24

9

6

9

40

37

24

MIDDLESBROUGH

23

8

8

7

20

24

24

FULHAM

22

7

9

6

31

27

23

NOTTINGHAM FOREST

23

8

7

8

27

29

23

HULL CITY

23

7

8

8

32

29

22

BRISTOL CITY

23

7

8

8

28

30

22

CARLISLE UNITED

22

8

5

9

32

28

21

MILLWALL

23

8

5

10

30

28

21

SWINDON TOWN

23

6

9

8

31

34

21

HUDDERSFIELD TOWN

22

5

9

8

20

27

19

SUNDERLAND

21

5

8

8

26

32

18

CARDIFF CITY

21

7

4

10

27

34

18

PORTSMOUTH

23

6

6

11

23

31

18

ORIENT

23

5

8

10

20

28

18

BRIGHTON & HOVE ALBION

23

2

9

12

25

48

13