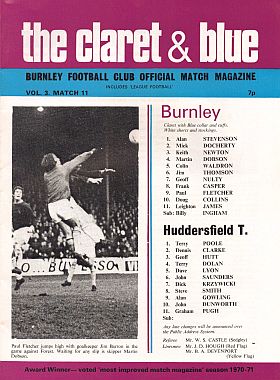 This was the week when Burnley MP Dan Jones launched a bid to make Burnley porn free. He agreed to co-sponsor a private member's Bill in Parliament aimed at banning all porn shops from the High Street.
Mr Jones also wanted it to become an offence for a female body to be displayed publicly, that meaning any place to which the public had access. "How would you react to your wife, mother, sister or sweetheart revealing the totality of her body for the entertainment that is growing in society?" Jones said.
"This offensive form of entertainment is compounded by the knowledge that promoting these exhibitions are those whose only concern is the perpetuation of private profit. In my mind that is taking the most impressionable part in our lives, that of young love, romance and affection, and putting it in the gutter."
He agreed to take the stand because, according to him, it was what the people of Burnley wanted with many having written to him on the very subject.
One Burnley man was, however, a very happy man when he learned he was to receive the George Cross. He was former seaman Albert Howarth who had lost a foot saving the life of a wounded shipmate.
He'd previously been awarded the Albert Medal but had been asked to exchange it for the George Cross which he did, but only after an agreement had been made on the returned medal.
He said: "We were told first that we had to give them back to the Home Office, but then they said we could nominate an institution."
Mr Howarth nominated Towneley Hall and added: "It will be there for ever, and but for that promise I would not have agreed to give the Albert Medal back. I'll now feel proud to be going down to get the George Cross from the Queen. I received the Albert Medal from her father, King George VI."
Most people who commit crimes I'd assume would be hoping to get away with it, but that wasn't the case with one 19 year old in Burnley. He broke into Wood Top Infants' School and stole a record player, three bunches of keys and a torch to the total value of £13.
Then, he called into the police station and told them he'd done it and also asked for three other offences to be taken into consideration. When he appeared in court he was remanded on bail for social inquiry reports.
Meanwhile a 34-year-old woman had he electricity supply cut off by the electricity board. It wasn't a problem initially because she just reconnected it. It got her some electricity but ultimately didn't prove to be the wisest of moves as it won her a three month prison sentence, although it was suspended for two years.
Fundraising for a little girl with a brain disease was boosted by £90 along with good wishes and prayers from the workers at Prestige. It was to help pay the cost of medical treatment for the seven-year-old who had once been given only two years to live.
She wasn't ever likely to walk, but there was new hope following a visit to a Harley Street specialist and when the Prestige workers organised a dance and auction at Fulledge Conservative Club they were delighted when Burnley player Geoff Nulty was able to act as auctioneer.
A year earlier, the Burnley Show was held on the Prairie playing fields and made a right old mess of the football pitches. Suggestions that the show might again be held at the same venue left some local football officials in a rage and none more so than Trevor Little the vice-chairman of the Burnley & District Sunday League.
Trevor, also a referee and a good one at that, wrote to the Burnley Express to point out that all the local leagues were against it and that it was totally unfair when the town's amateur footballers were making such a contribution in fees towards the upkeep of the pitches.
Mr Little, who went on to become a Football League linesman, urged the council to think again and look for another venue rather than kick the town's young people into touch again.
There might not have been a game of football but there was certainly plenty of football news.
Huddersfield requested a postponement when a flu epidemic hit them. It was reported that it had affected seven of the first team squad and their secretary Mr Bill Brook presented ten medical certificates to the Football League, delivering them personally to their Lytham St. Annes headquarters.
The League backed the Yorkshire club and that left the Clarets with no game which might not have been a bad thing for one supporter Derek Pepper who wrote to the Burnley Express. Despite the Clarets being top of the league and having only lost once, he penned a somewhat negative letter to the Burnley Express.
"If they go up the Clarets will really struggle in Division One. The present team is just not good enough to do well at the top level and if they do go up they'll never be more than a bottom of the table club."
Hinting that we'd be better off not winning promotion than struggling in the First Division, he ended by saying: "So you Clarets fans had better make the most of this present success because it won't last."
Even sports editor Peter Higgs was stunned and, in reply, said: "Some people are never satisfied."
Second Division we might be but news came that we were to entertain a First Division club in the FA Cup having been pulled out of the hat to play Liverpool, the First Division league leaders. The Turf Moor game would be in January.
The news in the Second Division on the Saturday wasn't too bad for Burnley. We started the day three points ahead of QPR and that was only reduced by one point as the London club were held to a draw by Luton at Kenilworth Road.
The big game in Lancashire was that between rivals Preston and Blackpool at Deepdale who started the day in fifth and third places respectively. Blackpool were 3-0 winners with Alan Ainscow getting a hat trick for himself. The win moved Blackpool ahead of QPR on goal average into second place but Preston it was down to sixth.
We were off to Bristol City for the next game. They'd only one once at home all season but had won six times on the road. They too had been without a game after their home game against Bristol City was called off.
Second Division Results
Saturday 9th December 1972
CARDIFF CITY 4 SHEFFIELD WEDNESDAY 1
HULL CITY 1 CARLISLE UNITED 1
LUTON TOWN 2 QUEENS PARK RANGERS 2
MIDDLESBROUGH 0 NOTTINGHAM FOREST 0
MILLWALL 1 SWINDON TOWN 1
ORIENT 1 BRIGHTON & HOVE ALBION 0
OXFORD UNITED 0 FULHAM 0
PORTSMOUTH 2 SUNDERLAND 3
PRESTON NORTH END 0 BLACKPOOL 3
Burnley's Goalscorers (League Only)
10: PAUL FLETCHER
8: LEIGHTON JAMES
6: MARTIN DOBSON
4: DAVE THOMAS
3: FRANK CASPER
2: COLIN WALDRON
1: DOUG COLLINS
Second Division Goalscorers
12: DON GIVENS (QUEENS PARK RANGERS)
10: PAUL FLETCHER (BURNLEY),VIC HALOM (LUTON TOWN), STUART PEARSON (HULL CITY)
9: ALAN AINSCOW (BLACKPOOL), STAN BOWLES (CARLISLE UNITED & QUEENS PARK RANGERS),
HUGH CURRAN (OXFORD UNITED)
8: ALAN GOWLING (HUDDERSFIELD TOWN), LEIGHTON JAMES (BURNLEY),
BRIAN JOICEY (SHEFFIELD WEDNESDAY), BOBBY OWEN (CARLISLE UNITED), ALF WOOD (MILLWALL)
7: GORDON BOLLAND (MILLWALL), STEVE EARLE (FULHAM), JOE LAIDLAW (CARLISLE UNITED),
JOHN LATHAN (SUNDERLAND), JOHN MITCHELL (FULHAM),
BERT MURRAY (BRIGHTON & HOVE ALBION), STEVE PEPLOW (SWINDON TOWN),
DON ROGERS (SWINDON TOWN), RAY TREACY (SWINDON TOWN)
The League Table
Team
pld
w
d
l
f
a
pts

BURNLEY

20

10

9

1

34

19

29

BLACKPOOL

21

10

7

4

35

21

27

QUEENS PARK RANGERS

21

9

9

3

37

26

27

ASTON VILLA

20

9

6

5

21

18

24

LUTON TOWN

20

9

5

6

28

23

23

PRESTON NORTH END

21

9

5

7

20

18

23

MIDDLESBROUGH

21

8

7

6

20

23

23

OXFORD UNITED

21

9

4

8

26

22

22

SHEFFIELD WEDNESDAY

22

8

5

9

36

34

21

BRISTOL CITY

21

7

7

7

25

26

21

NOTTINGHAM FOREST

21

7

7

7

22

26

21

FULHAM

20

6

8

6

26

24

20

SWINDON TOWN

21

6

8

7

29

31

20

CARLISLE UNITED

20

7

5

8

27

26

19

HULL CITY

21

6

7

8

28

27

19

HUDDERSFIELD TOWN

21

5

9

7

19

24

19

MILLWALL

21

7

4

10

27

26

18

ORIENT

21

5

8

8

20

26

18

SUNDERLAND

20

5

7

8

26

32

17

CARDIFF CITY

20

7

3

10

26

33

17

PORTSMOUTH

21

5

5

11

22

31

15

BRIGHTON & HOVE ALBION

21

2

9

10

23

41

13