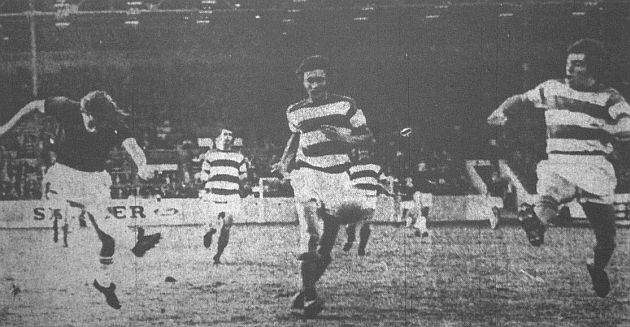 Dave Thomas in action for Burnley against his new club QPR just weeks before the transfer
The Thomas sale had caused all sorts of ructions. The Burnley fans weren't at all happy at the sale of the very much in form player, particularly to a team only just below us in the table and now Revie, who had once described him as the most exciting prospect in Europe, had stuck his two penneth in.
It was thought that when Thomas did move on it would be to the First Division and most likely to Leeds. Revie spoke about his disappointment at not getting him and confirmed that Leeds had made a higher offer for him as far back as May 1971.
"It is bound to unsettle a player when Mr Revie makes remarks such as he did about Thomas," blasted Lord. "Right up until the time he was transferred, Thomas was expecting to go to Leeds. There are more ways than one to unsettle a player."
Revie had also accused Burnley boss Adamson of being childish. Lord said he was too clever by half and retorted: "As far as Mr Revie saying Mr Adamson is childish, he is entitled to his own opinion, but we could call Mr Revie a few things.
"He would be far better off keeping his trap shut and in future we don't want to do business with them."
It was all very typical Bob Lord, some would say, but Adamson joined in too. He claimed Revie had never made an offer, only an inquiry. "Don Revie never made an offer for David Thomas. I don't tell lies," said the Burnley boss.
"There is a difference between an inquiry and an offer. I repeat the bid from Queens Park Rangers was the only concrete offer we received."
As for the fans believing we'd weakened our team and strengthened that of a rival, Adamson added: "I only sell the players I want to sell. Thomas wanted to go and it is no good keeping players if they won't play for you.
"I don't think I have weakened the pool tremendously by selling Thomas. I am happy with the three players I have in midfield. In fact, the present trio could be the better blend.
"Although Geoff Nulty does not have as much natural ability as Thomas, he works very hard and is good in the air. He has tightened up the back four tremendously. However, it is wrong to compare Nulty and Thomas. Nulty has taken over Martin Dobson's role as ball winner in midfield, giving Dobson more room to take over the role carried out by Thomas."
One of Thomas's former team mates, Paul Fletcher didn't expect the future England winger to pitch up at Loftus Road. "I was surprised he went to a Second Division club. I think he expected to go to the First Division after all the talk.
"I wish him all the best and hope he does well. He must be confident that Rangers have a good future, and if they go up it could be a great move for him."
Never had a transfer caused quite a stir. There were suggestions that Lord had refused to sell Thomas to Leeds, a club for whom he had little affection, and that the deal with QPR had been done before the player knew anything about it.
Burnley were top of the league and that, above all else, allowed the club to get away with this sale with the fans.
As for Burnley never doing business with Leeds again, it wasn't many years before we sold both Ray Hankin and Brian Flynn to them. Did Revie keep his trap shut? I doubt it.