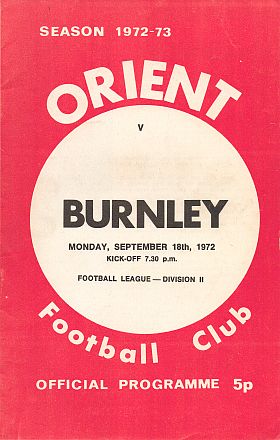 Don't pay your rent was the message for the town's council tenants from Mr J. J. Whittaker of Burnley Trades Council as problems over the rent increase brought about by Government, escalated.
"I tried to advise them not to pay their rents at all, and I called at every house on my estate and collected 800 signatures for our petition," Whittaker said. Meanwhile, treasurer Mr H Dickinson suggested forming a tenants' association, something fully supported by Councillor J. Meakin.
Forms sent out to tenants were for an increase of £1 from the beginning of October and the council confirmed they were still awaiting a reply from the Department for the Environment on their application not to impose the full amount, preferring to make an increase of 75p per week.
Director of Housing, Mr G. Fitzpatrick, said that there was no need to fill in the form if there was no chance of qualifying for a rebate, but all tenants were being urged to fill them in and return them.
They were better off than some old folk who lived in flats on Zion Street, just off Padiham Road. The flats had been opened less than ten years earlier in a ballyhoo of publicity and old people, many from clearance areas, had become the first tenants.
Now, after being promised those flats for the rest of their lives, they were being forced to move again with news that these costly flats were to be bulldozed, along with the rose bushes planted alongside them, to make way for the new Westgate Link.
One lady, aged 90, said she didn't feel up to making another move. "I don't think it is right that people of my age should have to move. My big worry now is where I shall go.
Another lady, much younger at 72, added: "All because of a motorway that nobody wants. It will be of no benefit to us at all."
The council and tenants were really at war, and there were more problems amongst those living in the Towneley Smallholdings after Alderman Thomas Gallagher claimed they weren't being kept up to the required standard, claiming that only two tenants were worthy of being there.
One couple, Mr and Mrs Lawson, hit out. In a letter to the Burnley Express they wrote: "Seemingly Mr Gallagher believes in adding insult to injury. To say that only the two market gardens are kept up to standard is absolutely ridiculous.
"It is about time he took a personal look at the situation. We have been here for 12 years, and improved what was a run-down smallholding beyond recognition. During the whole of that time not one tenancy has needed to be terminated."
The Lawsons kept 200 pigs and the letter continued: "Why has making a living from keeping pigs, clean, intensively, and without undue odour, to be scorned by Mr Gallagher, and in any case you can't expect a pig farm to be as nice as a flower garden."
Some women do have the best of husbands and that was the definitely the case for Mrs Welsby, whose husband I can confirm was not called Elton or Roger. Mr Welsby wanted to surprise his wife on her birthday with a special present and really wanted to give her a new car.
She was thrilled when he did just that but there was one problem; he'd nicked it from Skipper's. Rather than get a trip out in the car he ended up in the dock and was sentenced to a suspended six month prison sentence.
He was also fined £5 for driving it on a provisional licence, a further £2 for not displaying "L" plates. He'd tried to buy a car earlier in the day but didn't have the finance, the court was told, so he returned an hour later and just took one.
There was more entertainment on offer for Burnley folk with the opening of a new bingo arcade in town. There were not only exciting prizes, such as food hampers, toys, cutlery and joints of meat but also free gifts.
For those playing at 11 o'clock on a Friday morning or at 2 o'clock on a Tuesday afternoon there was a free pair of nylon tights, but get there at 11 o'clock on a Saturday morning and you got free eggs and Blueband margarine.
There was no bingo for me. I'd been to Hull on the Saturday and left Boothferry Park immediately for London with two friends, two I still have the (mis)fortune to sit with for home games at the Turf. It was a good couple of days but we still couldn't find a win as we returned from Brisbane Road with another 1-1 draw, our third such result in nine days.
It could have been worse too. For much of this game we were behind and only an 87th minute goal from Frank Casper, his third of the season, saw us rescue a point.
We started on the front foot and Leighton James all but set up Martin Dobson in the first attack of the game, but Orient were soon into their stride. They won two corners, which came to nothing, and then forced Alan Stevenson into a brilliant save to deny Phil Hoadley who struck a powerful free kick.
It wasn't looking good when Orient won a third corner and this time they made it count. With only seven minutes gone. they played the flag kick back to Bobby Arber who chipped the ball into the box for Barrie FAIRBROTHER to head home.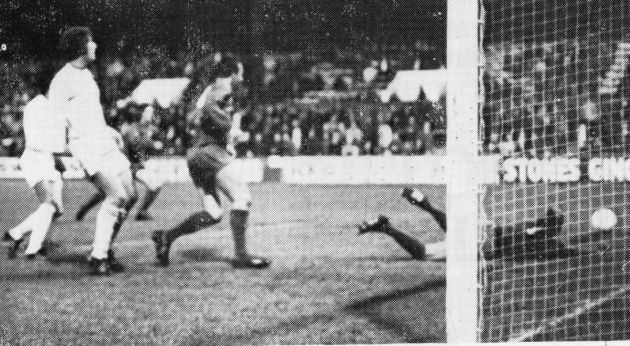 Martin Dobson goes close during the first half
It certainly sparked us into life. Dobson headed over almost from the restart and then both Paul Fletcher , who headed over, and James, whose shot was brilliantly punched away by goalkeeper Ray Goddard, came close.
There was only one team in it now and Fletcher thought he'd grabbed a leveller only to see it hacked away from someone near the line. It wasn't all one way traffic but by half time the scoreline of 1-0 certainly wasn't a reflection of the play.
After the break we never got our game going in the way we had in the first half and Orient came much more into the game. Doug Collins missed a chance but more than once we were thankful to Stevenson, who had made his Burnley debut at Orient in the previous season, for keeping the score at 1-0.
It looked as though we were heading for our first defeat of the season but with three minutes remaining Collins got in a cross that CASPER converted in what proved to be the last decisive action of the night.
The point, on a Monday night, was enough to take us back to the top of the league. There were games to be played on the Tuesday and Wednesday but with previous leaders Aston Villa not playing and Sheffield Wednesday losing at Oxford it meant we were still top when all the midweek games had been played.
Two draws away might not have been perfect, but it was now seven games without defeat, and that represented a good start to the season. We now needed to make that count with two home games, the first of which was five days later against Blackpool.
The teams were;
Orient: Ray Goddard, Bobby Arber, Phil Hoadley, Tom Walley, Paul Harris, Peter Allen, Derrick Downing, Terry Brisley, Mickey Bullock, Barry Dyson, Barrie Fairbrother. Sub: Riddick.
Burnley: Alan Stevenson, Mick Docherty, Keith Newton, Martin Dobson, Colin Waldron, Jim Thomson, Dave Thomas (Geoff Nulty 70), Frank Casper, Paul Fletcher, Doug Collins, Leighton James.
Referee: Mr I. P. Jones (Glamorgan).
Attendance: 4,924.
Hugh Curran it was who scored the winner for Oxford against Sheffield Wednesday. Not only did that goal ensure we were top, it also brought Oxford level on points with us, Villa and Wednesday, with our goal average the best.
There was a change at the bottom of the league when Millwall won 3-1 at Brighton. That result had dumped Cardiff at the bottom, a point behind four other clubs.
Brian Joicey remained the league's leading scorer with 7 goals with Peter Spiring of Bristol City with 5. Behind them were nine players with 4 goals including Leighton James, ex-Claret Willie Irvine (Brighton) and future Claret Dennis Tueart (Sunderland).
Second Division Results
Monday 18th September 1972
ORIENT 1 BURNLEY 1
Tuesday 19th September 1972
HUDDERSFIELD TOWN 1 SWINDON TOWN 1
MIDDLESBROUGH 0 PRESTON NORTH END 0
NOTTINGHAM FOREST 2 CARDIFF CITY 1
QUEENS PARK RANGERS 1 BRISTOL CITY 1
Wednesday 20th September 1972
BRIGHTON & HOVE ALBION 1 MILLWALL 3
FULHAM 2 HULL CITY 0
OXFORD UNITED 1 SHEFFIELD WEDNESDAY 0
Burnley's Goalscorers (League Only)
4: LEIGHTON JAMES
3: FRANK CASPER, DAVE THOMAS
2: PAUL FLETCHER
1: DOUG COLLINS, MARTIN DOBSON
The League Table
Team
pld
w
d
l
f
a
pts

BURNLEY

8

3

5

0

14

7

11

OXFORD UNITED

8

5

1

2

12

7

11

ASTON VILLA

7

5

1

1

10

6

11

SHEFFIELD WEDNESDAY

9

5

1

3

16

12

11

LUTON TOWN

7

5

0

2

10

5

10

NOTTINGHAM FOREST

8

4

2

2

7

7

10

BLACKPOOL

7

3

3

1

11

6

9

QUEENS PARK RANGERS

7

2

5

0

14

9

9

SUNDERLAND

7

3

3

1

9

7

9

HUDDERSFIELD TOWN

8

3

3

2

9

10

9

PRESTON NORTH END

8

3

2

3

6

6

8

SWINDON TOWN

9

2

3

4

10

14

7

MIDDLESBROUGH

8

2

3

3

7

12

7

CARLISLE UNITED

7

2

2

3

11

7

6

BRISTOL CITY

8

1

4

3

9

11

6

FULHAM

7

2

2

3

8

11

6

HULL CITY

8

2

2

4

7

10

6

PORTSMOUTH

7

2

1

4

7

8

5

MILLWALL

8

2

1

5

9

11

5

BRIGHTON & HOVE ALBION

8

1

3

4

10

17

5

ORIENT

8

1

3

4

5

9

5

CARDIFF CITY

8

2

0

6

7

16

4