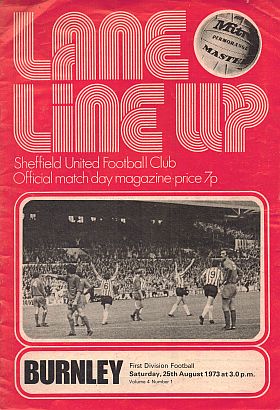 Not everyone in Burnley was having the best of times and there were disputes at two of the town's major employers. Thankfully, the industrial conflict at Prestige was finally nearing a solution as unions and management came close to an agreement, but it was a different story at Michelin.
A mass meeting of more than 400 workers had threatened to hold a series of one day strikes unless management agreed to a new negotiating committee combining all of their UK factories. A lightening strike at the Colne Road factory saw over 700 shop floor workers walk out.
The threat was that if management didn't recognise this national body by 12th September then workers throughout the country would strike every Wednesday from the following week with tougher action to follow if they had no effect.
The district secretary of the Transport and General Workers' Union Mr Frank Murray explained: "We don't intend to continue the one day stoppages indefinitely. If management still ignore us we will have to think of other measures."
Meanwhile some of Burnley's older folk weren't getting too far with their attempts to get bus passes. In 2013 I'm still waiting for mine despite being just five months away from my 62nd birthday.
I've only another ten weeks or so to wait but in 1973 the concessionary passes were not available until you reached the age of 70, and then they only entitled you to half price fares and only locally.
There had been a campaign for the age to be reduced to 65 for men and 60 for women but the Burnley Town Council Finance Committee was told that this would double the number of people using passes.
And it was revealed that the financial impact of lowering the age limit would increase Burnley's present bill of £22,280 to £64,470. It was also confirmed that the Burnley, Colne and Nelson undertaking was already losing on the deal to the extent of £2 per pass every year.
Alderman Dick Newlove suggested that the matter should be one for consultation between the new Pendle and Burnley districts which would come into force in 1974.
During last season I reported that the chip shop in Scarlett Street Burnley had been visited by inspectors In January 1973 who had found dirt and grease on floors, walls and cooking utensils, rubbish strewn about and a soiled nappy on the floor in the food room which could pose some serious problems for owner Wong Tim Chan.
In August he was visited by two public health inspectors for further inspection of the premises and on this occasion he became violent when told the required standards had not been met. He attacked one of the inspectors with a stool (the kind of stool you would sit on).
He warned the other: "Do you want to die? I have a gun." Mr Wong Tim Chan, aged 30, was charged with assaulting the inspectors and with seven summonses against health regulations. He pleaded guilty to all the charges and was ordered to pay a total of £205 in fines and costs.
I suppose after all that in court he rushed home to get the shop open for the tea time trade.
Fears for the future of the Calder Valley Motorway (M65), Burnley's lifeline to the future, were aroused when the town's Financial Committee was told of Government intentions to cut drastically its financial aid to local authorities.
Alderman J. A. Smith was shocked. "Make no mistake we about it. We are going to get cut and cut drastically as far as the local authority is concerned," he said.
"I am tired of getting Government orders that say full speed ahead and then, when this is done, you get the brakes slapped on again."
Councillor Wilfred Roberts said that the motorway scheme had reached the point of no return and declared: "It has got to continue. We have street after street bricked up with only one or two families left behind. We cannot delay this scheme or we will be in a right mess."
One poor chap went climbing and perched himself 140 feet up on the top of the mill chimney of the Diana Cowpe organisation in Casterton Avenue. He refused all pleas to come down until police sent steeplejacks up to him.
He told the steeplejacks that he felt ill and wouldn't come down until they got a doctor for him. When a doctor arrived he agreed to come down but I'm sure he'd have been better off just making an appointment at the surgery.
Ahead of the trip to face Sheffield United, Burnley Football Club released the first image of the new club badge. It wouldn't appear on the players' shirts but had been trademarked by the club and would remain the club badge for the next 37 years.
Manager Jimmy Adamson confirmed that he wouldn't name his line up until just before kick off but the players left for Sheffield on the Friday.
Meanwhile, some supporters planning to go had those plans scrapped at the eleventh hour when Central Motors, who had taken Burnley supporters to away games for years, announced that, following the vandalism at Manchester City, they would not be running any of their coaches to Bramall Lane.
In a late statement they said: "Owing to the increase in vandalism experienced on the Manchester excursion coaches last week we feel we have no alternative but to cancel the advertised trip to Sheffield.
"We apologise to the majority of our passengers whose pleasure has been ruined by the actions of the undisciplined minority and assure them that we are making every effort to re-introduce these football excursions at the earliest opportunity with stricter supervision and reservation of seats."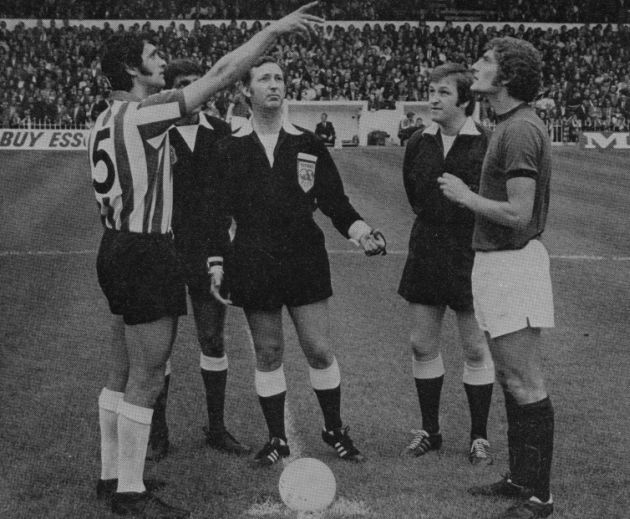 Good to be back - the two captains ahead of kick off
That was a blow to me. I was booked on one of the coaches, but thankfully I got a lift and made it to Bramall Lane in good time to join in with the new chant of "Hello, hello, good to be back" It was good to be back and how relieved I was that I didn't miss this fantastic start to the season on a ground that was still, up to days before, being used for county cricket.
By the time the final whistle blew it was easy to tell the difference between Burnley and Sheffield United supporters as they streamed out, just by looking at their faces. The first game was over but to look at the excited Burnley fans you would think the championship had been won. And it was so easy to understand why.
Burnley's last experience of First Division football was to creep out unhappily after inevitably losing a relegation struggle. But Burnley were back, and how! There was nothing timid or inferior about the way Burnley set about their new era back in the top flight. They stepped out with a conviction and purpose which promised so much for the future.
Jimmy Adamson had once again stuck with the starting eleven that had served Burnley so well in the promotion season, but it was new man Peter Noble rather than Billy Ingham who took the substitute role, and it proved to be very significant for the former Swindon player for the remainder of the season.
Burnley, who stunned their supporters as they turned out in royal blue shirts with claret trim, white shorts and claret socks, were the better of the two teams, there can be no doubt about that. Sheffield United impressed at times with some slick approach work but they could not match Burnley where it mattered, in the two penalty areas.
We had to wait until just past the half hour for the opening goal. It all came about when Leighton James went on a blistering run only to be halted by home defender John Flynn with a crude challenge.
It looked as though we'd got a penalty but referee Burns awarded a free kick outside the box in an almost identical position to the one from which Colin Waldron scored the winning goal in the FA Charity Shield a week earlier against Man City.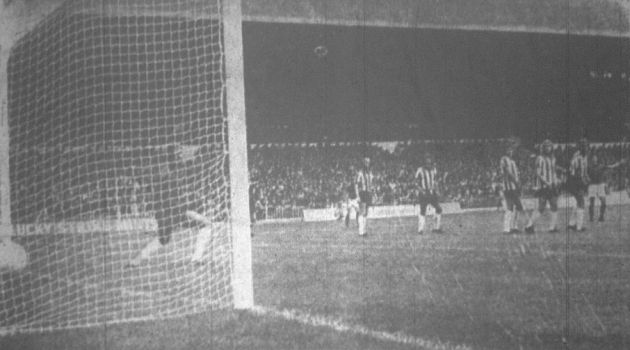 Doug Collins scores Burnley's first goal back in the First Division
This time Frank Casper tapped the ball sideways to Doug COLLINS whose left foot shot flicked off the end of the defensive wall and left goalkeeper Tom McAllister stranded.
That lead was doubled three minutes before half time. The build up came down the right. Casper played the ball inside to James who rolled it into the path of Martin DOBSON about five yards outside the penalty area.
The Burnley skipper, coming in at some pace, hit a right foot shot into the bottom corner, a perfect example of power and timing.
The game was won and for the second time in a week we'd also kept a clean sheet against a First Division club. Alan Stevenson had done all that had been asked of him, making some brilliant saves, and in front the back four of Mick Docherty, Waldron, Jim Thomson and Keith Newton had been exceptional.
The home side lost their discipline somewhat with Len Badger being booked for a bad foul on Collins, and with just seven minutes remaining came the only sour note for Burnley.
Docherty was fouled by Tony Currie and his first league game since he was stretchered off at Huddersfield in the promotion season ended the same way. There were just seven minutes remaining with Noble having to come on and fill in at right back.
We'd Chelsea at home on the following Tuesday with hope that Doc would be fit. Billy Ingham would probably fill in if not.
Manager Adamson just said briefly: "The players don't need me to tell them they played well. They know they were worthy winners and this will make them approach Tuesday's match against Chelsea with added confidence."
The teams were;
Sheffield United: Tom McAllister, Len Badger, Ted Hemsley, John Flynn (Scullion 70), Eddie Colquhoun, Keith Eddy, Alan Woodward, Geoff Salmons, Bill Dearden, Tony Currie, Jim Bone.
Burnley: Alan Stevenson, Mick Docherty (Peter Noble 83), Keith Newton, Martin Dobson, Colin Waldron, Jim Thomson, Geoff Nulty, Frank Casper, Paul Fletcher, Doug Collins, Leighton James.
Referee: Mr K. H. Burns (Wordsley).
Attendance: 25,803.
Arsenal were the biggest winners of the day, beating Manchester United 3-0 at Highbury with goals from Ray Kennedy, John Radford and Alan Ball. And three players got off to a good start with two goals, they being Derek Dougan, Denis Law and Malcolm MacDonald.
First Division Results
Saturday 25th August 1973
ARSENAL 3 MANCHESTER UNITED 0
COVENTRY CITY 1 TOTTENHAM HOTSPUR 0
DERBY COUNTY 1 CHELSEA 0
IPSWICH TOWN 1 LEICESTER CITY 1
LEEDS UNITED 3 EVERTON 1
LIVERPOOL 1 STOKE CITY 0
MANCHESTER CITY 3 BIRMINGHAM CITY 1
QUEENS PARK RANGERS 1 SOUTHAMPTON 1
SHEFFIELD UNITED 0 BURNLEY 2
WEST HAM UNITED 1 NEWCASTLE UNITED 2
WOLVERHAMPTON WANDERERS 3 NORWICH CITY 1
Burnley's Goalscorers
1: DOUG COLLINS, MARTIN DOBSON
First Division Leading Goalscorers
2: DEREK DOUGAN (WOLVERHAMPTON WANDERERS), DENIS LAW (MANCHESTER CITY), MALCOLM MacDONALD (NEWCASTLE UNITED)