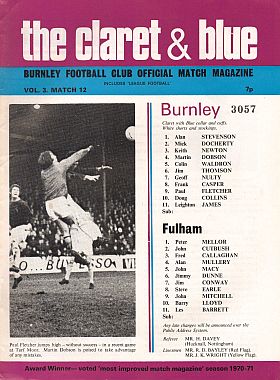 It was nice to read in the Burnley Express of the time how a pensioner's Christmas was made extra special because of the care and consideration of neighbours and in particular two young girls who lived close by.
Mr Jimmy Saville of Burnley was aged 80 and bedfast and it didn't look as though it was going to be the best Christmas ever for him and his wife Grace. Then came the kindness with food parcels and gifts, and visits to them during the festive season. "People have been very kind, sending things we would never have dreamed of," said Mrs Saville.
The customers at the Griffin pub in Burnley, now the premises for a local funeral director, were celebrating the wedding of Annette Howarth, daughter of the licensees Albert and Edith Howarth.
Annette had tied the knot with Luton goalkeeper Keith Barber and that brought a flood of Burnley's Second Division rivals to town to celebrate the wedding including the league's top goalscorer Don Givens from QPR.
There must have been something about goalkeepers and that family because Annette's sister married Burnley goalkeeper Jeff Parton.
Local theatre had received a boost with two stalwarts now doing well having turned professional. Norman Ghent, an outstanding pianist, had landed the role of musical director for the 'Babes in the Wood' pantomime at the Hoe Theatre in Plymouth.
Treading the professional boards in 'The Mandrake' at Hull was a former member of the Highcliffe Players. That was Malcolm Hebden who had also recently made a television debut in Crown Court.
He was making a big name for himself in the world of acting and now, of course, forty years later, remains as one of Coronation Street's leading characters Norris Cole.
Acting and the town's problems with vandals came together when a group of teenagers staged a rock musical in the market square. Everything was going well and a large audience was attracted when four eggs were thrown at them from the market precinct balcony by local skinheads, forcing the police to be called.
One hit a girl performer in the face and another hit a passing shopper. Paul Patrick, organiser of the event, said: "I felt sorry for the people who were hit, but when the police stopped them from throwing any more we sang even louder and people became even more cheerful. We were disrupted for a few minutes, but took no notice of them."
As Burnley prepared for the visit of Fulham, supporters learned that the FA Cup tie against Liverpool would not be shown on television. Hopes had been high that the BBC would select it as one of their games for the Match of the Day programme, and indeed they had done just that, although in 1972 it was not permissible to release information as to which fixtures had been selected ahead of kick off.
However, Burnley FC chairman Bob Lord refused permission for them to screen the game although he was quick, in the face of heavy criticism, to state that the club had not introduced a policy to ban all future televising of matches from Turf Moor.
"We shall treat each case on its merits," he said. "This decision was made through the application of commonsense. Our view is that there is too much football on television. What we are getting in return from the television companies does not make it worthwhile.
"We are being consistent with our views by making this stand against football on television. Now we shall see if any other clubs follow our example."
Lord believed that, without highlights being shown on Match of the Day, we would get an attendance of around 38,000 but that with the coverage we could not expect any more than 22,000.
"We are sorry about older people who cannot attend the match and would like to see it on television, but we cannot run the club properly and give money away," he added.
No other club supported Burnley's stance with Turf Moor the only ground where the television cameras were not made welcome.
Having dropped a point in the pre-Christmas home game against Oxford, Burnley were hoping to end 1972 with a home win against Fulham.
It didn't work out like that with the visitors scoring a late equalising goal but Burnley could have no complaints about being held to another draw in a game we could so easily have lost.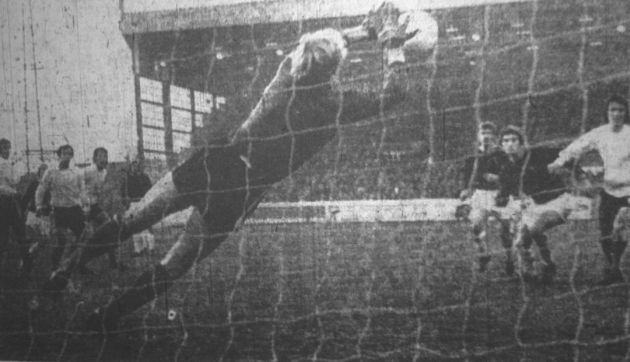 Peter Mellor saves a Doug Collins free kick
Fulham proved to be one of the best teams to have been to the Turf in the first half of the season and had they gone home with nothing it would have been a rank injustice in a game where the Clarets were very thankful to goalkeeper Alan Stevenson.
We found ourselves a goal behind within five minutes of the start. Fulham had taken the game to us and a run by Les Barrett forced Mick Docherty to give away a corner. Barrett took it and Paul WENT rose high above the Burnley defence to head home.
A goal up and Fulham took control. Prompted by Alan Mullery and Barry Lloyd from the midfield they gave Burnley a lot to think about, but Stevenson was very much the hero in what was a sensational display of goalkeeping.
He kept out efforts from both John Mitchell and Barry Lloyd, with the third to deny Mullery the best of the lot.
All Burnley could show in reply was a Paul Fletcher header from a Doug Collins free kick that was saved by former Burnley goalkeeper Peter Mellor.
Then, against the run of play, Burnley equalised with seven minutes of the first half remaining. Collins looked to have nowhere to go when he found himself surrounded by three defenders by the left corner flag, but he took them on, beat all three of them and crossed the perfect ball for Geoff NULTY to head home his first goal of the season.
It was just what we wanted. We played well for the remainder of the half and took that into the second half. This time it was Mellor being asked all the questions and he saved efforts from Nulty and Dobson before getting to a Docherty cross just ahead of Fletcher.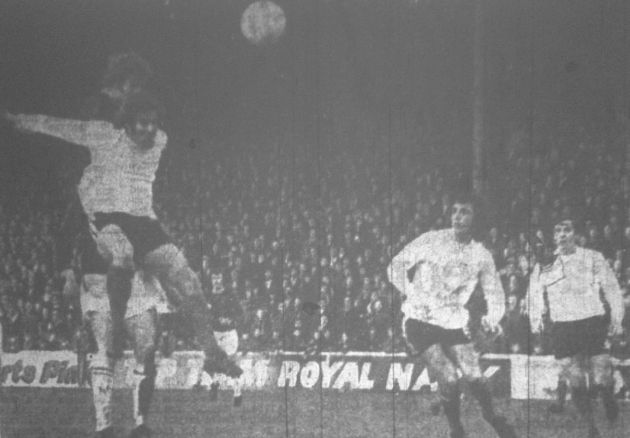 First goal of the season for Geoff Nulty
We were looking the more likely now and got ourselves in front with 18 minutes remaining. Docherty robbed Barrett of the ball which then ran loose to substitute Mike PENTECOST who, from the corner of the penalty box tried to find Mellor but succeeded only in placing the ball into his own net.
Burnley eased off, thinking the game was won, but with just a minute remaining gave away a free kick just outside the penalty area. Mullery played the free kick into the box, we half cleared it but it came back in and from a scramble it was Jim CONWAY who turned the ball into the net to win Fulham a point.
Burnley's biggest crowd of the season had been treated to a very enjoyable game of football but for the majority of them it was not the result they wanted.
Chief coach Joe Brown said: "We were thankful for a point. Fulham played very well, particularly in the first half hour when only the brilliance of Alan Stevenson kept us in the game."
He added: "That second goal of theirs should never have gone in. The defence played it too casual in the closing minutes. When we have been a goal up away from home the defence has played it very tight and hardly allowed the opposition a look in.
"Yet when we get a goal ahead at home we seem to think we've won, a casualness comes into the team.
"When the score was 1-1 we went straight for goal and put Fulham under pressure. Once we had got the second goal we should have gone looking for a third. Instead the team eased off and, of course, now they are regretting it.
"Sitting watching I could sense that the game was going wrong and the opposition could sense it too. They knew that if they could get the ball up towards our goalmouth they still had a chance."
Brown was impressed with Fulham and added: "I think you would say Fulham are a prospective promotion team for next season. They came at us and weren't a bit afraid of us, unlike some teams we have played this season."
The teams were;
Burnley: Alan Stevenson, Mick Docherty, Keith Newton, Martin Dobson, Colin Waldron, Jim Thomson, Geoff Nulty, Frank Casper, Paul Fletcher, Doug Collins, Leighton James. Sub not used: Billy Ingham.
Fulham: Peter Mellor, John Cutbush, Fred Callaghan, Alan Mullery, Paul Went, Jimmy Dunne, Jim Conway, Steve Earle, John Mitchell, Barry Lloyd (Mike Pentecost 45), Les Barrett.
Referee: Mr H. Davey (Hucknall).
Attendance: 15,477.
Despite the dropping of a point we actually increased our lead at the top of the table courtesy of Sheffield Wednesday's 3-1 win against QPR. They were now four points behind us with Blackpool and our next opponents Aston Villa a further two points away.
Hopes were high going into 1973 but we still had difficult games to come with a visit to QPR to follow that to Villa Park in January. Only one defeat in 24 games was a very good record to take into the remainder of the season.
Second Division Results
Friday 29th December 1972
CARDIFF CITY 0 PORTSMOUTH 2
Saturday 30th December 1972
BRIGHTON & HOVE ALBION 1 BLACKPOOL 2
BURNLEY 2 FULHAM 2
HUDDERSFIELD TOWN 1 ASTON VILLA 1
MIDDLESBROUGH 1 OXFORD UNITED 0
MILLWALL 3 BRISTOL CITY 0
PRESTON NORTH END 2 LUTON TOWN 0
SHEFFIELD WEDNESDAY 3 QUEENS PARK RANGERS 1
Burnley's Goalscorers (League Only)
10: PAUL FLETCHER
8: LEIGHTON JAMES
7: MARTIN DOBSON
5: FRANK CASPER
4: DAVE THOMAS
3: FRANK CASPER, COLIN WALDRON
1: DOUG COLLINS, GEOFF NULTY, OWN GOALS
Second Division Goalscorers
15: DON GIVENS (QUEENS PARK RANGERS)11: BOBBY OWEN (CARLISLE UNITED)
10: ALAN AINSCOW (BLACKPOOL), PAUL FLETCHER (BURNLEY),
ALAN GOWLING (HUDDERSFIELD TOWN), VIC HALOM (LUTON TOWN),
BRIAN JOICEY (SHEFFIELD WEDNESDAY), STUART PEARSON (HULL CITY), ALF WOOD (MILLWALL)
9: STAN BOWLES (CARLISLE UNITED & QUEENS PARK RANGERS), HUGH CURRAN (OXFORD UNITED),
JOHN GALLEY (BRISTOL CITY & NOTTINGHAM FOREST), JOE LAIDLAW (CARLISLE UNITED)
8: GORDON BOLLAND (MILLWALL), TOMMY CRAIG (SHEFFIELD WEDNESDAY),
STEVE EARLE (FULHAM), LEIGHTON JAMES (BURNLEY), JOHN MITCHELL (FULHAM),
RAY TREACY (SWINDON TOWN)
The League Table
Team
pld
w
d
l
f
a
pts

BURNLEY

24

12

11

1

40

23

35

QUEENS PARK RANGERS

24

11

9

4

43

31

31

BLACKPOOL

25

11

7

7

39

40

29

ASTON VILLA

24

10

9

5

27

23

29

OXFORD UNITED

25

11

5

9

31

24

27

LUTON TOWN

24

10

7

7

31

27

27

SHEFFIELD WEDNESDAY

26

10

7

9

43

38

27

PRESTON NORTH END

25

10

7

8

26

27

27

FULHAM

24

8

10

6

34

29

26

MIDDLESBROUGH

25

9

8

8

22

27

26

HULL CITY

24

8

8

8

35

30

24

NOTTINGHAM FOREST

24

8

8

8

29

31

24

BRISTOL CITY

25

8

8

9

29

33

24

CARLISLE UNITED

23

9

5

9

38

29

23

MILLWALL

25

9

5

11

33

29

23

SWINDON TOWN

24

6

10

8

32

35

22

PORTSMOUTH

25

7

7

11

26

32

21

HUDDERSFIELD TOWN

23

5

10

8

21

28

20

SUNDERLAND

21

5

8

8

26

32

18

CARDIFF CITY

23

7

4

12

27

37

18

ORIENT

24

5

8

11

21

31

18

BRIGHTON & HOVE ALBION

25

2

9

14

26

53

13