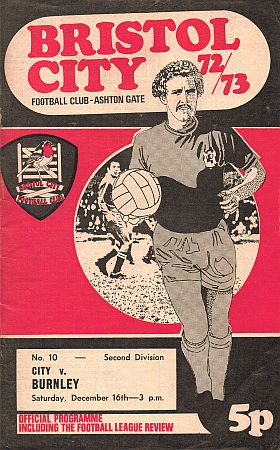 Some residents whose homes were due for demolition to make way for the new Calder Valley fast route suffered a massive blow when they received offers of just £50 for them. MP Dan Jones described it as insulting and advised them not to sell yet.
He said: "I have seen the valuations put on these homes by professional people - solicitors, valuers and estate agents. It is insulting that they should be offered a derisory £50 for their homes. It has to be remembered that these people do not want to move, it is being forced upon them."
On telling residents to wait before doing anything, Jones added: "I have written to the Minister for Transport Industries asking three things. The first is for the exact line of the road in the Rosegrove area.
"The second is that if this information cannot be released now, what are the reasons for the delay. And, thirdly, I have asked for a clear definition and evaluation of the new moves the Government has announced, to their credit, to provide better compensation for people forced to move because of new road schemes.
"I am not prepared to stand idly by and see a cold beaurocracy at County Hall dictate abysmal terms of compensation to these people, while the Government are considering proposals to make them more generous.. These matters are supposed to be judged on market value and can anyone seriously tell me that £50 can be the market value of any house in these days when house prices are far higher than ever before?"
Burnley people were being asked if they had worked under the command of Captain Mainwaring during World War II because a small fortune was waiting to be claimed by local men who had served in the Home Guard.
Mr W. H. Barnes, chairman of the Burnley and District Royal British Legion, said that £2,800 had been raised by "Dad's Army" volunteers in Burnley and was being made available to be shared between them, or their dependents, who may be in need.
Despite orders from the Captain, for anyone wishing to make a claim they would have to tell them their name, or certainly include it on the required form for consideration.
Meanwhile, the council confirmed it was the end of an era for one of the town's swimming pools with the news that Burnley Central Baths, the very place I learned to swim many years ago, was to close.
The baths, said the council, were no longer required with a new swimming pool to be part of the new Centenary Way recreation centre due to open in 1974. The problem was it would reduce facilities for schools but it was recommended that work on ventilation and heating should be carried out at North Street and Gannow Baths to enable them both to open all year round.
If some kids were going to have a trip to the baths knocked off their timetables then there were bigger problems for others with the withdrawal of the school bus running from Harle Syke and Marsden Road to Barden School.
Parents were angry and headmaster Mr D. K. Scott said: "We intend to fight this move." He was told that the boys could use the service bus but Scott retorted that the boys had been refused entry onto those buses and told they had to use the school bus, the very one being withdrawn.
Many boys would be forced to walk and Mr Scott thought that would cause major problems during the winter months.
Local cricket club Lowerhouse had problems when they applied to the council for financial aid for sports facilities aimed at teaching youngsters the sport. It was not just that they were refused but the nonsense spouted in the council chamber that upset the Lancashire League club, and with some justification.
The council decided they were a professional sports club and said that, because of that, should they make a grant payment then maybe Burnley Football Club would ask for one to buy George Best.
Lowerhouse were angry because the council would not recognise them as a voluntary body because they employed a professional (as required by the league) and took money at the gate.
The council's attitude takes some believing and they were being hit by other sportsmen too, the local amateur footballers who were getting behind local referee and league official Trevor Little in fighting against holding the Burnley Agricultural Show at the Prairie.
Players from all three local leagues signed a petition opposing the plan to restore the show to the Prairie and the petition would be handed in ahead of the full council meeting in January.
Over £500 worth of damage had been done at the show held at the Prairie in the summer of 1972 and Mr Little demanded: "As far as I am concerned the show definitely does not go on at the Prairie next year.
"If it is anything like this year, the pitches will be left as bad for next year. The pitches now are a disgrace and this is caused by Burnley Show. A decision to allow the show to go ahead will cost local football more than 35 per cent of its facilities in the town. It should not be allowed."
While Trevor fought for the Prairie pitches, Burnley had a problematic trip to Ashton Gate for the game against Bristol City and by the time they reached Ashton Gate it had taken three coaches.
The players departed on the Friday but had to pull in and wait for another coach at Hilton Park when the windscreen shattered. Coach number two got them to the hotel in Bristol but had fuel pump trouble on the Saturday so a further coach was required to get the team to the ground.
Clarets' boss Jimmy Adamson said ahead of the trip: "The players like playing at Ashton Gate. We did very well there last year and we'll be looking for a repeat performance. Let's hope we can pick up where we left off at Sunderland."
We'd won 2-0 there in the previous season at a time when the home fans were far from happy with their manager and were calling for his head. "Dicks Out! Dicks Out!" was the shout aimed at Alan Dicks with rumours that Arthur Cox, then coaching at Sunderland, was getting worried.
One year on and it was very much still Dicks in at Bristol City and he'd splashed out in the transfer market leading up to the game. He'd sold striker John Galley to Nottingham Forest for £30,000 and replaced him with Bobby Gould who had cost £70,000 to sign him from West Brom. The club secretary rushed up to the Football League headquarters in Lytham St. Annes to register the transfer in time for him to line up against Burnley for his debut.
Going into the game on the back of three successive 1-0 wins, we made it four in a game where we were, without doubt, the better side by some distance. We led from as early as the fourth minute of the game and it seemed the only way the home team could ever get back into it was through a fluke or a defensive blunder.
Earlier in the season we had been giving away soft goals, but the Burnley defence was now so secure another clean sheet came as no surprise. Such was the confidence in the defence that in the second half in particular it was a case of playing a containing game and Bristol City simply had no answer to our defensive play although it has to be said we showed little inclination to add to our solitary goal.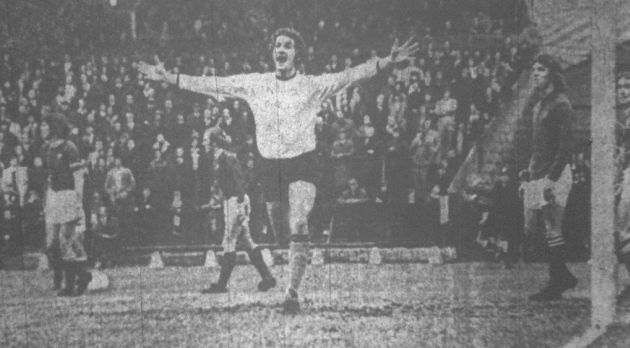 Martin Dobson celebrates his early goal
We got off to a great start and scored from the first corner of the game. Bristol City gave away the corner to stop a determined run down the left wing by Doug Collins who had played through by Keith Newton.
I don't think the goal came from a well rehearsed corner routine, or maybe it did and was one that didn't quite go to plan. Leighton James took the flag kick to the near post where Martin Dobson got in front of his marker and tried to flick the ball on.
Unfortunately, he succeeded only in heading it straight up in the air but, as the ball dropped, it was DOBSON again who this time headed the ball over a defender and into the net. Defender Brian Drysdale tried to clear the ball with his hand but the referee, right on the spot, had no hesitation in awarded a goal.
For the next half hour we totally dominated the game and really should have been further in front. Frank Casper, struggling for a goal, was in scintillating form but when he broke clear gave the goalkeeper Len Bond the chance to hold his shot.
Collins fired just over, Bond saved well from James and then from Dobson but the second goal eluded us and things could have gone the way of the home team just before half time when Peter Spiring missed out after a great recovery from Jim Thomson.
The second half was so different as Burnley opted to keep what they had although we still had the better opportunities. Paul Fletcher saw his header cleared off the line, Dobson shot just over from some 25-yards and Bond saved his best until last with a stunning save to deny Casper.
Bristol City had just one real chance but as Alan Stevenson raced out of goal, Drysdale sliced a shot wide of the post and the game ended with Bond making yet another save, this time to keep out James.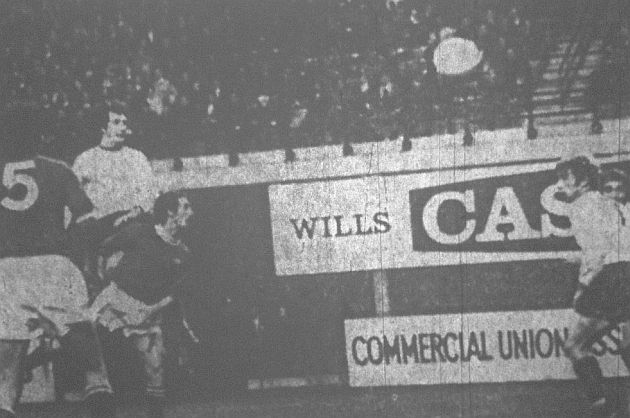 Paul Fletcher's header is cleared off the line
All the talk with the home fans had been of Gould and how he'd be too good for Burnley. He offered very little and that came as no surprise to the man marking him, Burnley's Colin Waldron.
The Bristol born defender said after the game: "I said to Jim Thomson before the game that Gould would not get a look in, and he didn't. I've played against him five or six times and he's never scored. It's not that I've had outstanding games, just that he's always looked an ordinary player to me.
"He doesn't look like a £70,000 player. I don't think he comes into that class and John Galley, the centre-forward they sold to Forest last week for £30,000 would have given us a lot more trouble so I was pleased to see Galley go and Gould arrive."
Waldron was pleased with his own form overall at the time. "At the start of the season that inconsistency seemed to have returned," he admitted. "But when you are playing in a good team you know your form will come back. That's what's happened with me."
He'd more than played his part in another good defensive display, another clean sheet for the league leaders.
The teams were;
Bristol City: Len Bond, Gerry Sweeney, Brian Drysdale, John Emanuel, David Bruton, Geoff Merrick, Trevor Taunton, Peter Spiring (Les Wilson 70), Bobby Gould, Gerry Gow, Keith Fear.
Burnley: Alan Stevenson, Mick Docherty, Keith Newton, Martin Dobson, Colin Waldron, Jim Thomson, Geoff Nulty, Frank Casper, Paul Fletcher, Doug Collins, Leighton James. Sub not used: Billy Ingham.
Referee: Mr B. H. Daniels (Brentwood).
Attendance: 15,334.
Huddersfield again had to call their game off, this time against third place QPR and with Blackpool, now second, losing at home to Sheffield Wednesday it meant we went four points clear at the top of the league and with a game in hand over the Seasiders.
We'd tough games coming up, however, and our next three away games over the next month would see us pit our wits against the three teams directly below us in the table, the other being Aston Villa who were a further point behind.
Our last pre-Christmas game was at home against an Oxford team who had moved into fifth place after a 1-0 win against Swindon.
Second Division Results
Saturday 16th December 1972
ASTON VILLA 1 ORIENT 0
BLACKPOOL 1 SHEFFIELD WEDNESDAY 2
BRISTOL CITY 0 BURNLEY 1
CARLISLE UNITED 5 BRIGHTON & HOVE ALBION 1
FULHAM 3 NOTTINGHAM FOREST 1
HULL CITY 1 CARDIFF CITY 1
LUTON TOWN 2 MILLWALL 2
OXFORD UNITED 1 SWINDON TOWN 0
PORTSMOUTH 0 MIDDLESBROUGH 0
SUNDERLAND 0 PRESTON NORTH END 0
Burnley's Goalscorers (League Only)
10: PAUL FLETCHER
8: LEIGHTON JAMES
7: MARTIN DOBSON
4: DAVE THOMAS
3: FRANK CASPER
2: COLIN WALDRON
1: DOUG COLLINS
Second Division Goalscorers
12: DON GIVENS (QUEENS PARK RANGERS)
11: BOBBY OWEN (CARLISLE UNITED)
10: PAUL FLETCHER (BURNLEY), VIC HALOM (LUTON TOWN), STUART PEARSON (HULL CITY)
9: ALAN AINSCOW (BLACKPOOL), STAN BOWLES (CARLISLE UNITED & QUEENS PARK RANGERS),
HUGH CURRAN (OXFORD UNITED)
8: GORDON BOLLAND (MILLWALL), ALAN GOWLING (HUDDERSFIELD TOWN),
LEIGHTON JAMES (BURNLEY), BRIAN JOICEY (SHEFFIELD WEDNESDAY), JOHN MITCHELL (FULHAM),
ALF WOOD (MILWALL)
The League Table
Team
pld
w
d
l
f
a
pts

BURNLEY

21

11

9

1

35

19

31

BLACKPOOL

22

10

7

5

36

23

27

QUEENS PARK RANGERS

21

9

9

3

37

26

27

ASTON VILLA

21

10

6

5

22

18

26

OXFORD UNITED

22

10

4

8

27

22

24

LUTON TOWN

21

9

6

6

30

25

24

PRESTON NORTH END

22

9

6

7

20

18

24

MIDDLESBROUGH

22

8

8

6

20

23

24

SHEFFIELD WEDNESDAY

23

9

5

9

38

35

23

FULHAM

21

7

8

6

29

25

22

CARLISLE UNITED

21

8

5

8

32

27

21

BRISTOL CITY

22

7

7

8

25

27

21

NOTTINGHAM FOREST

22

7

7

8

23

29

21

HULL CITY

22

6

8

8

29

28

20

SWINDON TOWN

22

6

8

8

29

32

20

MILLWALL

22

7

5

10

29

28

19

HUDDERSFIELD TOWN

21

5

9

7

19

24

19

SUNDERLAND

21

5

8

8

26

33

18

CARDIFF CITY

21

7

4

10

27

34

18

ORIENT

22

5

8

9

20

27

18

PORTSMOUTH

22

5

6

11

22

31

16

BRIGHTON & HOVE ALBION

22

2

9

11

24

46

13