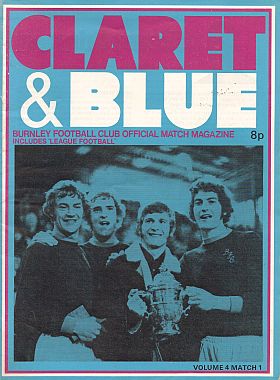 This was a week when the local council argued against proposed increases in rent for council houses. Burnley were against the rises but they were mandatory requirements as part of the Housing Finance Act of 1972.
The maximum increase for any house couldn't exceed 75p but the town were forced into an average increase of 50p per week per dwelling.
Mayor Councillor Frank Booth was far from happy. "These new increases are not needed as far as we are concerned," he said. "We are convinced that council house tenants are already paying a fair rent.
"This latest increase will mean that houses on our most modern estates, such as Kibble Bank, will only be open to the executive class tenant. The rent will be out of reach of ordinary folk and it will mean that we will have empty houses, and this type of thing will have to then be subsidised by ALL ratepayers."
He dismissed the idea of ignoring the new law as being totally out of the question.
The poor man who had climbed the chimney at Diana Cowpe in Casterton Avenue a few days earlier was back in the news. He only came down when his demands for a doctor were met but just a day after, and for no apparent reason, he walked up to and assaulted a complete stranger.
This time it got him a quick appearance in court where Mr H. G. W. Cooper, representing him, told them: "This is the man who was up the chimney earlier in the week, and I think it is best that inquiry reports should be made."
Besides the assault charge, he faced a second charge of possessing an offensive weapon, a knife, and the court was told that he walked across the road in Finsley Gate simply to punch the stranger in the face before shouting at him: "I'll kill you, I'll smash your face in."
The court decided to remand him in custody for three weeks for medical reports to be prepared.
A local 22-year-old coalman got more than he bargained on the day he celebrated his first wedding anniversary. During the afternoon he drove his dad's car 80 yards round to the back of his house to carry out some repairs.
It wouldn't have been a problem had he not already been serving a two-year driving ban. He was spotted by a police officer and when challenged said: "I was only bringing it round the corner. Give me a chance. It's my anniversary."
The officer didn't give him a chance and neither did the court. He was sent to prison for six months for driving the car and was given a further three months for driving without insurance.
On release he might find he'd have to pay a bit more for bus fares too despite the Burnley, Colne and Nelson Joint Transport undertaking coming under pressure to reduce fares.
Alderman Frank Bailey, a Conservative spokesman on the council, had suggested that record profits made by the undertaking should result in a reduction of fares. He said: "Everything is going up. If we are making record profits, let's bring the fares down again."
Alderman Gallagher disagreed and stressed the need for the money to be used to improve working conditions for the employees. "It is impossible to reduce fares," he said. "We must keep up standards and improve working conditions."
It might have come too late for one bus driver who said: "I don't know what came over me," when he was found guilty of breaking into a house and stealing £12.20 from the gas meter. Admitting to being fully ashamed he accepted a fine of £20 from the court.
There was big news from Turf Moor. As well as the return of First Division football after a two year absence, the club confirmed that from the first game of the season the club would be running two fish and chip stalls inside the ground with a service unavailable elsewhere in English football.
One stall would service supporters in the cricket field stand and the other would provide the traditional English dish for those on the terracing. They would both offer everything that could be bought in any fish and chip shop.
Commercial manager Jack Butterfield said: "Last season we introduced the selling of hot food to fans at Turf Moor for the first time, and this is an extension of that facility.
"I've heard of no other ground in the country which has fish and chip shops inside the ground. It's something we hope the fans will appreciate and we hope will add to their enjoyment when they visit Turf Moor."
Butterfield also spoke on the experimental plan put forward by Central Motors after they called off their coach excursions to Sheffield because of the vandalism a week earlier on the Manchester excursions.
The coach firm had held talks with Mr Butterfield and agreed to send one excursion coach to the next away game at Tottenham with the introduction of safeguards.
Those safeguards meant that all bookings would have to be made in person at either the club or the firm's Whitegate premises with name and address supplied. A coach seat would be allocated at the time of booking and a steward would travel. Each person would be made responsible for his seat and it would be checked for any damage by the steward before the passenger would be allowed to leave the vehicle on its return to Burnley.
Butterfield, who said that the rail excursion to Sheffield, which carried 350 Burnley fans, passed off without any trouble, explained: "We have decided to change our tactics to beat the hooligans. The fans who travel on this coach will be on trial and the future of coach excursions run by Central Motors for Burnley supporters will depend on their behaviour."
But for the second game of the season there were no such problems as the gates opened for First Division football at Turf Moor for the first time since a 2-1 defeat against Derby in April 1971.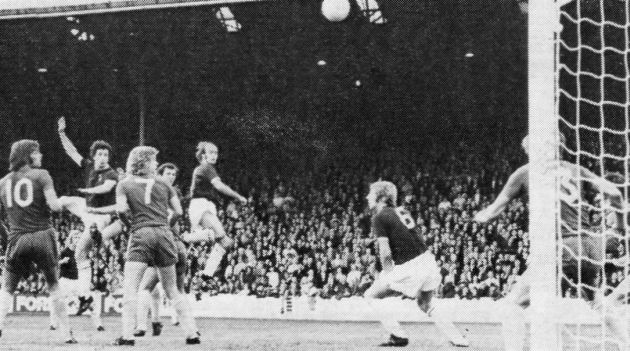 Paul Fletcher goes close with a first half header
As expected we were forced into a change. Mick Docherty, having been stretchered off late in the win at Sheffield with a twisted knee, was ruled out. He'd been examined by a specialist after which it became clear he had no chance of being fit although Burnley remained optimistic that the injury was not as bad as was first feared. It was the same knee Docherty injured at Huddersfield in the promotion season but the two injuries were not connected.
Manager Jimmy Adamson said: "The next 48 hours will show the extent of the injury."
He added: "This is a severe blow to us coming so soon in the season, particularly in view of the fact that Mick had been playing so well. If we are to be successful we must steer clear of injury and this is just the kind of thing we did not want to happen."
Adamson confirmed that Billy Ingham would be added to the eleven that finished the game but did not give any hints as to who would fill in at right back.
The most likely options were Ingham coming in at right back or Peter Noble getting his first start in midfield with Nulty switching to right back. But Adamson stunned everyone by keeping Nulty in the midfield and giving Noble the right back berth, a position he'd never filled before.
Burnley didn't let their supporters down and in what was a tough match against a very good Chelsea team we came out on top with a goal to grace any football match.
Those at Sheffield had seen Martin Dobson score a brilliant goal but, with the scores level and with ten minutes to go, we outdid that with this winner.

Frank Casper scores the stunning winner
It followed a move down the left which Chelsea's John Hollins brought to an end when he beat Nulty to a through ball. He cleared the ball down the wing but only as far as Doug Collins who switched the ball quickly into the middle for Frank CASPER to bring the ball down on his chest and then swivel to hit a handsome left foot volley past Peter Bonetti from over 20-yards.
After the game Casper said: "It's the best goal I've ever scored," and it won the points for Burnley in a game that really could have gone either way. We came up against a Chelsea side that saw Peter Osgood, who seven years earlier had scored an equally stunning goal at Turf Moor, and Alan Hudson in sparkling form, but Burnley had their heroes too in this game.
Colin Waldron was a colossus in defence and James looked capable of making something happen every time he was in possession. But the real top performer on the night was Paul Fletcher who dominated the Chelsea defence in the air and never gave them a minute's peace as he worked his socks off to ensure Burnley offered the greater attacking threat.
Then came the Casper goal, one that is still talked about forty years later. And it might have even been better had Nulty not missed a golden opportunity to score a second three minutes later.
What a start for the newly promoted Clarets. Played two, won two, scored three and two clean sheets to go with them.
The teams were;
Burnley: Alan Stevenson, Peter Noble, Keith Newton, Martin Dobson, Colin Waldron, Jim Thomson, Geoff Nulty, Frank Casper, Paul Fletcher, Doug Collins, Leighton James. Sub not used: Billy Ingham.
Chelsea: Peter Bonetti, John Hollins, Eddie McCreadie, Steve Kember, Dave Webb, Ron Harris, Chris Garland, Alan Hudson, Peter Osgood, Bill Garner, Peter Houseman. Sub not used: John Boyle
Referee: Mr D. Turner (Cannock).
Attendance: 23,818.
By the time all the midweek games were played there were five teams left who had won their two opening games. Burnley's next opponents were Coventry and they, like us and Derby, were still to concede a goal.
First Division Results
Monday 27th August 1973
WEST HAM UNITED 3 IPSWICH TOWN 3
Tuesday 28th August 1973
ARSENAL 1 LEEDS UNITED 2
BIRMINGHAM CITY 1 TOTTENHAM HOTSPUR 2
BURNLEY 1 CHELSEA 0
COVENTRY CITY 1 LIVERPOOL 0
EVERTON 1 LEICESTER CITY 1
WOLVERHAMPTON WANDERERS 2 SHEFFIELD UNITED 0
Wednesday 29th August 1973
DERBY COUNTY 1 MANCHESTER CITY 0
MANCHESTER UNITED 1 STOKE CITY 0
NEWCASTLE UNITED 0 SOUTHAMPTON 1
NORWICH CITY 0 QUEENS PARK RANGERS 0
Burnley's Goalscorers
1: FRANK CASPER, DOUG COLLINS, MARTIN DOBSON
First Division Leading Goalscorers
3: DEREK DOUGAN (WOLVERHAMPTON WANDERERS)
2: MICK CHANNON (SOUTHAMPTON), BOB HATTON (BIRMINGHAM CITY), DAVID JOHNSON (IPSWICH TOWN), DENIS LAW (MANCHESTER CITY), JOHN McCALLIOG (WOLVERHAMPTON WANDERERS), MALCOLM MacDONALD (NEWCASTLE UNITED), MARTIN PETERS (TOTTENHAM HOTSPUR)
The League Table
Team
pld
w
d
l
f
a
pts

BURNLEY

2

2

0

0

3

0

4

COVENTRY CITY

2

2

0

0

2

0

4

DERBY COUNTY

2

2

0

0

2

0

4

WOLVERHAMPTON WANDERERS

2

2

0

0

5

1

4

LEEDS UNITED

2

2

0

0

5

2

4

SOUTHAMPTON

2

1

1

0

2

1

3

ARSENAL

2

1

0

1

4

2

2

MANCHESTER CITY

2

1

0

1

3

2

2

IPSWICH TOWN

2

0

2

0

4

4

2

LEICESTER CITY

2

0

2

0

2

2

2

LIVERPOOL

2

1

0

1

1

1

2

NEWCASTLE UNITED

2

1

0

1

2

2

2

QUEENS PARK RANGERS

2

0

2

0

1

1

2

TOTTENHAM HOTSPUR

2

1

0

1

2

2

2

MANCHESTER UNITED

2

1

0

1

1

3

2

WEST HAM UNITED

2

0

1

1

4

5

1

EVERTON

2

0

1

1

2

4

1

NORWICH CITY

2

0

1

1

1

3

1

BIRMINGHAM CITY

2

0

0

2

2

5

0

CHELSEA

2

0

0

2

0

2

0

STOKE CITY

2

0

0

2

0

2

0

SHEFFIELD UNITED

2

0

0

2

0

4

0