West had become unsettled at Turf Moor. Having started to establish himself in the team during the 1971/72 season he'd spent much of 1972/73 on the sidelines, making just two substitute appearances in the league as the Clarets romped away to promotion.
The England under-23 international was no longer first choice and Adamson had said previously: "I have told Alan that if a club makes an offer for him that matches our valuation then I am prepared to let him go."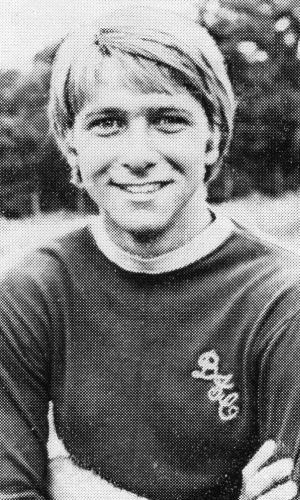 No Old Trafford move for Alan West
United, who had ended the previous season in 18th place in the First Division, made their move with manager Tommy Docherty coming in with an eleventh hour offer ahead of the big kick off. However, it was an offer immediately turned down by Burnley.
Mr Adamson said: "Manchester United manager Tommy Docherty made an offer for West but it fell short of what we think he is worth. It was not a realistic offer for a player of his calibre. We're not giving away players."
Burnley had not named the sort of price they would accept for West but a national newspaper suggested a figure of £65,000 would land the Hyde born 21-year-old midfielder. "Guesswork," said Adamson to that.
Adamson did confirm that Tommy Walker had been given a further month's trial after impressing since arriving in July having been released by Stoke at the end of the previous season.
But Adamson's thoughts were now on our First Division return, as were those of centre half Colin Waldron.
Waldron, who had scored both the title clinching goal at Preston and the Charity Shield winner at Man City, was ready for the return to the top flight. He said: "Every time Burnley trot out on to the pitch at one of the big First Division grounds with maybe 50,000 fans present I will always turn to Mick Docherty and smile. We won't say a word. We won't need to.
"What we'll both be thinking is: 'This is it. This is what being a top professional footballer is all about.'
"I don't think many people realise how important it is to a player to be in the First Division. I couldn't get back to the top quick enough. In fact, First Division football is such an obsession with me that if we hadn't won promotion I would have done my best to leave Burnley.
"Don't get me wrong. I'm very happy at Turf Moor and I wouldn't wish to be with a better club, but I would have been willing to trade in that happiness to play in Division One. To me the Second Division is a graveyard and it was embarrassing to play in it. You're just a nonentity.
"That may sound very hard on the many good players that there are in the Second Division but that's the way I felt after dropping down from Division One."
Waldron added: "Last week I was getting nerves about the match with City on Thursday, two days before. it's just the thought of facing people like Denis Law, Francis Lee, Rodney Marsh and the rest.
"I'll be just as nervous this week, and right through the season, but I wouldn't be without it. It's all part of being back in the big time again."
In a frank interview with the Burnley Express, manager Adamson was asked what he would consider to be a successful season for Burnley. He replied: "If we could stabilise our position in the First Division and maintain a reasonable place I would consider that to be successful for the first season. A position midway in the table as a springboard for further achievement.
"But nobody should think that we are content to remain a middle of the table side. We have proved our critics wrong once when they said we could not get back. Our next step is to prove them wrong again by winning a major honour."
Adamson was giving nothing away regarding his team for the opener at Sheffield United two days later but confirmed he would select from thirteen players. There were no surprises, the thirteen were; Alan Stevenson, Mick Docherty, Keith Newton, Martin Dobson, Colin Waldron, Jim Thomson, Geoff Nulty, Frank Casper, Paul Fletcher, Doug Collins, Leighton James, Billy Ingham and new signing Peter Noble.
The Burnley fans had adopted Gary Glitter's "Hello, Hello, I'm back again" with its most notable lyric "It's good to be back." It was and I and many Burnley fans were ready and just couldn't wait for that trip to Bramall Lane.