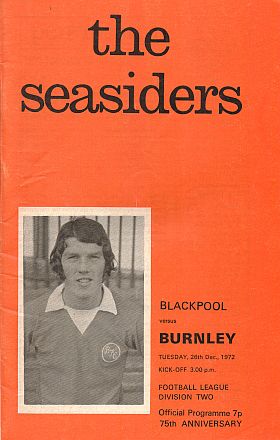 As always at this time of year there was a lack of real news. The main news items on television were of the Queen being at Sandringham, so nothing changed much there in the last 40 years.
Locally, it looked as though the Conservative Party had gone all sweet on us when the confirmed that both Tate and Lyle had been selected to stand in the 1973 local elections. Everywhere else in the country this might well have been a bag of sugar, but in Burnley it was Maurice Tate and Ernest Lyle who were ready to stand in Fulledge & Burnley Wood and Lowerhouse & Gannow respectively.
In our last report, there was news of home owners being offered just £50 for their houses to make way for the new Calder Valley highway. Councillor Pickup hit out at this and accused MP Dan Jones of spreading alarm.
Pickup suggested Jones was misleading people and should have kept that information to himself. On suggesting that £50 was not the case for all, he was not prepared to give any other figures.
Meanwhile Burnley travelled to Blackpool to face Harry Potts' new club. They'd slipped from second place with a big 4-0 defeat at Forest on the Saturday before Christmas but were expected to provide stiff opposition.
It was at Blackpool in the previous season where this feature on Clarets Mad got underway, as fans turned on manager Jimmy Adamson following a 4-2 defeat. We'd trailed 4-0 and Blackpool then missed a penalty.
Frank Casper scored twice in that game to give it a scoreline that flattered us. Fans had simply had enough of Adamson and the demonstrations outside the ground were the worst I've witnessed as a Burnley fan against any manager.
How different now. We travelled over with us top of the Second Division and three points clear of QPR who had moved back above Blackpool into second place.
What we witnessed was a magnificent first half until the whole game degenerated into a second half shambles that saw Blackpool finish with nine men.
Potts said: "It was a great game spoiled," when referee Ted Jolly took centre stage in the second half, booking four players and sending off Blackpool debutant Kevin Tully and Terry Alcock.
The best parts of the game, certainly most of them, came in a first half that twice saw Burnley take the lead. The first of them came after just ten minutes when Alan Stevenson hit a long clearance. It was picked up by Frank CASPER who forced his way past Alcock before neatly slotting the ball home past home goalkeeper John Burridge.
Casper, who had an outstanding game, had gone fourteen games without scoring and the relief showed in his goal celebration as his team mates quickly joined him.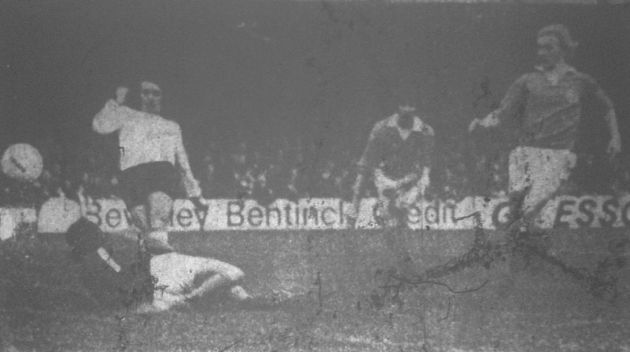 Frank Casper scores the first
We were dominated the game, particularly in midfield, and the only problems Blackpool were giving us were through the pace of Micky Burns and the aerial prowess of Billy Rafferty who was getting the better of Colin Waldron.
That's how they attacked us and they started to put us under some pressure. Four times in ten minutes they forced top saves out of Stevenson. Two in particular, one a deflected effort and one from an Alan Suddick free kick were top class.
We looked to have weathered that little storm but then Rafferty played the ball out to Burns. The winger sped past Jim Thomson and crossed to the far post where RAFFERTY was waiting to head home.
We might have had two penalties but twice Mr Jolly said no although quite how he ignored Dave Hatton's blatant trip of Paul Fletcher only he could know.
All square midway through the first half and for the rest of a magnificent half it was Burnley holding the upper hand and Blackpool threatening on the break. By half time it was all square and the hope of another outstanding half of football to come.
It all changed. Hatton and Alcock were both booked early in the second half and then we got in on the act with Thomson suffering a similar fate.
Things were hotting up and just past the hour Tully became involved in a touchline skirmish with Mick Docherty. Eventually, Tully lashed out and, to the displeasure of the home fans, his debut ended when he was sent off.
Some of the Blackpool players targeted Docherty and the sending off had done nothing other than to make things worse. Doug Collins was the next booked but overall, as Blackpool were losing their heads, we were still trying to play football.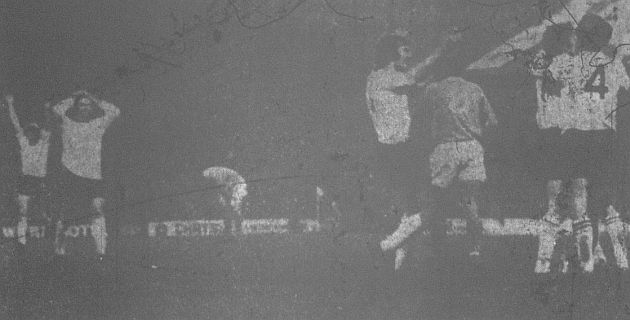 Burnley celebrate the winner
Martin Dobson came close with a header and then, with 12 minutes remaining, we got the winner. Casper started the move, playing the ball out to the left wing for the advancing Keith Newton.
The full back's cross was too close to Burridge who was able to punch the ball away, but only as far as the edge of the penalty area. There, lurking, was CASPER who brilliantly chipped the ball back over the goalkeeper to win the game for Burnley.
There was just time for a finale as Alcock was sent off for a foul on Casper. Home captain Hatton led his players in protest and he admitted afterwards that he was close to taking them off the field.
He didn't, he remained as Blackpool fought to keep it down to 2-1. Fletcher missed a chance and right on time Casper almost completed his hat trick but saw his shot hit the side netting.
But what an important win it was to keep us three points clear of QPR at the top of the table.
The teams were;
Blackpool: John Burridge, Dave Hatton, Peter Hardcastle, Terry Alcock, Peter Suddaby, Kevin Tully, Micky Burns, Alan Suddick, Billy Rafferty, Keith Dyson, Alan Ainscow. Sub not used: Bill McGrotty
Burnley: Alan Stevenson, Mick Docherty, Keith Newton, Martin Dobson, Colin Waldron, Jim Thomson, Geoff Nulty, Frank Casper, Paul Fletcher, Doug Collins, Leighton James. Sub not used: Billy Ingham.
Referee: Mr E. Jolly (Middleton).
Attendance: 25,277.
Aston Villa had now gone third, six points behind us and Oxford, Blackpool and Luton were all a further point behind. Preston were a further two points behind but their 6-1 defeat at Carlisle was a fifth game without a win after they'd moved up to third in late November.
There were some familiar names amongst the goalscorers. Andy Lochhead scored for Villa in their 2-2 home draw against Forest, Gerry Gow got the only goal of the game from the penalty spot for Bristol City as they beat Cardiff, Dave Thomas scored his first QPR goal and Swindon's goal at Pompey was scored by Peter Noble.
It was Fulham at home on the following Saturday to bring 1972 to an end.
Second Division Results
Tuesday 26th December 1972
ASTON VILLA 2 NOTTINGHAM FOREST 2
BLACKPOOL 1 BURNLEY 2
BRISTOL CITY 1 CARDIFF CITY 0
CARLISLE UNITED 6 PRESTON NORTH END 1
FULHAM 1 MILLWALL 0
HULL CITY 3 MIDDLESBROUGH 1
LUTON TOWN 0 SHEFFIELD WEDNESDAY 0
OXFORD UNITED 3 BRIGHTON & HOVE ALBION 0
PORTSMOUTH 1 SWINDON TOWN 1
QUEENS PARK RANGERS 3 ORIENT 1
Burnley's Goalscorers (League Only)
10: PAUL FLETCHER
8: LEIGHTON JAMES
7: MARTIN DOBSON
5: FRANK CASPER
4: DAVE THOMAS
3: FRANK CASPER, COLIN WALDRON
1: DOUG COLLINS
Second Division Goalscorers
15: DON GIVENS (QUEENS PARK RANGERS)
11: BOBBY OWEN (CARLISLE UNITED)
10: PAUL FLETCHER (BURNLEY), VIC HALOM (LUTON TOWN), STUART PEARSON (HULL CITY)
9: ALAN AINSCOW (BLACKPOOL), STAN BOWLES (CARLISLE UNITED & QUEENS PARK RANGERS),
HUGH CURRAN (OXFORD UNITED), JOHN GALLEY (BRISTOL CITY & NOTTINGHAM FOREST),
ALAN GOWLING (HUDDERSFIELD TOWN), BRIAN JOICEY (SHEFFIELD WEDNESDAY),
JOE LAIDLAW (CARLISLE UNITED), ALF WOOD (MILLWALL)
8: GORDON BOLLAND (MILLWALL), STEVE EARLE (FULHAM), LEIGHTON JAMES (BURNLEY),
JOHN MITCHELL (FULHAM), RAY TREACY (SWINDON TOWN)
The League Table
Team
pld
w
d
l
f
a
pts

BURNLEY

23

12

10

1

38

21

34

QUEENS PARK RANGERS

23

11

9

3

42

28

31

ASTON VILLA

23

10

8

5

26

22

28

OXFORD UNITED

24

11

5

8

31

23

27

BLACKPOOL

24

10

7

7

37

29

27

LUTON TOWN

23

10

7

6

31

25

27

FULHAM

23

8

9

6

32

27

25

SHEFFIELD WEDNESDAY

25

9

7

9

40

37

25

PRESTON NORTH END

24

9

7

8

24

27

25

HULL CITY

24

8

8

8

35

30

24

BRISTOL CITY

24

8

8

8

29

30

24

NOTTINGHAM FOREST

24

8

8

8

29

31

24

MIDDLESBROUGH

24

8

8

8

21

27

24

CARLISLE UNITED

23

9

5

9

38

29

23

SWINDON TOWN

24

6

10

8

32

35

22

MILLWALL

24

8

5

11

30

29

21

PORTSMOUTH

24

6

7

11

24

32

19

HUDDERSFIELD TOWN

22

5

9

8

20

27

19

SUNDERLAND

21

5

8

8

26

32

18

CARDIFF CITY

22

7

4

11

27

35

18

ORIENT

24

5

8

11

21

31

18

BRIGHTON & HOVE ALBION

24

2

9

13

25

51

13