Adamson had teased the local press a few days earlier. He'd told Peter Higgs and Keith McNee, our two local reporters at the Burnley Express and Burnley Evening Star, that he was showing keen interest in an experienced centre forward in his late twenties whose club had confirmed they were prepared to listen to offers for him.
He said he was keeping the identity of the player to himself to prevent any possible auction because, he considered, other clubs would jump in and outbid us if they knew he was available. He said he was hoping to have talks with the club and player in the near future and that any transfer deal would depend on the outcome of those talks.
"I have no experienced forward to come in if Frank Casper, Paul Fletcher or Leighton James is injured," Adamson said. "I have been interested in this particular player for some time and he could be just the man we need. He can, if required, also play in midfield, which would be an asset for us."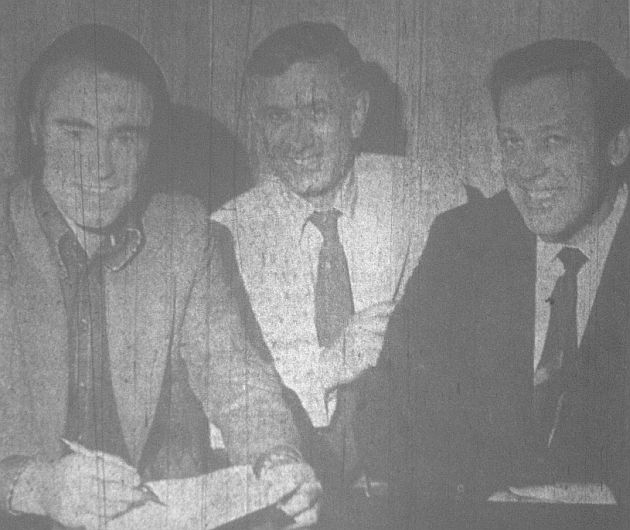 Peter Noble signs for Burnley watched by Jimmy Adamson and Joe Brown
Adamson said that should his club ask for something silly like £100,000 it would rule us out, but he hoped, if successful, to get the player for a few of around £30,000.
Just two days later, and Burnley confirmed the signing of Swindon's Peter Noble for a fee believed to be in the region of £35,000.
Adamson said: "Talks have been going on for four or five days and we are delighted to have signed him. He has the ability to play up front or in midfield, and is a very good player."
Noble proved to be Burnley's only summer signing he admitted: "I am thrilled to come back to the First Division and I couldn't have picked a better club."
Noble had scored nearly 70 goals in over 200 games for Swindon and one of those goals was remembered by Burnley fans. Less than five years earlier, on a chilly December night in 1968 at The Hawthorns home of West Brom, he scored the goal that ended our hopes of a trip to Wembley in the League Cup.
With the semi-final replay score at 2-2 in extra time, Les Latcham could only head a clearance straight back to the Swindon player who scored to take his team to the final and a win against Arsenal.
The Star reported that our new player was Newcastle born but had moved to Swindon with his chances limited at his home town club. What on earth our new signing, a committed Sunderland born Mackem, thought of that I don't know. He had played for Newcastle, his only other professional club, but was certainly not born there.
On the subject of Latcham. On the same day as Noble signed our former full back announced that he was leaving Plymouth and retiring from full time football at the age of 30 to take up a job in insurance in Burnley. His club had agreed to terminate his contract with them to allow him to take up the job offer.
Great Harwood moved quickly to sign him with Latcham saying: "I shall play non-league soccer because the job doesn't involve Saturday work, but I have had to retire from full time soccer because I will be fully committed on Thursdays and Fridays."