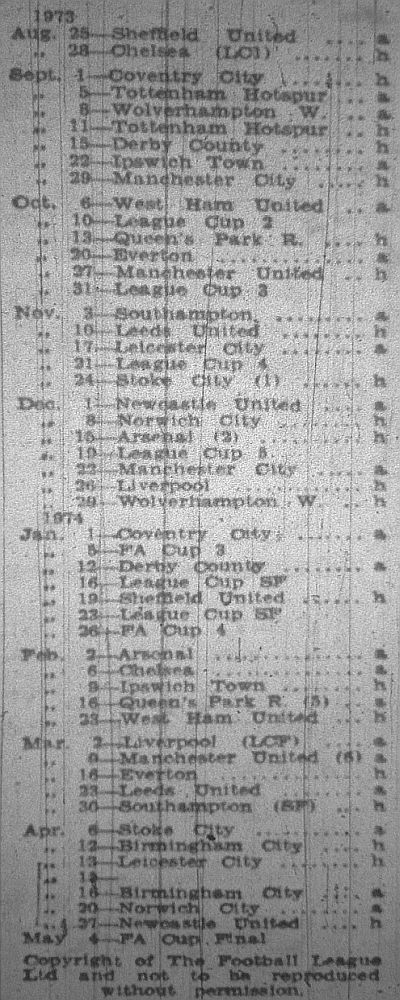 Yes, Burnley's return to the top flight of English football would get underway at what was still a three sided ground and where the last ever cricket match would take place, that between Yorkshire and Lancashire, earlier in the same month.
That was to be followed by two home games against Chelsea and Coventry and we'd been given a big Boxing Day home game against Liverpool.
The announcing of the fixtures was nothing like it is today. It was just a case of them suddenly appearing, unannounced, in the local press, but the Burnley Express were also able to confirm our entry into another competition and the pre-season programme which would include one fixture with a trophy at stake.
The players were due back for pre-season training on Thursday 26th July, just over four weeks before the first league game and Adamson revealed that we would play four pre-season games, all of them away from Turf Moor.
The team were off to Cornwall with the first game on Saturday 11th August at Penzance. Three days later it was game number two at Torquay and just 24 hours after that, and after some amount of travelling, we were to play Kettering.
Then, and this news came out of the blue, on Saturday 18th August, we would be going to Maine Road to face Manchester City to compete for the FA Charity Shield.
This curtain raiser was usually played by the League Champions and FA Cup Winners (Liverpool and Sunderland in 1973) but it was becoming a pattern that teams were turning down the invitation to take part. Both Liverpool and Sunderland did just that and so holders Manchester City were invited to host the game against Second Division Champions Burnley.
Burnley also announced that we'd been invited to compete in the Texaco Cup. We'd played in the competition three seasons previously but went out in the first round after we saw a 3-1 home victory turned over by Hearts at Tynecastle where the home side won the second leg 4-1.
On the transfer front, and with Peter Noble signed there were hopes for further increases to the squad but Adamson, somewhat contentedly, gave hints that he'd got the players he wanted for the assault on the First Division although he said things could change with two months to go before we reached Bramall Lane.