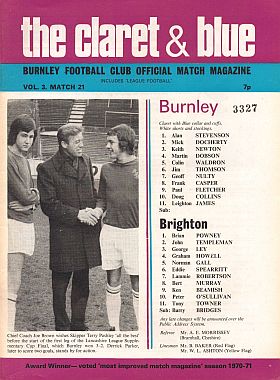 It was a time of change for the police in Burnley with Supt Joseph Henderson becoming the top man as head of Burnley sub-division. The 42-year-old had been with the local force for seven years having moved to the town from Conisborough near Doncaster.
He would have the responsibility for policing Burnley, Padiham and nine surrounding parishes. He'd moved up from deputy to replace Supt Maurice McKenzie-Folan who had moved to Lancaster.
Clarets' chairman Mr Bob Lord had words for his counterpart at Coventry, Mr Derrick Robins and it was all about the new deal agreed between the Football League and the pools companies.
Those companies had been paying the League a total of £1 million per year but, from 1973/74 season and for 26 years, it was to increase to £2 million.
Lord had been part of the team agreeing the deal but Robins wasn't happy about it. He said it was not enough and suggested a special meeting of League chairmen be called to test opinion and, should chairmen agree, ask the League management committee to resign and place Sir Matt Busby in charge.
Robbins was not going to get away with suggesting the Burnley chairman should resign from anything and Lord said: "This is just about the most ridiculous statement I have heard for a long time. I suggest that Mr Robbins sticks to cricket with which he is so prominently associated.
"As for the suggestion that Sir Matt Busby should take over the running of the Football League, I have nothing against the eminent gentleman and without casting aspersions on him personally this is another of Mr Robins' daft ideas which have absolutely no chance of coming off.
"In fact, there is about as much chance of the Football League management committee standing down to make way for Sir Matt Busby as there is of so-called rebels at Deepdale taking over the affairs of Preston North End from the directors of that club."
The Preston board had come under threat from a group of rebels, but Lord was good friends with them and had his support. Robins was a football chairman he did not like at all.
It was a rush back to watch the Clarets. We'd travelled down to Oxford the day before but had stopped overnight and then hit traffic problems on the way home on the Saturday.
Thankfully we were back around two hours before kick off as the Clarets took on bottom club Brighton.
Jimmy Adamson restored Doug Collins to his starting line up. Billy Ingham reverted to right back as cover for Mick Docherty with Eddie Cliff, who had played at Oxford, dropping to the bench.
It proved to be another good day for Burnley with a 3-0 win but this was nothing like as easy as the scoreline suggests it was.
For much of the first half we were very much second best. Brighton opened us up countless times and with better finishing they would have certainly gone in front.
Midway through the half we survived an almighty scramble in our own goalmouth with two shots being charged down before Keith Newton finally hammered clear, and it was Newton who twice cleared off the line soon after to deny first Ken Beamish and then former Claret Lammie Robertson.
Then, seven minutes before the break, and against the run of play, we went in front and from a freak goal. A shot from Leighton JAMES from the corner of the penalty box looked harmless enough until Eddie Spearritt took a wild kick at t he ball, got the faintest of touches and goalkeeper Brian Powney was beaten as the ball crept just inside the post.
Incredibly, for James, who started the season like a house on fire in front of goal, it was a first goal since he scored the winner at Hillsborough against Sheffield Wednesday in mid-October.
That, we thought, would see Burnley get on top, but for the first quarter of an hour of the second half it was still Brighton looking the most likely.
Then, just past the hour, Norman Gall cleared a Paul Fletcher header off the line and the game changed.
Martin Dobson completes the scoring
With 18 minutes to go we settled it with a glorious second goal. The ball went the length of the pitch from Alan Stevenson to Billy Ingham to Doug Collins who put over a pin-point cross for Frank CASPER to run in and turn the ball past Powney.
Burnley were right in the groove now and it was no surprise when a third came on 82 minutes with Martin DOBSON accepting a Fletcher flick to drive the ball in from a narrow angle.
In the end, we were well worth the points but things could have been so different if Brighton had scored an early goal.
Manager Jimmy Adamson said: "Today we had the sort of luck you need to win promotion or the championship.
"Brighton were the better team in the first half. After our victory at Oxford the players could not motivate themselves. We had talked about it before the game but it did not make any difference."
The win left Burnley needing a maximum of three points from the remaining games to ensure the title was won.
The teams were;
Burnley: Alan Stevenson, Billy Ingham, Keith Newton, Martin Dobson, Colin Waldron, Jim Thomson, Geoff Nulty, Frank Casper, Paul Fletcher, Doug Collins, Leighton James. Sub not used: Eddie Cliff.
Brighton & Hove Albion: Brian Powney, John Templeman, George Ley, Graham Howell, Norman Gall, Eddie Spearritt, Lammie Robertson, Bert Murray, Ken Beamish, Peter O'Sullivan, Terry Towner (Barry Bridges 76).
Referee: Mr A. Morrissey (Bramhall).
Attendance: 15,606.
For most of the season it had looked an odds on certainty that the two promoted clubs would be us and QPR, and they duly confirmed their promotion with a 1-0 win at Millwall with the league's leading scorer Don Givens getting the goal.
Things were looking bleak for Brighton at the bottom. With three games remaining they were now four points adrift of Cardiff whose 4-1 win had lifted them out of the relegation places with Huddersfield, the team they'd beaten dropping into the bottom two for the first time all season.
Burnley were left with a home game against Luton and then a trip to Preston. The title was getting ever closer.
Second Division Results
Saturday 21st April 1973
BRISTOL CITY 3 BLACKPOOL 0
BURNLEY 3 BRIGHTON & HOVE ALBION 0
CARDIFF CITY 4 HUDDERSFIELD TOWN 1
HULL CITY 0 SUNDERLAND 2
LUTON TOWN 0 ASTON VILLA 0
MIDDLESBROUGH 3 SHEFFIELD WEDNESDAY 0
MILLWALL 0 QUEENS PARK RANGERS 1
ORIENT 1 SWINDON TOWN 0
OXFORD UNITED 1 CARLISLE UNITED 1
PORTSMOUTH 1 FULHAM 2
PRESTON NORTH END 2 NOTTINGHAM FOREST 1
Burnley's Goalscorers (League Only)
15: PAUL FLETCHER
12: FRANK CASPER, MARTIN DOBSON
9: LEIGHTON JAMES
6: GEOFF NULTY
4: BILLY INGHAM, DAVE THOMAS
3: COLIN WALDRON
1: DOUG COLLINS, KEITH NEWTON, OWN GOALS
Second Division Goalscorers
23: DON GIVENS (QUEENS PARK RANGERS)
18: GORDON BOLLAND (MILLWALL)
17: ALAN GOWLING (HUDDERSFIELD TOWN)
16: STUART PEARSON (HULL CITY)
15: STEVE EARLE (FULHAM), PAUL FLETCHER (BURNLEY), BRIAN JOICEY (SHEFFIELD WEDNESDAY)
14: STAN BOWLES (CARLISLE UNITED & QUEENS PARK RANGERS),
VIC HALOM (LUTON TOWN & SUNDERLAND), JOE LAIDLAW (CARLISLE UNITED)
13: HUGH CURRAN (OXFORD UNITED), BILLY HUGHES (SUNDERLAND),
ANDY McCULLOCH (CARDIFF CITY), RAY TREACY (SWINDON TOWN), ALF WOOD (MILLWALL)
12: FRANK CASPER (BURNLEY), MARTIN DOBSON (BURNLEY),
JOHN GALLEY (BRISTOL CITY & NOTTINGHAM FOREST), GERRY GOW (BRISTOL CITY),
BOBBY OWEN (CARLISLE UNITED)