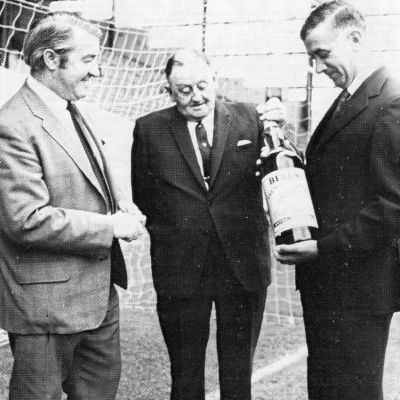 Those four games had proved enough for Jimmy Adamson to be named as the Bell's Second Division Manager of the Month, his prize being a gallon of whisky from the award sponsors.
It had been a good few days at Turf Moor, with this award following that table topping win at Pompey and no one was more delighted than the manager himself but he was quick to pass on the credit to those he believed deserved it.
"It's nice to receive recognition like this," he said. "It's a good way to start the season but I would rather be in the running for the award at the end of the season with Burnley still top of the table.
"Although the award has gone to me, it is the boys out on the field who have made it possible.
"People have said we have changed our tactics, but we haven't. We are still trying to do what we did last season but now things are going for us."
The club confirmed that supporters would benefit from the award with the whisky split into bottles to be raffled. There was to be one for season ticket holders in each section of the ground (one stand and one terracing), one for passengers on the train to Hull and the rest for Development Association agents.
Adamson is pictured showing off his whisky to commercial manager Jack Butterfield and chairman Bob Lord.