Adamson is escorted to the team coach outside Bloomfield Road
Back at the beginning of April 1972 the relationship between Burnley manager Jimmy Adamson and the fans was as low as any Burnley manager had ever experienced. It had been coming to the boil for some time but in the space of a week it deteriorated to such a level that in today's football would have seen him go through the door.
To set the scene, Adamson had become Burnley manager in February 1970 when he replaced Harry Potts who was shunted out of the way and given the title of General Manager. It wasn't a decision universally supported by the fans at the time but it was a result of a power struggle that Adamson had won against Potts.
He quickly made his mark by telling us that we would be the 'Team of the Seventies' and then, in his first full season in charge, promptly got us relegated from the First Division after twenty- four successive seasons of top flight football at Turf Moor.
The 1971/72 season was the first time I'd seen Burnley play below the top level when I suddenly found myself travelling to grounds such as Brunton Park, Carlisle and Ashton Gate, Bristol City, where incidentally their fans weren't happy with their manager either and were chanting for his removal. That poor bloke happened to be called Alan DICKS.
Into the Autumn we were reasonably placed but then a run of poor form set in, particularly away from home where we lost six out of seven. By late March we were in mid-table with no earthly hope of promotion and it all came to a head after a 1-1 home draw against Fulham when we were grateful for a Doug Collins equaliser for the point.
Adamson turned on the fans who had been calling for his head, but started, wrongly, accusing the fans of aiming their vitriol at Harry Wilson. That was not the Gannex wearing, pipe smoking Labour leader but the young 18-year-old left back making his way in the Burnley team.
The Burnley manager fumed: "They can shout for my resignation as much as they like. It doesn't bother me in the slightest. Just water of f a duck's back. But when they start roasting at a kid who has only just started in the game it makes me sick. I pulled Wilson off at half time to save him being crucified by the fans."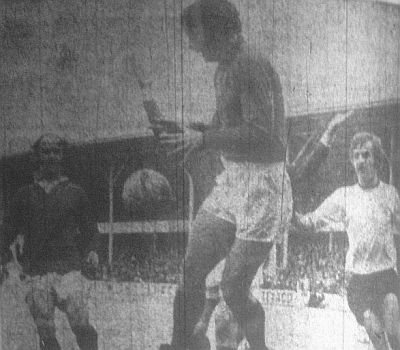 Alan Stevenson gathers the ball during the win at Swindon
It led to further attacks on Adamson via the local press. One letter read: "The players at Burnley no longer have any faith in the management. This is evident every time I watch them play."
Another wrote: "After reading Mr Adamson's intolerable remarks about Turf Moor faithfuls I must make my comments in return. I have watched Burnley FC since 1932 and the Fulham fixture was the worst I've seen in those forty years."
The situation, I felt as a 20-year-old at the time, couldn't sink much lower and in any case, Saturday 1st April was Easter Saturday and we were off to Blackpool. They'd come down with us and, ahead of the game had just one point more.
I remember being confident on the way over to the coast but by 3:45 p.m. that confidence had been drained. The half time score was Blackpool 4 Burnley 0. Alan Suddick had scored one of their goals with the other three coming from Keith Dyson who would become a work colleague of mine and a fellow football director just under a decade later.
The abuse was, as it had been the week before, aimed at Adamson and no one else.
Things could have got worse too. Suddick failed to score from a penalty early in the second half and by the time the game came to an end we'd lost 4-2 with Frank Casper scoring twice.
Outside the ground after the game the scenes were as bad as any I've seen as Burnley fans waited for the manager. He remained inside the ground for some considerable time before emerging, protected by several police officers, to a level of abuse that was staggering.
"Are you going to sack him?" one Burnley fan asked chairman Bob Lord. Lord laughed in his face and said: "We don't need fans like you," pointing at the baying group of hundreds.
It was just a matter of when, it seemed, and another demonstration followed two days later when we travelled to Roker Park to play Sunderland. Incredibly we were 3-1 up in that game with thirteen minutes to go. With ten minutes to go we trailed 4-3 and that proved to be the final score.
It all started again, but with fewer Burnley fans there the demonstrations were more subdued than had been the case on Bloomfield Road.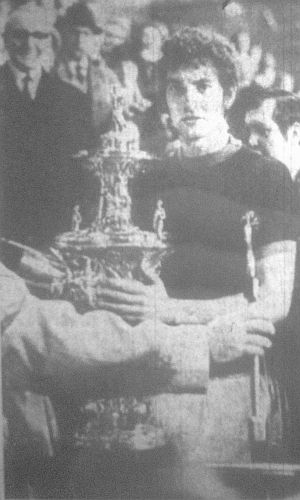 Martin Dobson receives the Lancashire County Cup
Something needed to be done and then Chairman Lord spoke and in defending Adamson, and of course himself, he said the blame lay with others.
"The current situation could mean a stay in the second division for a few seasons," he warned.
"It is not the fault of Jimmy Adamson that our youth policy has not, over the last five years, produced the players of the quality it should have done. As I have said before, not once but many times, Burnley FC started slipping up in the early sixties by not bringing through enough youths at the right time.
"I have already accepted full responsibility for this situation on behalf of the board at that time and of the club itself. There are other people to blame for it but the batch of people to blame does not include Jimmy Adamson."
That did nothing other than fuel further aggression from the fans but incredibly someone must have waved a magic wand at the same time because things changed very quickly and very dramatically.
Being Easter there were three games to play and on the Tuesday evening, one day after the game at Sunderland, we beat Charlton Athletic 3-1 at home.
That was the first of six remaining games and incredibly all six were won. We beat Watford 3-0, Millwall 2-0 and Preston 1-0 all at home and won away games at Swindon and Portsmouth 2-0 and 2-1 respectively.
That was followed up with a Lancashire County Cup success, with a 3-0 replay win against Manchester United in the final, and to add to that a young team went to the North East and won a youth tournament against Sheffield United, Sunderland, West Ham United, Standard Liege, Offenbach Kickers and Dunkirk.
Suddenly things looked brighter and Jimmy Adamson's Team of the Seventies were set to give us almost three years of fantastic football with the manager still at the helm.
Over the past four weeks we've included a look back at the 1972/73 season from message board regular Redbeard and next season we'll be looking at that season in full detail, match by match.
Blackpool was soon forgotten - and I don't believe any Burnley manager has ever had to suffer that level of abuse since. Some haven't been very popular, but they've at least escaped somewhat easier than Adamson did at the beginning of April 1972.